Robobricks teaches coding and robotics to kids without any screens
Robobricks are at it again and this time, they are taking it to the next level by combining building blocks with coding and robotics.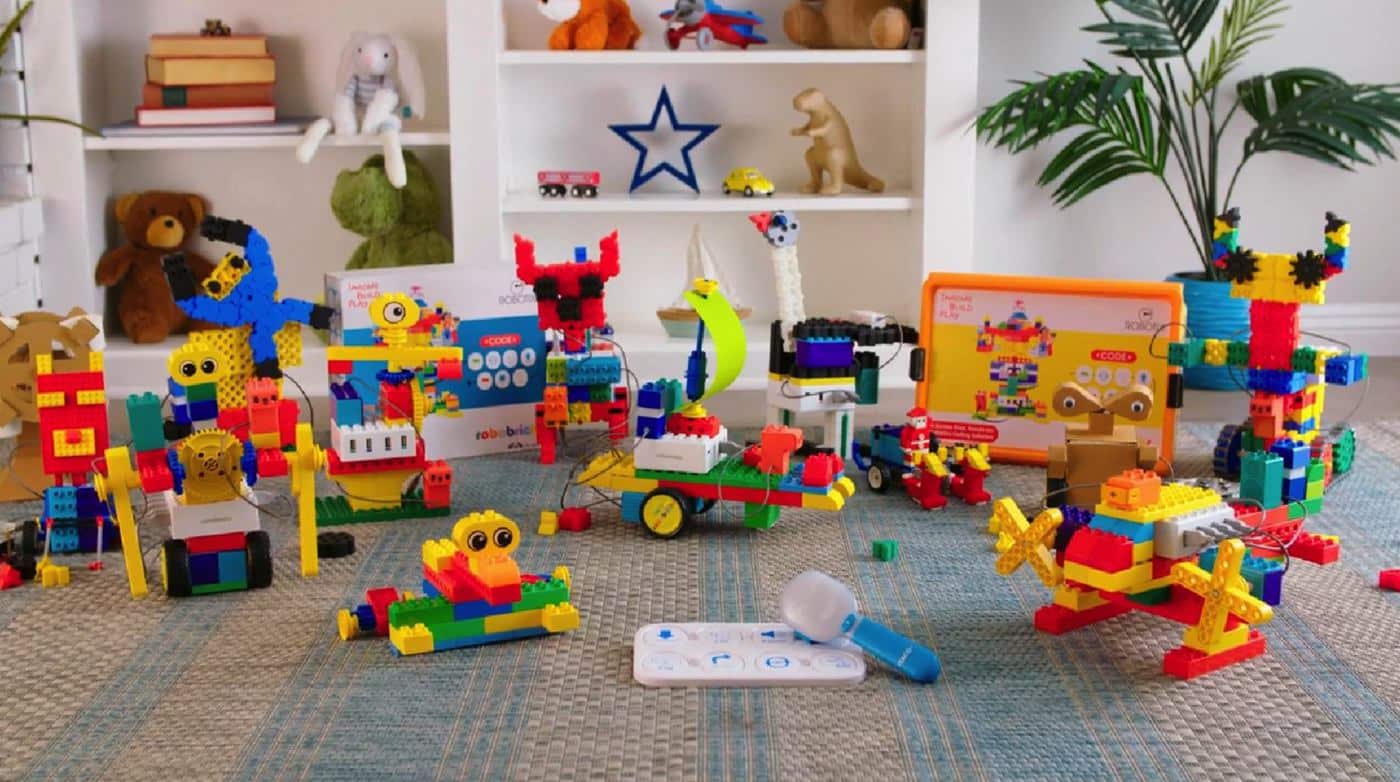 In an age where screens are everywhere, parents are increasingly concerned about their children's screen time. While it can be used for good, it also comes with possible damaging effects for growing minds. This includes problems with focusing, communication skills, and brain development.  
Screens aren't going away any time soon, and technology skills are critical for the future. So what's the solution?
One company, Robotix, is leading the way. Named by Intel as one of "America's Greatest Makers," Robotix has launched several toys that teach coding and critical 21st-century skills without screens. Most recently, they launched and successfully funded an Indiegogo campaign for Playbits, which has since been selected as a BETT Awards 2019 finalist.
Now, they are at it again and this time, they are taking it to the next level by combining building blocks with coding and robotics.
Their newest product, Robobricks is the world's first screen-free tangible coding toy that is compatible with Duplo, Morphun, and Lego. Parents won't have any trouble limiting screen time when they introduce their kids to this toy, which taps into their imagination and S.T.E.M. skills through playtime.
Q&A on Robobricks with Ramana Prasad, Chairman of Robotix
How did you come up with the idea for Robobricks?
We are living in exciting times set to witness the tipping point of a Digital Tsunami.
It is predicted that in the next 15 years, Autonomous Electric vehicles, Data science, Machine Learning, Artificial Intelligence and shared economy business will all change the complete landscape in a way that will benefit humanity and our planet. With such major technological advancements on the anvil and the future looking so amazing, it is important for the next generation of children to possess the requisite thinking skills. Flip side is otherwise the digital divide will widen and leave countries & societies, culturally and economically weaker. These disruptive technologies will offer unparalleled opportunities for the next generation – your child!
Robobricks is designed to equip children with 21st century skills – making them future ready!
Considering the big picture, our entire approach has been to creating a toy for kids ages 4 to 9 that enables kids to learn through play, sharing their stories as they make their creations, is easy to use, screen free and tangible, and a block construction kit so kids can use their imagination and build their own creations.
We realized that the world was already filled with so many Lego, Duplo, Morphun etc bricks and so we set a goal to be compatible to them. Other than that kids could make their own creations even with our smart blocks too. Finally, coding brings the creation to life.
How does Robobricks work?
Robobricks is an amazing new building and screen-free coding robot. The smart Robobricks blocks namely Brain block, Sensors, Motors, Sound & Light blocks are compatible with Duplo® | Mega Construx® | Morphun® | Lego® bricks for hands-on tactile play. Research from Tufts & MIT, shows that Tangible Coding for kids ages 3 to 9 is best developmentally and most age
appropriate.
Children bring their robot to Life using our easy to use screen free Tangible coding platform.
This unique combination empowers children to explore magical, whimsical, imaginary worlds, seamlessly blending with real life and digital experiences.
Is it easy for kids to learn on their own or do they need a parent to play with them?
Our entire approach has been to Making & Coding -Simplified! Kids can learn coding on their own, without any parental help. The coding platform is very instinctive!
You can see its simplicity with this video:
Do you have any other STEM-free toys?
Phiro Unplugged was launched by us in 2016 and is a screen free coding robot. Launched successfully and was Funded on Kickstarter. Intel USA recognised Phiro as one of Americas Greatest Makers.
Playbits was launched in 2018 as a screen free coding toy for kids ages 3 to 8. Playbits was launched and successfully funded on Indiegogo. Paybits was selected as BETT 2019 awards finalist. Rightfully so due to the inherent radiation of mobile phones and damage screen can do to tender eyes
What are your goals for the future of Robotix?
Robotix is looking out for international partners & distributors in North America, UK, Europe and Middle East to expand its global footprint. Robotix will soon be approaching potential investors with a plan for 10 million dollar funding.
Robobricks can be pre-ordered today on Indiegogo.
Have any thoughts on this? Let us know down below in the comments or carry the discussion over to our Twitter or Facebook.
Editors' Recommendations: