SJCAM introduces the SJ360 Plus, a $149 360 degree panoramic camera
SJCAM SJ360 Plus is the deal of the year that you cannot afford to miss.
SJCAM has finally rolled out the new SJ360 Plus, which was unveiled at the Eletrolar Show 2017 in Brasil. The SJ360 Plus is a 1080P HD 360-degree panoramic camera. What this means is that this camera is intentionally designed to give wide scope with an unobstructed FOV in 360-degrees. Its competitors like XiaoMi Mi 360-degree panoramic camera, for example, is only 190-degree wide angle.
SJCAM SJ360 Plus Design
The SJ360 Plus is creative and aesthetically different than its predecessor. It offers a firm grip due to its rectangular shape. Moreover, it is easily maneuvered with one hand.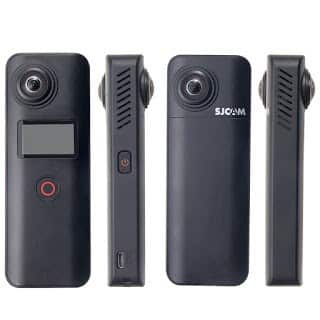 The front camera contains a 0.96-inch screen with a full HD optical glass fish-eye lens that outputs clean, crisp images with an accelerated visual recording. It mounts dual ultra wide angle lens to support larger captures so that you do not miss out anything of extreme importance.
The two lenses are so powerful that you can record spectacular views without a visual loss or video splicing.
Special features:
It packs a single SJCAM A7S chipset & a 1700 mAh large capacity battery that lays the foundation to a smooth video recording throughout in real-time for 130 minutes.
SJ360 Plus supports memory expansion up to 64GB and charges via USB by PC.
The Wi-Fi capability allows you to take snaps remotely via your smartphone app for Android & iOS- SJCAMPANO.
Furthermore, the makers boast that you can upload videos to social media platforms directly. You can share your mind-numbing adventures and craziness captured on SJ360 Plus to Facebook, Google+, Instagram, Wechat, QQ, Sina, Baidu and a lot more.
Here's a glimpse of some of the specifications
1080p Full HD @30fps
SJCAM A7S Chipset
LCD 0.96″
Wi-Fi Connectivity compatible
VR connection
Battery 1700 mAh
Charging type- USB
Charging time- 3 hours, Standby time- 4 hours
Package contents- 1 instruction manual, 1 tripod, 1 cloth bag, 1 cable, 1 VR panoramic camera.
Although the pricing information is yet to be revealed for SJCAM SJ360 Plus, GearBest has an exclusive right to sell only 5 pieces of this stunning camera at $149.