Taunt Battleworld is the first-ever engage-to-earn NFT fighting game 
Taunt Battleworld is the world's first engage-to-earn NFT fighting game simulator developed by industry veterans from Amazon, EA, and Unity.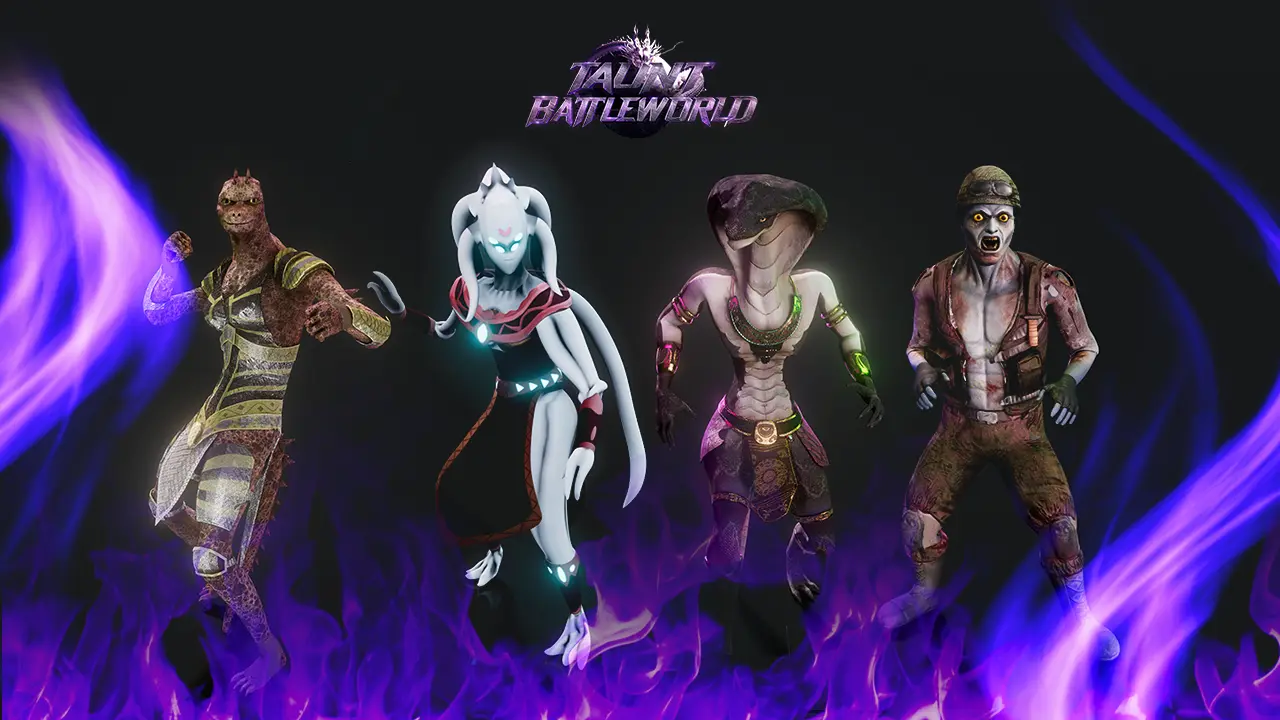 Turnt Gaming is evolving the way users interact and consume media. They are partnering with a slew of different media, gaming, and wagering companies to design new ways users can play and enjoy entertainment.
On top of its efforts to revolutionize content consumption, Turnt Gaming has also created the first-ever engage-to-earn NFT fighting game simulator Taunt Battleworld.
Created by gaming industry veterans from Amazon, EA, and Unity, this NFT-infused game, has players pitted against one another for the pleasure of the Old Gods. The post-apocalyptic Earth, ravaged by the might of the Gods, has been turned into a playground called Battleworld.
The NFTs within this game are represented by the universe's 25,000 best fighters placed on Earth to engage in a ceaseless battle to gain supremacy. The game, not only rewards those who have won but how they have won, encouraging finishes and taunting.
There will only ever be 25,000 NFTs or Genesis Acolyte Warriors created, all consisting of one of five races, with 5,000 consisting of Acolyte Warriors.
Turnt Gaming recently secured $4.3 million in funding from Polygon's gaming and NFT arm, Polygon Studios, and Shima Capital. Through these partnerships, community building within Taunt Battleworld will be accelerated. 
More on the Turnt Gaming Project
Turnt Gaming is looking to change the way users engage and participate with the digital asset and play-to-earn community.
By providing additional outlets for others to join these communities without purchasing costly NFTs, users will be more incentivized to get involved and participate in a game and its viewership environment.
The company is positioned within the esports space to help it bring its world-class production and development of viewership to the play-to-earn, digital asset market through the use of the project's products.
The products created by Turnt Gaming are made with the community in mind. Robust communities are built through these products while also providing value and fun and immersive experiences to players.
Taunt Battleworld an Engage-to-Earn NFT Fighting Game
Taunt Battleworld has players take one of the 25,000 Genesis Acolyte Warriors and battle other players.
The Old Gods will reward users who engage with the game by giving them access to exclusive tournaments, multipliers on rewards, and other unique prizes.
One of the more notable features of the Taunt Battleworld game is its inclusion of legendary boxing icon Floyd Mayweather and Mixed Martial Arts legend Cris Cyborg, giving it ties to real-world fighting.
Those looking to join in on the fun simply have to buy a Genesis Acolyte Warrior through a Blood Money Ceremony which is the project's stylized way of referring to its NFT drop.
Users can then take their Genesis Acolyte Warrior into skill-based contests and tournaments, with battles being acted out in simulations decided by the projects' proprietary algorithm.
Players can also benefit from the game's engage-to-earn mechanic, allowing users to watch brawls and participate in prediction contests to earn prizes.
Also incorporated into the game is a breeding system called the Quickening. The Quickening is a special process where the Old Gods combine the genetic codes of two Genesis Acolyte Warriors to breed a new warrior to join the fight.
The project's first NFT dropped on March 5, 2022, and will soon hold the "Skull Pass Event" event which will allow players to buy one of 2,500 NFT fighter passes, including one NFT fighter and other special benefits.
Over the past few years, NFTs have been incredibly successful, seeing a meteoric jump in market value and popularity.
The third quarter of 2021 alone saw trading volumes nearly exceed $11 Billion, with 2022 showing no signs of stopping, with an estimated 250,000 people trading NFTs each month on OpenSea.
Projects like Turnt Gaming will help NFTs grow even further by presenting fun and engaging games like Taunt Battleworld, allowing the market to reach mass adoption.
Taunt Battleworld is set to launch in the next few weeks.
Have any thoughts on this? Let us know down below in the comments or carry the discussion over to our Twitter or Facebook.
Editors' Recommendations: