The advantages of project management software
In the end, your company will be judged by your customers based on its fulfillment, not its marketing.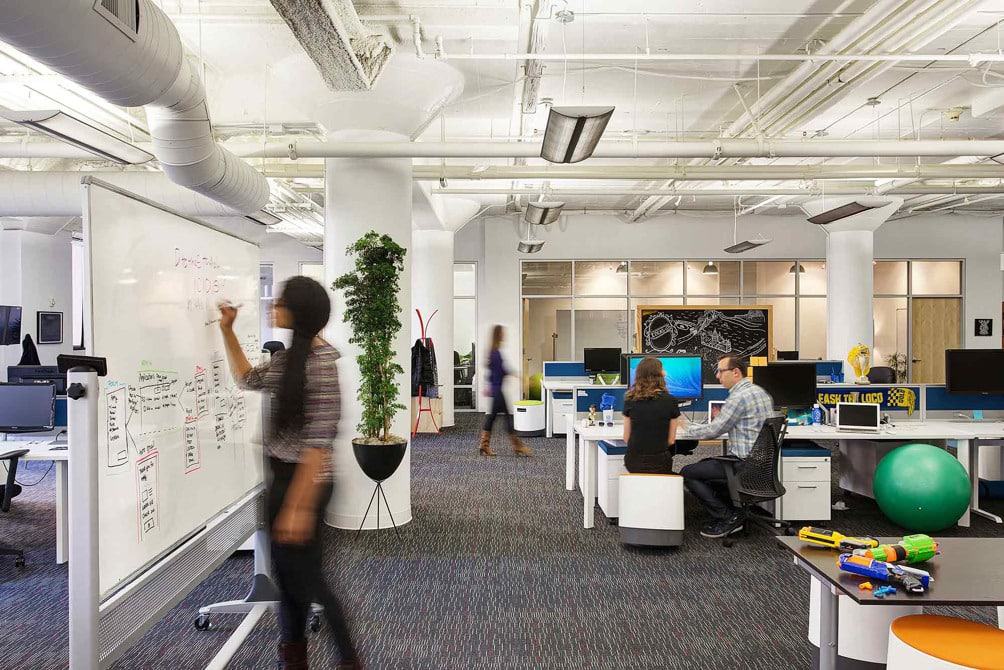 According to one study, 77% of companies own a project management software suite. The most common project management systems on the market include Trello, Asana, as well as more specific tools for shop project management, fleet management, custodial management, etc.
Unfortunately, many companies invest in this software late in their lifetime. This is usually after they notice that they are falling behind on tasks or that tasks are becoming more unorganized.
While many entrepreneurs and startups may focus on acquiring leads and developing their marketing campaigns, a project management system is absolutely critical to your client relations and retention.
Project management software is very affordable for companies and will certainly pay for itself by helping your business optimize its workflow. Beyond this, let's explore more benefits to incorporating a project management software.
Increase Collaboration
The old days of whiteboards and single project managers have been turned upside down with proprietary tools that enable teams to work together on a single platform. Team members can assign tasks, mark progress, review tasks, and send the finished report off to clients, all with a single tool.
Project management suites offer real-time tracking and transparency to see what edits and progress have been made on a project. This enables team members to work together in iterative developments, rather than through separate processes. This effectively eliminates sales at your company and brings team members together as a team.
Integration
Better yet, most project management software can be integrated into your existing software solutions, such as Slack, Gmail, or a CRM. This allows you to incorporate all of your internal documents into a centralized data system so you never lose track of sensitive information again. You can even set up your other accounts to deliver alerts whenever a task is completed or needs attention.
This comes in handy for client reporting, budgeting, and even client communications.
Document Editing and Sharing
Along these same lines, team members can organize documents by project and provide supplementary information deemed relevant to each project. If used as a centralized task processing tool, this gives the organization clear vision and transparency of the progress of tasks and how they are managed and completed under a given time frame. Manage spreadsheets, powerpoints, and all other internal documents from Google Suite using a project management software.
Easy Reporting
Many project management software offers a reporting tool that incorporates data from its central repository for easy access. The biggest advantage is that they offer flexible formats for both forecasting and reporting. With real-time access, using the cloud, you can report to stakeholders and clients the progress and estimated completion of a project.
Client Satisfaction
With the timely completion of projects and increased transparency, your organization can give clients reports and feedback based on real-time progress. Optimize your workflow and properly delegate tasks to deliver better results. Overall, the increased transparency and allocation of tasks will improve your client relations, resulting in greater retention.
Without proper client service, you may think that the project management career is not for you. Take the PMP practice exam to find out whether you are ready for certification. If you provide adequate service and make clients happy, or they won't renew their relationship with your organization again.
Properly Allocate Time and Resources
Have you ever felt stranded, trying to work on a project by yourself with no help? Sometimes team members don't speak up when their drowning, even at the cost of their job or performance. With a project management system, you can track the progress of multiple tasks and allocate time and resources to tasks that fall behind or that team members struggle with. Analyze this data to find your team's strong suits and assign them to projects that they are best equipped to handle.
Budget Tracking
All projects are governed by budget, which means that you need a tool to help your budget the time and resources required to complete each project. With a project management software, project managers can properly budget for tasks and deliver results within the planned budget. This helps them set out future budgets accordingly by analyzing the data from past projects.
Keep Track of Long-Term Goals
One thing that often gets lost in an organization is keeping track of long-term goals. For example, a project management software can be used to mark future assignments for regular maintenance goals, such as biannual site audits, etc. You can also use this to repeat tasks so that nothing gets lost from the project manager to the rest of the team.
Take Control of Your Workflow
Finally, with a project management software, you will no longer leave projects to chance or the trust system. With the ability to assign and track tasks with full transparency, your team is given complete control over their workflow. Time is money and the more time you can save by properly allocating resources to make sure a project is completed on time, the more money you save from employee downtime and lost clients.
While many entrepreneurs focus the front load of their resources on marketing, it's still important to continually find ways to improve your product and service lineup. In the end, your company will be judged by your customers based on its fulfillment, not its marketing.