The Apple Card was almost launched in 2004 by Steve Jobs
Welp.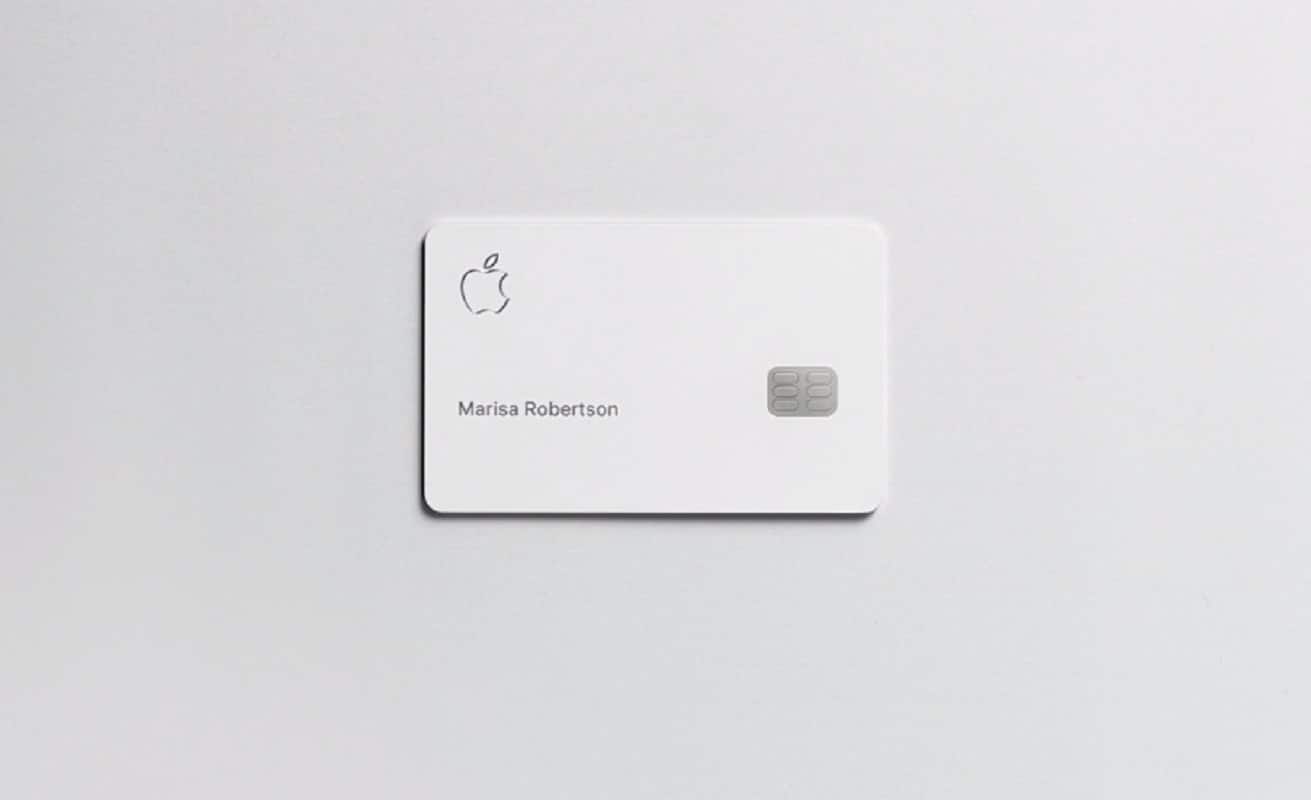 Steve Jobs tried to launch an Apple credit card in 2004. Apple's credit card announcement is actually not the first time Apple is trying to do so. Steve Jobs not only worked on an Apple-branded credit card but came incredibly close to releasing it in 2004.
Steve Jobs, passed away in 2011 of a respiratory ailment related to a pancreatic tumor diagnosed in 2003. He was trying to steer Apple in a new direction at the time. He wanted to launch a credit card in partnership with Master Card but the partnership never materialized. Steve Jobs, seemed to be on the cutting edge of the credit world in 2004. Whoever heard of a technology company hosting their own credit card?  Steve Jobs, had put his own personal touch and genius into the Apple card of 2004.
The card even had an innovative rewards program attached to it. Every time a user would have used the credit card they would be given free music for each transaction. It can only be speculated what impact this card would have had in the credit world. The market was already flooded with credit cards from companies everywhere you turned.  
Every credit card company is vying for potential customers with the latest rewards program, low-interest fees, and maybe even frequent flyer miles. Steve Jobs, had to come up with an angle that would make the Apple card unique and appealing to customers. This would have been done with the company giving users free music every time they used the card.
It did not matter if the user spent money at Apple or another merchant. The end result would be the same the customer would earn iTune credits. Typically, credit card companies will want to just take your money and give no incentives in return. But the Apple Card of 2004, would have provided the customer with free music in essence.
There are concerns now—as there most likely were in 2004—that Apple is already dominating its corner of the technology market. Will they potentially dominate the credit card market in 2020? Would they have ended up dominating in the credit world in 2004? Would this have been one step closer for a monopoly by Apple?
Steve Jobs, had put a lot of work into seeing the successful launch of this Apple Card. The failure was certainly not on Apple's end but it was on MasterCard's end. The two companies could not agree on how much revenue Apple should be given to make the project a reality. The late founder came so close to launching the product that Apple's internal advertising arm; came up with a whole marketing strategy for the launch of the card.
The Apple card was the brainchild of Steve Jobs in 2004 and by no means is the launch of the Apple Card in 2019 a groundbreaking concept for the company. Apple wanted to have a loyalty program for users of the card back in 2004. In 2004, loyalty perks were in their early stages of development. Steve Jobs, wanted the loyalty perks to be an integral part of the 2004 card.
Apple even designed their own card in 2004 and they even talked with Barclay's about launching the card. The breakdown in the process came when Apple failed to negotiate with MasterCard who would have launched the card and sponsored it. Steve Jobs, could not get the terms he wanted so he pulled the plug on the project. It is not known how much Apple invested in this aborted project.
The 2004 project had already developed to the point where Apple's marketing arm came up with slogans for the credit card.  "Buy bed, get R.E.M," said one. Some others included "Buy balloons, get Zeppelin, and "Buy lipstick, get Kiss, "and" Buy raincoat, get Weather Report." The project collapsed because Jobs couldn't secure the terms he wanted from MasterCard, Segall explained. By that point internal teams had already begun creating ads, each with a witty line based around popular brands.
What About the 1990s
There is a trace of an Apple card that came out back in the 1990s. In that decade, Steve Jobs and Ron Johnson concocted a defunct "Pro Card" which did see some active time in the credit world but it did not last long. The card had some weak benefits. Apple offered this slogan for the Pro Card "your passport to a world of benefits and privileges, designed exclusively for the professional Mac user." Some of the benefits were:" free transfer of your files to a new power Mac G5, "Pro Day" at the Apple Store with 10% off software and free installation; guaranteed next-day Genius Bar appointments; early notification of upcoming offers."  
This particular credit card did so badly that there is barely a trace of it on the internet these days. The charge for the card was speculated to be $99 a year. Steve Jobs, has had a history of trying to establish a credit card for Apple. Unfortunately, his only two attempts were unsuccessful. It sounds like the Pro Card was a total bomb.
Historical Reviews of Ancient Apple Credit Cards
One commenter says that he possesses an Apple Credit Card that goes back further than the Apple Pro Card. The customer says this was a physical credit card that would reward points and dollars toward future purchases of Apple products. This was the old-fashioned Visa card. This was limiting because you had to buy only Apple products to get the points or the dollars toward purchasing those products. This was back in the days when the Apple slogan was multi-colored stripes.  This logo came out in 1976 shortly after Apple became incorporated.
The author of the article states that the current Apple Visa card—offered by Barclay's Bank—is a standard visa card that offers rewards and is used for financing options. The author thinks that Steve Jobs—contrary to popular belief—had a fetish for credit cards.
Another reviewer does not give such a glowing report of the Barclay's-Apple Card. He writes that he owns one of these cards but it is a major mess to use the card. It is confusing to Barclay's because the bank thinks this customer's card is an iTunes Reward card. The customer says it is a plain gray card that is used for special financing on purchasing Apple products. This is very limiting to use. The reviewer tried to get Barclay's to switch his card to an iTunes card, but they refused to or could not switch the cards without the customer filling out a new credit card application. The customer claims it is not an iTunes credit card. This same reviewer says the interest rates charged are ridiculous and this card is going into his sock drawer probably never to be used again.
Another commenter says the card that came out in the 1990s was used strictly to accrue rewards as you purchased Apple products. You accrued enough reward points and you could buy an Apple product. This customer remembers using his reward points to buy a Macintosh Quadra 700. This product has some history as it came out on October 21, 1991, nonetheless, this card has some history as well. It existed 13 years before the 2004 card was ever conceived by Steve Jobs.
Another commenter complains that they accumulated Apple Gift Cards to use to purchase Apple gifts. The only problem is that Apple requires the gift card holder to spend a minimum of $200 dollars per purchase. This customer was not happy about this requirement. This is quite a steep stipulation to have to spend this much money as a minimum.
Another commenter says he worked in an Apple store while the "Pro Card" was in existence and he said he did his best to not promote or sell the card. He was embarrassed to tell customers about the weak benefits the card had to offer and the cost of the card. The cost of the card was very inflated indeed.
Apple charges high prices for their products and their interest rates on Barclay's card are very high. Who knows how much the interest rates will be on the Apple Card that was announced in March 2019? If Apple wants its card to be competitive they must charge lower interest rates than all the other cards and they need to offer some outstanding and unique benefits.
Apple has had a long history of dabbling in the credit card market. Their past track record has not been effective as their "Pro Card" did not perform well during its existence. The "2004 Apple Card" never went into production because Steve Jobs could not come to terms with MasterCard on what proceeds Apple would receive from the business partnership. The current Barclay's/Apple card has issues and the interest rates are extravagant. How will the credit card announce on March 2019 perform?
Have any thoughts on this? Let us know down below in the comments or carry the discussion over to our Twitter or Facebook.
Editors' Recommendations: