The Tropire Tri may be one of the best laptop screen extenders
Are you looking for a seamless working experience without having to switch tabs on the same PC?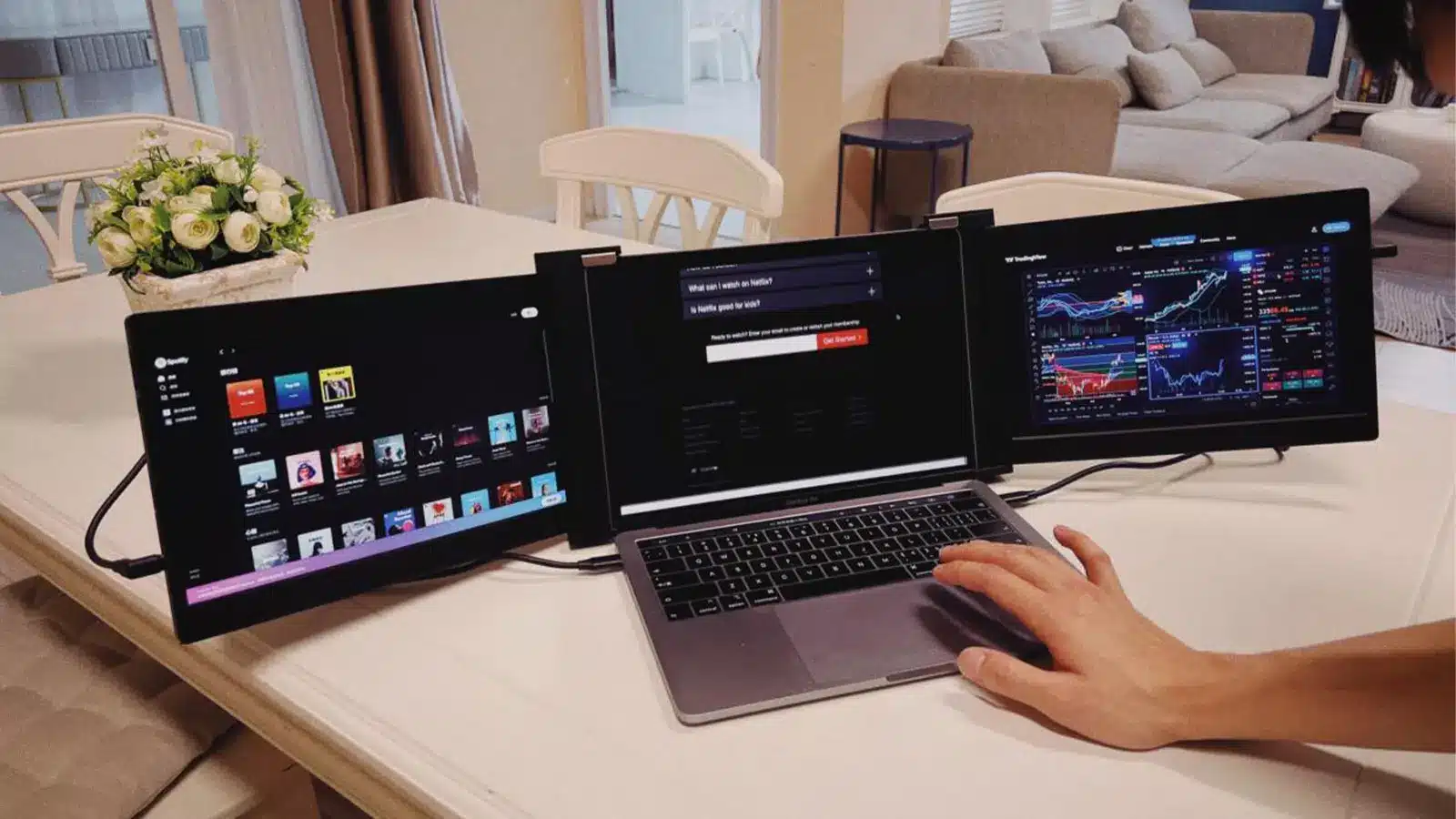 Tropire has made magic yet again. As a company that delights in creating innovative products, they have helped many people worldwide to push the limits of their creativity. Proof of this is the Tropire Tri-screen.
This laptop extender has been referred to as an efficiency enhancer by those who have gotten it. Think about it, what is better than using two screens for your remote work? Using three screens.
The tri-screen has significantly improved the lives of many individuals as well as the efficiency of screen devices.
Remarkably, this tri-screen extender has compatibility with not only modern laptops. You can switch tabs and work with multiple screens on your laptop pc, Nintendo Switch, and selected Android devices.
You are saved from getting bored with the reduced efficiency of working with a small laptop. This ready-to-go attachable dual-screen monitor sets you on a course of a seamless work experience.
Description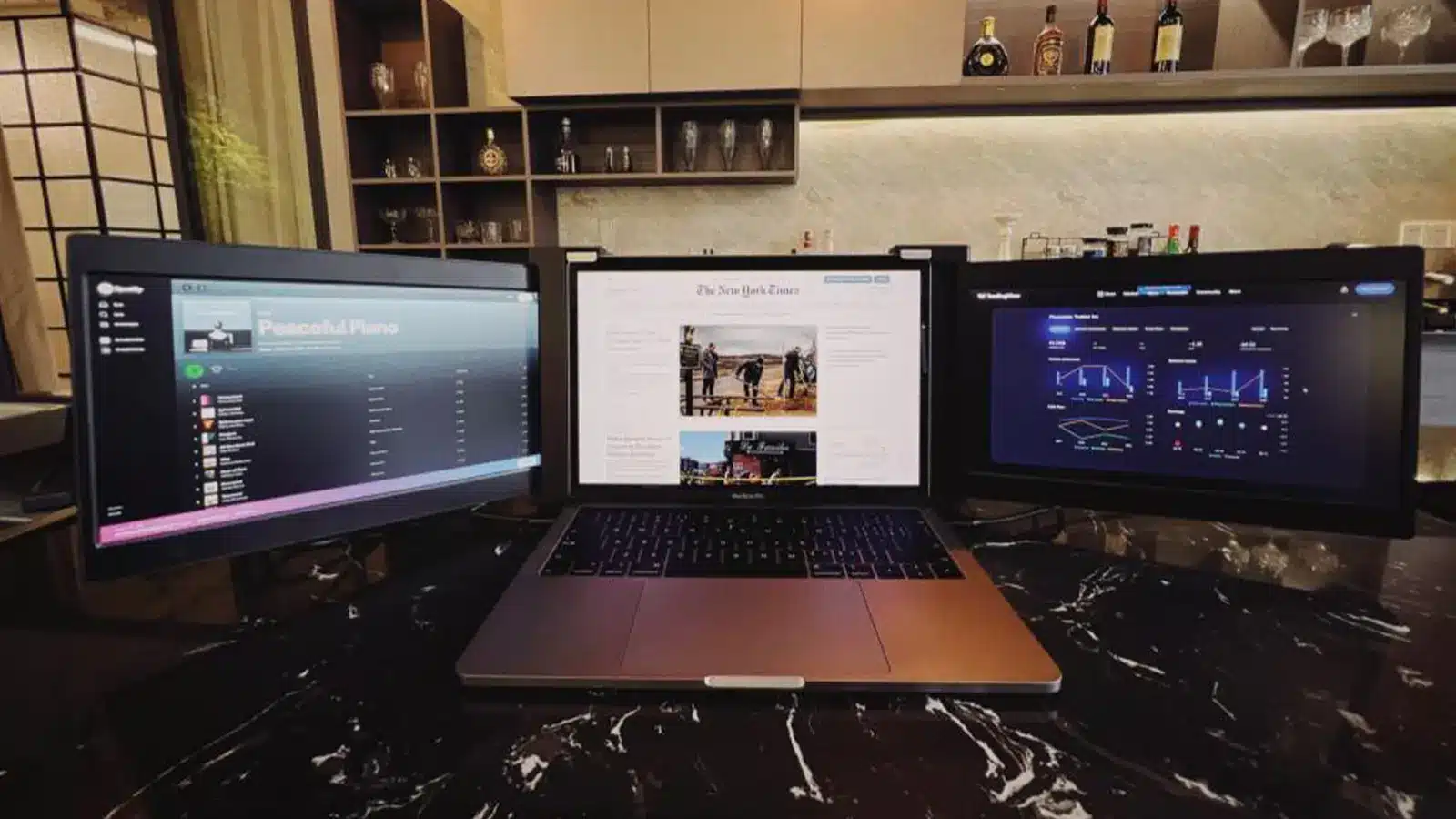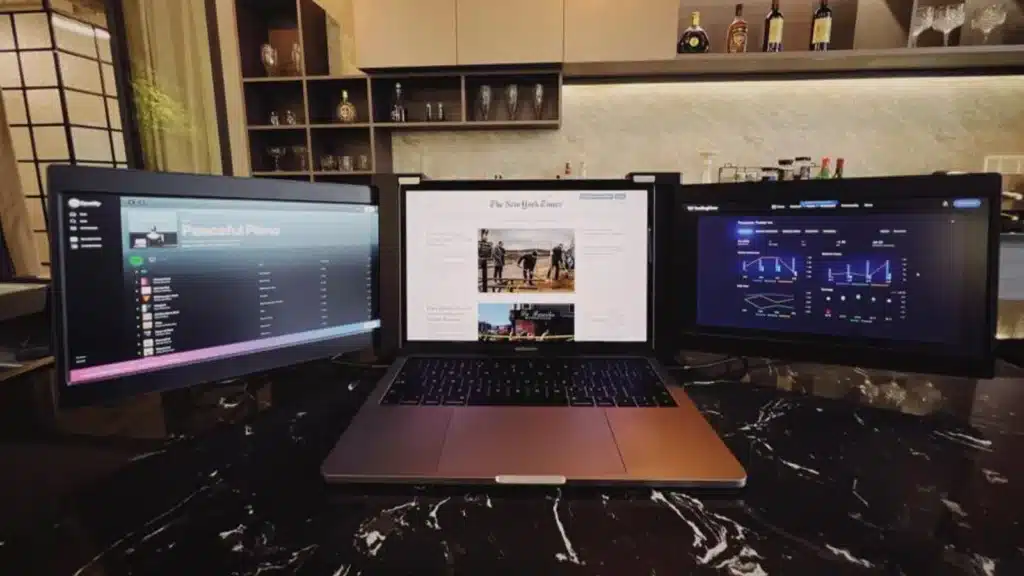 Connected handlebars
The Tropire Tri-screen extender has an effective adjustment in the structure. And this is made possible by the attached kickstand in the product frame.
These handles come with tri-screens. Thus, you can control and adjust the kickstand for your viewing convenience.
Lightweight design
This extender was made with a compact design. This significantly increases its level of portability. Thus, you get to take it with you anywhere and everywhere.
And the fact that it is lightweight also makes it easier to handle and carry around.
Extended view mode
With this device, you can have an almost bird's eye view of your screen. The extender possesses a complete 235° rotation and a 180° display mode for you to share the same laptop screen.
Premium eye care
An exciting feature of the extender is its eye care function. That is, you can put on the optimal eye comfort for the best color temperature to efficiently lessen the impact of the blue light emitted by the display on your eyes.
Multi-device compatibility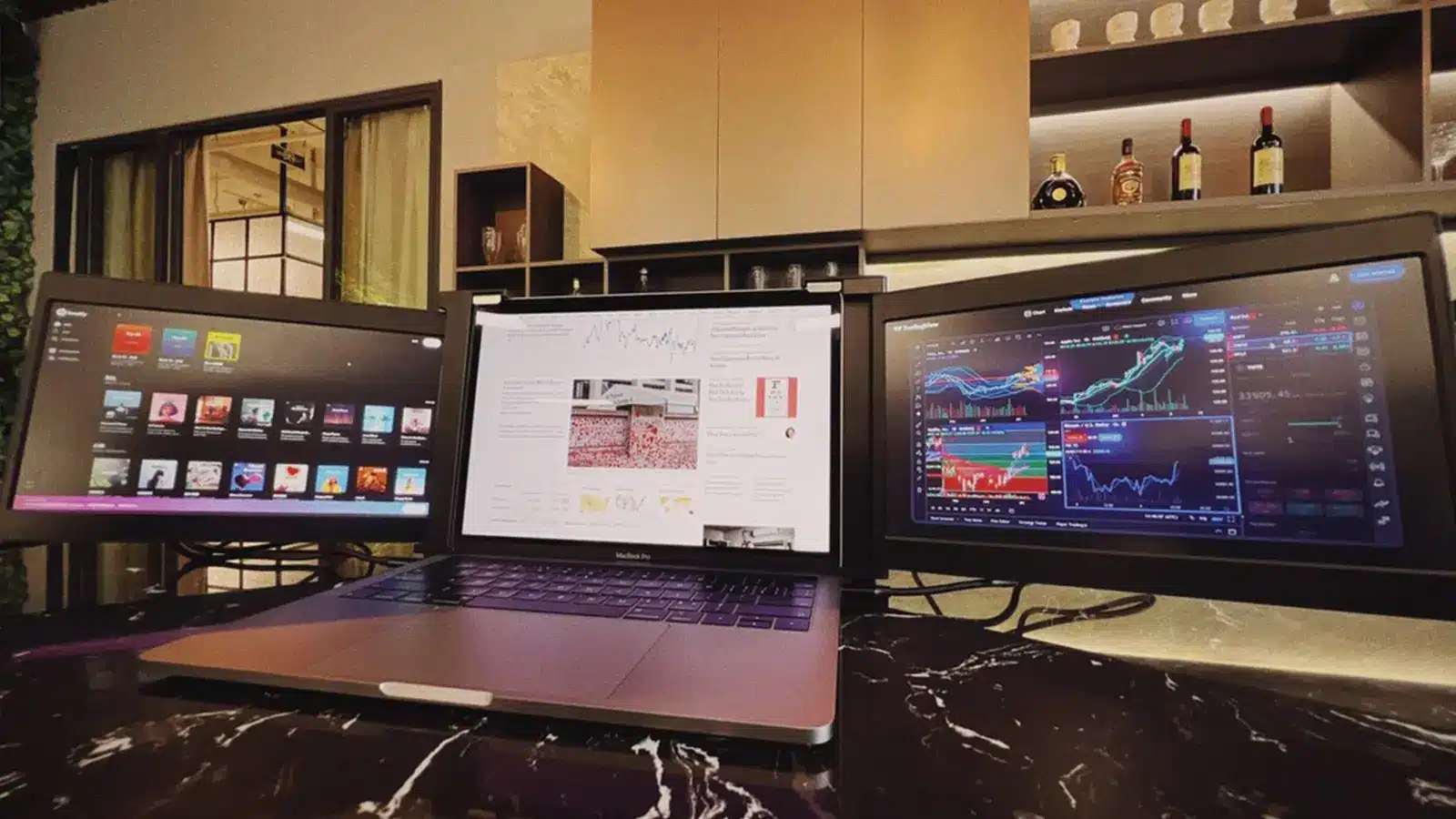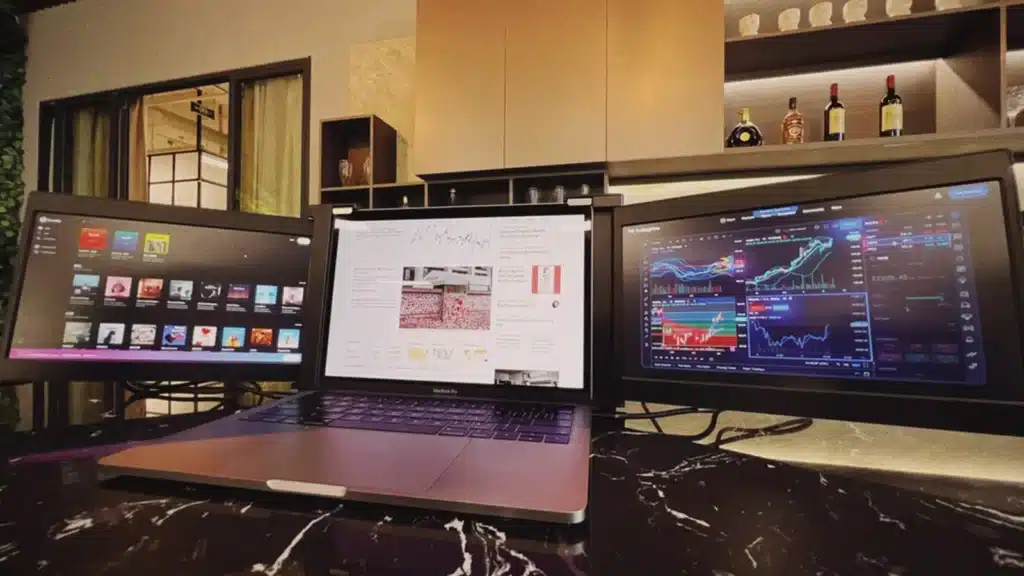 The tri-screen is compatible with PC and non-PC devices such as your Nintendo Switch, PlayStation, Xbox One, or other PC games and laptops with a USB-C video port.
Seamless installation
It takes less than 20 seconds to install the Tropire tri-screen on your laptop.
Regardless of your device type, whether Mac, Windows, Linux, Chrome, etc., you can set up the extender with no technical hassle. The user manual is direct and easy to understand.
Watch the video below showing how to install it:
Specifications
Color: Black
Materials: PC, ABS plastic
Screen Type: Full HD (1920×1080) LCD IPS Panel
Aspect: 16:9
Brightness: 300 nits (adjustable)
Screen size: 12in.
Weight: 2.5lbs
Supported device: 13-16in. laptop
Refresh rate: 60hertz
Port Requirements
1x HDMI & 1 x USB-C with (DP1.2 or Thunderbolt)
2x USB-C with (DP.12 or Thunderbolt)
What's in the pack?
1x Tropire Tri-Screen (Black)
1x User Manual
2x USB-C to USB-C Cable
2x HDMI to Mini-HDMI Cable
2x USB-A to USB-C Cable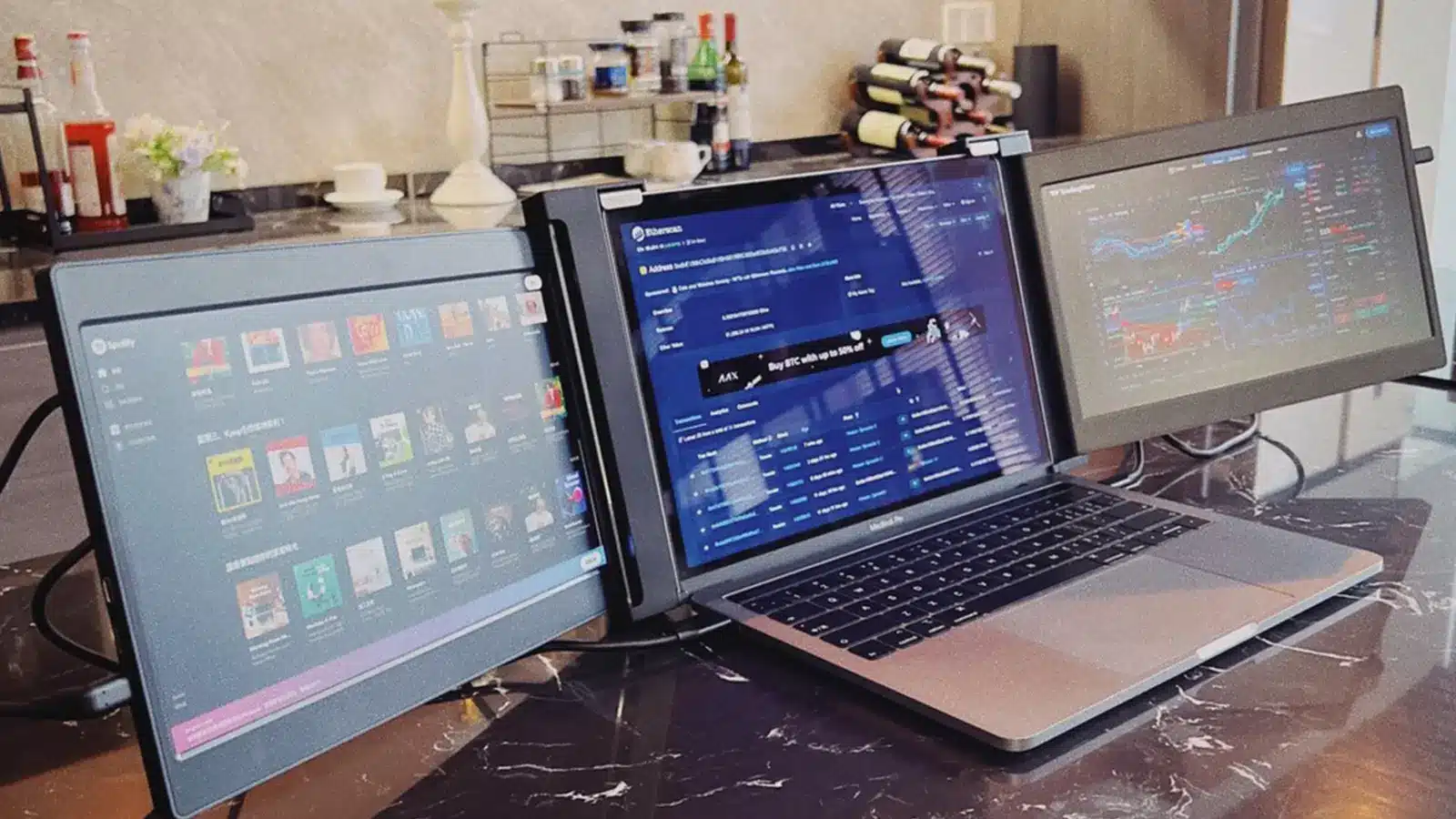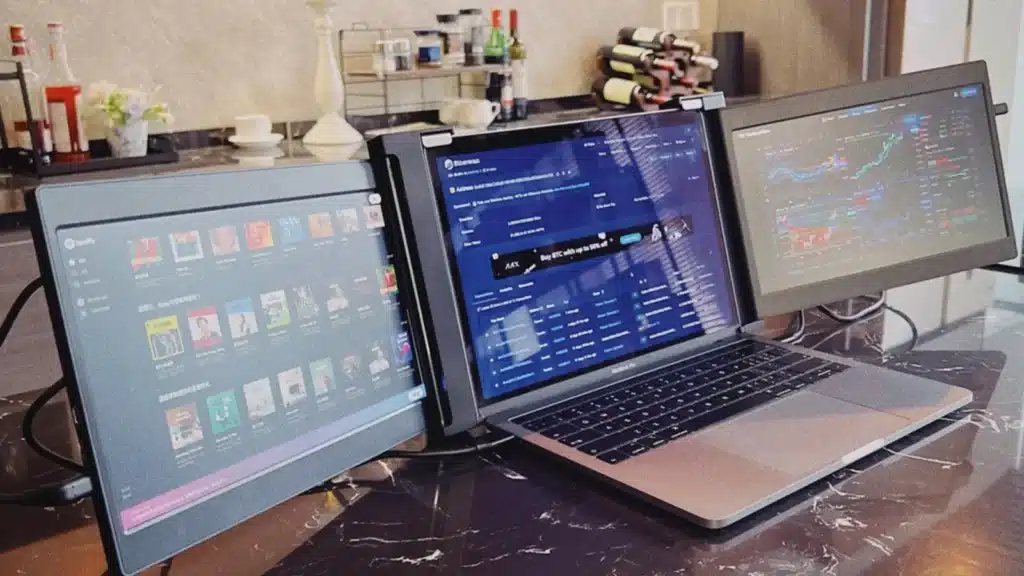 PROS
Easy to set up
Lightweight
Compatible with many devices – laptop, Nintendo, and some Android devices.
Clear and bright screens
Expands your work area
Increases work efficiency by 300%
It is very portable
Uses USB-C and HDMI for port flexibility
It can support pass-through access
It provides almost all the cable combinations you might need
CONS
Not cheap. It costs about $399.99
Quite challenging to use your laptop without a flat surface underneath when the Tri-Screen is attached
Using makes the MacBook run a bit warm
Fits best with new generation laptops with sleek sides.
How to connect to a windows computer
Unbox the tri-screen pack.
Extend the screens and slide through the edges of your windows computer while adjusting the bracket.
Connect the cables using the user manual.
Go to 'Display Settings' on your PC.
Identify and set each of your display screens.
There you go, it's set..
How to Macbook computer
Unbox the tri-screen pack.
Extend the screens and slide through the edges of your Macbook while adjusting the bracket.
Note that: Apple does not officially support three-screen conversion, but our special adapter can connect computers with M1 and M2 chips.
And there you go, it's set.
Why are people choosing the Tropire tri-screen extender?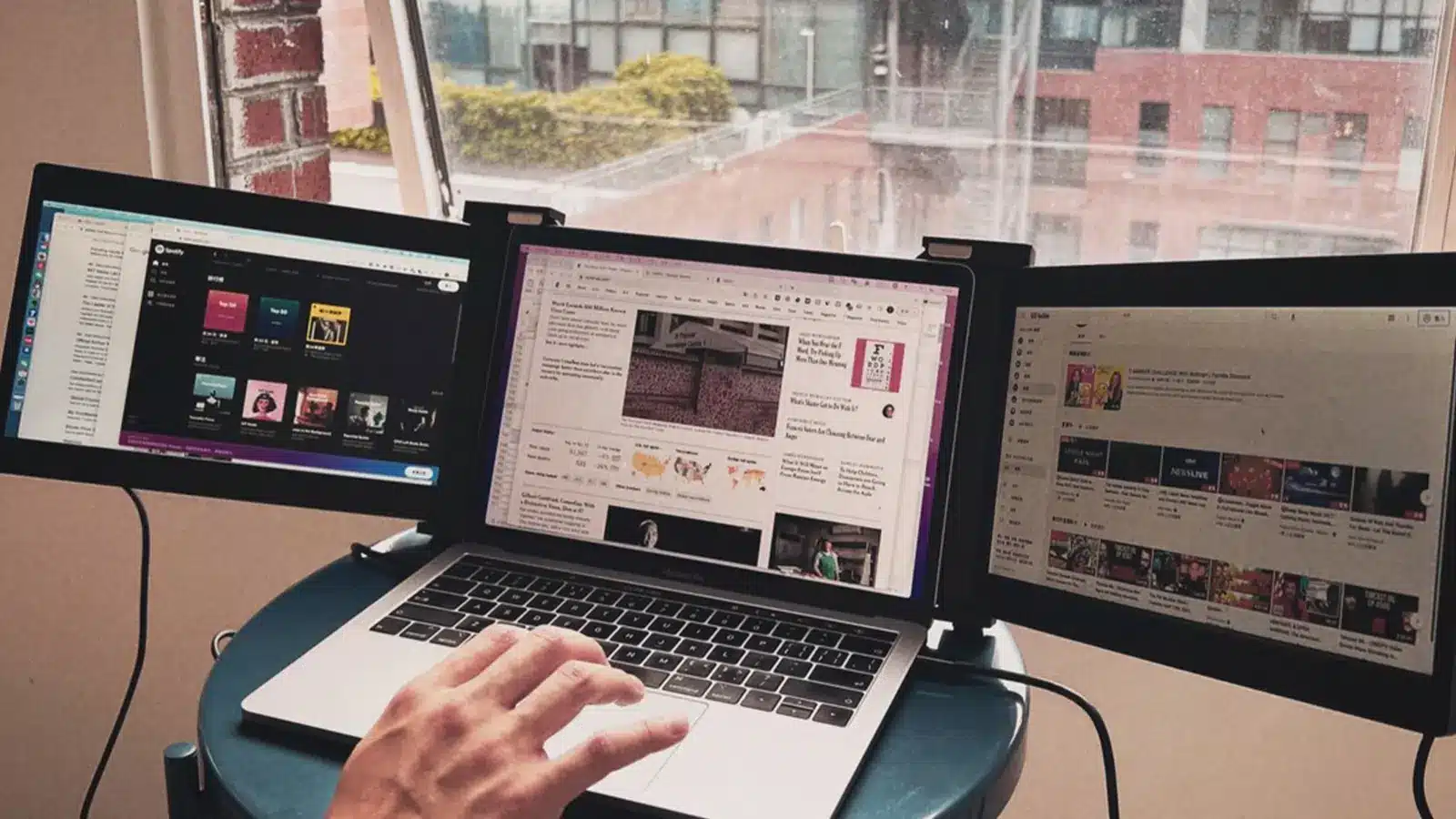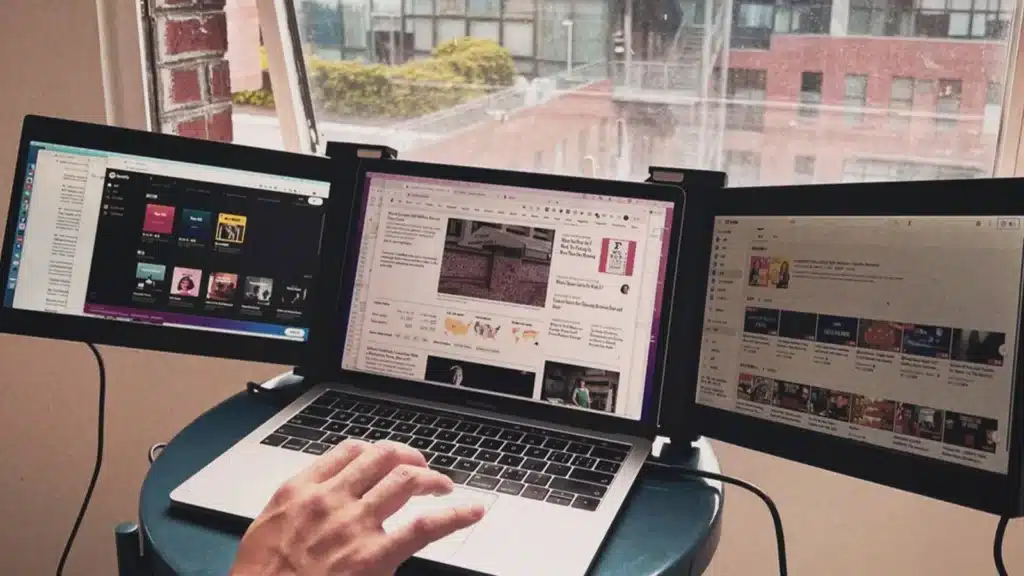 The Tropire tri-screen redefines the concept of working. Most people opt for it because of the multi-tasking abilities it gives them.
One of the users' reviews on the Tropire website states that:
"buying this has enabled me to leave the house and work from wherever my family wants to be and keep the productivity increase that comes from having multiple monitors."
This is a testament to the great experience that this product affords anyone who uses it.
By and large, it increases productivity by 300%. You can view different touchpoints, tabs, and focuses on different screens. This gives a wider context to multi-functionality.
Another user commented:
"It's also great for enabling an efficient media production workflow while traveling. Being able to bring up Audition, Premiere, and After Effects simultaneously on a laptop in a hotel room is something that's never been possible before."
This means you can open three separate applications on the screens without hassle!
Many users outline that you could even bring out the multi-screen in the airport. The great portability of this product's lightweight feature gives it many endearing qualities for frequent travelers.
It also works perfectly for you if you are not a traveler but one who seeks to change your workspace frequently. This means you could set up a mini work office in a café, at a diner, at home, or even in the office itself.
These positive reviews show that the product presents multiple benefits that make it a keeper.
Conclusion
The Tropire company has provided remote workers with the best working experience. And this innovative tri-screen extender is a new product rollout with this intent.
Do you seek to have a seamless working experience without having to switch tabs on the same PC?
Then it would be great if you considered getting one. You can get more information about this extender on the Tropire website. 
Have any thoughts on this? Carry the discussion over to our Twitter or Facebook.
Editors' Recommendations: