These companies dominate the NFT hype
Whether or not NFTs are here to stay is anyone's guess. In reality, the concept is still in its infancy.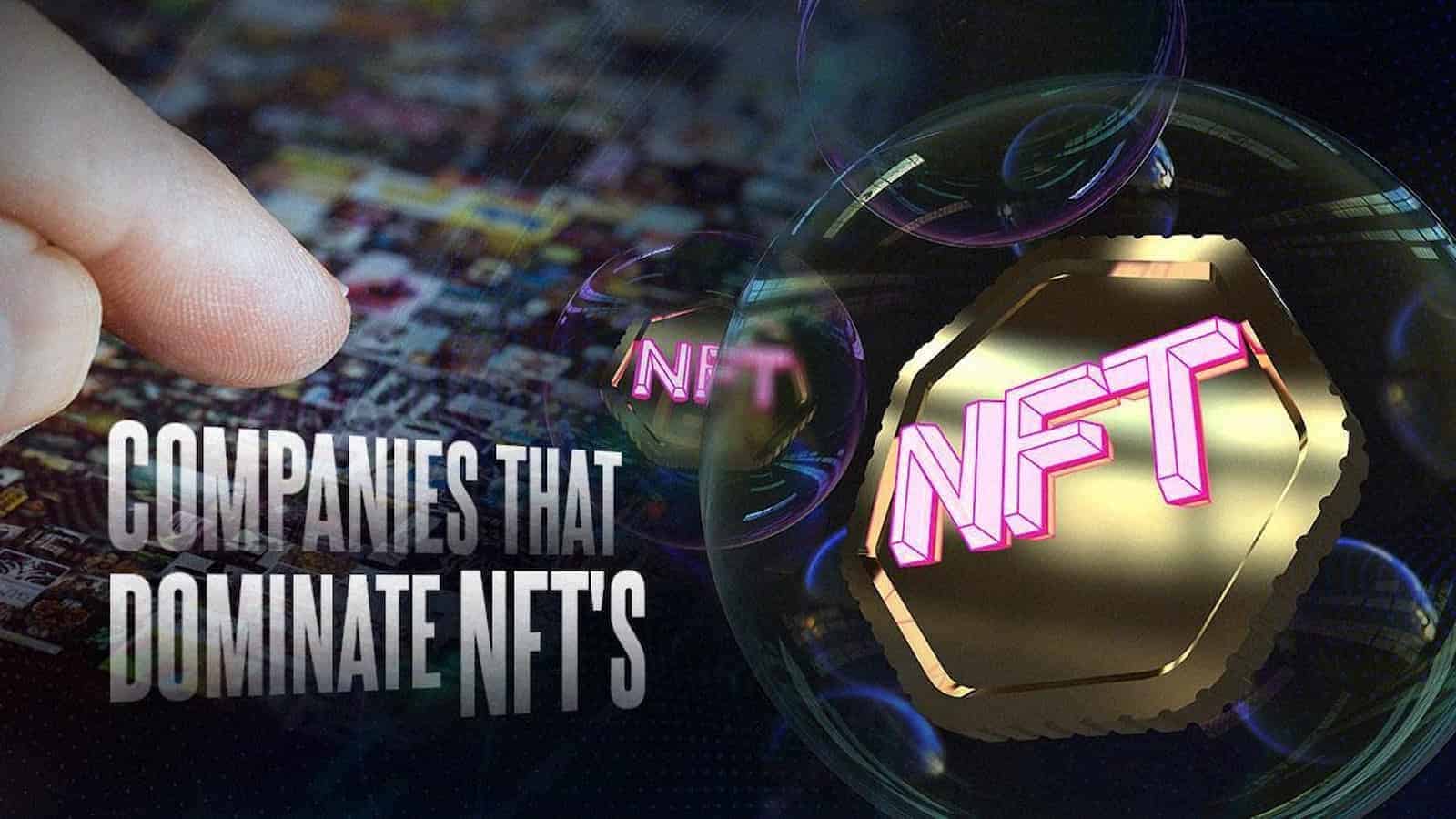 Currently, non-fungible tokens are the thing that is setting the internet and the business world on fire. Bitcoin is a bit passé, as NFTs have become the talk of the town in 2021. They are data units stored on a digital ledger that validate ownership and uniqueness. Meaning they are non-interchangeable assets that hold within them proof of proprietorship.
However, not everyone is a fan of this new phenomenon, as renowned investor Michael Burry recently called NFTs magical beans that crypto grifters sell for real money. Yet, billionaires such as Mark Cuban are going all-in on this trend. Regardless if you are buying into the NFT hype or not, no one can argue that this new digital asset class is making a massive impact in a wide range of industries, from art to virtual real estate. OnlineUnitedStatesCasinos.com has a fascinating article on how NFTs relate to crypto gambling and the rise of the online casino sphere in general.
Below, we look at a few business entities at the forefront of this digital revolution, presently setting the world ablaze with NFT-powered moves that are steadfastly commanding this market.
Virtual Worlds, Games & Marketplaces
OpenSea is a peer-to-peer marketplace where goods like digital art and gaming items can get bought and sold. All projects featured on this platform must be ERC-721 standard compliant. That is a type of Ethereum non-fungible token. So far, in 2021, OpenSea is the second-largest venture capital NFT investment snagging $23 million from a group of investors led by Andreessen Horowitz. Sorare, a blockchain fantasy football game, pulled doubled that figure by raising close to $50 billion in 2021 from venture capital powerhouses Accel and Benchmark. Sorare division winners can earn prizes in Ether.
Per OpenSea, when it comes to virtual worlds or metaverses, Decentraland is the undisputed NFT king with a total trading volume of 96,295. At the moment, Decentraland real estate (LAND) is a super-hot commodity. Brands like Atari and Amnesia Ibiza are opening venues in this metaverse, and Playboy recently hosted a virtual art gallery titled Liquid Summer there as well. The prices of plots of LAND in Decentraland's most developed districts have been continuously rising throughout 2021.
Massive Brands Dabbling in NFTs
Taco Bell is one of America's most famous fast-food chains that serve delicious Mexican-inspired foods. However, in March of this year, they decided to serve up some taco-themed Gifs, sold on the Rarible marketplace. These 25 tokens sold out in less than half an hour. Their initial listed price was $1, yet, they quickly attained a resale value that went up as high as $3,000.
Sporting brand Nike also decided to get creative this year by releasing NFTs that are digital counterparts to purchased physical shoes. So, whenever a customer buys a sneaker, a digital version gets created and sent to their virtual locker as a collectible item that its owner can use in video games or trade online.
Companies Profiting From the NFT Buzz
Demand and supply are the crucial drivers for the price of NFTs. Digital art seems to be a new craze that is currently shining bright. WiSeKey International Holdings is a cybersecurity company that provides secure communications solutions for AI, IoT, and blockchain technology. Its stocks recently rose thanks to news that they will launch ART, a digital certificate of authenticity for NFTs.
Takung Art is a Hong Kong-based online art trading platform that has received a boost due to speculation that it may start featuring NFT art. In March, Dolphin Entertainment saw a massive rise in its stock price on the heels of this Florida-based entertainment company announcing that it is launching an NFT division. Thus, the mere buzz that someone is getting into this sector may lead to an exponential increase in their market capitalization.
NFT Start-Ups to Watch
Codex Protocol is a website that lets artists and owners register and verify their digital assets. It got established in 2018, and its goal is to modernize traditional processes in the arts and collectibles industry. It minimizes fraud through the verification and tracking of every asset in the A&C sector. It provides further authenticity in the decentralized ecosystem via reliable data regarding the exchanges of digital assets. Thus, it is a platform to watch.
Niftex is a marketplace that makes fractional NFT ownership possible. In November of last year, it raised $500,000 to build out its trading platform five months after it launched its alpha version. Many within the NFT bubble believe that fractional NFT ownership will gain massive traction soon.
Final Thought
Whether or not NFTs are here to stay is anyone's guess. In reality, the concept is still in its infancy. However, there is no doubt that it is shaking up the art world and that most of its potential seems to tie into this sphere. 
Have any thoughts on this? Let us know down below in the comments or carry the discussion over to our Twitter or Facebook.
Editors' Recommendations: