Tips to improve your email signature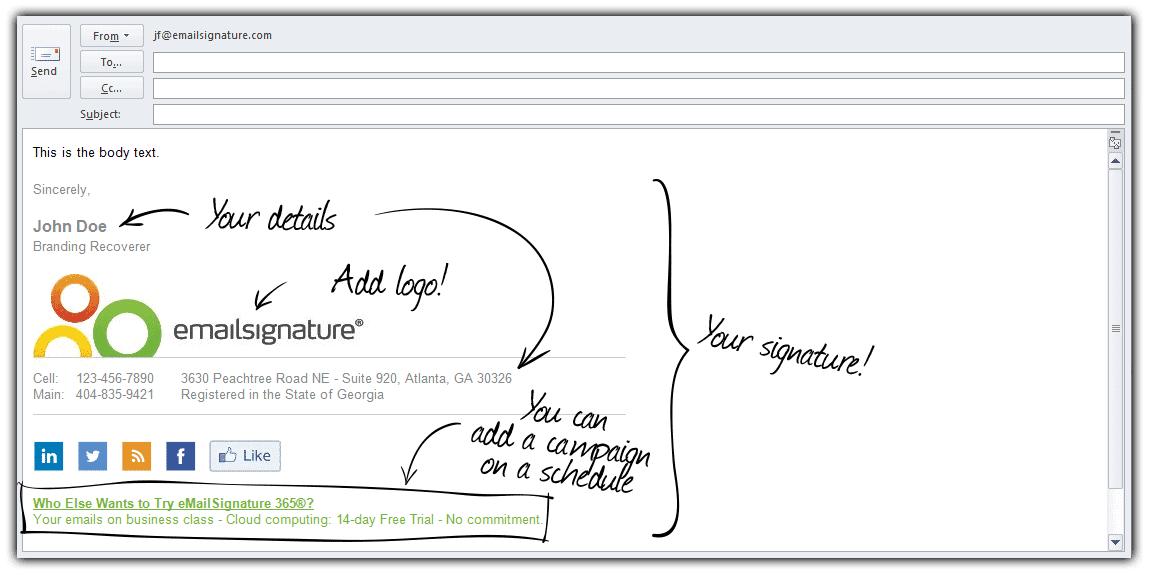 Email signatures maximize marketing efforts, but their importance is ignored. They have become effective tools to market brands for both startups and well-established businesses.
An email signature should be simple, brief, credible and one that personalizes your content. However, as much as these are important, there are other factors to consider while creating an eye-catching email signature that will have the capability of passing the intended message to the recipient. A business should use these tips in its email signature promotions.
Nice Headshot
If you want to include a picture in your email signature, it should be a proper photo that displays professionalism. Email signatures that have photos are warm, friendly and welcoming. Do not just paste the image to the end of the email. Use a pro signature maker to place and size the image – there are many free tools for creating email signatures.
Make is small and simple. It should not use too much space that will make it overshadow important information that you intend to pass to your audience. A large image will take longer to load, and the recipient of the email may not notice its presence.
The background of the photo should have neutral colors. It is so as not to distract the attention of the recipient of the email.
Your dress code should be professional. If your business is in the entertainment industry, you can wear a smart casual dressing, but if it is a corporate, then you should avoid casual wear. Your hair should be well groomed that displays your corporate image. Avoid too much makeup as this would likely put off your recipient. Makeup application should be modest.
Focus directly at the camera as it will ensure the image is welcoming. Direct eye contact will make your reader get interested. The picture should be well balanced. Selfies are not appropriate as they might show lack of seriousness.
A headshot is the most appropriate. Avoid taking a picture of the whole body since your face might be too small to be noticed. Generally speaking, you should make yourself – within the context of your company – digitally attractive quite the same way you would make sure to be properly dressed for a meeting.
Link(s) to Your Website & Relevant Content
In modern times, it's impossible for any business whether a startup or an established one to ignore the effect the internet has on marketing and promotion activities' direct link in your email signature will direct traffic to your website. It will generate interest in your brand. It will give your audience the opportunity to learn about your company's vision, its mission statement, purpose and various products and services available to the market. Emails should be linked to your website.
The company news should be available on the internet. The current news item will make the recipient of the email get more interested in learning more about the company.
It's important to find out if the links in your email address are generating clicks and generating positive results. The links should be trackable. You will thus be able to measure the success of your marketing strategy.
Social Media Proof Bar
Social media and email are perfect places where brands can interact with their customers and create social engagement. Many markets are usually in a dilemma as to whether social media can drive sales. The amount invested in social media had a significant effect on a company's brand. Social media is a tool that you can use to promote your sales activities. The important thing is to communicate with your fans through email marketing promotions. Spread out your advertisements on several channels.
Through social media, you can reach out to a bigger market. Therefore you should not ignore it. For example close to 1 billion people worldwide log onto the Facebook platform on a daily basis. The audience is massive and the buzz generated has the potential to promote your good and services and effectively drive in sales through lead generation. It's important to build an online community on its brand.
A proper email signature must have a social media bar that directs the users to its social media pages. These include Facebook, Instagram, Twitter, LinkedIn, and Pinterest among others. Social media is capable of generating a buzz of the company's products and services and the brand itself. By directing the clients to your social media pages, you will be able to measure the engagement level.
For example, during a new product launch, you should be able to assess its acceptability in the market by evaluating the reviews in the sites; there are many more factors to evaluate during a product launch – great resource for that here. Your audience will like, comment on your posts and give testimonials. You can also look at the subscription rates and the number of followers you have on the social media arena.
Conclusion
Your email signature should look attractive and one that will generate interest on the recipient. Before sending out the first email, test it internally, for example, some platforms might not display background images, and therefore you should avoid them.
Your target audience and company's associates will judge your business by how your email signature design. Therefore it should be carefully designed and not confuse your recipient.
Have any thoughts on this? Let us know down below in the comments or carry the discussion over to our Twitter or Facebook.
Editors' Recommendations: