Top 10 call recorder apps for Android & iPhone
Call Recorder apps are essentially forewarning tools that keep you ready for the unexpected and unpredictable future.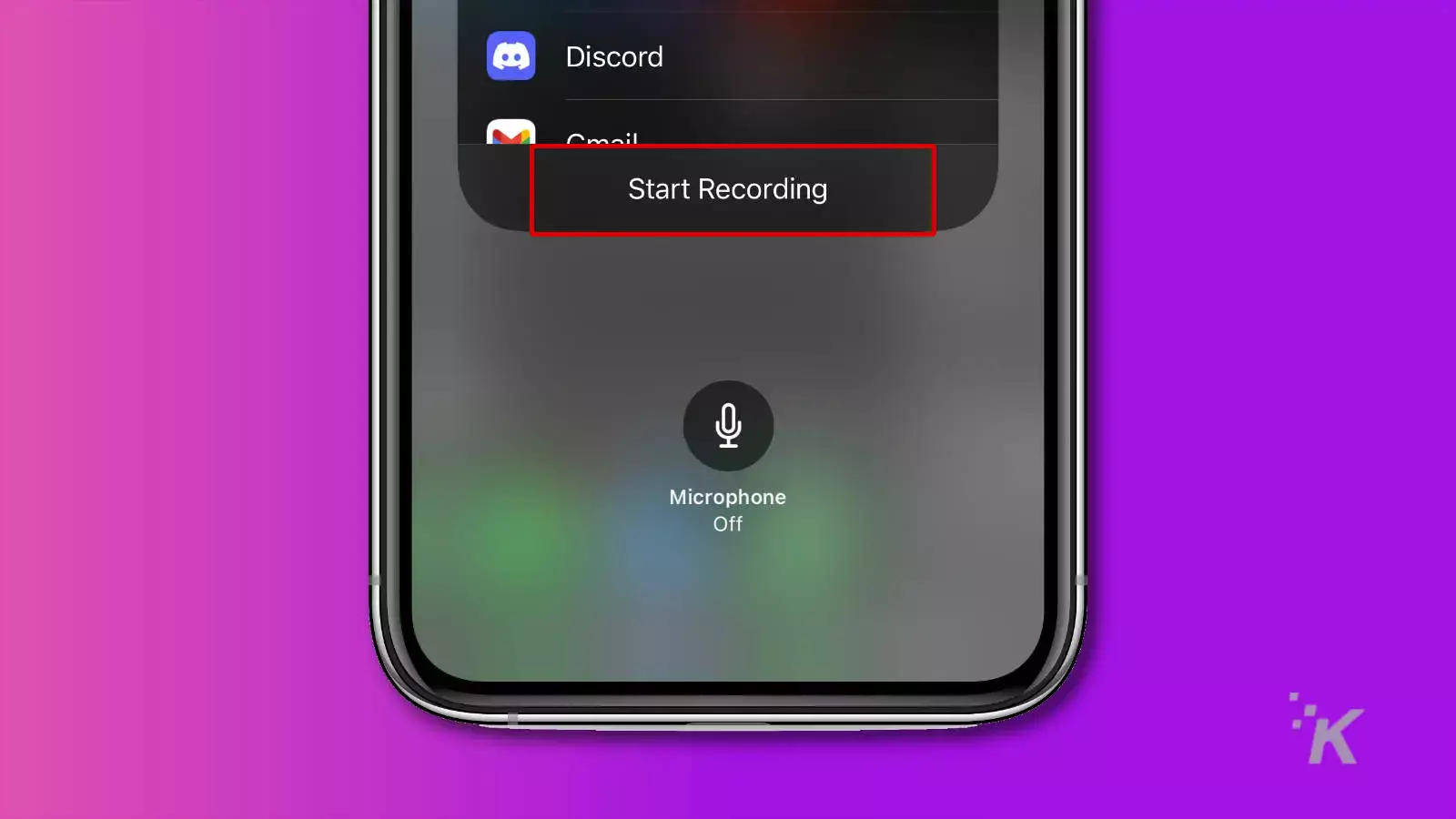 A call recording app is a mobile application that allows users to record incoming and outgoing calls. There are various reasons why someone would desire to record their phone calls.
How often have we put down a crucial call to wish we had taped it later? After all, you never know when such documents will come in helpful.
Although certain Android phones allow you to record your calls, they are few and few between, and they lack extra functionality you may want while recording a conversation.
Most Android phones, for example, do not enable you to record calls automatically. This can be an issue since we frequently forget to turn on the recorder before taking a call.
Fortunately, today's smartphones are equipped with various sophisticated and user-friendly call recorder applications for Android and other cellular devices, making the recording procedure much more straightforward.
In this article, we'll look at some of the finest phone call recording apps available for smartphone users today, examine the features they provide, assess the cost of putting them on your device, and then let you choose the best app that meets your needs.
Top 10 call recorder apps for iPhone and Android:
Below are the top ten call recorder applications for Android and iPhone:
REKK Call Recorder is available for iPhone and Android.
It records and transcribes phone calls to mobile and landline numbers. It is one of the best choices for recording calls.
REKK Phone Call Recorder is one of the best apps for iOS to record phone talks easily.
The app can record incoming and outgoing calls, can create a backup of the recordings, and transcribe recorded calls by identifying speech and converting it to text form.
Moreover, you can share audio recordings using other applications; upload recording files to cloud platforms such as Dropbox, Google Drive, and numerous other platforms.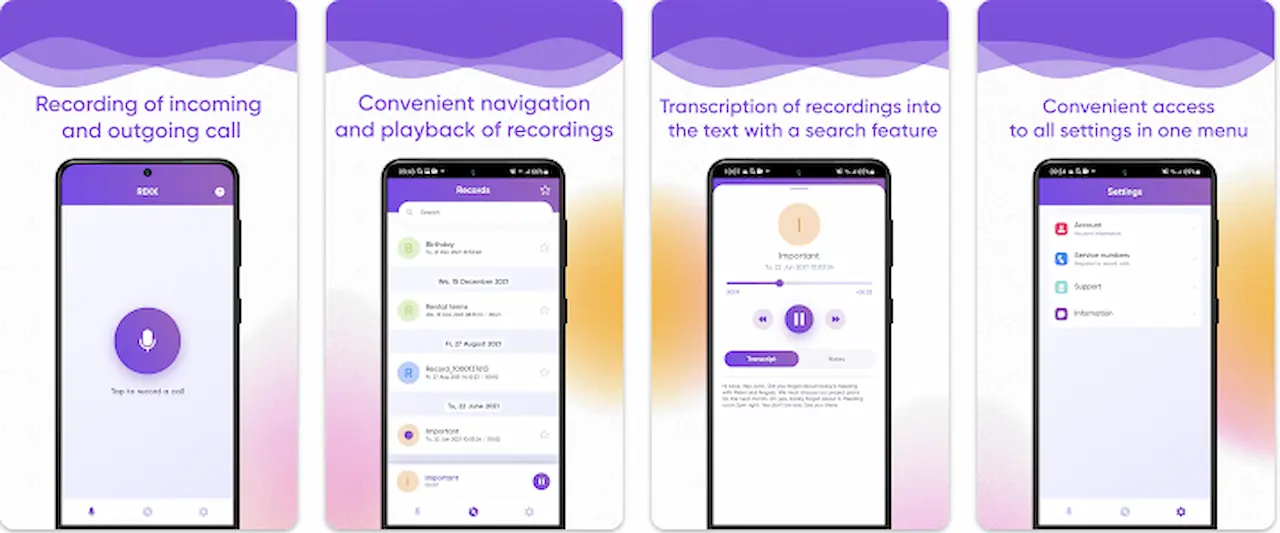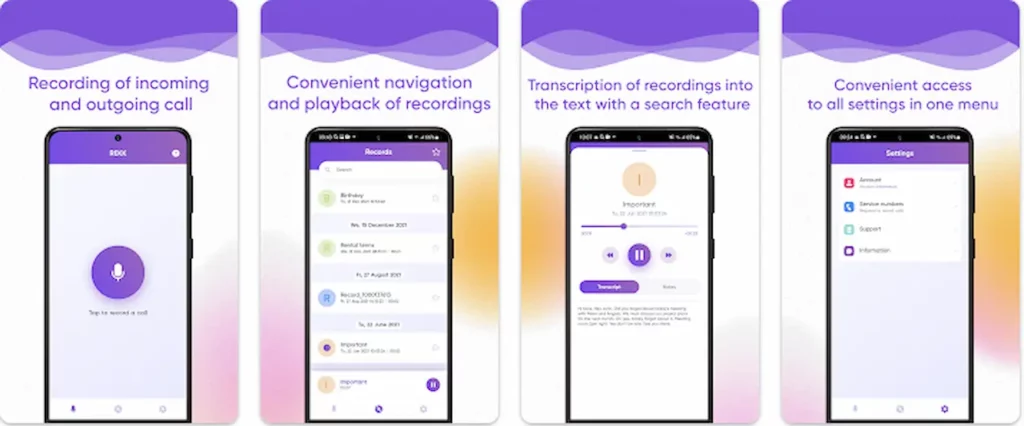 It is designed for individuals and organizations of all sizes who have to record business meetings, interviews, sales calls, legal discussions, customer service calls, and other conversations.
Call recording with REKK for iPhone is free as long as you are and the other party is using REKK while chatting.
In case you want to record calls to phone numbers and landlines, then you have to buy a subscription.
Features
REKK includes the following features:
Recording video calls on devices
High-quality recordings
Speech recognition
Making notes for the records
Recording incoming and outgoing voice calls in IMs and social apps
Quick start of recording
Ease of use
Sharing the records on social apps and messengers
Convenient UI
Free technical support for all users
2. Rev Call Recorder
This is best for transcribing recorded audio.
Rev Call Recorder is another of Apple's best call recorders, allowing you to record as many calls and voice messages as you like without restrictions.
You may record your incoming and outgoing calls with just one tap and the recording quality on this app is also absolutely excellent.
The best aspect is its integrated transcription tool, which allows you to have your recorded calls transcribed within 12 hours by Rev's team of skilled human transcribers.
This feature makes the product worthwhile for content makers, journalists, podcasters, and novelists.
Aside from transcribing, the program allows users to modify their recorded audio and easily erase bits they dislike.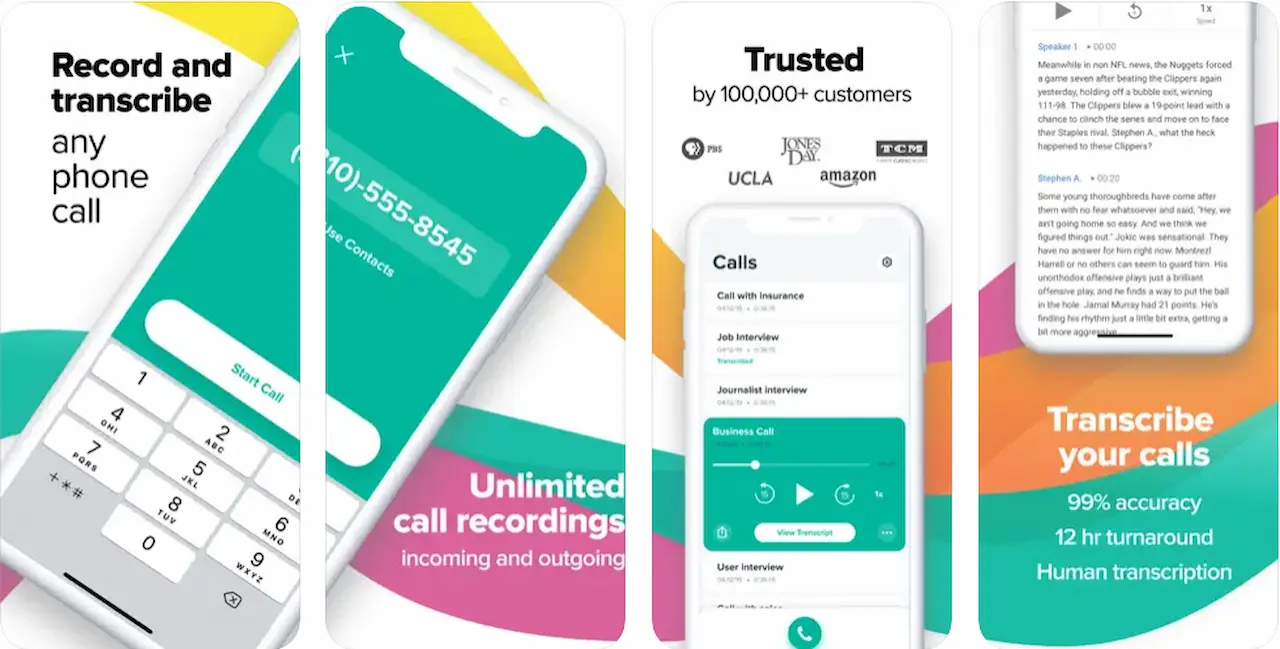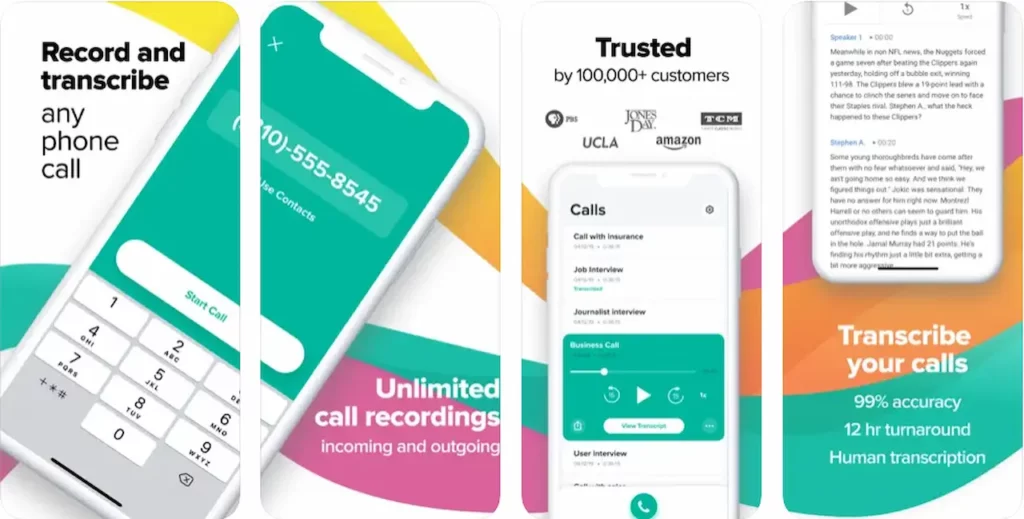 Rev gives a fantastic program that can do high-quality voice and call recording services at no cost to its customers.
It's also great for professionals who need to maintain texts of their recorded audio because it has an in-built transcription function.
Features:
Audio editing and transcription
Call recording with a single touch
Recording and playback in high-definition
It is free of charge
This is the finest option for call recording on Apple devices with a clean UI.
TapeACallPro is one of the greatest call recording apps to grace an Apple iPhone, with a stunning AI and a long list of functions to boast about. With just one swipe, you can quickly record an infinite amount of incoming and outgoing calls.
It also works nicely with Google Drive, Dropbox, and other cloud storage services to make storing and accessing recorded recordings easier.
You may also effortlessly move files from one device to another by sharing your recorded media using email or messaging applications.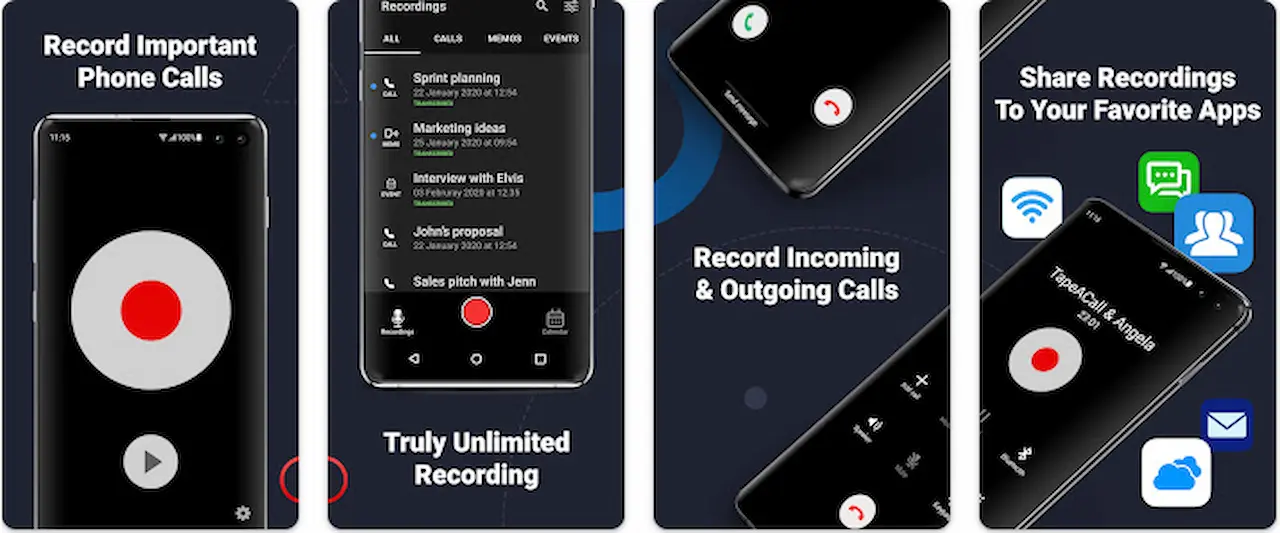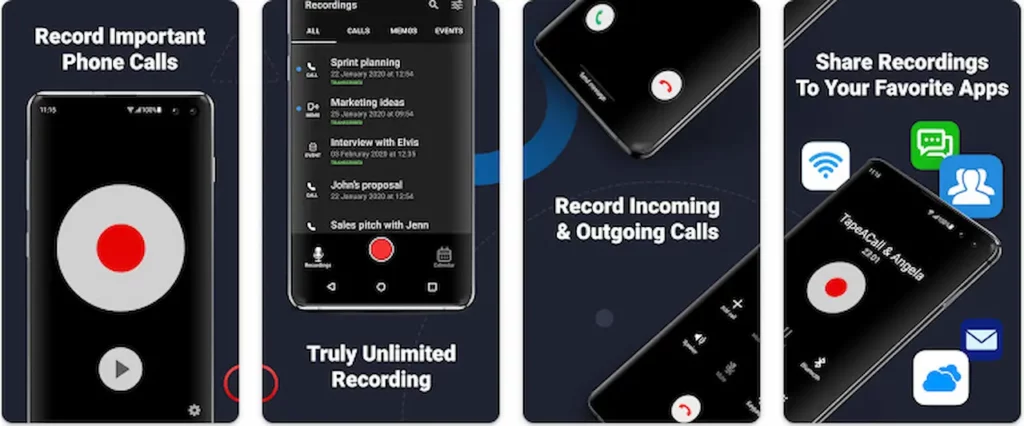 TapeACallPro features one of the most attractive user interfaces of any call recording program.
It also has a lot of capabilities that allow it to give a wide range of services that make recording outgoing and incoming calls much more straightforward and enjoyable.
Features:
Email or chat apps may be used to share files.
Sorting files is simple.
Incoming and outgoing calls should be recorded.
Save files to Google Drive, Dropbox, and other cloud storage services.
It costs $10.99 for a year.
4. Easy Voice Recorder
Easy Speech Recorder is an audio and voice recorder that is simple to use.
It's one of the premium call recording apps for Android, allowing you to record meetings, personal notes, tunes, and more with no time constraints.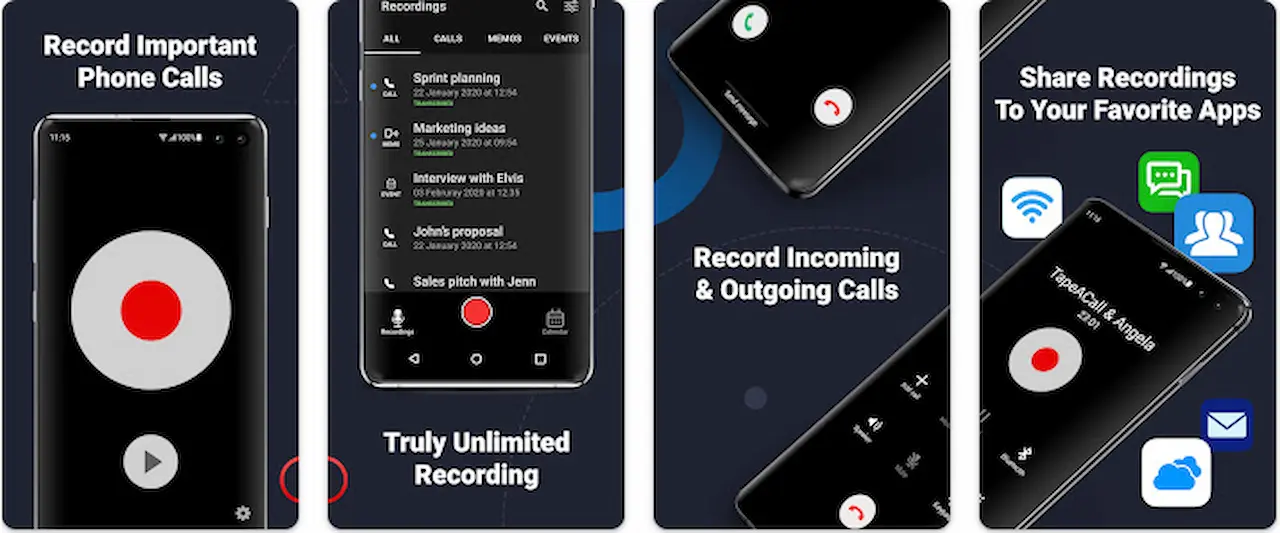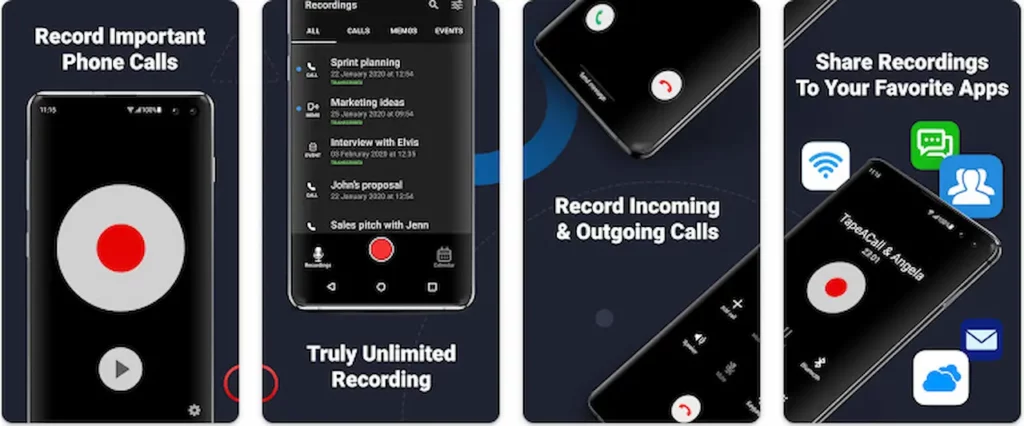 Features:
It enables you to effortlessly share, organize, and transfer your recordings to your computer.
Bluetooth and a microphone can be used to record.
This automated call recorder tool allows you to capture high-quality recordings of classes and lectures.
More than 10,000,000 downloads.
Google Play Store Rating: 4.7 out of 5.0
5. RMC Call Recorder
The primary goal of Record My Call is to record all of your phone calls. It's one of the greatest automated call recorders for Android, and it works with a microphone.
You can use the loudspeaker to hear the other person well during a chat.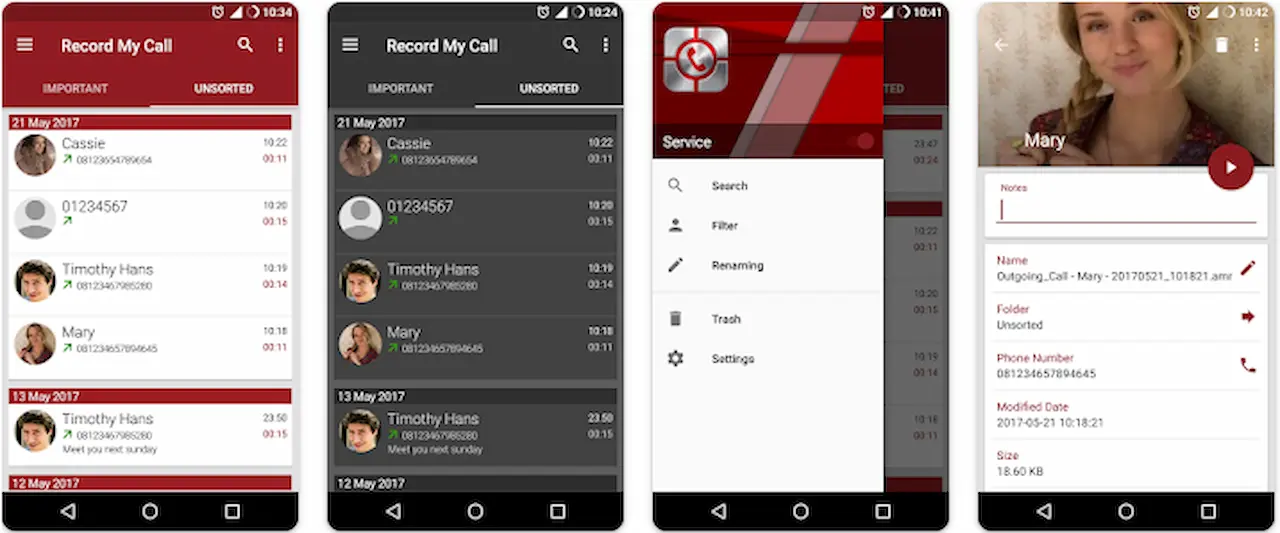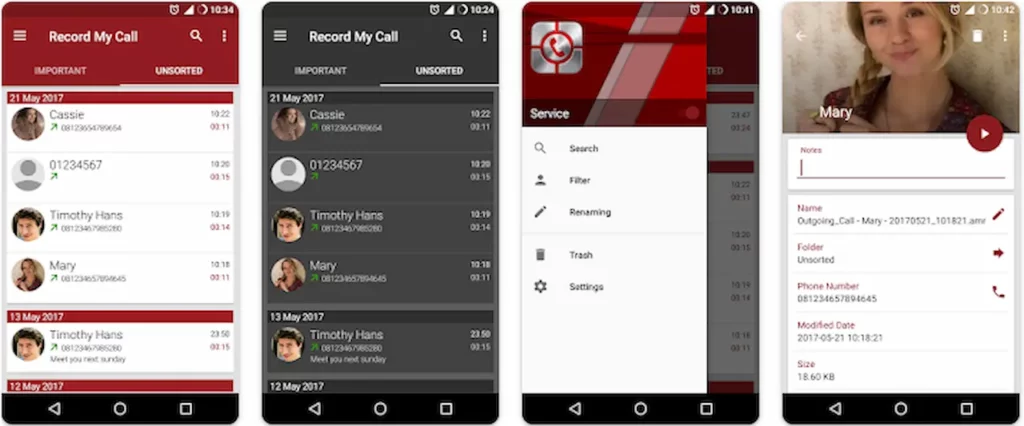 Features:
You may automatically and manually record all incoming and outgoing calls.
Change the location of the recording's home folder.
The audio formats supported by this automated call recording program include mp3, mp4, 3gp, and wav.
This phone call recording program has a trash folder to prevent accidental deletion.
The manual record button is moveable.
Google Play Store rating is 3.9 out of 5.0.
More than 5,000,000 downloads.
6. Smart Recorder
Smart Voice Recorder is an audio recorder for Android that is simple to use.
It is among one of the best call recorder applications with a clean and simple user interface built for high-quality and long-time recording.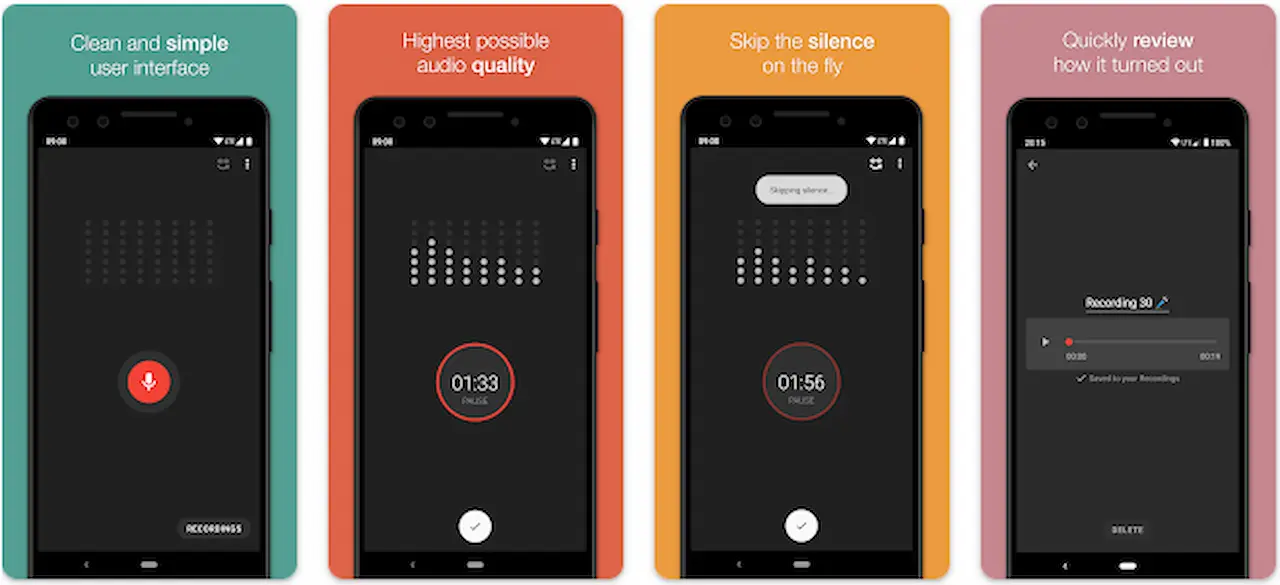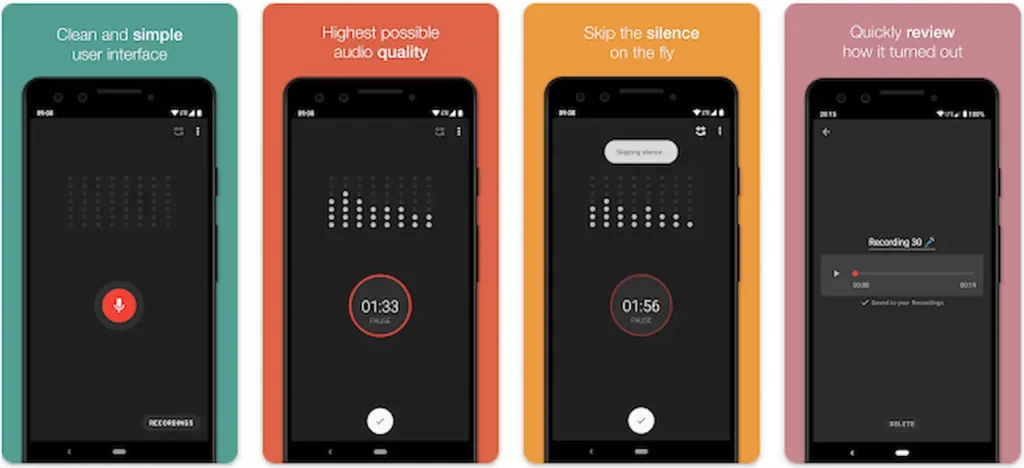 Features:
For Skip silent mode, there's an option for automatic and manual sensitivity settings.
Tool for adjusting the gain of a microphone.
Battery-friendly and efficient.
It has a restricted recording period according to the storage space available.
Control the recording process by saving, pausing, resuming, or canceling.
4.6 out of 5.0 on the Google Play Store
More than 10,000,000 downloads
7. Cube Call Recorder ACR app
This is the greatest option for recording automated phone calls.
The Call Recorder Cube ACR is one of the most technologically advanced call recorders on the market today. We can agree with the phrase now that we've taken it for a spin.
The program offers a user-friendly interface allowing users to record phone calls and VoIP discussions easily. Users may choose between automated and manual call recording using this tool.
The nicest feature about this application, in my opinion, is that you can create a list of all the contacts you want to record every time you speak with them automatically.
You may also create a list that eliminates the contacts you don't want to keep track of.
Furthermore, the software has an in-built file explorer that enables you to manage the recorded files, and delete or export them to another device.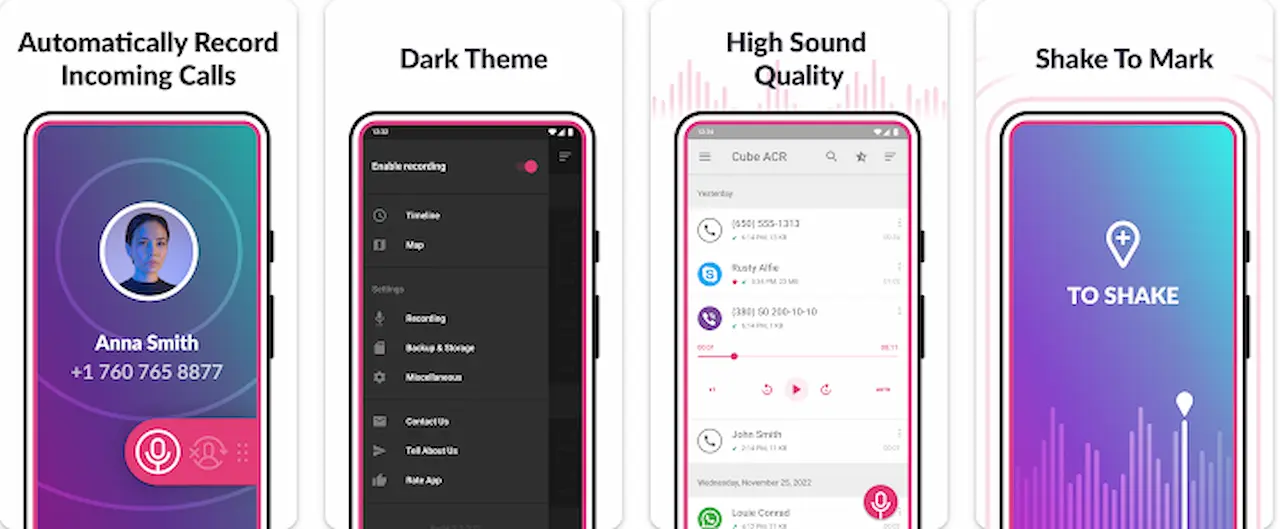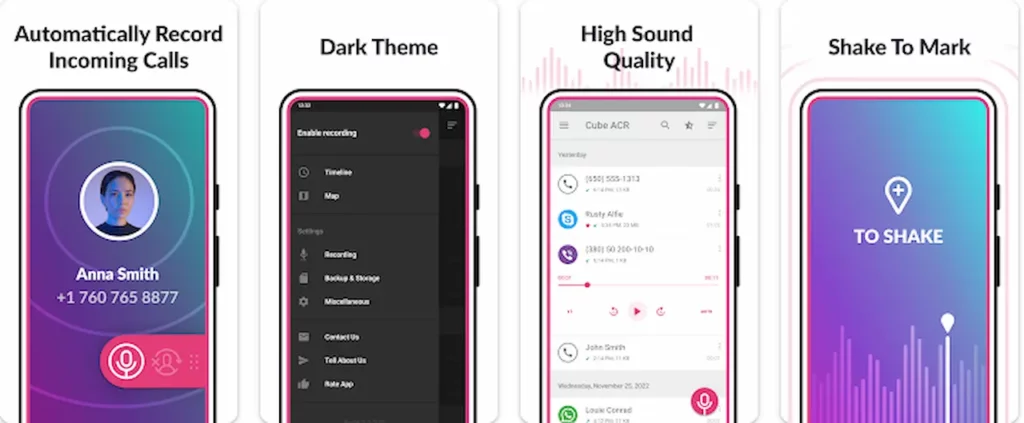 This software was built for you if you're looking for a powerful and easy-to-use program that takes care of your call recording.
It's, without a doubt, one of the greatest automated call recorder applications available.
Features:
Automatic Call Recording creates a contact list that will be automatically recorded.
Switching between smart speakers
Built-in file explorer
The call recorder app is available for free.
8. Automatic Call Recorder:
This is the greatest option for integrating Google Drive with Dropbox.
Even though it bears the same name as the preceding title on our list, Automatic Call Recorder is a completely different app.
Several features set it apart in an otherwise crowded market for automated call recording apps. There are three default settings for the tool.
There's the 'Record Everything' setting, which allows you to record all incoming and outgoing calls, followed by the 'Ignore Everything' setting, which will enable you to record no calls except for those you've pre-selected for recording.
Finally, the 'Ignore Contact' setting, will enable you to choose which contact you don't want to be recorded automatically.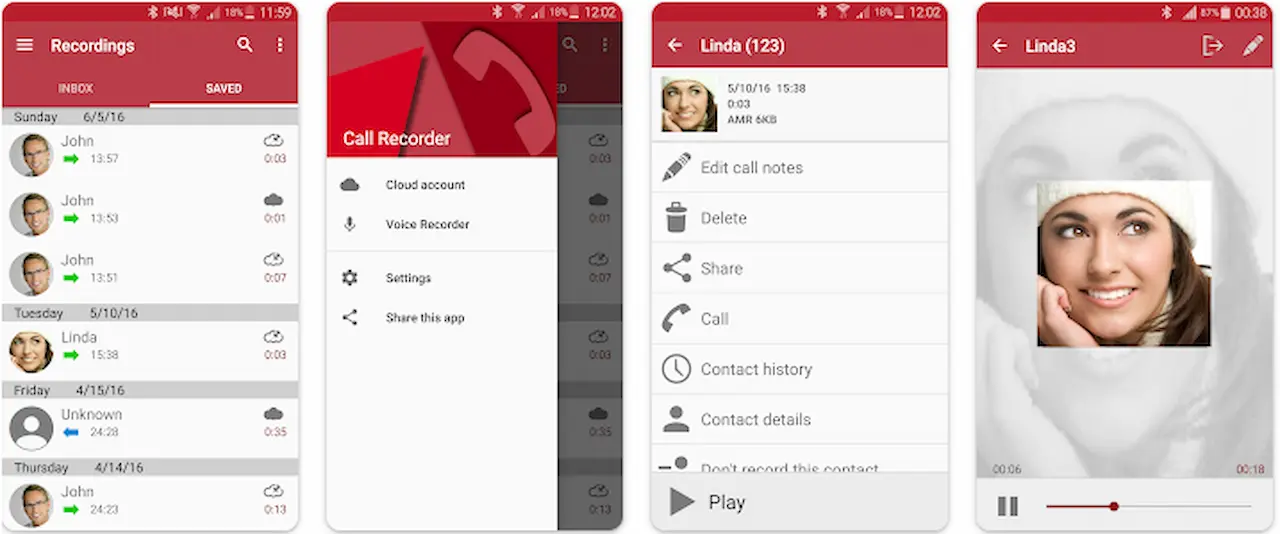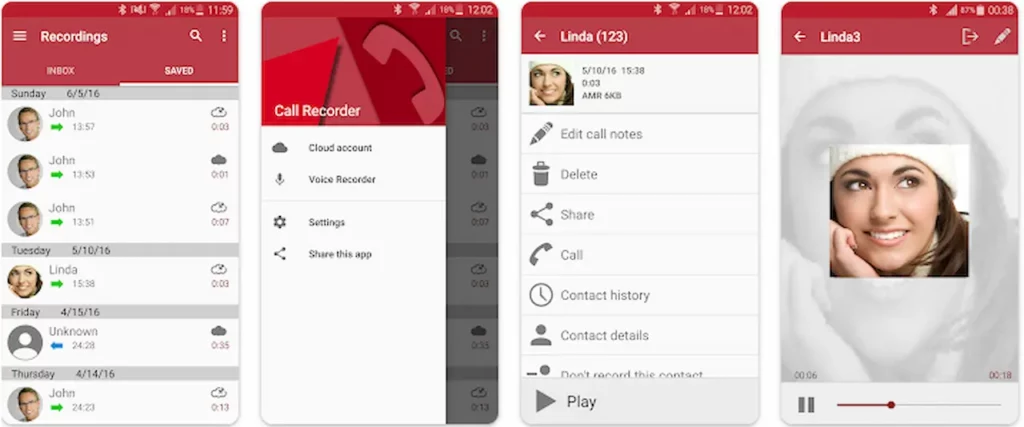 Alas! All handsets aren't compatible with the tool.
Some users have complained about the poor quality of the voice recordings, while others have said they like using the program.
Despite its technological prowess, we cannot suggest Automatic Call Recorder to everyone due to its mixed reception.
Voice recording quality may be poor for certain users. It is, however, free to use, so you have nothing to lose by giving it a shot.
Features:
Google Drive and Dropbox integration
There's a blacklist and a whitelist of people to call for recording purposes.
Calls are automatically recorded.
Listen to the tape, make notes, and send the file to others.
This software records phone calls for free.
9. Truecaller:
Truecaller is the greatest caller ID and spam filtering software on the market.
It's one of the finest Android phone call recording apps for identifying unknown numbers, spam, or corporations before picking up the phone.
Truecaller also lets you ban numbers and telemarketers, and robocalls automatically.
Features:
You may use transactional SMS to pay bills or check your bank balance.
This iPhone call recorder software makes it easier to track all your conversations.
On your devices, recordings are recorded and kept.
It assists you in managing all of your correspondence.
4.5 out of 5.0 on the Google Play Store
More than 500,000,000 downloads
10. Super Call Recorder
Super Call Recorder is one of the greatest phone recording apps, allowing you to record calls in real-time.
You can use the built-in software to listen to your recorded calls and quickly export them to the SD card, which you can then distribute through email or WhatsApp.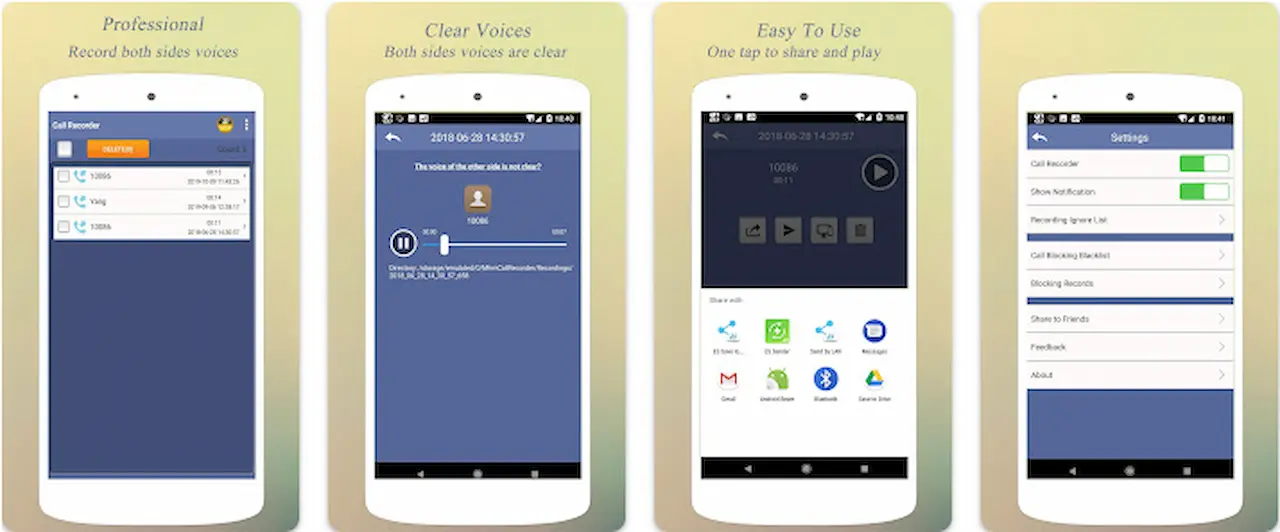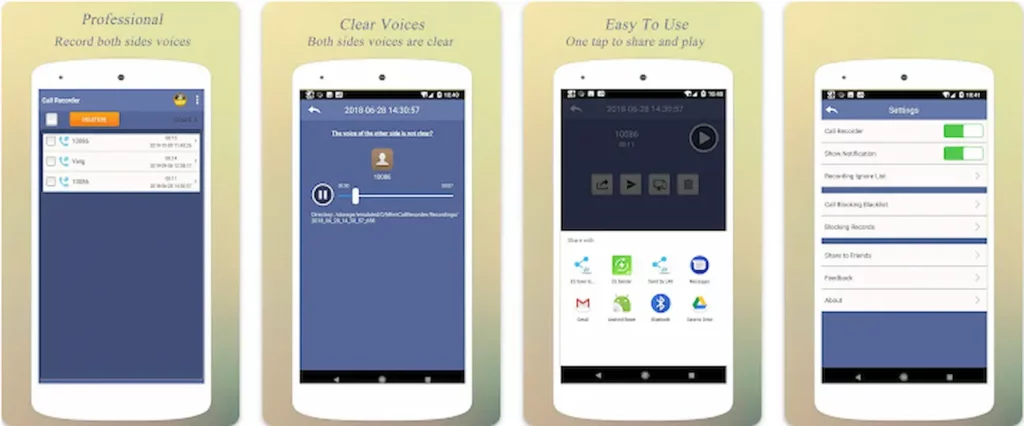 Features:
This is one of the finest automated call recorder apps on most smartphones, allowing you to record both sides of incoming and outgoing calls.
It has a built-in playback capability and can automatically record to mp3 format.
It supports Android phones up to version 9.0.
More than 1,000,000 downloads
4 out of 5 stars on the Google Play Store
FAQs
What exactly are call recorder apps?
Apps that allow you to record incoming and outgoing calls are known as call recording apps.
With only a few clicks, you can set up automatic recordings for one or more people. These apps allow you to keep track of your phone calls in an electronic format.
Is it permissible to record phone calls?
Only with the approval of at least one of the people participating in the discussion is it legal to record calls nowadays.
So, as long as you're a party to the discussion you're recording, you're theoretically permitted to do so.
Is it possible for Android users to record their calls without downloading an additional app?
Users of Android 10 may effortlessly record calls by hitting the record button on the UI of the smartphone whenever they make or receive calls.
What're the essential characteristics of third-party call-recording apps?
Every third-party call recording application should have two important features: the capability to record calls along with managing recorded conversations on your smartphone automatically.
What is the process of using a call recording app?
You only need to install the app on your phone and make calls to use call recordings on your mobile or tablet device.
When the call is over, it outputs an audio file. To utilize this, you must first activate the call recording option in your phone's settings.
Conclusion
Call Recorder apps are essentially forewarning tools that keep you ready for the unexpected and unpredictable future.
You never know when you might need to listen to a phone conversation tape.
Call recording technology is already being used by businesses to record all interactions they have with their clients and consumers.
There are just too many legal and security concerns to have a call recording app installed and functioning on one's smartphone.
Fortunately, there are a plethora of excellent tools at your disposal, each of which offers something special regarding phone conversations or audio recordings.
Have any thoughts on this? Let us know down below in the comments or carry the discussion over to our Twitter or Facebook.
Editors' Recommendations: