Top productivity apps on the App Store
We have put together a list of handy productivity apps for iOS that will help you get more tasks done in less time.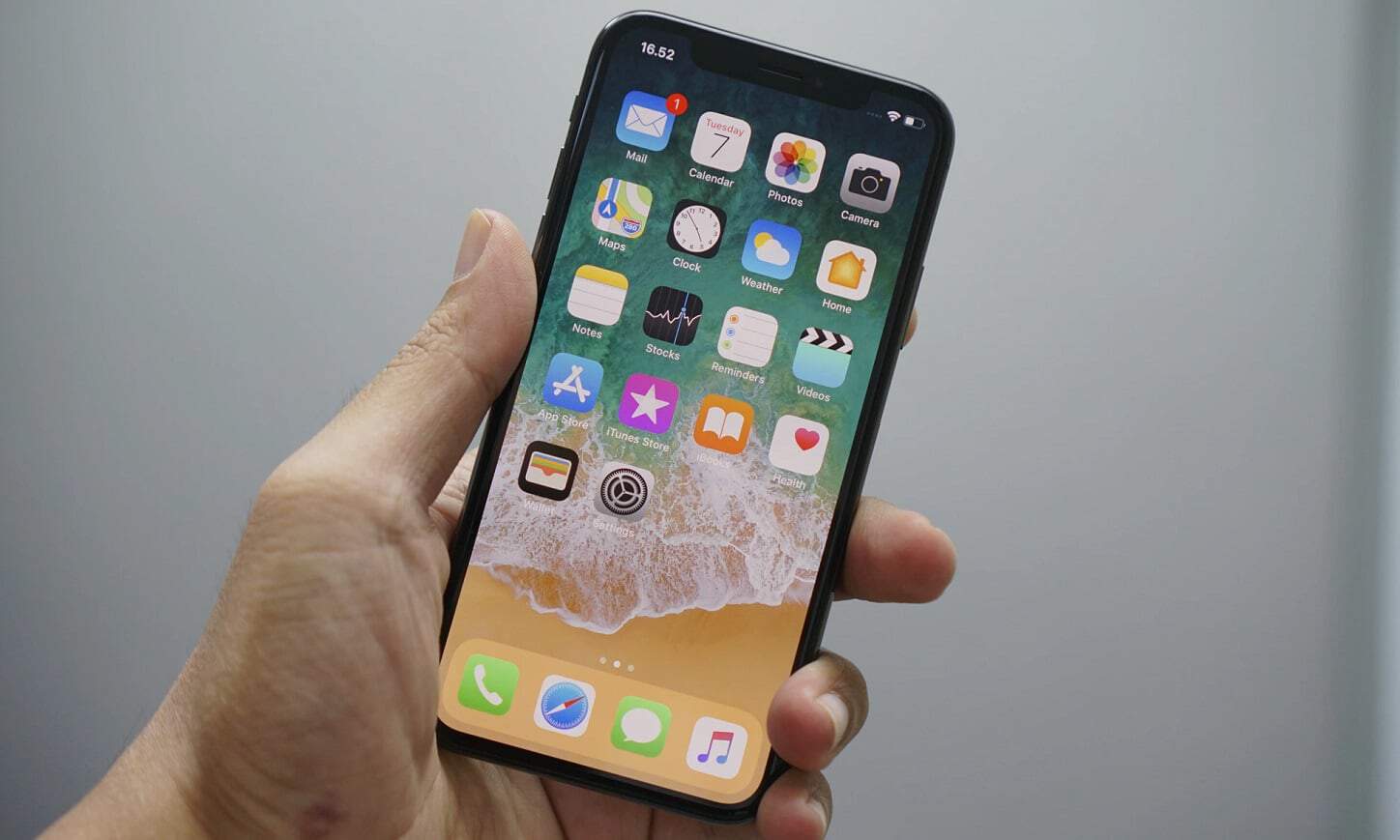 Being efficient anywhere anytime feels impossible. However, in the age of mobility,  life's pace starts to change: you have access to the best boosters that will take over your day-to-day tasks and compensate for the lack of attention and care.
Based on a poll of 50 IT project managers, we have put together a list of handy productivity apps for iOS that will help you get more tasks done in less time.
Any.Do
source: Any.do website
If you have ever thought of how to arrange the day and slow down the routine train, Any.do is the direction to turn to. This little helper is the best in getting all your ducks in a row just before the catastrophe started crawling in your head.
Founded by Omer Perchik, in 2011 Any.do presents its to-do and task lists apps for both Android and iOS. And at a glance, it is difficult to see any sweet raisins in this puffy bun. However, the app has a purpose and gets a perfect score. Its main advantages are:
Seamless tasks and lists creation, editing, and sharing. The voice input makes your daily usage even easier and faster; and it wouldn't be a productivity app without reminders which you can rely on for busy weeks.
Any.do Moment. A feature for sunrise planning allowing you to start getting your affairs in order in the early morning. There is also a notifier (that can be snoozed).
Calendar with daily, weekly and monthly overview of combined tasks and added events which integrates with native calendar and shortly after shrinks to a small widget.
1Password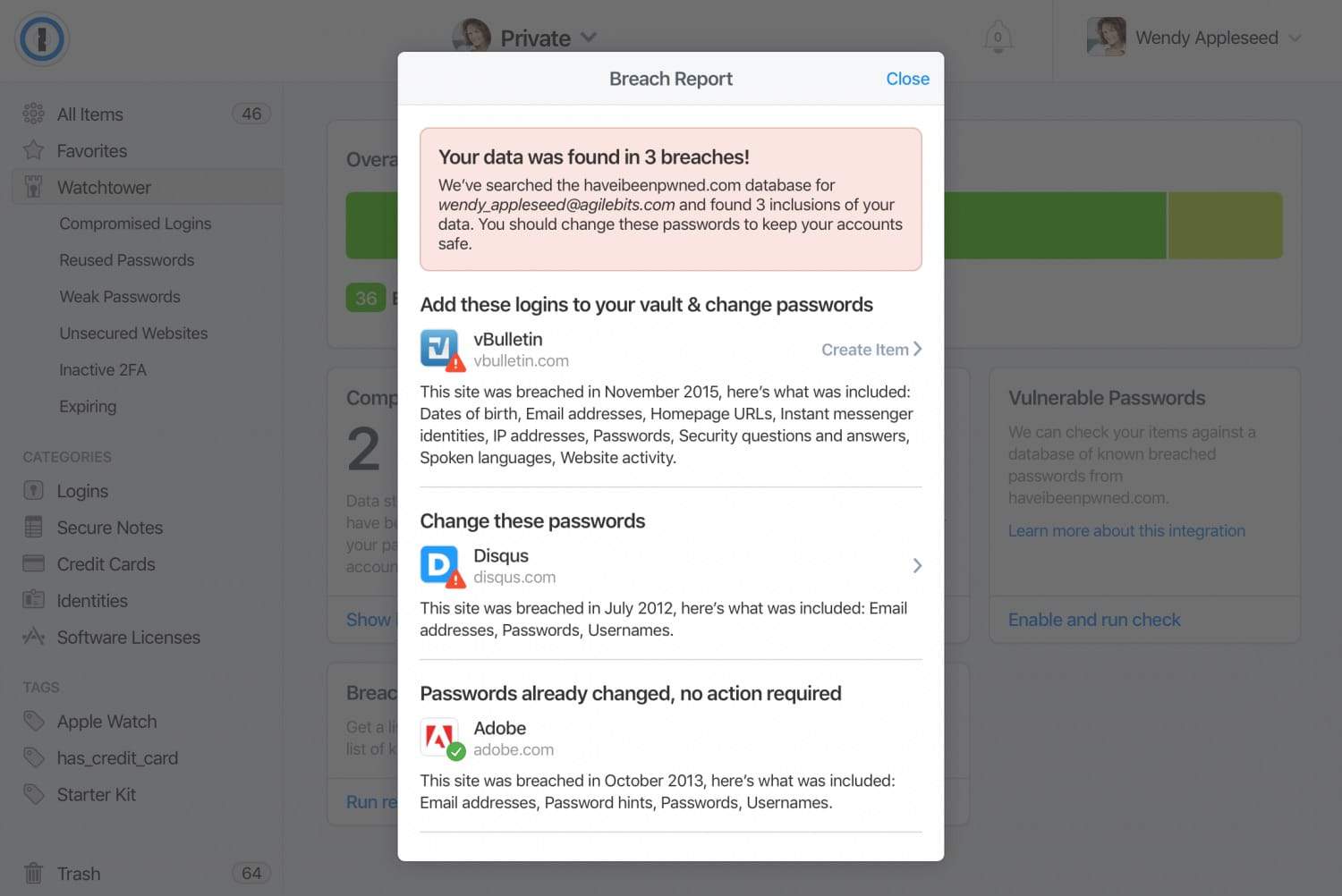 Productivity means speed and quality. But how to be effective with a security risk? Data leakage, password duplicates and many other candies thieves adore must disappear to give you the way up. Let's see what 1Password had prepared to solve these issues:
Spacious storage with a powerful shield so that the data is safe and sound from the beginning to end:
Digital Wallet keeps your credit cards, receipts etc. under the seal;
Watchtower. 24-hour standby alerts for the websites and services you use or have been invited to.
Multi-tiered encryption. A powerful AES-256 adds an extra level of protection.
Security Toolkit. This includes Security Audit, password generator and more.
Documents by Readdle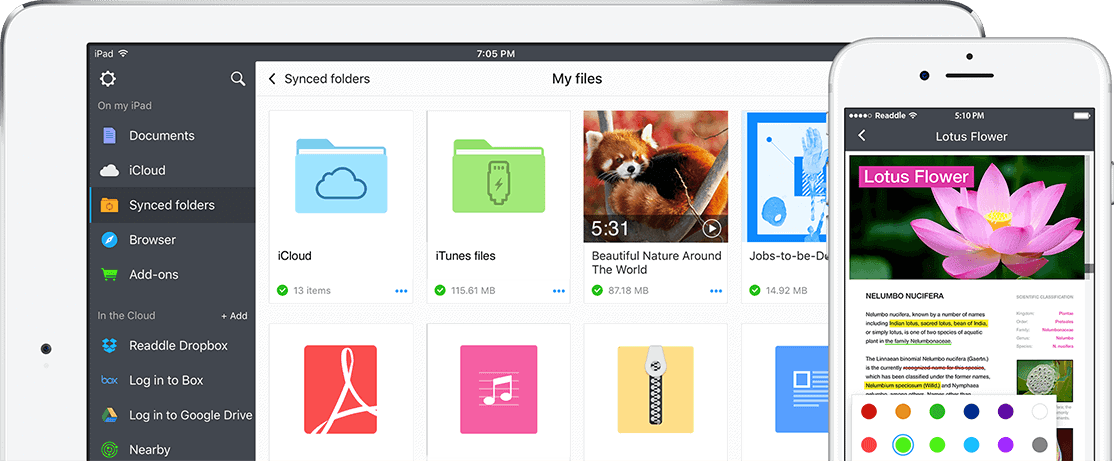 If Alice passed by the library while falling to wonderland, it would be the heart of Readdle's. The app concept is file storage, so that you can access the information inside any time required. This versatile creation feels like a pocketbook, though with an enormous capacity for any content of yours.
Unlike Alice, with Documents by Readdle you don't have to consume substances of any kind to seem bigger or smaller. Easy access to files from anywhere shortens the path of seeking.
One place with everything inside.

Import/download and save files from anywhere (your PC, iCloud, WebDav, Web etc.).

Save web pages for better times.

Store email attachments.

View Office docs, create your own text files, read books, PDFs etc.

Listen to the music on- and offline.

Simple path to the photo library.

Easy management.

Folders, archives (zip-unzip), changing names and colors etc.

Share your files with people around, but protect sensitive data with a password.

All-inclusive integration.

All cloud services connected to the app, what opens up the gates to business files

Choose the platform, steady, go! iCloud, Google Drive, Dropbox and others at your service with no file downloads.
Cloze
Modern way of life transforms how people interact on the daily basis. And becoming productive practically means less time for communication with people we are close to. Cloze and Doodle mobile apps are ready to bring some hydration on this life-long marathon.
Cloze is a relationship manager that helps to organize your social life. Storing terabytes of your personal life in one place, this smarty figures out the valuables and keep them on the frontal lobe of your brain. Owing to AI, Cloze has no difficulty in:
Reminding you to liaise with a contact and brush up dusty relations.
Understanding your actions and adding those to the Agenda. It also automatically couples agenda items to the people mentioned before.
Automatically keeps your contacts up-to-date, syncs files  (OneDrive, Slack, Dropbox or Drive) and matches notes to them (e.g. Evernote)
Be on top seeing when your sent message was opened,
Schedule message delivery, write and choose the right time to send,
Interchange your data easily with beloved iCloud, Gmail, Outlook, Exchange, Yahoo!, Office365 or IMAP
Built-in To-Dos to sort things out and track what you've got to do
All the company's contacts, deals and projects are in "one box", easy to manage
Last conversations to any customer or a client are all right in the palm of your hand
Doodle
Sometimes it is not the meeting itself but arranging it makes a person feel dizzy. Asking everyone whether it's comfortable for them or not and hit the bull's-eye with time is nigh-impossible when your schedule is tight.
Doodle here is a perfect helper to fix the connection with those you've probably hurt by the lack of attention or disregard for their needs. In order to stop us all from going over the cliff of misunderstanding, the app offers the following things:
Integrated calendar,
Personalized dashboard,
Activity notifications from your polls,
Event chats help to clarify details and find a common denominator, and many more.
So, since everyone's using smartphones, even your grandma will manage to pick the meeting time and vote for it. All you have to do is to suggest time slots, invite participants and select a win-win option.
With the apps we've listed you can keep in touch with your friends and partners, organize your schedule and ensure your personal information remains personal. But it doesn't mean that this tool set is a perfect fit for everyone. Should your team need something special, contact Belitsoft mobile development team for qualified development assistance.
In the meantime, enjoy your increased productivity!
Have any thoughts on this? Let us know down below in the comments or carry the discussion over to our Twitter or Facebook.
Editors' Recommendations: