Uncharted vs Tomb Raider – which game are you likely to choose?
In the red corner, we have the legend that is Lara Croft: Tomb Raider and in the blue corner sits the young challenger, Nathan 'Nate' Drake from Uncharted.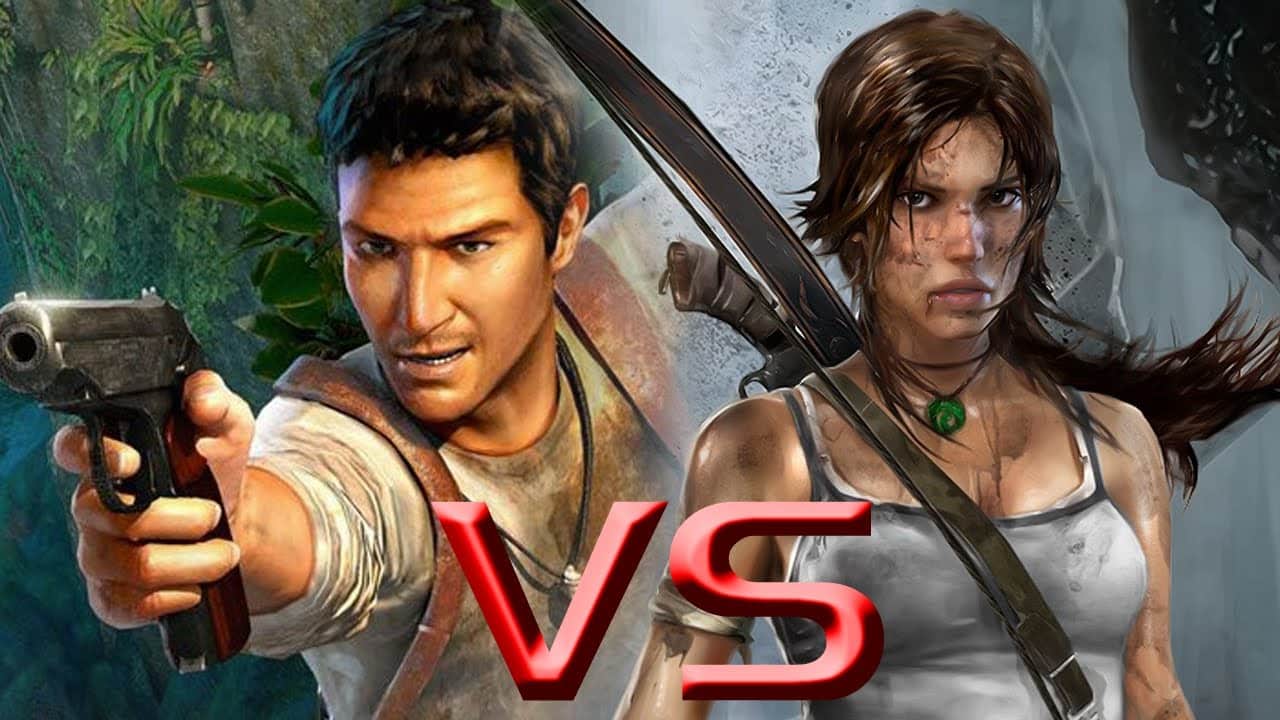 Fierce competition between game franchises can sometimes resemble the sports industry rivalries that have gone on for decades. Players tend to really only commit their time and money to one game from a given genre and stick to it throughout its reinventions and adaptations to different platforms. Therefore, it makes sense that game developers fight ferociously to ensure that their title is the market leader.
Some of the marathon battles the industry has witnessed are Guitar Hero VS Rock Band, Street Fighter VS Mortal Kombat, FIFA VS Pro Evolution Soccer, Call of Duty VS Battlefield and Mario VS Sonic. That last one was undoubtedly the biggest franchise game war of all times – with Mario going on to sell over 400 million games, and countless spin-off money-makers, the little plumber was the undisputed winner of that battle.
Now there is a new battle to add to the list and the winner of this one is yet to be decided.
Spin-off battle
First, let's look at how successful each franchise has been in getting its name into films and other media.
Tomb Raider has been a hit of the big screen, with two movies already out and a reboot due to hit cinemas around March 2018. The first movie, Lara Croft: Tomb Raider, was released in 2001 and starred Angelina Jolie as British archaeologist Lara Croft. It grossed $274.7 million at the box office and cost $115 million to produce. The Cradle of Life sequel was released in 2003 with Jolie reprising her role as Croft. That movie cost an estimated $95 million to produce and made more than $156 million in worldwide box office receipts, despite being widely slammed by critics.
And that's not all: there is also an animated series, four official novels and multiple comics starring Lara Croft. For gamers wanting more from their favourite character, Tomb Raider has its own online slot machine available at 32Red which offers a welcome bonus for new players of £32 free for every £20 deposited. Whenever a franchise gets its own slot machine and joins the likes of Jurassic Park and Game of Thrones, you know they've made it to the top. It's also possible to play the Tomb Raider slot at online casinos such as Casino Euro and SpinGenie, where getting several Lara Croft Scatter symbols triggers free spins.
Uncharted released the motion comic Eye of Indra, which has a decent IMDB rating, but not a huge following. The Uncharted movie was scheduled for release on June 30 next year but it looks like Sony Pictures needs additional time to complete the project. News has slowly been surfacing that David O. Russell, the director of movies like Three Kings and The Fighter, would be helming the project and Mark Wahlberg be the lead as Nathan Drake. You can also hunt down a number of short, low-budget films, but they are best left unexplored. Finally, DC Comics published a comic miniseries which was penned to be accessible for those who have not played the game.
Characters
Lara Croft is the most famous woman in gaming and has scooped Guinness world records for the most recognisable female in a video game; most detailed game character; most real-life stand-ins; highest grossing game spin-off and most successful live-action transfer. The character has attracted criticism for her physical appearance, although she now has a realistically proportioned body, so she should be more relatable as a hero and role model. The Tomb Raider tagline is "A survivor is born" and the character of Lara Croft has more than survived and still thrives as one of the all-time great videogame characters.
A huge amount of thought and effort has gone into the character of Nathan Drake to give him an everyman persona that is somewhere between Johnny Knoxville and Indiana Jones. He can speak several languages, including Indonesian, 16th century Spanish and Latin. He is athletic and attractive in his standard attire of jeans and T-shirt. In his adventures, he encounters large numbers of heavily armed men and is visually unscathed by their deaths, yet later goes on to show disdain for the taking of human life. Nate is known to make many sarcastic remarks and interestingly also has Coulrophobia.
Although Lara is by far the biggest winner between these two characters, her star may be on the wane as more multifaceted characters like Nate attract gamers' interest.
Recent game releases
Looking at the most recent developments, we have Uncharted 4: A Thief's End and Rise of the Tomb Raider. They have many things in common: core gameplay is much the same with climbing, jumping from ledge to ledge, shooting and running from explosions, all mixed with many exciting quick-time action scenes.
Both games also offer stealth and sneak attacks and are generally about as challenging as each other. Lara is more skilled than Nathan, as she can craft and modify her weapons and improvise new gadgets. Unlike Uncharted 4, Rise of the Tomb Raider has a semi-open world where you have a freedom to fast-travel between checkpoints, find some old artefacts and trade them for weapons or ammunition.
Who wins?
Clearly, Tomb Raider is a more successful franchise with its film adaptations and additional media growth, and developers Core Design have created a blueprint others game developers will strive to follow. However, there really is very little to choose between the games and it might just come down to picking a character you like. Whichever decision you make, it's highly unlikely you'll be disappointed and rather than choose a winner between these two excellent titles, let's just be grateful they both exist to entertain us.