Why MacFly Pro is the next big thing in Mac cleaning
Still hesitating what cleaning utility to use on your Mac? Discover top 3 reasons why MacFly Pro is a no-brainer! Is it the new free app to beat them all?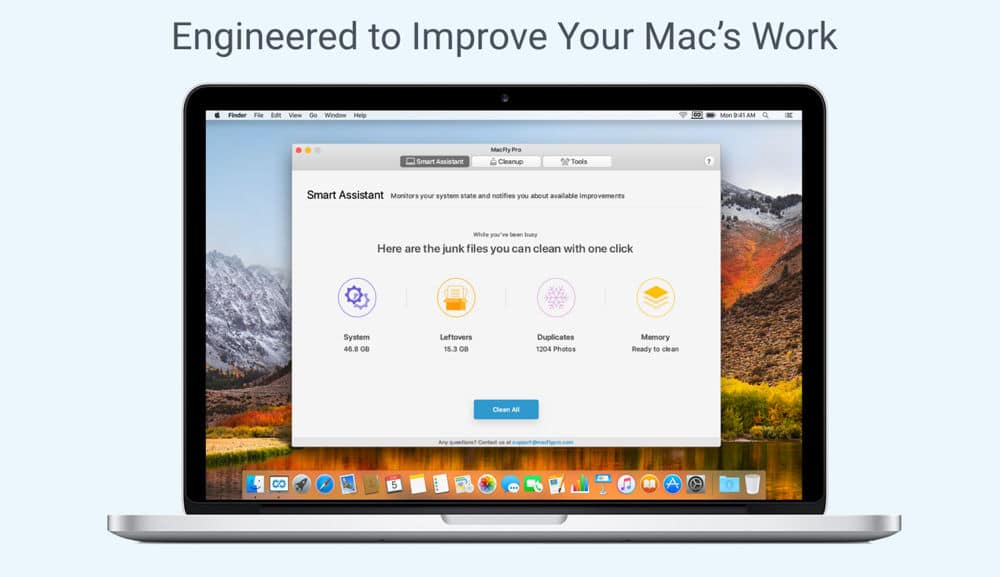 Whether it's for work or leisure, we use computers on the daily to complete a bunch of different tasks. Your taste for computers may vary, however, regardless of the needs, everyone wants their computer to be snappy. Achieving that is a 2-step process. The first step is to get a capable machine, to begin with, and the second — maintain it in good condition, both hardware and software-wise, to keep it up to speed. The hardware on a new Mac is not likely to give you trouble for at least half a decade, whereas software is prone to showing itself much sooner. Although macOS Sierra has introduced a set of utilitarian features to facilitate manual maintenance, the more seasoned Mac users argue that those aren't quite enough to get the job done. The things built-in tools cannot do are only left to be done completely by hand. Alternatively, you can refer to a third-party.
One can find arguments for and against the use of third-party apps, but the truth is that a decent application is going to save you a lot of time, while a half-done piece of software is bound to result in more issues than you have started with. Finding a trustworthy Mac cleaner from a bunch of the seemingly identical apps can be quite confusing, which leads to some users playing it safe and not even trying. The good news is the app we are looking at today has everything that it takes to put an end to the endless search of the optimal Mac cleaning application. Let's take a closer look at MacFly Pro.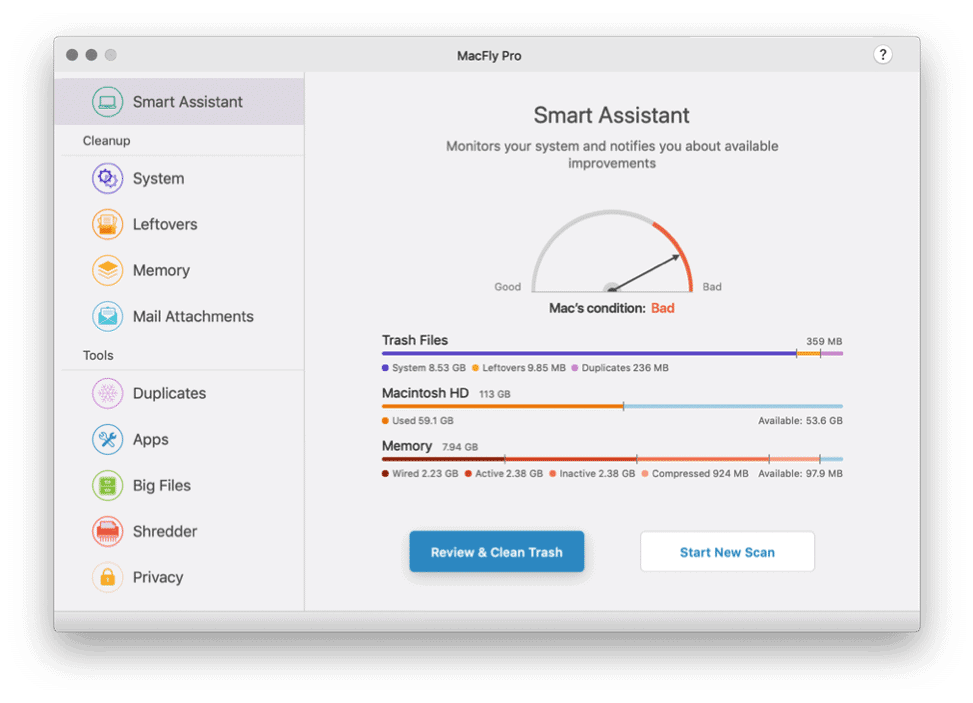 What is MacFly Pro?
MacFly Pro is a relatively new player in the Mac cleaning field. It features a set of necessary cleanup tools with a few utilitarian ones which you definitely come to appreciate when the time comes. The whole package is wrapped into a simple, yet not primitive, design which gives a familiar feel and comfortable use. And if this does not sound good enough, here are 3 reasons why MacFly Pro is worth your attention.
Reason #1: Smart Assistant
Of all features, MacFly Pro's Smart Assistant would have to be the main highlight. When first launching the app, the Smart Assistant screen will be the first thing you'll see. On the screen, you will find the information regarding the condition of your system, drive, RAM, as well as the amount of storage taken up by disposable files. But stats and pretty graphs aren't all Smart Assistants is good for. It is smarter than that.
The assistant utility runs automatic system checkups in the background only during the time when your Mac has the processing power to spare to ensure there are no sensible performance drops. Once Smart Assistant picks up on outdated or irrelevant data, it will immediately send a notification reminding you about the cleaning duties. While this may not be of particular interest to someone who knows the nukes and crannies of their Mac, rookie users will have a lot to thank for.
Reason #2: Precision
The impressive number of features does not necessarily mean that the app is good at identifying and taking out the trash. Well, long story short, this is not the case with MacFly Pro. Running the app on a several Macs and comparing the results with the performance of the heavy-weight champs of the Mac cleaning world have only proven that MacFly Pro can put up a fight. The software locates and unroots residual files without interfering with important data.
This holds true to leftover app data, media duplicates, system localizations, and pretty much everything else you through at it. Impressive.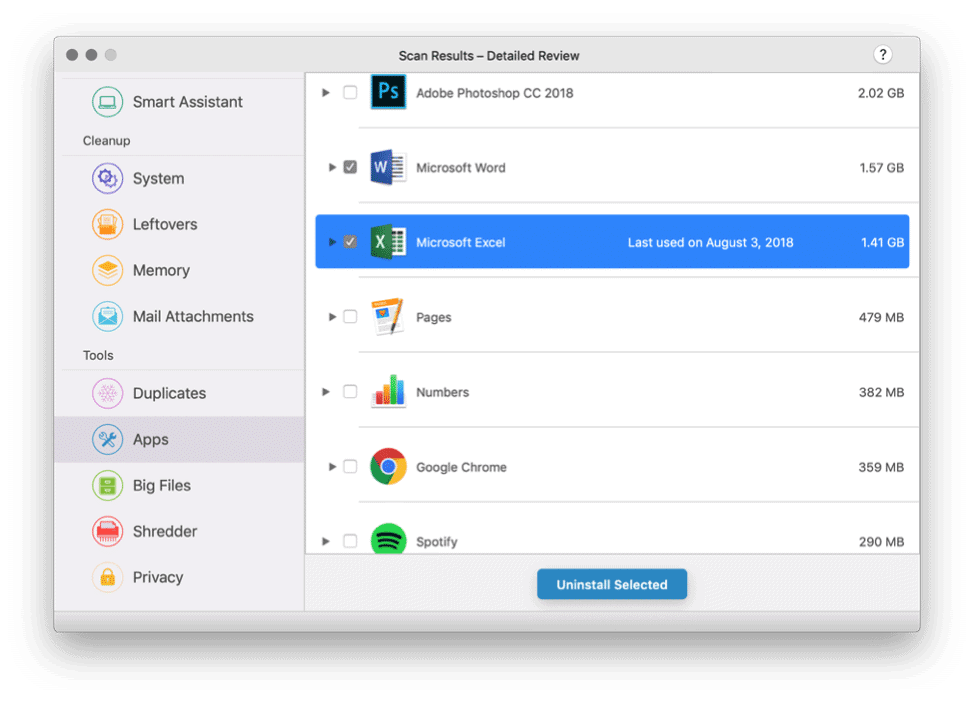 Reason #3: It Costs You Nothing
Perhaps the most convincing reason to give MacFly Pro a shot, especially considering everything mentioned above, is that it is absolutely free to use. Currently, the app is free to download and use, with no hidden fees or even ads. Finding an app that lives up to its promises is a challenge of its own, but the app that does all of that for free is an even more scarce discovery.
The Verdict
Right off the bat, MacFly Pro has established itself as a credible app for Mac cleaning and optimization. The application offers the essential functionality praised by the majority of Mac owners. Owing to the Smart Assistant, manual user interactions can be kept to the minimum. All in all, MacFly Pro is a great pickup if you are looking to maintain your machine in premium condition without dishing out cash.