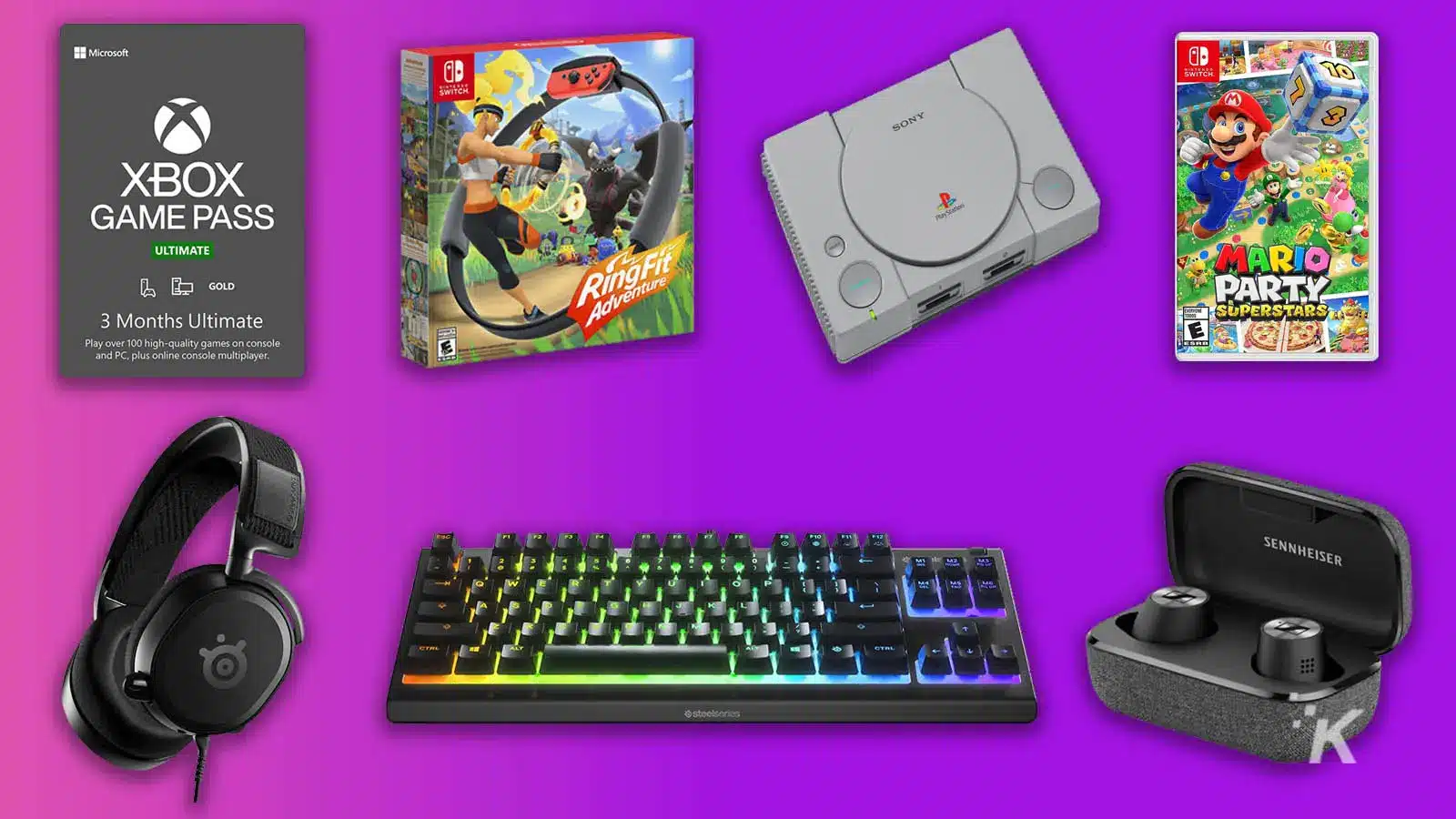 Welcome to the KnowTechie 2021 holiday gaming gift guide. Despite many obstacles and setbacks, it has actually turned out to be a pretty good year for gaming. With everything going on in the world, however, you'll want to get your gifts as soon as possible.
The KnowTechie staff has scoured the internet far and wide over the last year and hand-picked our favorite gifting options that are available. From PC peripherals like keyboards and mice to controllers and headsets and even a few subscriptions, your favorite gamer will be entertained for hours on end.
We've also sprinkled a few of this holiday season's most exciting games into the mix that the gamer in your life definitely won't want to miss out on. Whether you're looking for gifts for a retro-gamer or someone who plays all of the latest AAA titles, there's something on the list for just about everyone.
And if you need some generalized tech recommendations, you can find those in our general 2021 Holiday Gift Guide here. But act quick because shipping windows are closing. The United States Postal Service (USPS) has released guidelines to help you make sure you get all of your gifts sent out on time.
Each product we feature has been independently selected and reviewed by our editorial team. If you make a purchase using the links included, we may earn a commission.
EZQuest Ultra HD High Speed HDMI Cable
$19.99
EZQuest's new Ultra HD High Speed HDMI cables support a range of higher video resolutions and refresh rates including 8K 60Hz and 4K 120Hz, and resolutions up to 10K. The cable features exceptionally low EMI which reduces interference with wireless devices and its durable nylon braided design provides longer cable life.
Nyko PS5 Charging Base
$29.99
Designed to make recharging your controller as easy as "drop and charge", the Nyko Charge Base for PS5 takes away the hassle of having to plug your controller into your console every time the battery starts running low. Conveniently store and charge two DUALSENSE™ controllers with Nyko's Charge Base for PlayStation 5.
HexGaming PS5 Ultimate Controller
$199.99
The HexGaming Ultimate for PS5 is a fully modular video game controller made using authentic PS5 controllers customized specifically for eSports players. This controller features a custom controller design, 6 in 1 interchangeable thumbsticks, and offers you the ability to play wired or wireless. This is a pretty intense controller for serious gamers.
Riders Republic
$59.99
Riders Republic is a new, massive action sports title featuring all different kinds of activities. Hop on just about anything from a mountain bike or a snowboard to a jet-powered wingsuit as you explore the giant mountain in search of adventure and adrenaline in Riders Republic.
PlayStation Classic Console
$79
The original PlayStation console was a breakthrough in gaming and now you get the chance to relive some of the excitement from Sony's original console. The PlayStation Classic Console comes with 20 preinstalled PlayStation games including Final Fantasy VII and the original Grand Theft Auto.
NES Classic Edition
$179.99
The NES Classic Edition is a new take on one of the most iconic gaming consoles of all time. This all-in-one setup comes with a full-size original-style controller and is equipped with 30 classic NES games like Super Mario Bros. and The Legend of Zelda. This is the perfect gift for fans of old-school gaming consoles.
Gift Cards
$50
Of course, where would we be without the most trusted holiday gift of them all, gift cards? Look, shopping for anyone is tough, and especially so for gamers. If you don't know what they want, you'll get lost in the multitude of options. Save yourself the nagging headache. Check out some of these gift card options for the gamers in your life.
Google Stadia Premiere Edition
$79.99
The Google Stadia Premiere Edition is all you need to get started playing games on Stadia, Google's cloud-based gaming platform. The Premier Edition comes with the Stadia controller as well as a Google Chromecast Ultra that you can plug straight into your TV to get started on Google Stadia. No console required, just a stable internet connection and you're good to go.
SteelSeries Apex 3 TKL keyboard
$44.99
The SteelSeries Apex 3 TKL is a tenkeyless keyboard with performance in mind. It features Whisper Quiet switches and six customizable macro keys, all for a great price. The Apex 3 TKL features a smooth metal frame that is great for those gamers or keyboard enthusiasts that that value performance over flash and flair.
Nintendo Switch Ring Fit Adventure
$79.99
The Ring Fit Adventure is a can't miss item for Nintendo Switch gamers. Combining an adventure game with a nice workout, Ring Fit Adventure will get you up and moving using the extra Ring-Con and Leg Strap accessories. Ring Fit Adventure features a massive game world with many different challenges and games that'll keep you going for hours.
Sennheiser Momentum True Wireless 2
$300
$150
Enjoy active noise cancellation, 5-21,000 Hz response, and crystal clear microphones for voice calls and voice assistant use. They also boast a seven-hour battery life and three full charges in the carrying case.
Playdate
$179
The Playdate is a unique handheld gaming machine featuring a retro black and white screen and a cool crank used in many of the machine's unique games. Playdate games are downloaded via WiFi, so all you need is the Playdate itself to get started. The console is currently sold out, but the company is taking preorders for new consoles to ship in 2022.
Xbox Game Pass Ultimate
$14.99
Xbox Game Pass Ultimate is the pinnacle of subscriptions on Xbox. With Game Pass, you get access to a massive library of more than 100 games to play on your Xbox. Not to mention, Xbox Game Pass Ultimate also includes an Xbox Live Gold membership at no extra cost. That alone is worth it in our opinion.
PlayStation Plus
$9.99
A PlayStation Plus subscription gives PlayStation gamers several nice features to go along with their gaming experience. The feature grants access to online multiplayer, exclusive discounts, and free games to users every month. There's a ton of value in this membership. Gaming on PlayStation is much better with PlayStation Plus.
Xbox Live Gold subscription
$9.99
For those Xbox gamers in your life, Xbox Live Gold is pretty essential. Not only does the service let you play multiplayer games with your friends online, but you also get access to a cache of free games every month. That alone is worth the price of admission. Needless to say, Xbox Live Gold is a perfect gift for Xbox gamers.
Elgato HD60 S+ Capture Card
$199.99
Ever wonder how some of your favorite streamers are able to show off their games in 4K resolution without any lag? In most cases, they're utilizing a capture card. This capture card from Elgato does exactly that. A range of tools is included to add effects and improve your streaming experience. It can be easily connected to computers and consoles via HDMI.
Backbone Gaming Controller for iPhone
$99
Know someone who can't stop gaming on their iPhone? If they don't already have the Backbone mobile controller for the iPhone, stop what you're doing and buy this right now. Trust us, you'll get endless praise for getting them one of the sickest mobile controllers ever made for the iPhone. It's never been easier to play games with Backbone.
Samsung 980 Pro NVMe SSD
$89.99
With the PlayStation 5 recently unlocking its extra internal SSD slot, now's the perfect time to get a significant boost to your storage. Samsung consistently delivers great SSDs and the Samsung 980 Pro is completely compatible with the PlayStation 5. So whether you're boosting storage on your PC or your PS5, the 980 Pro gets the job done.
SteelSeries Arctis Prime Headset
$99.99
The SteelSeries Arctis Prime is a wired headset featuring multi-platform functionality so you can play across all of your consoles and PC. The headset features SteelSeries' signature aluminum alloy headband with the ski-goggle-style elastic offering ultimate comfort for your head during those long gaming sessions.
Call of Duty: Vanguard Thumb Grips
$19.99
KontrolFreek has been offering high-rise performance thumb grips for both Xbox and PlayStation controllers. Just in time to celebrate the release of Call of Duty: Vanguard, Kontrol Freek brings us these new Call of Duty: Vanguard-themed thumb grips so you can elevate your performance in style.
Call of Duty: Vanguard
$59.99
What's the holiday season for a gamer without the latest Call of Duty title? Call of Duty: Vanguard has made its way to console and PC featuring an immersive single-player campaign set in World War 2, alongside the franchise's popular online multiplayer with classic modes like team deathmatch and domination.
Antlion Audio ModMic Wireless
$119.95
The Antlion Audio ModMic Wireless boom mic instantly turns your favorite pair of headphones into a fully functioning headset. Just plug in the USB receiver and slap the ModMic onto your headphones, and you're ready to start chatting. The ModMic Wireless works with Windows, Mac, Linux, PS4, and PS5.
Mario Party Superstars
$54.99
One great way to help celebrate the holidays is with a massive family game of Mario Party, and now's the perfect time for that! Mario Party Superstars is the latest installment to the franchise with multiple ways to play and featuring five classic game boards and 100 different minigames from all over the Mario Party franchise.
Deathloop
$59.99
Deathloop is a next-gen FPS story game from Arkane Studios, creators of the Dishonored franchise. As an assassin charged with eliminating eight key targets, you'll run into many obstacles along the way. But don't worry, when you die you get to start all over with the extra knowledge you've learned.
Xbox Wireless Headset
$99.99
The Xbox Wireless Headset is Microsoft's entry to premium gaming headsets. Built specifically for Xbox One, Xbox Series X|S, and Window 10, the Xbox Wireless Headset pairs directly to your consoles so there's no need for an extra dongle. The Xbox Wireless Headset is equipped with Windows Sonic and Dolby Atmos for pristine sound quality in-game.
Marvel's Guardians of the Galaxy
$59.99
Join Starlord and his supernatural gang of misfits in a unique journey to save the galaxy in Marvel's Guardians of the Galaxy. Playing as the Star-Lord Peter Quill himself, it's up to you to lead the Guardians and call the shots both in and out of battle. Experience the Guardians turning into one big happy family as they travel across space fighting evils on all fronts.
SteelSeries Prime Mini wireless mouse
$129.99
The SteelSeries Prime Mini wireless mount is a lightweight, no-frills competitive gaming mouse. Designed to be just a bit smaller than the original Prime mouse, the Prime Mini offers the perfect option for gaming on the go with its compact size and more than 100 hours of battery life from a single charge.
Oculus Quest 2
$299.99
A proper VR rig can cost a fortune when you factor in an expensive gaming PC. The Oculus Quest 2 doesn't require any of that since the brains are baked right into the device. That means no PC or gaming console is required. You can watch movies, play games, and a whole bunch more. This is one of the best ways to experience VR without a costly setup.
HyperX SoloCast USB Microphone
$59.99
A USB microphone with great sound quality is a must-have for video editors, streamers, and gamers. You can plug it in and use it right away, and some of your favorite conveniences like its tap-to-mute and LED mute indicator are included. The microphone has an adjustable stand that can be used on a desk or mounted on a wall.
Mavix Gaming Chairs
$444.44
Combining style and comfort to offer some of the best gaming chairs available, Mavix offers amazing chairs that will keep you comfortable during even the longest gaming sessions. With several different options available, the Mavix lineup features a chair for just about any gamer out there.
Nintendo Switch OLED
$349
Nintendo released an upgraded version of the Switch with the new Switch OLED. The Switch OLED version features an upgraded 7" OLED screen. The Switch OLED version features some nice upgrades over previous versions of the console, though it may be tough to find one in stock.
Razer Kishi
$89.99
The Razer Kishi is a universal mobile gaming controller for both Android and iPhone. The controller stretches and clamps to your phone with a wired connection, so you can experience latency-free gaming with passthrough charging so you can game nonstop on your mobile device.
WD_BLACK SN850 NVMe SSD with Heatsink
$169.99
Whether you're looking to expand the storage on your PS5 or just upgrading with an extra SSD on your PC, the WD_BLACK SN850 gets the job done. Built specifically for gamers with up to 2 TB of storage, the SN850 offers an option for even the most dedicated gamers.
EPOS H3 Hybrid
$179
EPOS delivers style and utility with the H3 Hybrid gaming headset. The H3 Hybrid comes in black and white and can be used either wired or wirelessly via Bluetooth, on PC, or console. It has a detachable boom mic so you can turn it into a sleek, portable headset for your gaming on the go.
Turtle Beach Recon controller
$59.95
Turtle Beach is known for its impressive game sound and it stepped it up a notch with this controller. This wired Xbox controller offers a couple of remappable paddles, but where the Recon really shines is its onboard audio controls with a Superhuman Hearing setting.
Each product we feature has been independently selected and reviewed by our editorial team. If you make a purchase using the links included, we may earn a commission.