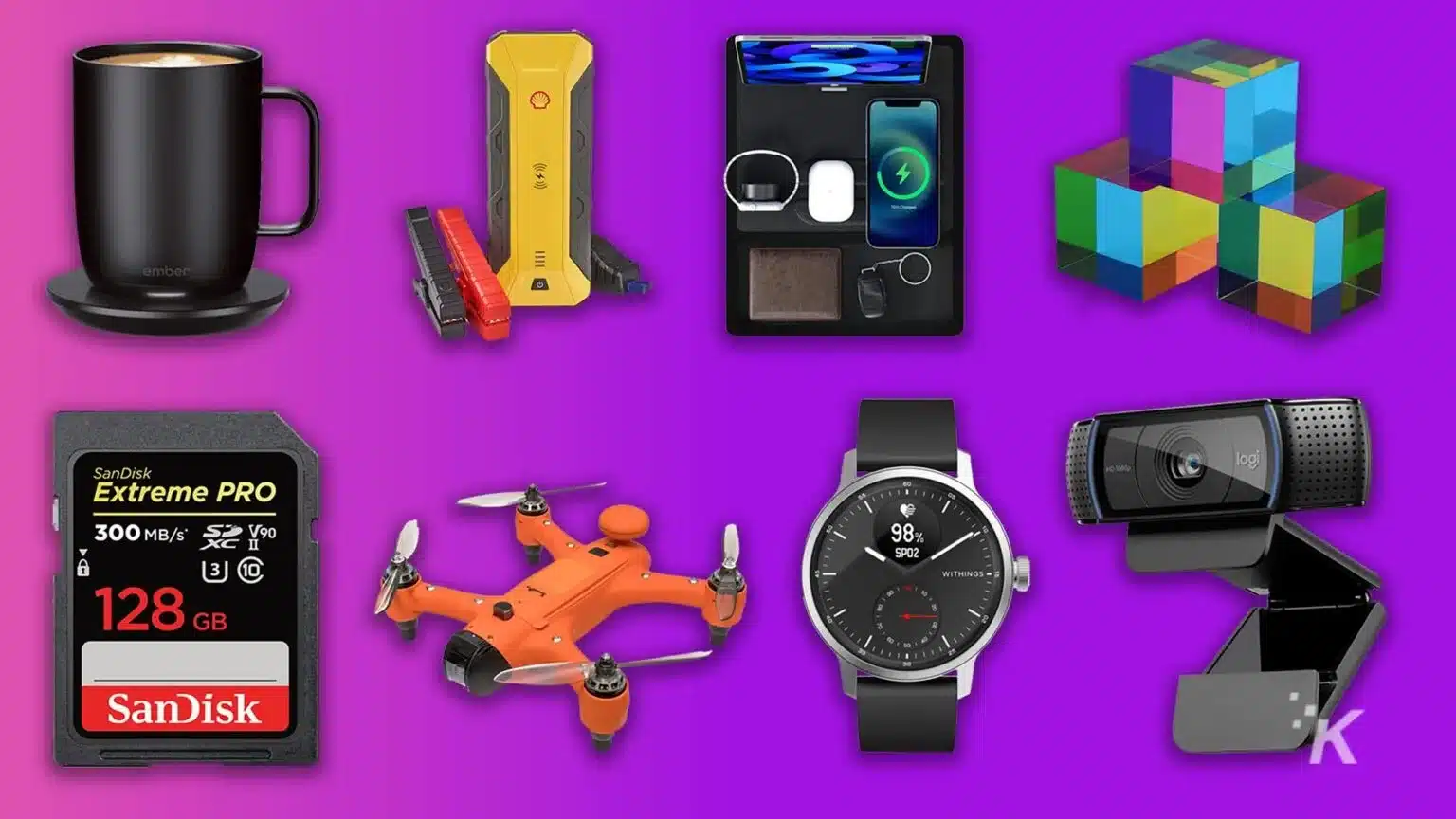 Welcome to the KnowTechie 2021 holiday gift guide. What a year. Things are starting to get back to normal, but that doesn't mean you can sleep on buying gifts for everyone on your list this year. Yes, the supply chain is still broken, just like last year, but don't let that stop you from getting a jump start on your shopping now.
If you can't find the things you want in stock, maybe try giving IOU coupons, redeemable for whatever your mind can think up. Gift cards are always an option; because nobody is going to complain about being able to shop for their own gifts.
We've searched to the corners of the internet for our picks this year, with options from e-scooters to smartwatches and everything in-between so the heavy lifting of gift-giving is already done for you. Well, unless you're buying something heavy, that is.
We'll be adding more thoughtful gift ideas in the run-up to the holidays as they catch our eye. If you don't see anything suitable right now, bookmark the page and return every so often to see what the newest ideas are.
If you have any gamers in your life and need some excellent gift recommendations, our 2021 Gaming Holiday Gift Guide should do the trick.
Each product we feature has been independently selected and reviewed by our editorial team. If you make a purchase using the links included, we may earn a commission.
BD Veritor At-Home COVID-19 Test
$26.50
The BD Veritor At-Home Test is a brand new at-home COVID-19 test that sends quick and accurate results straight to your smartphone. This test provides a simple service that you can perform right from your home. You can order a two-pack of BD Veritor test right now on Amazon for $26.50 through the end of the year (usually $39.99).
OG OTTO
$149.99
The OG OTTO by Banana Bros is an AI-enabled "automatic cone filling machine" that grinds, mills, fills, and rolls your favorite flower and cuts out the tiresome work that rolling a joint by hand usually requires. So if you're someone who hates breaking weed up and rolling it up, this does all the work for you. This makes for a great gift for the cannabis smoker in your life.
Miko 3
$199
This robotic pal is packed with personality, almost as much as your little one! It can detect moods, start conversations, and adapt to its surroundings, and loves to strut its stuff on the dance floor. Learning is handled by a growing app library of both free and paid content, or there's an optional Miko Max subscription that includes everything.
Sphero Indi
$99
Indi made it onto Time's best inventions of 2021 because it's awesome. The problem solving and pattern recognition that is necessary for coding is taught by this little cute robot car, through different-color tiles instead of writing out code. It even comes with sheets of stickers, to add quirky faces and other decals. Who said learning couldn't be fun?
X-Chair
$849.99
It's been a long, long year (or two, but who's counting at this point?). Gift yourself comfort this year, with one of X-Chair's customizable office chairs. Pick from mesh to woven fabric or leather and make the next year of work-from-home float on by. They're solidly built, and there's no chance of it dumping you on the floor even during the deepest recline. Nice.
EZQuest Ultra HD High Speed HDMI Cable
$19.99
EZQuest's new Ultra HD High Speed HDMI cables support a range of higher video resolutions and refresh rates including 8K 60Hz and 4K 120Hz, and resolutions up to 10K. The cable features exceptionally low EMI which reduces interference with wireless devices and its durable nylon braided design provides longer cable life.
MOZA AirCross 3 gimbal
$469
If you've got a budding videographer on your list, this is the gimbal you want to gift. It'll handle even the heftiest body+lens combos with a 7lb max supported weight, has a 19-hour battery life, sturdy metal construction, and stronger motors than the previous model. It's also got the ability to reconfigure into four different modes, Classic, Sling, Dual-handle, and Grip Extension, so they can get the shot their creativity demands.
Wyze Cam v3 1080p HD Indoor/Outdoor Security Cam
$35.99
Wyze Cam v3 allows you to view and record 1080p video directly from your Wyze mobile app. With Wyze Cam v3, you can install it outside thanks to its waterproof design and IP65 rating. Wyze Cam v3 takes advantage of an all-new Starlight Sensor for extreme low-light performance and excellent visibility. 
Anker PowerWave+ Wireless Charging Pad
$49.99
With this white Anker PowerWave+ wireless charger, you can simultaneously charge your Qi-enabled Apple smartphone and Apple Watch. A 7.5W output ensures fast, reliable charging, while a case-friendly design lets you charge your smartphone without taking it out of its protective case. As a result, Anker PowerWave+'s is a perfect travel companion.
Anker Powercore Metro 20000mah Portable Charger
$49.99
This Anker PowerCore Metro power bank lets you charge your mobile devices on the go. Its 20,000 mAh battery provides power for up to 96 hours of continuous use, while the two USB Type-A ports and PowerIQ technology deliver rapid charges to two devices simultaneously. Handy for folks who constantly run out of juice.
Google Nest Audio Smart Speaker
$99.99
Similar to how Alexa works on the Echo, you can say things like, "Hey Google, what's the weather this weekend?" Ask Google about the news or sports scores. Hear your schedule, make calls, and set timers and alarms. Even turn on the lights or turn up the heat, all with your voice. This is a handy device and makes for a great gift.
TP-Link Kasa Smart Plug
$9.99
With this TP-Link mini smart Wi-Fi plug, you can remotely control your electrical appliances. It enables you to control lights and other electronics through your mobile device, check their status and schedule their operation. It even offers voice control when paired with your Amazon Alexa or Google Assistant.
iRobot Roomba s9+ Self-Emptying Robot Vacuum
$949.99
When it comes to robot vacuums, you can't get any better than one of iRobot's Roomba. The s9+ is no exception. This robot vacuum is one of the best we've tested. It's expensive, but its intelligent navigation, super-powerful suction, and ability to empty itself make it the best robot vacuums on the market.
SanDisk iXpand Flash Drive 64GB for iPhone
$27.99
This flash drive is the perfect companion for your iPhone. With it, you can free up space on your iPhone, back up your camera roll, and even watch videos straight from the drive. The flexible Lightning connector works with most cases and the USB 3.0 connector plugs into your Mac computer or PC, making file transfers quick and easy.
Novostella Blink Smart Flood Lights
$99.99
Want to add a little flash and pizazz to your home? These floodlights are exactly what you're looking for. Connect the lights to your phone and choose from 16 million dimmable colors and 8 lighting scenes. It's perfect for stage lights, landscape, and backdrop lighting. If you want to make your neighbors jealous, get this.
Acer Chromebook Spin 713 Laptop
$699
The Acer Chromebook Spin 713 (CP713-3W) is Acer's premium Chromebook with a gorgeous 13.5-inch 3:2 ratio 2256×1504 display, a durable design that is MIL-STD 810H certified, and the latest ports including two USB-C with Thunderbolt support. Also, it provides up to 15 hours of battery life.
Yubico YubiKey 5 NFC
$45
YubiKey is the easiest and probably most secure way of adding two-factor authentication to your online accounts. Think of it as a physical second password for all of your secrets, from banking to online shopping, or your social media accounts. It'll work across Windows, macOS, Linux, and Android or iOS via the integrated NFC tag.
Kindle Paperwhite
$159.99
The latest Paperwhite increases the screen to 6.8-inches of viewable area, with thinner bezels, up to ten weeks of battery life, and 8GB of storage. That's space for a lot of ebooks, just FYI. You even get four months of Kindle Unlimited, for all the ebooks you can read and the screen is now adjustable for a warmer glow, if you prefer that.
Facebook Portal Go
$199.99
Whatever your views on Facebook are, we've all got family that refuse to use anything else to communicate with us. The Portal Go helps you stay connected, without having to go onto the main website. You can also call people on other video messaging platforms, like Zoom, and it's full of smarts to keep you in the frame and sounding great.
AirPods (3rd Gen)
$175
The newest AirPods of them all, it's a fair bet your giftee doesn't already have these. Then again, if they already have some it never hurts to have a spare pair, just in case one gets lost and Find My doesn't work. Now even the base AirPods have spatial audio, adaptive EQ, and Qi wireless charging. They've also got 6 hours of battery life and four more charges in the tank.
Logitech C920x HD Pro webcam
$66.99
Yes, it's a webcam. You'll still be the absolute best gift-giver ever if turns up under the tree, as webcams have been in short supply all year. The 1080p, 30fps Logitech C920x HD Pro has stereo mics for clean, clear audio, light correction algorithms to make them look their best, and works with literally any video conferencing tool available.
Marshall Mode II TWS
$179.99
Got a rocker to buy for? Nobody is going to be able to resist the sweet styling of Marshall's TWS earbuds, which bring its iconic faux-leather look to true wireless headphones. They look great, sound better, and will be comfortable for long periods as each bud is a low 5g in weight. That tiny size still packs 5 hours of listening time in, with another four charges in the carrying case.
SteelSeries Apex 3 TKL keyboard
$44.99
The SteelSeries Apex 3 TKL is a tenkeyless keyboard with performance in mind. It features Whisper Quiet switches and six customizable macro keys, all for a great price. The Apex 3 TKL features a smooth metal frame that is great for those gamers or keyboard enthusiasts that that value performance over flash and flair.
Vene City S1 eScooter
$799
Walking anywhere is so last decade. Give the gift of personal mobility with this sweet eScooter that's got a 30-mile range and an 18 mph top speed. It's got integral front and rear lights for safety, a 500W motor, front suspension, and a pretty cool LED dashboard that shows all the necessary riding data.
Campfire Audio Honeydew
$249
These eye-catching IEMs come packed with more bass than you can imagine inside their tiny, 3D-printed enclosures. The fantastic sound is only one part of the entire package here. Everything, from the packaging to the accessories all scream class, so your giftee will think you've spent more than you actually have.
Enclave CineHome II
$1099
Happy Holidays to your eardrums, as this wireless theater surround system is going to be an assault on your senses while you watch all the holiday movies. Yes, that includes Die Hard, we don't make the rules just report on them. They'll enjoy not having to route wires when setting up the surround speakers, and the wireless sub.
Personal Rise Garden
$279.99
The smallest kit Rise Garden sells takes up 18-inches on your countertop, and gives you everything you need to grow your own plants or herbs at home. The integral watering system does all the hard work for you, keeping your plants happy for a week at a time before you need to fill it again. It comes with seeds for herbs and salad greens, and six weeks of hydroponic nutrients.
Hex Ranger DSLR sling
$99.95
This lightweight but tough camera sling is large enough to stow a DSLR or mirrorless, and a spare lens (depending on length), and everything else you'd need like spare batteries, cables, and more. It's wrapped in Cordura and ballistic nylon for toughness. Then Hex added a faux-fur lined tablet pocket, a faux-fur lined phone/sunglasses pocket, and fold-away inserts.
Garmin Venu 2
$399
One of the most advanced health-tracking smartwatches ever made, the Venu 2 is stuffed with sensors and insights into your body. Track heart rate, respiration, stress, SpO2 saturation, sleep, women's health, and even hydration, all from your wrist. It's also full of sports modes, apps, and awesome GPS navigation features, a bright AMOLED screen, and up to 11 days of battery life.
SwellPro Spry+ Waterproof drone
$977
This waterproof drone makes it so you're no longer worried about bailing over water – it's just as happy landing there as on dry land. The camera shoots in 4K at 30fps or 12MP stills, and it's got 64GB of storage onboard. It's stabilized so no more blurry shots, and even the controller is waterproof so you can get those rainy day shots you dream of.
Oculus Quest 2
$299.99
A proper VR rig can cost a fortune when you factor in an expensive gaming PC. The Oculus Quest 2 doesn't require any of that since the brains are baked right into the device. That means no PC or gaming console is required. You can watch movies, play games, and a whole bunch more. This is one of the best ways to experience VR without a costly setup.
Wacom One Drawing Tablet
$399
This 13.3-inch drawing tablet with a screen uses only one cable to plug into your Mac or Windows computer, your Chromebook, or you can use it with your Android device with an OTG adapter. It also comes with a whole bunch of graphic design software, to get you started. The Wacom One never needs batteries or charging, so it's ready when creativity strikes.
Amazon Echo Dot
$49.99
Running out gift ideas? If this is the case, you can never go wrong gifting someone an Echo Dot. Even if the person you are gifting already has one, they can never have enough of these. With the ability to stream music, get daily news briefs, or the ability to check the weather at a moment's notice, or even controlling their smart home – this makes for a killer gift.
HyperX SoloCast USB Microphone
$59.99
A USB microphone with great sound quality is a must-have for video editors, streamers, and gamers. You can plug it in and use it right away, and some of your favorite conveniences like its tap-to-mute and LED mute indicator are included. The microphone has an adjustable stand that can be used on a desk or mounted on a wall.
Flexispot Comhar EG8 Standing Desk
$429.99
Happy Holidays to your home office with this affordable standing desk from Flexispot. The glass top is pretty stylish (if a bit fingerprint magnet-y), and it's got a bunch of internal USB ports to keep all your devices powered up. There's even a drawer to stash things so your desktop doesn't get messy. At least, that's the dream.
Govee Immersion G6199 TV LED Strip Lights
$83.99
The holiday season is filled with strings of colored lights, so why not add more to the back of your giftee's TV? These lights from Govee went absolutely viral on TikTok this year, which might not mean much to you yet but wait until you see them in action. The included camera syncs the lights to what's on the screen, which is awesome.
ActionBand for Apple Watch
$29.99
This might be a bit of a niche gift, but there's got to be a Venn diagram of Apple Watch users and sweatband users that has a hefty overlap. Twelve South accessories are always stylish and high quality and the bands can be thrown in the washing machine to clean them after a sweaty workout. Versions for 40mm and 44mm Apple Watches are available.
G-Shock Move Pro smartwatch
$699
Got a G-Shock fan in your inner circle? Nothing would make them happier this year than this new Wear OS-powered, multi-sport smartwatch. It's got two screens laid on top of each other to save on battery life when the color LCD goes to sleep, deep customizability and all the toughness you'd expect from the G-Shock name.
Tile Mate
$24.99
If you know someone who loses just about everything they come in contact with, the Tile Mate is screaming their name. The Tile Mate can be attached to keys, backpacks, and anything else that needs tracking. It's water-resistant and can be tracked up to 250 feet. They are extremely convenient and make for a great gift.
Aukey 65W Dual-Port Charger
$51.99
If you're looking for the best stocking stuffer out there, look no further. Everyone needs a spare charger, and this option from Aukey is one of the best. Instead of waiting two hours for your smartphone to charge, this puppy does it in 20-minutes, making it one of the best gift-giving items on this list.
Shell Jump Starter
$129.99
Winter is here, and that means the likelihood of dead batteries is greatly increased. This jumpstarter from Shell can kick 7-liter gasoline engines and 3-liter diesel engines back into gear, so nobody gets stranded in the cold this year. As a bonus, it'll charge your other devices too, with USB-A and USB-C outputs.
Instax Link wide smartphone printer
$149.99
With our digital camera rolls holding all of our memories, sometimes it's nice to print out some physical snaps. Until now, you could only print off square images from portable Instax printers, but not anymore. The Instax Link Wide can print in glorious 3″ x 5″ for ultra-wide memories.
Orba by Artiphon
$99.99
Artiphon is shaking up the electronic instrument market, and with the Orba, you can shake it up too. This palm-sized instrument is a synth, looper, and MPE MIDI controller that I just can't put down. Tap it, slap it, twist it, tilt it, or shake it to create phat beats and melodic loops. It'll be the heart of the holiday party.
Lovebox
$119.99
Want to gift the physical feeling of photos through the mail with the immediacy of the digital age? Lovebox is a messenger with a difference, where you send notes or images to the screen inside the box. It also saves everything to the companion app, so you'll never lose a message. TikTok loves it, and so will your loved ones.
My Little Morphee
$99
This screen-free way of helping your little ones drift off into slumber has 129 different soothing meditations and journeys, all created by sleep experts in child relaxation. They also help with personal confidence, emotional intelligence, and sense of self, perfect for the stressful times we live in. It's also super cute.
Neat Skyline
$69.99
This slimline USB condenser mic is the perfect gift for the podcaster or office worker in your life, to elevate their audio quality from the inbuilt mic on their computer. The 24-bit, 96kHz audio will work wonders in every call, and the small footprint means it won't take over their desk. The illuminated mute button will be a hit as well.
Each product we feature has been independently selected and reviewed by our editorial team. If you make a purchase using the links included, we may earn a commission.