GetResponse Review – The best all in one marketing platform
Sure, there's a ton of meeting automation programs out there, but GetResponse is one of our favorites.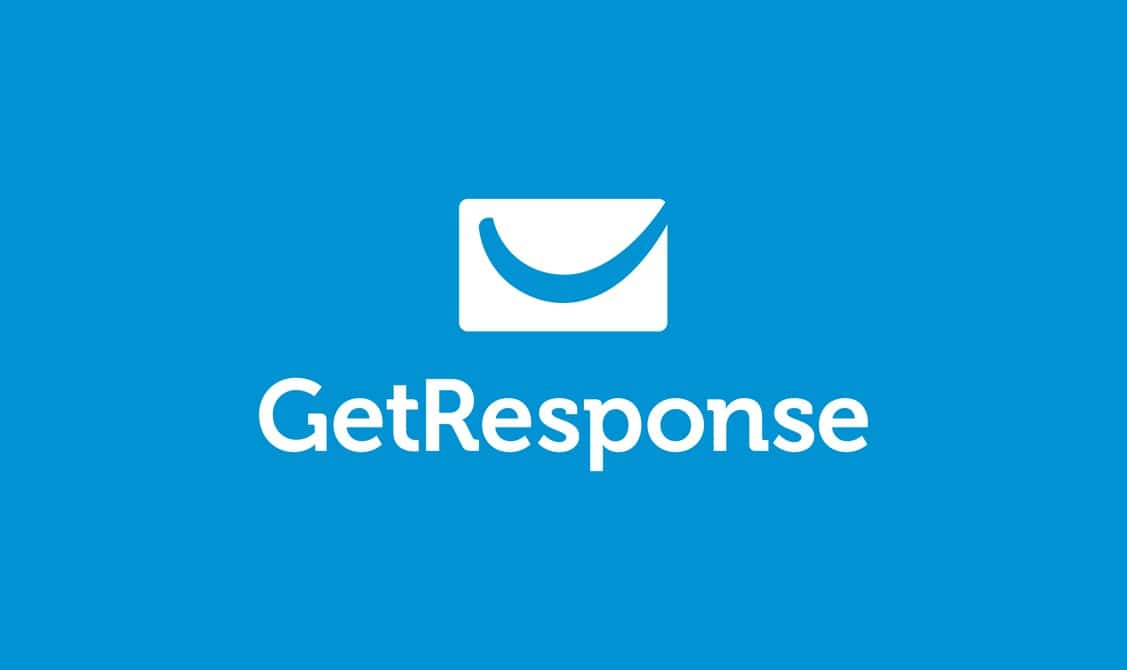 Sure, there's a ton of meeting automation programs out there, but GetResponse is one of our favorites.
---
With over a billion subscribers being generated through its marketing automation program every month, GetResponse is simply the most effective marketing platform. Its marketing automation solution has reached over 350,000 clients in 182 nations. Its marketing automation is simple (can be used by anyone), scalable and effective. As your business grows, you can scale it up.
So what are the features and benefits that make GetResponse stand out in the crowd? Find out in this review.
It's Easy to Use, Yet Sophisticated
You can set up complicated campaigns using GetResponse' drag-and-drop workflow builder. Anyone can create their campaigns – you learn as you go!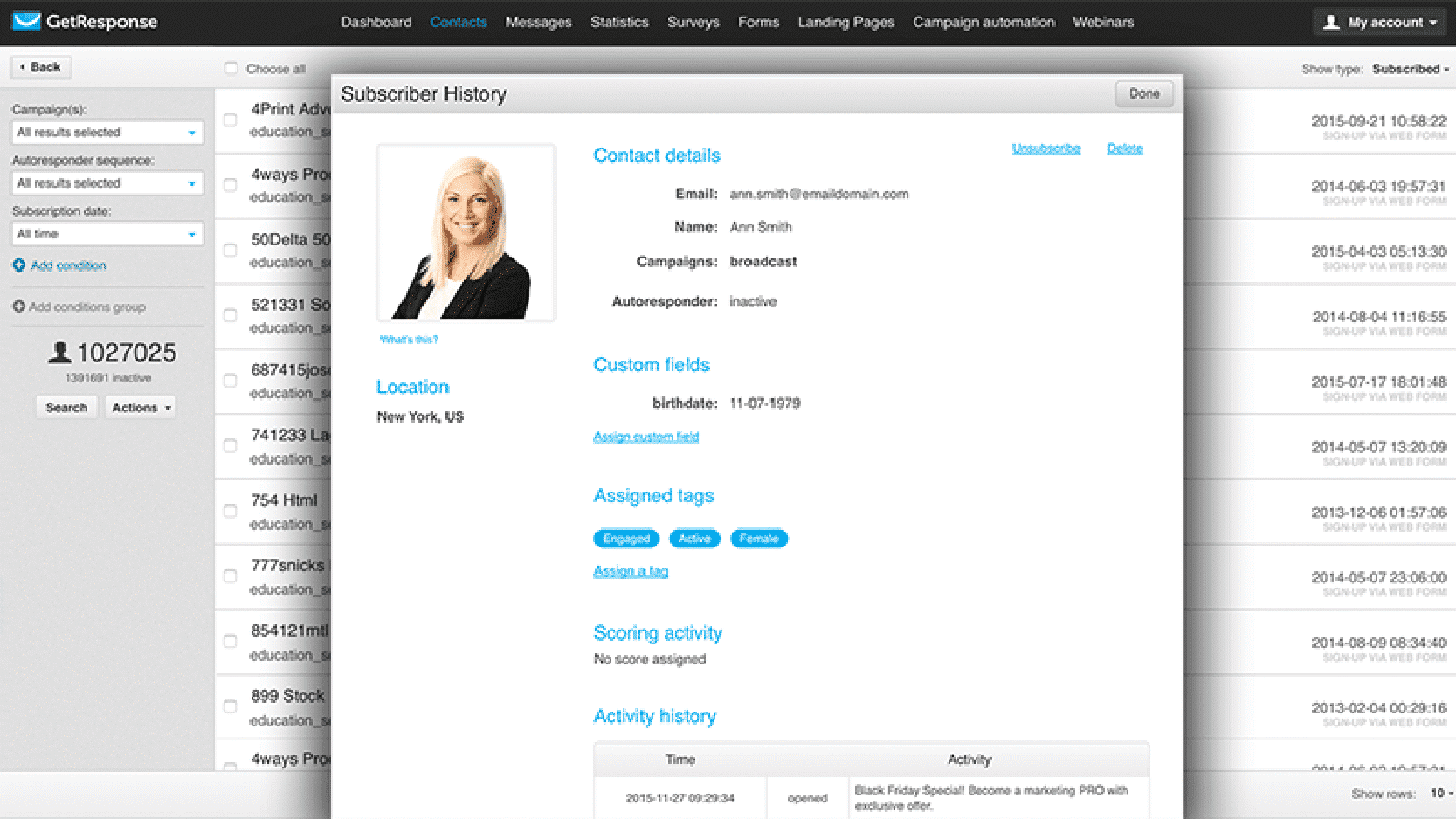 You can create sophisticated user experienced using powerful workflows. Get a view of your subscribers' journeys in the real time by creating as many scenarios as you want. The platform provides you e-commerce capabilities so that you can keep track of your site visitors, purchasers and cart abandoners.
You can set the rules. Create intuitive workflows with the help of ready-to-use blocks.
Create Automation Events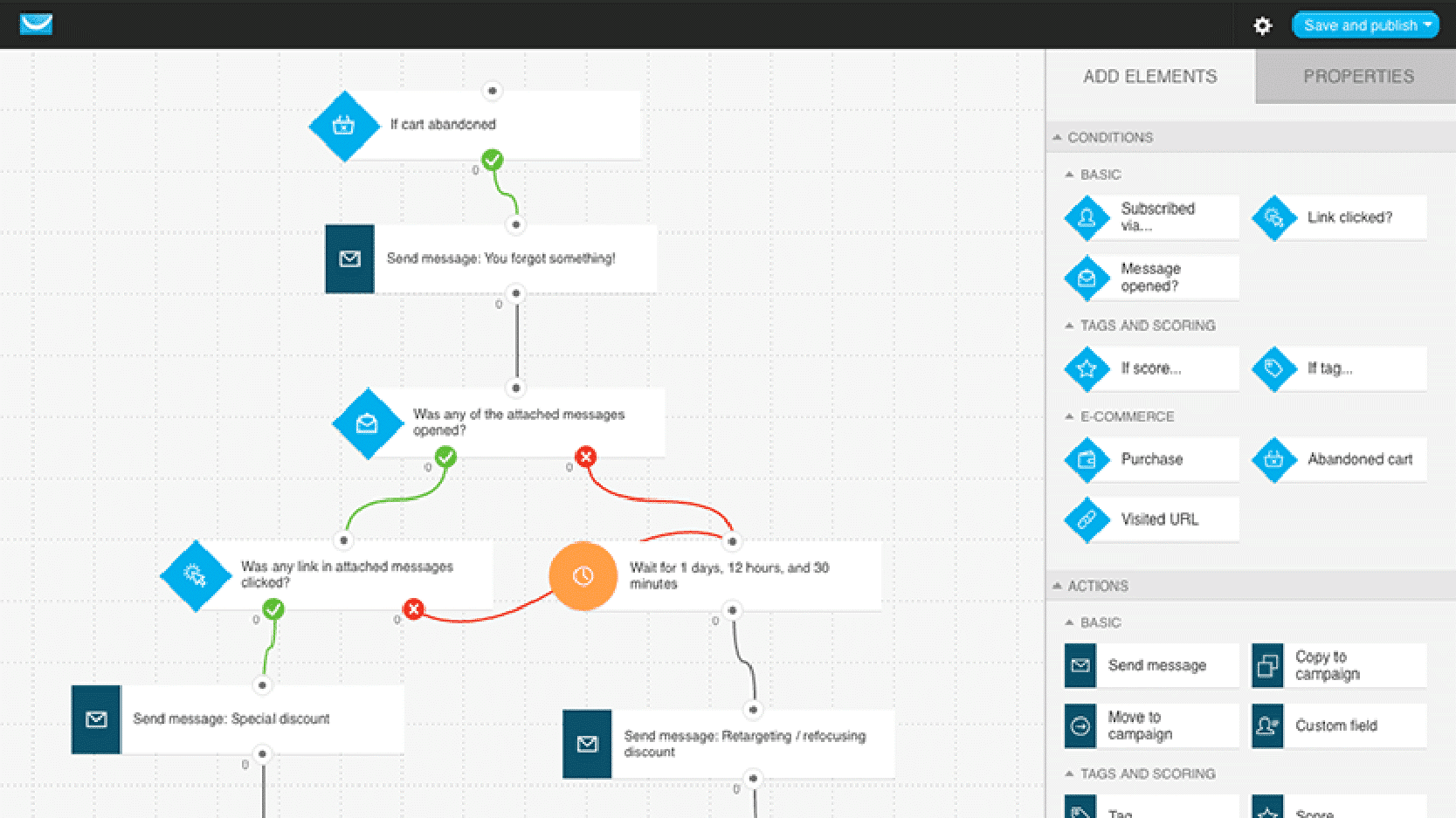 GetResponse allows you to create automation events on the basis of user behaviors.
You can create events based on the following major actions:
Clicked.

Abandoned carts.

Purchases made.
Actions can also be taken based on what conditions you have selected. This includes:
Sending email.

Scoring.

Tagging.
Scoring & Tagging
GetResponse's Scoring & Tagging feature is an integral part of its powerful marketing automation solution. Its primary goal is to nurture relationships with your target audience. You will learn more about your customers by analyzing both their preferences and habits. When you use the tools separately, they can help in segmenting your customers and track their activities.
And combine the two tools together and you will get the ideal customer profile along with a customized automation workflow.
Track Web Traffic
Enhanced Conversion & Engagement
GetResponse's marketing automation solutions also allow you to convert your casual visitors and engage your regular customers at a deeper level. It provides advanced tools for online stores to make the most of the inbound traffic. Web traffic tracking is as easy as adding JavaScript code to your website. It also allows moving prospects through the purchase cycle by using conditions within campaigns.
GetResponse allows you to integrate your site through JavaScript code or API. So tracking takes just minutes to setup. Their web traffic tracking tool works with any URL.
Visited URL, Tracking & Conversion
You can also keep track of those visiting your site, why and how many times. Find out which webpages are generating the maximum traffic. You can assign both tags and scoring points once there has been a visit. When you know which pages a prospect is visiting, it makes all the sense in sending targeted and relevant emails to them – thus increasing the odds of conversion.
Actions based on Purchases
When a customer makes a purchase, it doesn't mean that it's the end of the cycle. With GetResponse, it can be turned into the first step of building long-term relationships and repetitive business. The marketing automation platform allows you to nurture and build relationships by taking into account the buying habits of customers.
So how does it allow you to do this?
Track whenever someone lands up on the post-purchase "Thanks" page.

Now move those contacts to a separate campaign (or send out a "thank you" message).

Assign tags and scoring points against each purchase.

Evaluate the number of cart abandonments and create different retention paths.
Actions Based on Abandoned Cart
A significant percentage of visits lead to the shopping cart but end up being card abandoners. Imagine the amount of revenue growth you can generate even if you convert a small percentage of those abandoners. GetResponse provides you the tools to achieve very high conversion against abandoned carts.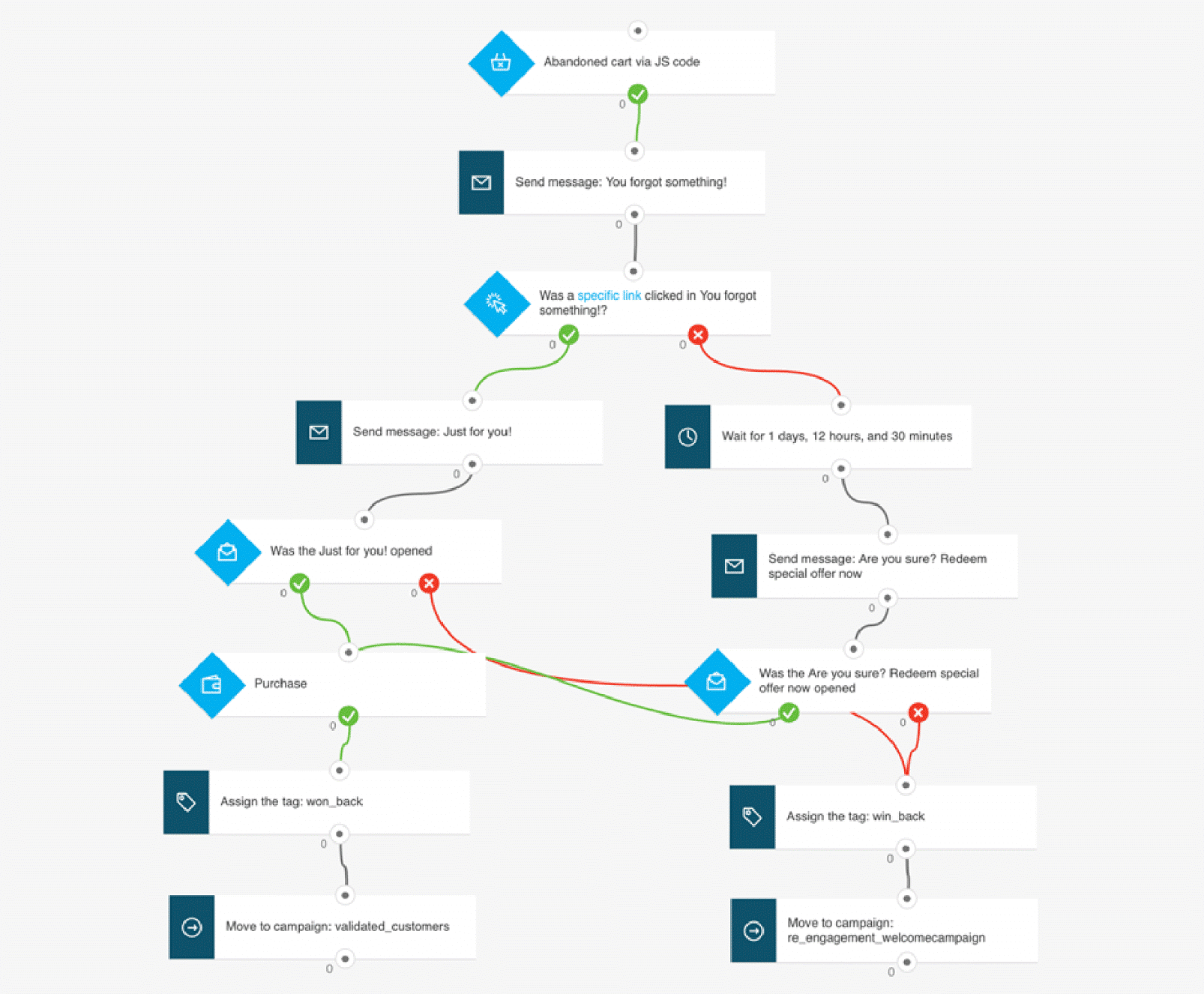 This marketing automation platform allows you to engage with cart abandoners in an easy manner. You can reach them with your highly targeted messages. It allows you to set the time frame for determining when the cart gets abandoned. You can also run a campaign of emails as part of the workflow and follow up instantly. Cart abandoners are highly likely to return when contacted immediately.
Another advantage of using GetResponse is that it allows you to subtract scoring points against those that don't make any purchase over a long time. You can also assign tags against shoppers who have been inactive. Those contacts can also be moved to a separate retention campaign.
Retention campaigns can also be run based on conditions, actions and filters.
Filters – Filters can be applied for increasing the impact of your actions and to sharpen the targeting. You can filter based on range and amount.
Email Marketing Tool
Part of GetResponse's marketing automation solution is its industry-leading and proven email marketing tool. It allows you to create elegant and responsive emails, track and make adjustments to your campaigns. You can boost your subscriber engagement and sales. Anyone with basic computer skills can create a full-fledged email marketing campaign in just a few steps. Choose from hundreds of high-quality stock photos and use the drag-and-drop creator to build powerful email campaigns.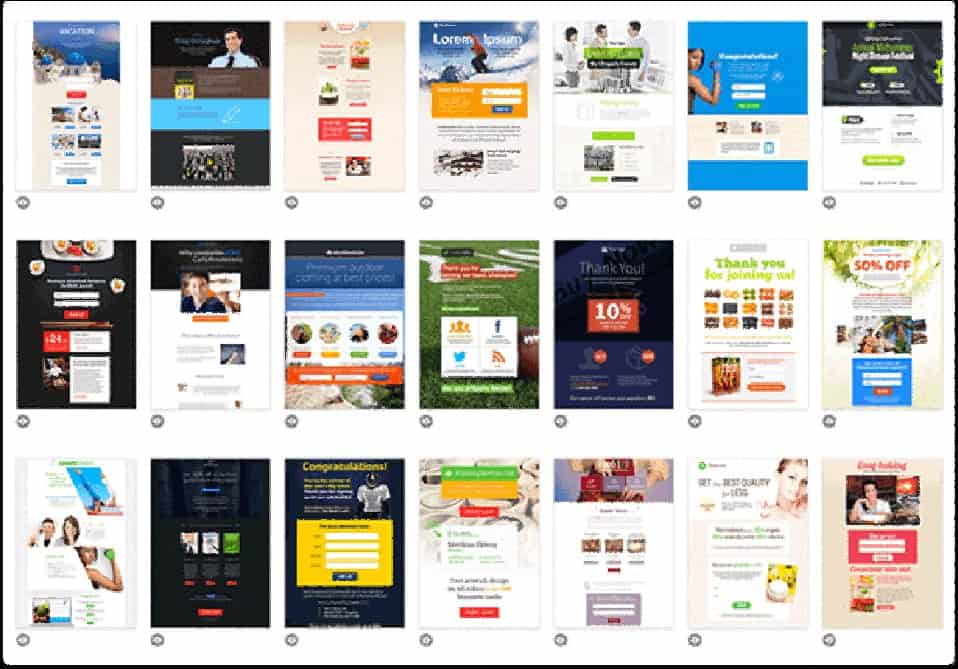 GetResponse's email marketing tool allows you to take total control of your email lists. It provides sophisticated tools for optimizing the returns from your database. 
Add contacts instantly from countless sources.

Wide-ranging integration.

Real-time data management.
Landing Page Builder
GetResponse powers your marketing automation campaigns by allowing you to put-up some of the most effective and stunning landing pages in the industry. And the ease with you can create them is even more striking. It allows creating mobile-friendly landing pages in just minutes. There are hundreds of unique, responsive templates to choose from. These templates and the images can be customized as per your industry or brand requirements.
Webinar Tool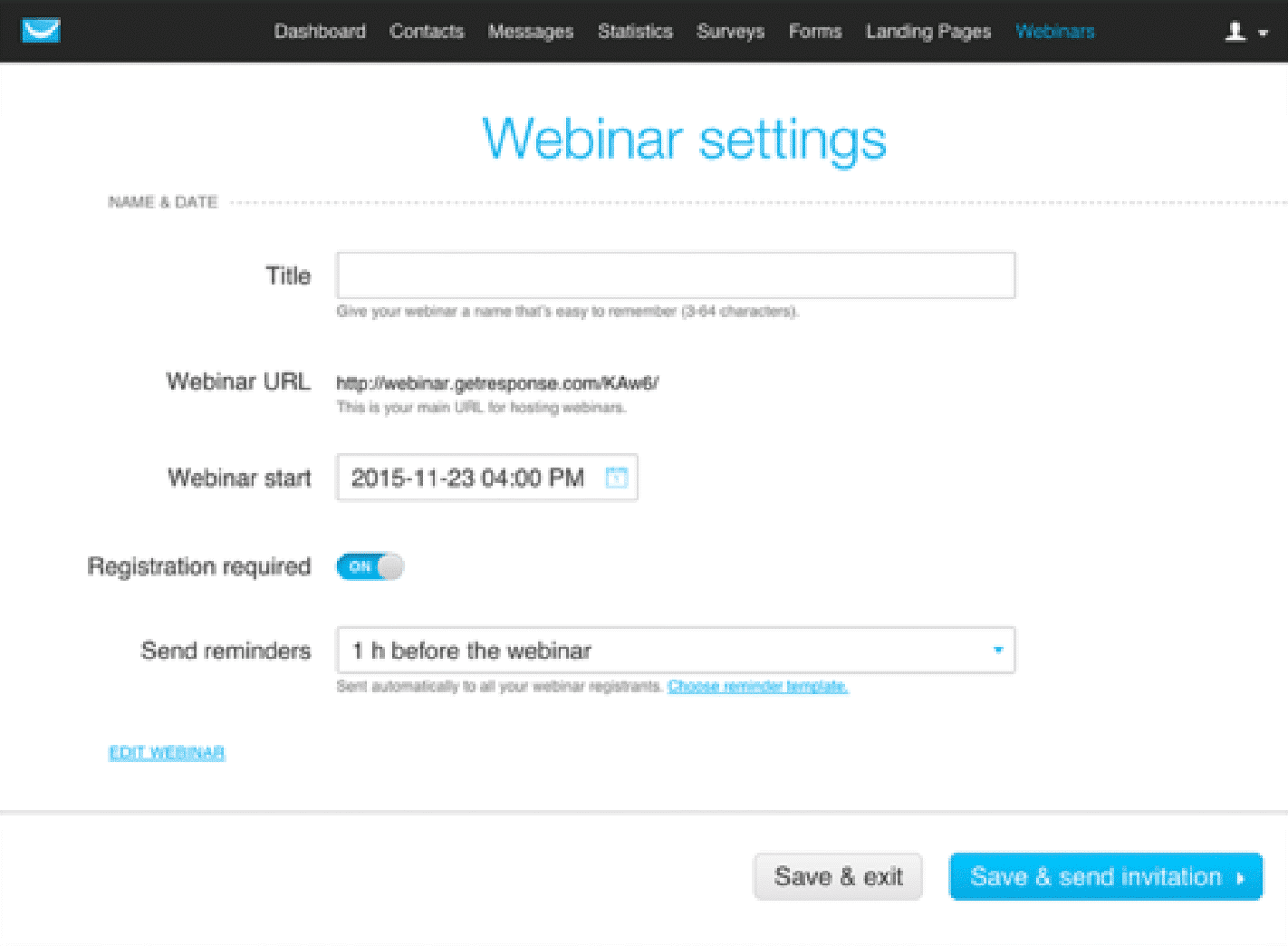 The webinar marketing solution from GetResponse makes it stand out in the marketing automation industry. It is a comprehensive webinar promotional solution, allowing you to nurture your leads. Keep growing more leads while at the same time keeping the current client-base engaged. GetResponse is also the pioneer in the email marketing domain to be providing a comprehensive webinar marketing solution. It is highly effective in turning your subscribers into long-term clients.
Overall, GetResponse provides you a wide range of tools to automate your marketing campaigns. Almost anyone with basic computer skills can create workflows using easy-to-use tools and interface. It provides all the tools, ranging from email marketing to workflow management, to deliver a powerful marketing automation platform.