Playing the trade-in game – where do you get the most $$ for your stuff
Where's your favorite place to trade your games? We put video game trade-ins to the test, here's our results.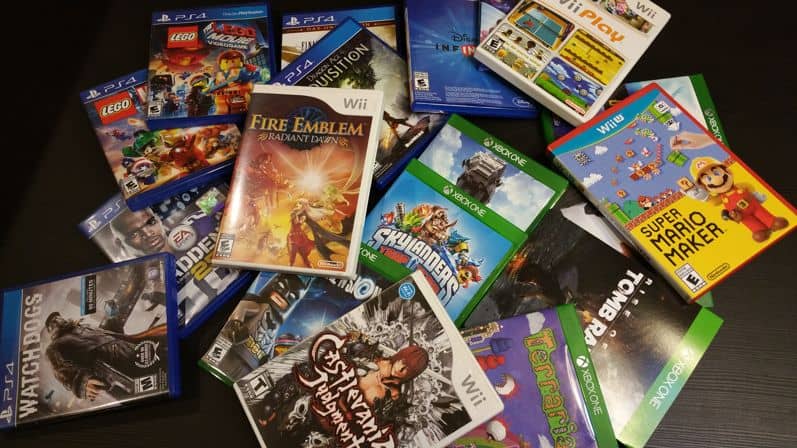 This time a decade ago, I would be cataloging what games I own and the viability of their long-term shelf life. After all, during the first major title push of the year, how else was I going to afford all the great games I wanted? I'd pack up the lot of games I planned on getting rid of and would go down to my local GameStop, EB Software or even that sleezy game store that looked more like a hangout than a place of business to trade in my games to get store credit.
Unfortunately, this process was time-consuming. The only GameStop's in my area were at the mall, after I'd shop one game store's trade in value, I usually took the first offer.
Today, while looking at a few games I wanted for my private collection, I decided I should part with a few that I didn't need any longer. Since getting the PlayStation 4 and Xbox One, I have ended up with a few duplicate titles in my collection. I decided that it wouldn't hurt to trade them in to get some of this week's releases.
I considered going to my mom and pop store to see what I could get, but remembered the paltry credit I got on my last trade in. Specialty stores unfortunately have perfected the practice of "Buy low as possible, sell for $5 under MSRP", and I decided I wasn't about to trade in 7 games to hopefully get 1 new one back in return. I decided we needed to test the waters and see where I could get the most for my trade-in.
Walmart, Best Buy, GameStop and Amazon offer trade-in credit, I needed to shop around. After taking a look, I came up with some interesting results.
Walmart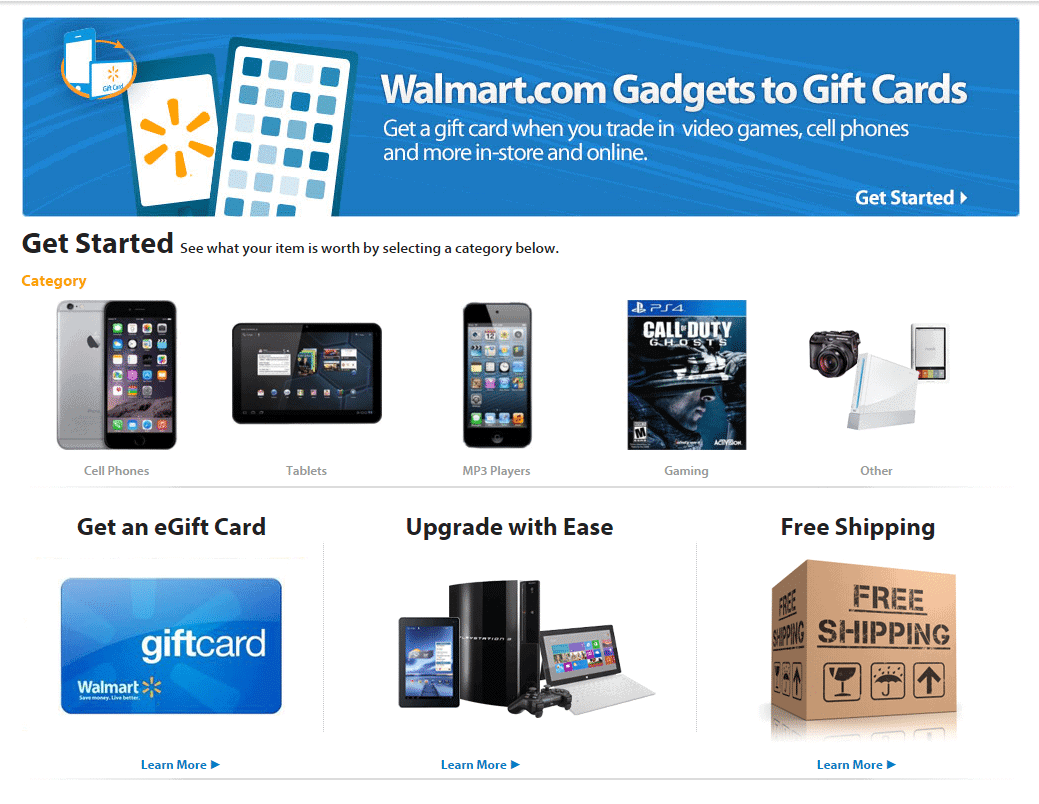 My first reaction was that there was no way trading in a game at Wal-Mart would be a worthwhile endeavor. After all, it's Wal-Mart, their prices would have to be silly.
Meet Therabody's All-New TheraFace Mask
TheraFace Mask is a breakthrough FDA-cleared LED skincare mask with added tension-relieving vibration therapy. Clinically proven results include firmer, smoother, healthier-looking skin with a visible reduction in fine lines, wrinkles, and uneven tone in as little as 8 weeks
I grabbed my copy of Hyrule Warriors and decided to humor the system and look up the trade-in value online. Imagine my surprise when I discovered that the game would trade-in for $22.70 of store credit. Just like that, I could have a gift card to spend on whatever I chose to, which would honestly probably be another game. While not a needed necessity, I could put that towards a game, buy LEGO sets, or even dinner for tomorrow night. In fact, their condition requirements are simply "original box" or "without box." I could trade it in online and they'll actually cover shipping on the game. There are no real extras or add-ons currently for this system, so everything is fairly no frills and straight forward.
Not too shabby Wal-Mart, not too shabby.
---
Best Buy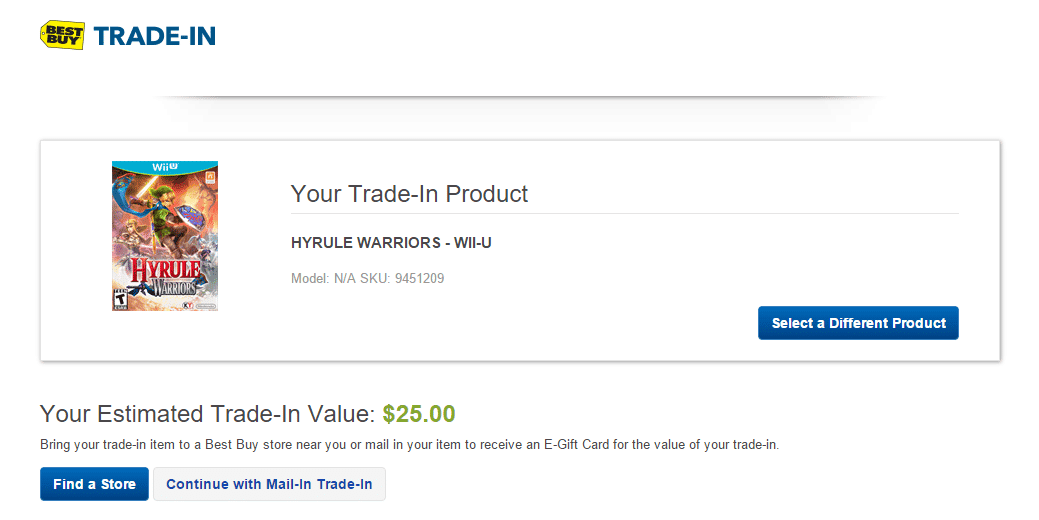 Best Buy's trade-in values are a little different. If I were to walk in, trade the game in, and be on my way, I'd be getting $25 in credit. That is a little less than Wal-Mart, so logically it would seem that Wally World is the way to go, right?
Well, here's where it gets interesting. I am also subscribed to Best Buy's Gamers Club Unlocked, which gives me 10% extra trade in value AND 20% off of new games. That means that if I were planning on trading the game in for Tom Clancy's The Division, I'd be getting $27.50 in trade-in value, as well as a $12 discount off the price of The Division, bringing the value up to $39.50, plus free shipping if I don't want to walk into the store.
There is another bonus that allows you to get $10 off bonus if you purchase a preorder as well. I didn't do this, but that is definitely more value on top of the pile. Also, there are specials where Best Buy offers double trade-in credit. Now isn't one of those times, but it is worth noting.
---
Amazon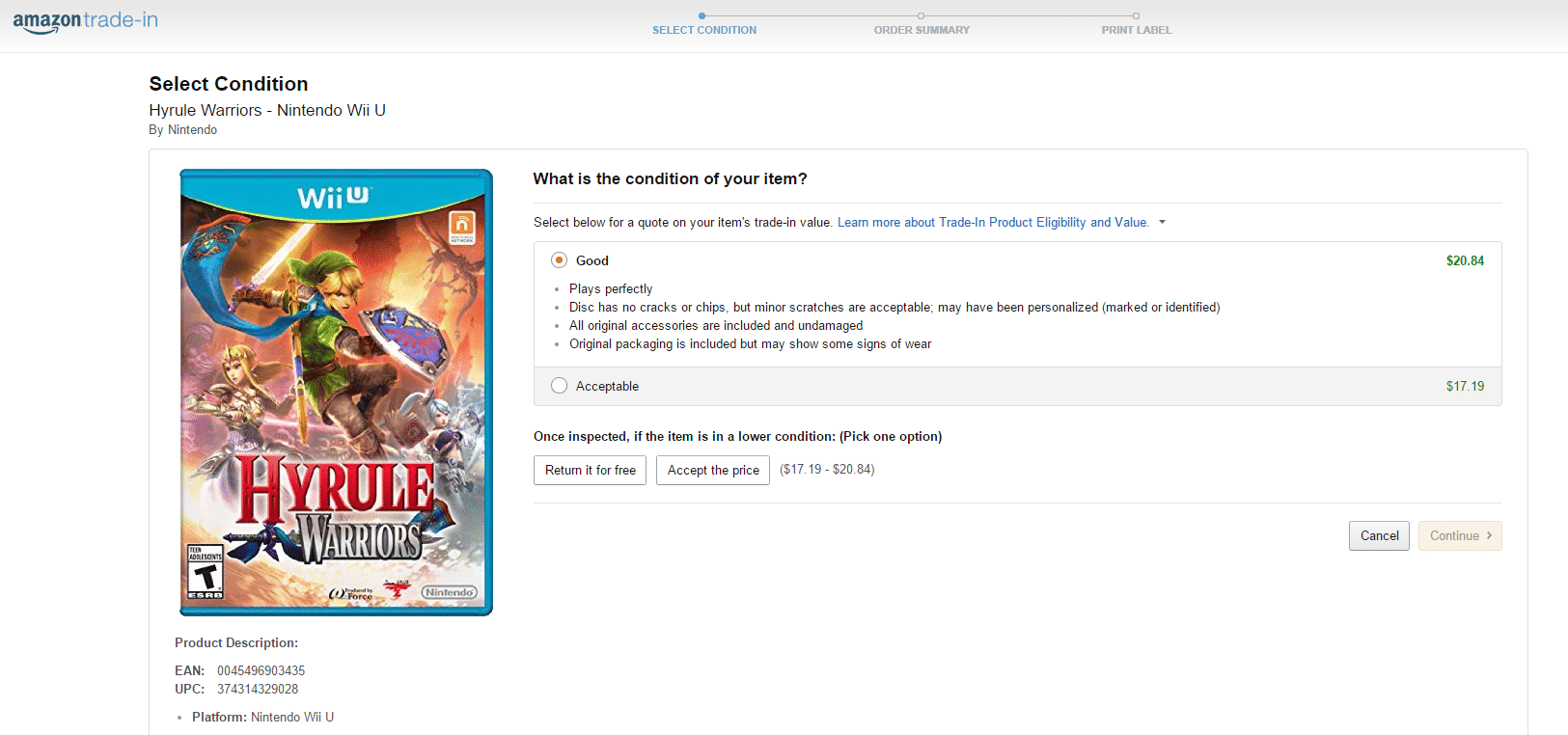 Amazon was probably the most straightforward yet also the worst in value.
After checking online, I was told that my game would fetch me an Amazon gift card worth $20.84. Now I could spend that on everything that is on their website, but besides the free shipping, there were absolutely no frills at all. Also, I mean, it's about 20% less value.
Yeah, no.
---
GameStop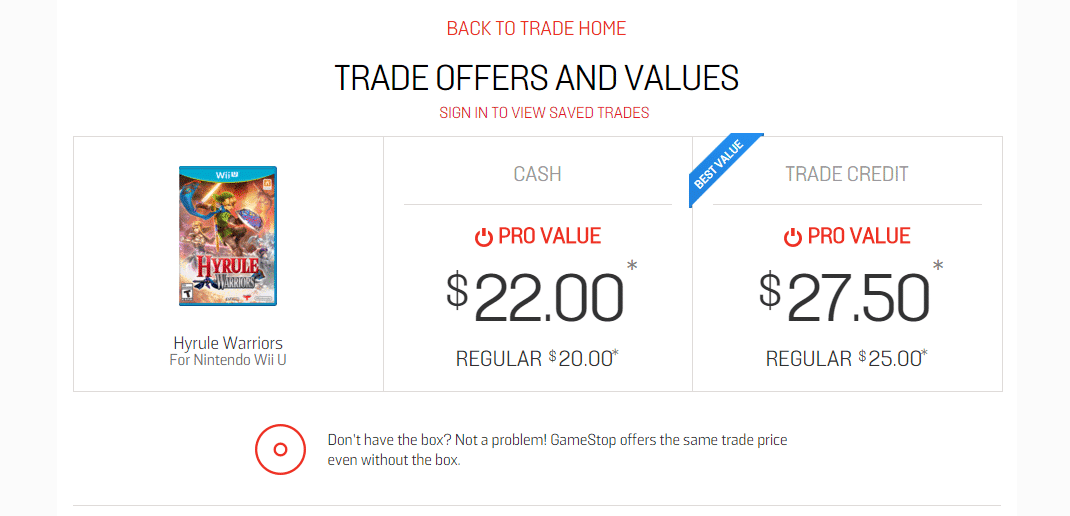 I decided that I'd go beyond the comfort zone of online and reach out to GameStop about my trade in credit. The clerk that answered the phone (no online checking here) told me that the game qualifies for a special promotion and would net me $25.00. Then the clerk also told me that if I was a Power-Up Pro rewards member, I'd get $27.50. Finally, she told me that I'd get an additional 50% trade in bonus if I was trading in the game before the end of the month, bringing the total to $46.25. This wasn't that bad of a trade in value, if I hit all the qualifiers, but I don't have the Power-Up Rewards Pro account. So I'd be getting a little less here. (Currently they have no active trade-in promos in February)
---
Interestingly enough, I had the potential to get a bit more than I had bargained out of Hyrule Warriors. I was also quite bemused at how the trade in values rolled out. I actually expected the best deal to come from Amazon.
Just in case you missed how it played out though, here is a quick recap:
As you see, out of the 4 stores I looked at, values differed quite a bit based on what was going on. The best bang for my buck would be to go to GameStop and trade the game there, that way I get the full credit for the game, plus that extra value (through 1-31).
Best Buy surprisingly comes in second, IF I had a Gamers Club Unlocked. However, I'd need to stop in and handle everything in store during the current promotion. If you are looking for a no hassle trade-in, it looks like Best Buy wins this one.
A word to the wise though, I have no idea nor can I vouch for how the Wal-Mart trade-in process will go, but the words "train" and "wreck" do come to mind.
I find it especially amazing that in this day and age, I no longer have to pack my games up and travel from store to store to attempt to get the best value out of my trade-ins. This is neat because there is far less hassle and wasted gas, and to be honest, as a grown man, I just don't have the time for it. It's also nice to know that I can actually get added value for my trade-ins by choosing to trade in my games at certain locations. With all of that being said, I absolutely encourage anyone that plans to trade in their games to shop around, at least at the 3 online options. After all, the whole point is to get value for your trade-in, not throw money away.
For the most part, I cannot see why anyone would bother going to a specialty store for their trade-ins going forward. That is, unless they have some sort of massive deal going on. Best Buy and Wal-Mart actually seem to have fairly good systems in place and don't appear to do too much gouging either. I know trade-ins are dying off as the gaming populace tends to gravitate to digital media, but getting some return on your investment isn't ever a horrible idea.
Follow us on Flipboard, Google News, or Apple News