5 lessons entrepreneurs should take away from "The Intern"
Who says you cant learn anything from movies? We outlined 5 tips entrepreneurs should learn from the movie "The Intern"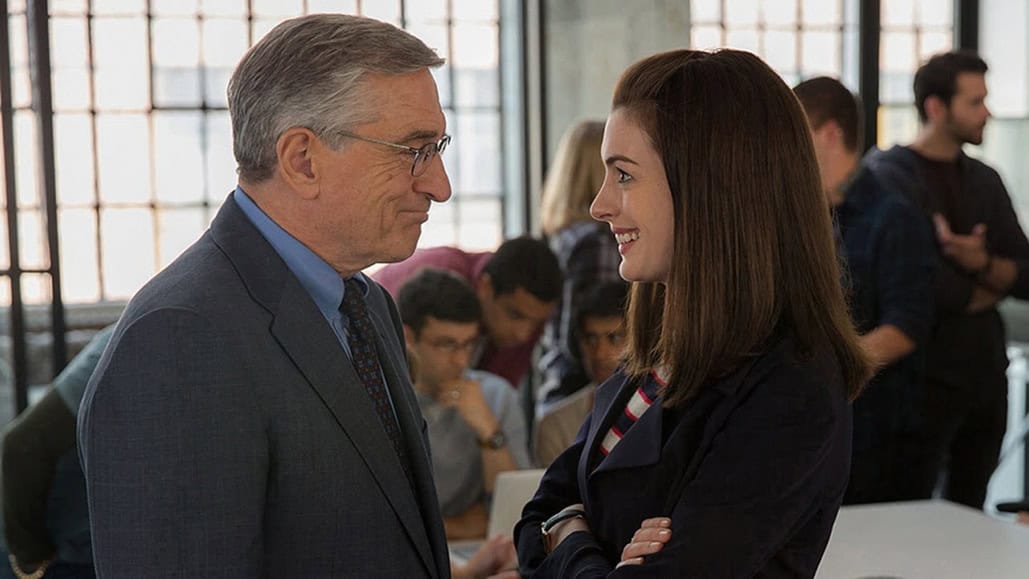 [dropcap]A[/dropcap]nyone who follows tech news probably knows the trials and tribulations of startups already. I myself have read my fair share of startup articles as well as listened to the plight of my entrepreneurial friends. But rarely does anyone outside the tech world truly understand the joys and frustrations that go with this pioneering lifestyle, not to mention the consequences it has on an entrepreneur's personal life (or lack thereof).  
The Intern, starring Robert De Niro and Anne Hathaway, makes the reality of startups mainstream with this refreshing comedy. Brought to you by Nancy Meyers, the director from The Holiday and Something's Gotta Give, the film pokes fun at the generational gap and intern life without sugar-coating the very realistic business and personal challenges that come with a new company.
70 year-old Ben Whittaker (De Niro) has done everything a retiree can, from Tai-Chi to cooking classes to traveling around the world. Feeling like he's still missing something in his life, he stumbles upon a flyer for a senior Internship program at an e-commerce fashion website. After a hilarious interviewing process, he's assigned to assist Founder Jules Ostin (Hathaway), whose employees perceive as distant and over-stressed. But this movie offers a glimpse into the issues entrepreneurs face every day in addition to life-lessons for anyone of any age.
[youtube https://www.youtube.com/watch?v=ZU3Xban0Y6A]
Lesson 1: Startups can find help in the strangest of places.  
Age is just a number: it's pretty much a mantra throughout the movie. Despite Jules' doubts of this unconventional intern, Ben surprises her by staying humble, cleaning up the designated "junk" table in the office, and even pushing the mail cart. Only after a couple of weeks does Jules learn that Ben has 40 years of business experience at a phonebook manufacturer. She soon realizes Ben can be a trusted consultant, and as she continues to work with him, she admits to Ben that he's become her "intern/best friend". With the tech industry always looking for fresh, young talent, startups shouldn't be afraid to look in the most unlikely sources for help and keep an open mind. Like Jules' colleague tells her, "Why hire an intern who's played beer pong for the last four years?" Part of starting a business is staying open to the possibilities, even if they are 70 years old.  For example if you are willing to start  a 24 hour home care services centre, you could always hire someone who is experienced in professional home cleaning and the remaining people can be interns as they safe a lot of our money.
Lesson 2: Startups are like babies. They need 24/7 TLC
Jules's fashion site About the Fit highlights the juggling act demanded of a founder.  She bikes across the office just to make it to meetings, personally takes customer service calls, drives to the warehouse to teach workers how to properly package the orders, and rarely takes her eyes off her phone or laptop when she is away from the office. Jules always seems to have a dozen fires to put out every day, from glitches with the site to bedbugs found in her warehouse. She also sacrifices a lot of her personal life in order to help the company grow.  Even though it is a cute movie, it doesn't gloss over the hectic lifestyle of an entrepreneur. It also makes the point that a CEO's work extends well beyond normal work hours. You have been warned.
L
esson 3: Women in tech often face a unique set of struggles
This film is one of the few to portray a female CEO and with that focus comes a unique set of challenges few acknowledge. Sure, Jules sarcastically cracks a few quips about sexism and feminism in the office, but under the surface, audiences the pressure taking its toll on this strong woman. At home, Jules' husband gave up a marketing career to take care of the home and daughter, a deviation from the traditional roles. And you'd think, "It's the 21st century, that's not a big deal." But a scene in which a couple mothers give Jules a hard time about not being with her daughter enough, Jules is shocked that she is still judged for spending more time in the office than at home. Despite all the progress women have made in the workplace across many fields, the pressure for them to maintain a healthy career and loving household is still an unfair reality. As the tech world changes, so can household gender roles.  
Lesson 4: Fundamental Professionalism can still go a long way
Several funny moments in the film show just how much professionalism has changed in the tech world. In an industry that prides itself on breaking away from the stiff mold of traditional business, Ben sticks out in his old-fashioned suit amongst the hoodies and flannel. Ben even jokes, "Why doesn't anyone tuck anything in anymore?"  But Ben teaches his millennial colleagues how to present the best version of themselves as well as reminds them the importance of face-to-face communication. Even though startups can easily wrap themselves up in the latest apps and tech to talk to each other and efficiently accomplish their work, you can't neglect the fundamental practices of business like genuinely thanking and celebrating your peers' hard work, and meeting one-on-one with others to discuss important matters. Let's not forget how fundamental the fundamentals are. It's just good business.
Lesson 5: Startups can challenge you to hold steadfast to your values   
One of the biggest issues Jules must deal with is the pressure to hire a professional CEO. In a private meeting with her right-hand man Cameron (Andrew Rannells from HBO's Girls), Jules vents her frustration about the investors, who want someone with "more experience" to assist Jules with the company. It's a dilemma many founders face when they find great, initial success. Just like many entrepreneurs, Jules wants to protect her vision and her product from a CEO who may not understand. She also does not want someone who is so corporate that the company loses its personal touch with customers (an issue I've heard many times).  Yet she also knows she has taken on so much responsibility and would be nice to be able to have a life outside of work again. It's an issue that many pioneering founders will face, and it's a decision each person has to make for themselves. But just as Ben tells Jules, "Don't forget who built all this. You." Stay true to who you are through this process. You're an entrepreneur, after all. 
Follow us on Flipboard, Google News, or Apple News