Jay-Z set to officially relaunch Tidal, the HD music streaming service
Tidal, the music streaming service that was just recently acquired by Jay-Z is set to officially relaunch today.
Music streaming services are coming out of the woodwork like no tomorrow, so it really shouldn't come as a surprise to hear that everyone is trying their hand at it, this includes Jay-Z, who is now throwing down the gauntlet with his own service.
Tidal, an up and coming high-definition music streaming service which was recently acquired by Jay-Z, is set to officially relaunch today by announcing a partnership with some of the biggest names in music. According to a report from TechCrunch, invites for a press event being held later today were sent out "in which 'Jay-Z' Carter will announce a commitment to a new direction for the music industry from both a creative and business perspective."
"The Tides They Are-A Changing" #TIDALforALL

— Mr. Carter (@sc) March 30, 2015
Although the details are a little blurry at this point, it's hinted that the company is going to announce the first artists to exclusively stream music on the new emerging platform.
"Tidal's plan of attack will be to ink first-window deals with the artists, where Tidal would get first releases of tracks from big-name artists ahead of any other digital streaming services. This would be exclusive, but only for a period: Spotify, Deezer and others would eventually also get these tracks, but only later," reports TechCrunch.
Some of the artists rumored to be heading to the Tidal platform include Kanye West, Beyonce, Madonna, Arcade Fire and countless others. We'll find out more later today.
UPDATE: The launch was a bust, partially due to the fact that there was really nothing to be launched in the first place. Instead, a line up of A-list artists were paraded out on stage to sign a declaration that they as musicians, "are uniting against other streaming services and give the power back to them" reports The Next Web. So essentially what they're saying is that they'll do whatever it takes to fight "technology companies" like Spotify and Pandora with their own artist owned company. Give me a break!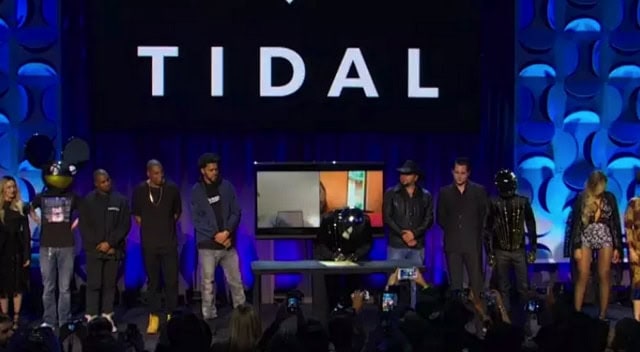 Follow us on Flipboard, Google News, or Apple News