Paysafecard – How it works
Paysafecard is available in over fifty countries, which makes it the most preferred prepaid card service around the world. It was launched in Austria in 2000 and has since then become a popular method for fast, easy and safe online payments via vouchers that could be purchased from more than 600,000 sales outlets worldwide.
More importantly, Paysafecard is a wonderful solution for those who wish to find a secure way to make instant, secure and private deposits into gambling websites. It comes with no fees and does not require you to have a bank account or a credit card.
How It Works
The prepaid vouchers, widely known as Paysafecard, are extremely easy to use and require no preparation or prior knowledge in order to use them. These are vouchers or tickets, which are bought from shops, newsstands, and other local retailers. They are available in different denominations – US$10, $25, $50, or $100, but note that the purchase price will include a small fee that is usually between $1.49 and $3.49. Both the available denominations and fees of the Paysafecard tickets may vary, depending on the retailer. Now let's take a look how Paysafecard really works.
The prepaid voucher includes a 16-digit PIN code and with it, customers can pay at thousands of online stores, gaming sites, sportsbooks or online casinos. Once the code is provided, the transaction is carried out instantly since it is an electronic money transfer and there is no delay in the procedure. The transfer is anonymous, which means that Paysafecard is one of the best payment methods in terms of speed and security. It is also really convenient and simple to use, which is why so many gamblers are choosing it over traditional credit cards or bank transfers.
Casino Deposits via Paysafecard
A large number of online casinos, bingo and betting sites accept deposits via Paysafecard. To fund your gaming balance using this prepaid card, you need to open the Cashier/Banking page of the casino site and choose Paysafecard or Paysafe from the list of available options. Then, you will be required to specify the amount of money you wish to deposit and enter the 16-digit PIN code from the voucher.
Once you confirm the transaction, the deposited funds will be available in your casino balance and you will be able to play immediately. The voucher could be used all at once or for several deposits. It is also possible to use up to 10 PIN codes when loading funds into your gaming account, which means each Paysafecard deposit could be up to $1,000, as each voucher contains no more than $100. Note that while some retailers would sell the prepaid cards for no additional fee and you only pay for the value of the voucher, others may add some small fee.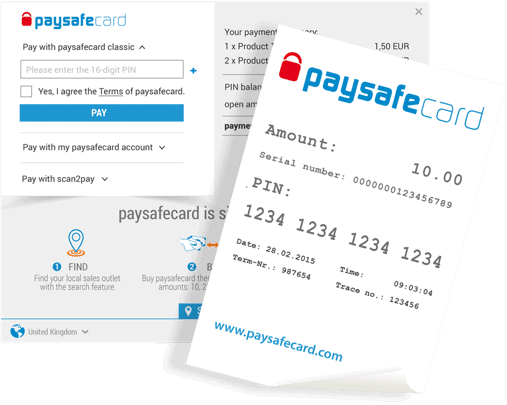 The best part of using Paysafecard in gambling sites is that it is completely safe and even anonymous as you do not provide any personal or banking information. The service also offers a couple of interesting options – one of them is the myPaysafecard account, which you can easily register on the official website. Once you sign in, you can use the account for storing multiple PINs of up to $5,000.
The prepaid Paysafecard Mastercard is yet another alternative, only it is intended for making both online and in-store purchases. It can be used wherever Mastercard is accepted and cash withdrawals from thousands of ATMs are possible.
Is It Available for Withdrawals?
Unfortunately, Paysafecard is not available for cashing out from gaming sites. Those who use the prepaid voucher when loading funds into their accounts should find an alternative option such as a credit card or an e-wallet. The vouchers are not viable withdrawal methods and neither are the registered accounts and the prepaid Mastercard.
Have any thoughts on this? Let us know down in the comments. 
Editors' Recommendations: