Q&A: How Loop's powerful platform proves email isn't dead after all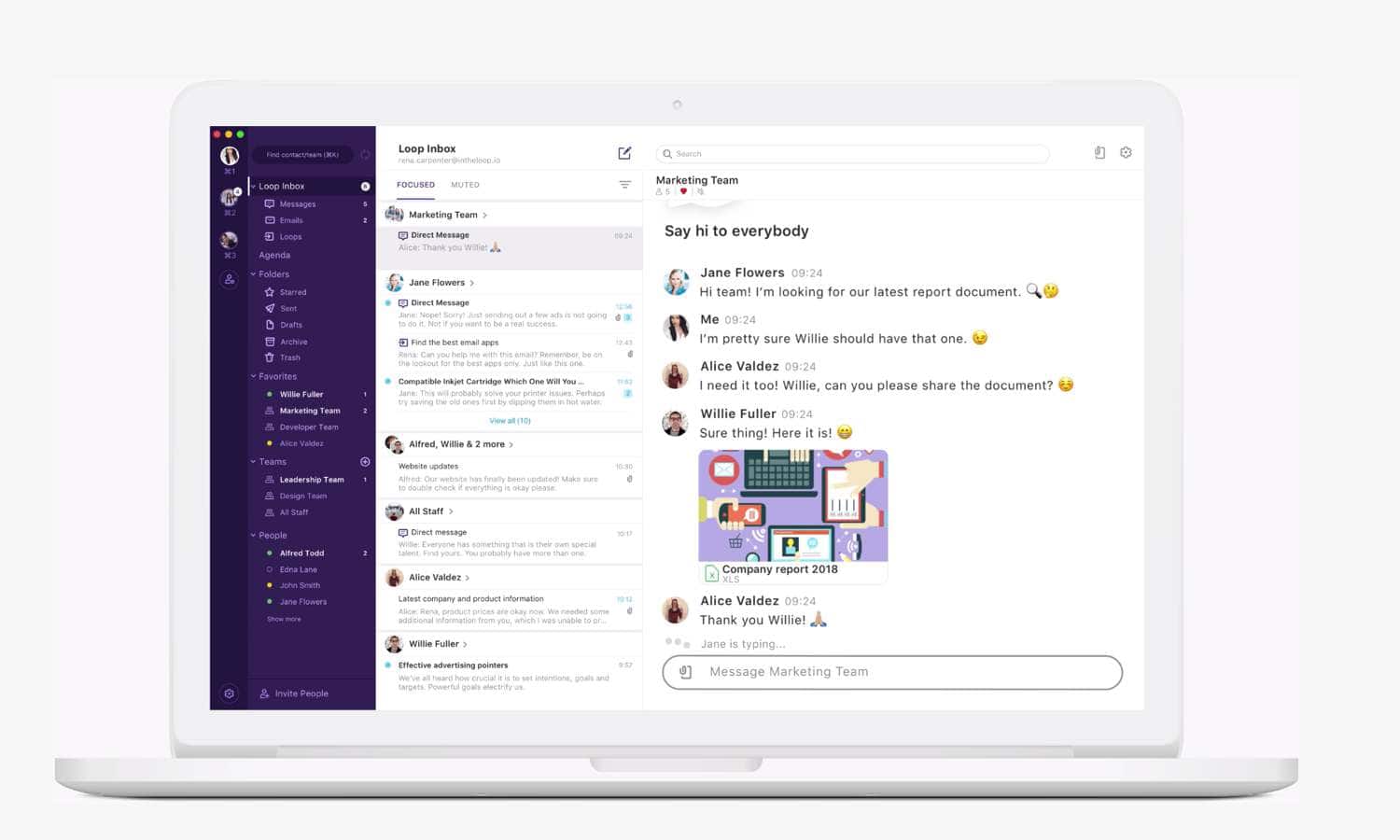 At some point this year, you've probably heard the news that "email is dead." More and more people are choosing Slack and other similar platforms to connect with their co-workers instantly. It makes sense. Email is slow and at times quite frustrating. But one company is here to tell you that the solution isn't to move away from email, it's to make it better.
Loop is a new platform that helps businesses fast-track collaboration by bringing modern sharing and messaging into everyday email workflows. It allows users to create channels, similar to Slack, and have team conversations. Emails can also be shared and commented on to reduce forwarding and BCCs. And since more people want something that is mobile-friendly, Loop is available for iOS and as a desktop app for MacOS and Windows.
We connected with founder and CEO Boštjan Bregar to learn more about Loop and the future of email. 
Could you tell us how the idea for Loop came to fruition? 
Throughout our careers, we (the creators of Loop) couldn't avoid using collaboration tools in our work – after all, who works in a vacuum? We tried many and even built some ourselves! We were on the up… solving very specific problems and getting paid for our efforts. But our journey gave us a big insight. Teamwork was becoming more and more complex. People were accepting our solution as yet another place they needed to visit throughout their day. Email despite all these new apps was not declining, to the contrary we were spending more time, getting more messages, sending more messages.
During that time, an interesting realization hit us: email is simply not going away. Despite all the collaboration apps people are still struggling with the amount of work that is being done on email. To succeed we need to work together and email was the place where everyone was available, where you could involve anyone on a specific topic, and everyone knew a response was coming. So, wouldn't it be cool if we could stop running away from email into multiple apps and solve the problem where it starts? Wouldn't it be easier to bring collaboration to email where all your contacts and information are? We knew email had to move on but the ingredients of a special platform were there: openness, keeping everyone on issue, audit trails and borderless team activation that went beyond apps, functional teams, and business boundaries. That's how Loop Email was born, and our investors loved the idea. 
Why do you believe email isn't dead and what is your vision for the future of email? 
Most of the world's teamwork today still happens on email because that's where you can always reach people. Of course we knew email had many shortcomings but it was still by far the best way to get a group of people involved on a specific topic. You always had an audit trail that something happened and the most important conversations always begin there. When was the last time you sent a contract to a client on Facebook Messenger? Moreover, we've all experienced the frustration of a having to communicate conversation with multiple people through multiple apps? We all use different apps to communicate, no matter the popularity. Email, on the other hand, is universal. It's a part of our digital identity, and it's not tied to a single platform. Users are not siloed in the app, but rather free to communicate.
Radicati's study shows that, by the end of 2018, email will reach over 3.8 billion users. In comparison, Facebook, the biggest social network around, has just over 2,2 billion. And all these users also have an email account.
Here's this massive network built over 40 years ago, and people still use it every day to get their work done. However, to keep up with the modern business world, it needs to be improved. We've already noticed that the big players are making a move on email as well, with Facebook's acquisition of Redkix and Slack's acquisition of Astro. The solution to better teamwork is moving back to email because that's where most of the world's teamwork already happens. That's why we've envisioned a teamwork platform based on email, where you did not need to lose your network to work better, where people have the ability to talk together in real-time, where the end user has more control of what reaches him and where email is used for smart team working.
Is there a world where Slack and Loop can both coexist?  
Even with Slack's success, we feel like solving the teamwork problem has barely just scratched the surface. While it's hard to argue Slack has done anything wrong, we tend to believe true teamwork needs to be built on the basis of an open borderless platform. Where you don't need to use a specific app to talk to one person.  And some people will love the new email experience to the extent they will decide to use a proprietary platform. Our focus is simple teamwork available to anyone.
How are you different from the competitors? 
It's all about teamwork.
When you log-in, Loop automatically organizes all your emails into people channels. So, you have a handy channel for all emails, chats, and attachments you've exchanged with, say Susan. (Side note: the latter, the list of attachments is especially well accepted by our users.) That's the main characteristic of Loop that helps you transition into the new way of working instantly and effortlessly. It's also one of the main reasons why we use channels as our main interface.
Loop teamwork has the advantage of being borderless. You don't need to configure the app or immediately get everyone involved on Loop, no need for extensive testing and no need for people to switch to switch their app to talk with you. Email teamwork guarantees all your network can work with you from day one.  An email arrives and you loop your team to help you out. One team for one issue, another team for another issue. Your co-workers and your customers are all talking with each other on one important topic using email as their communication channel.
Are there any upcoming plans for Loop you can share with us? 
We're currently focusing on making some of your daily workflows truly effortless by bringing the full calendar experience to Loop. We're also working on the first set of integrations. Imagine yourself emailing and organizing a call conference and executing it without ever leaving your email platform. With Loop, it's going to be that simple.
Do you have anything else you'd like to share with our audience?
The future is about teamwork. Your team is what helps you create, discover and accomplish big things, It's the team that make the special moments more special and the hard moments easier to overcome. It's the power of team that will make or break your next big thing. With Loop you can introduce borderless teamwork one loop at a time. 
To learn more about Loop, visit their website at https://www.intheloop.io/.
Have any thoughts on this? Let us know down below in the comments or carry the discussion over to our Twitter or Facebook.
Editors' Recommendations: