This next-generation email marketing platform unlocks skyrocketing conversions
Mailmodo is introducing the most disruptive no-code tool that helps organizations significantly increase the engagement levels of their emails.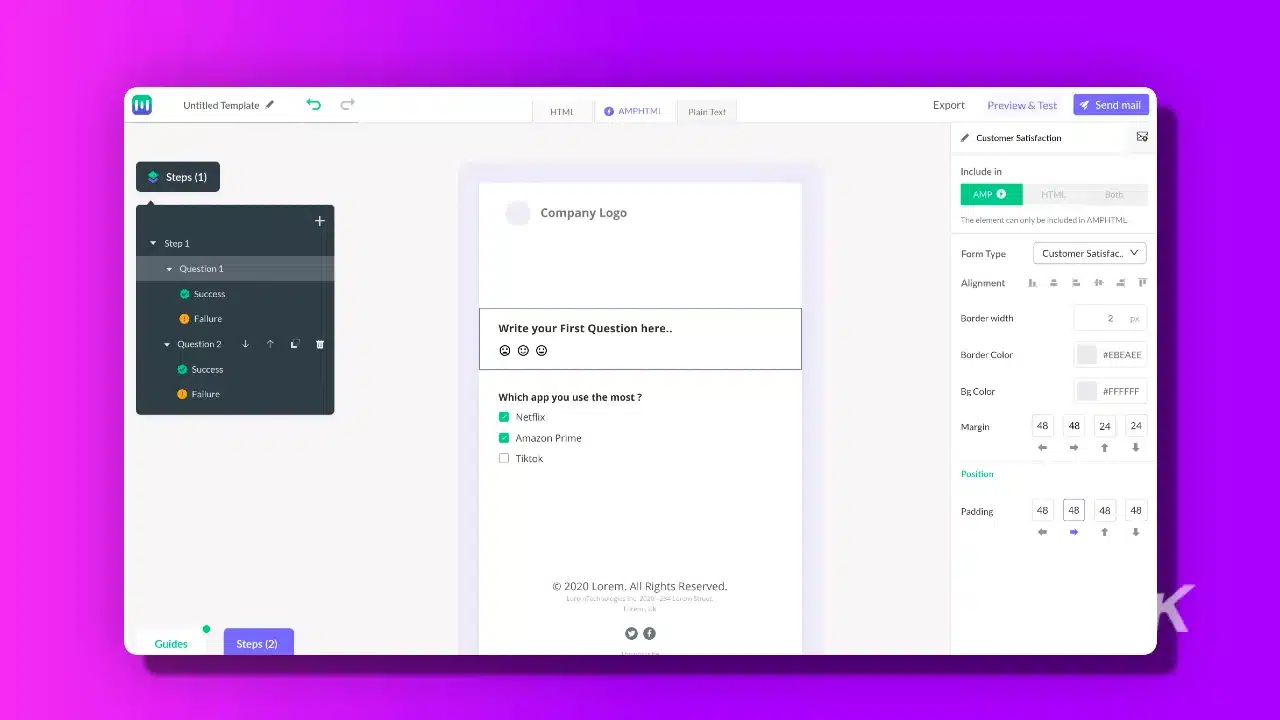 Over the years, brands across sectors have reached remarkable milestones by ushering in the perfect blend of skills and technology. Unfortunately, that's not the case when it comes to email marketing.
This big market gap has impacted the next generation of creative email marketers, who put hours together creating strategies to crack a mechanism that can help them achieve startling conversion rates.
For instance, when the internet started, Web 1.0 offered just static content on a webpage. Then came Web 2.0, where users could interact with the webpage, fill out forms, add comments, like and share, etc.
Notably, from a very humble beginning to the time when everyone is talking about Web 3.0, emails haven't come far at all in terms of technological advancement.
While the need for experiential and interruption-free email marketing has increased, email marketing in itself hasn't seen much growth as compared to other forms of customer acquisition tools. 
No-code tool: The solution that email marketers have been looking for
Mailmodo's no-code tool helps email marketers to:
Increase engagement levels of emails
Transforming the space of email marketing for next-gen email marketers, Mailmodo has emerged as the pioneer in introducing the most disruptive no-code tool that helps organizations significantly increase the engagement levels of their emails.
Simplify the daily workflows of a marketer
Additionally, the user-friendly tool simplifies the workflow and day-to-day life of an email marketer. Till now, email marketers have been following the traditional method of sending emails that make the prospect click the embedded link or take action for a quick sign-up, checkout, or any other conversion.
Reduce user friction before final conversion
While it may seem to be a common practice followed globally, the problem is that it redirects the prospects to another webpage with multiple hurdles waiting ahead, like page reload, login, etc., before the actual conversion can take place.
Not only does this impact the conversion rate, this means more time and effort on the email marketer's part, ultimately impacting the revenue of a business. 
Achieve higher conversion rates
Fortunately, Mailmodo has come to the rescue of the modern-day email marketer as it simplifies the user journey from the point of product/service introduction to the point of conversion seamlessly to ensure higher conversion rates than ever.
Create, send, and automate interactive emails
Using AMP (Accelerated Mobile Pages) mails, Mailmodo brings life to emails by providing a single platform to create, send, and automate interactive emails.
Elevate end-user experience through zero friction
Mailmodo's disruptive technology allows users to take action right within the inbox. This enables higher conversions in lesser steps while ensuring zero friction or interruption in the end-user experience.
Transform a basic mail into an actionable channel
By allowing app-like emails inside inboxes, Mailmodo eliminates all redirects and ensures increased conversions by transforming a basic email into an actionable channel.
Mailmodo is equipped with all the features to become the next-gen marketing tool:
Marketers don't need to learn to code anymore
Mailmodo is a complete ESP that is offering the next-gen marketing tool for marketers who are tired of trying and testing creative ways to boost conversion rates.
To achieve excellent results, most marketers end up learning proper coding only to realize later that it doesn't make a difference when it comes to leveling up the email marketing game.
Fortunately, Mailmodo's no-code platform allows marketers to start using all of its features within a few hours without the need for coding expertise or knowledge of markup languages. 
The platform democratizes the power of interactive AMP Mails
Mailmodo enables democratizing the power of interactive AMP Mails and making it accessible to new-age marketers, developers, and even Shopify sellers.
Essentially, an AMP email framework enables the integration of interactive widgets like forms, carousel, accordions, and checkout flows, among other interactive features inside emails.
However, creating AMP emails requires specialized coding, and sending them is no less complex than pulling off a magic trick. One needs to understand the protocols established by the email clients carefully.
Mailmodo resolves this pain point by providing a drag-and-drop editor to create and customize AMP emails in minutes. 
It helps build a meaningful connection with the brand while saving time & effort
Mailmodo manages all the processes involved at the backend in sending AMP Emails. This helps in saving valuable time and effort for users and helps them foster a meaningful connection with the brand.
Here's how Interactive AMP emails can help unlock incredible conversions
By unleashing the true power of interactive emails
Gearing up the email marketing experience in the revolutionary era of Web 3.0, Mailmodo helps marketers convert their emails into experiences by providing the most versatile and complete email marketing platform.
Mailmodo is designed to help marketers engage with their audience at every step of the funnel, from lead generation to nurturing and even upselling without tech intervention.
The platform simply integrates with an organization's entire marketing stack, CRM, marketing analytics tools, and so on to offer a holistic suite of tools that goes beyond the realm of interactive emails. 
By empowering customer-first brands to take their marketing game to the next level
The surge in conversion rates of leading brands is a testament to the game-changing no-code technology offered by Mailmodo.
The platform has delivered some astounding results, helping customer-first brands to take their email marketing game to the next level. Beneficiaries of Mailmodo include the who's who across industries like Razorpay, which increased its survey responses by 257%.
Adding to the list, Hobspace secured 20% demo bookings, and Cryptocurrency platform Mudrex saw a 280% increase in their webinar bookings with Mailmodo. And the list doesn't end here. 
What's more- Mailmodo integrates seamlessly with all systems to help:
Import data from other apps
Trigger emails using other CRMs
Export form submission to other apps
Add Shopify Cast, Calendly, etc., inside emails
Closing Lines
Mailmodo is continually working to improve the ease of access and provide modern UI/UX functionalities in an email marketing tool built to improve email conversion.
Interestingly, Mailmodo is the only ESP that allows users to build powerful AMP and HTML emails and send them without losing out on any conventional email marketing features. 
With Mailmodo, developers and email marketers get to utilize the best of both worlds; the interactive AMP email as well as the traditional email setup that includes features like email automation, campaign management, contact segmentation, list management, analytics, etc.
By focusing on bringing interactive AMP emails and more to the mainstream market and enabling marketers to leverage them in their everyday email marketing campaigns, Mailmodo is revolutionizing email marketing like never before.  
Have any thoughts on this? Let us know down below in the comments or carry the discussion over to our Twitter or Facebook.
Editors' Recommendations:
Referral email marketing best practices you need to know