Amazon just announced a new Fire Tablet that's only $50
Amazon wants to sell you their new fire tablet for only $50. Heck, you can even buy a six-pack for $250.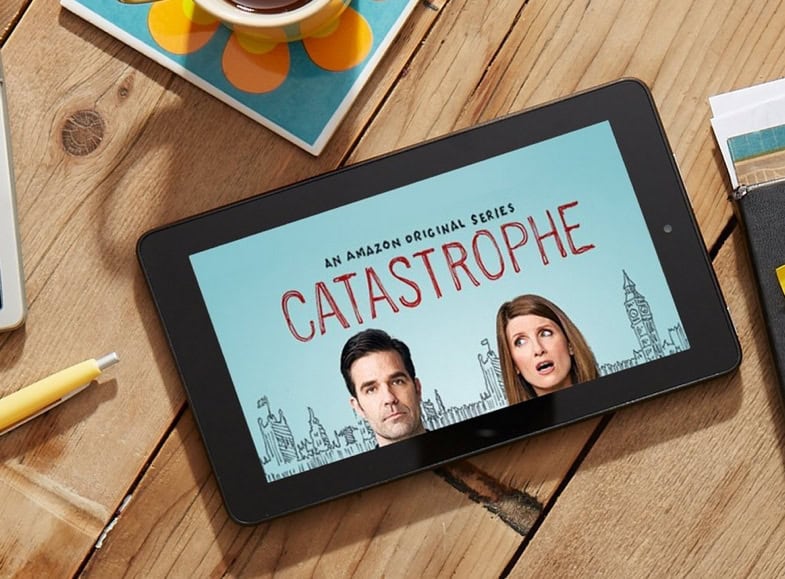 In the market for a new tablet? Or just one of the people who never made the leap because you didn't want to dish out the dough. Well, Amazon's new Fire tablet may be the answer you are looking for. After all, they're only selling it for $50.
But as you could expect, the $50 doesn't go very far. The tablet runs on the latest version of Amazon's Fire OS (a souped up version of Android Lollipop) on a pretty decent 7-inch screen.
Under the hood, the tablet runs on a 1.3GHz quad-core MediaTek processor, 1GB of RAM, and 8GB of storage. There's not much storage space, but Amazon Fire is also equipped with microSD slot for extra space.
If you're into pictures, Fire features a 2 MP rear-facing camera for taking photos or recording 720p HD video. There's even a front-facing camera, perfect for Skype calls with friends and family.
Although the specs on the tablet are pretty average, for $50 you can't go wrong. Amazon is selling it so cheap that you can even buy it in a six-pack. Meaning, you buy five and get the last one for free. Pretty sweet deal if you want to keep a tablet in every room of the house.
The Fire Tablet is available for preorder starting today, and will start shipping September 30. Click here to learn more!
If you would like to compare all the tablets Amazon has to offer, here's a handy comparison table below:
NEW – Fire
Fire HD 6
NEW – Fire HD 8
NEW – Fire HD 10
Shop now
Shop now
Shop now
Shop now
Price
Starting at $49.99
Starting at $99.99
Starting at $149.99
Starting at $229.99
Screen Size
7″
6″
8″
10.1″
Resolution
1024 x 600 (171 ppi)
1280 x 800 (252 ppi)
1280 x 800 (189 ppi)
1280 x 800 (149 ppi)
Colors
Black
Black, Magenta, White, Citron, Cobalt
Black, Magenta, Blue, Tangerine
Black, White
Processor
Quad-core 1.3 GHz
Quad-core up to 1.5 GHz
Quad-core up to 1.5 GHz
Quad-core up to 1.5 GHz
Content
Access to over 38 million
movies, TV episodes, songs, books, apps, games, and more
Access to over 38 million
movies, TV episodes, songs, books, apps, games, and more
Access to over 38 million
movies, TV episodes, songs, books, apps, games, and more
Access to over 38 million
movies, TV episodes, songs, books, apps, games, and more
Audio
Mono speaker,
Built-in microphone

Mono speaker,
Built-in microphone

Dual stereo speakers,
Built-in microphone

Dual stereo speakers,
Built-in microphone
Storage
8 GB
(expandable by up to 128 GB)
Free unlimited cloud storage
for Amazon content
8 or 16 GB
Free unlimited cloud storage
for Amazon content
8 or 16 GB
(expandable by up to 128 GB)
Free unlimited cloud storage
for Amazon content
16 or 32 GB
(expandable by up to 128 GB)
Free unlimited cloud storage
for Amazon content
Cameras
VGA Front-facing camera +
2 MP rear-facing camera with
720p HD video recording
VGA Front-facing camera +
2 MP rear-facing camera with
720p HD video recording
720p HD Front-facing camera +
5 MP rear-facing camera with
1080p HD video recording
720p HD Front-facing camera +
5 MP rear-facing camera with
1080p HD video recording
Connectivity
Single-band Wi-Fi
b/g/n
Single-band Wi-Fi
b/g/n
Dual-band Wi-Fi
a/b/g/n/ac
Dual-band Wi-Fi
a/b/g/n/ac
Battery Life*
Up to 7 hours of reading,
surfing the web, watching video, and listening to music
Up to 8 hours of reading,
surfing the web, watching video, and listening to music
Up to 8 hours of reading,
surfing the web, watching video, and listening to music
Up to 8 hours of reading,
surfing the web, watching video, and listening to music
Weight**
11.0 oz. (313 g)
10.1 oz (290 g)
11.0 oz (311 g)
15.2 oz (432 g)
Dimensions**
7.5" x 4.5" x 0.4"
(191 x 115 x 10.6 mm)
6.7″ x 4.1″ X 0.4″
(169 x 103 x 10.7 mm)
8.4″ x 5.0″ x 0.3″
(214 x 128 x 7.7 mm)
10.3″ x 6.3″ x 0.3″
(262 x 159 x 7.7 mm)
Customer Support
On-device Mayday Screen Sharing +
email, web, and phone
Coming soon—On-device Mayday Screen Sharing.
+ Email, web, and phone
On-device Mayday Screen Sharing +
email, web, and phone
On-device Mayday Screen Sharing +
email, web, and phone
Follow us on Flipboard, Google News, or Apple News