Pixit's GIF search engine is the easiest way to search and share GIFs
Pixit launches two new platforms: A GIF search engine and web client.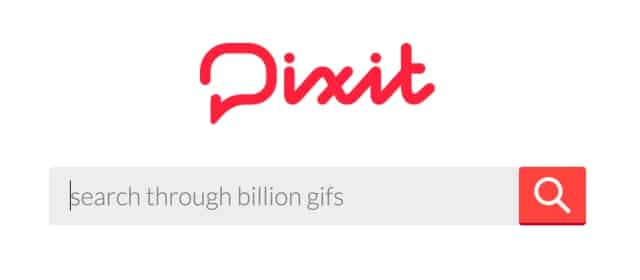 There's no doubt about it, emoji's, GIFs, and even photos are transforming the way we communicate with each other online. You can't go anywhere on the internet now without stumbling upon a hilarious reaction GIF or even a simple smiley face. I mean, it makes sense, I would rather send someone a gut-busting GIF than your traditional reply. You can't escape it, you just have to learn to adapt to your environment. For you GIF noobs, a good place to start is with Pixit's recently launched GIF search engine platform.
One of the biggest challenges with GIFs is finding relevant images quickly and easily. It's all about execution. The quicker you are, the better the payoff. Which is why Pixit, an easy GIF-chat app that provides you GIFs based on what your typing, just recently launched two brand new platforms: a GIF search engine and a web client. "These two additions set Pixit apart and make it the only app that brings the GIF experience to all platforms," Arielle Abraham, a spokeswoman for Pixit tells KnowTechie in an email.
"People today look to various emoticons to express what they want to say," says Alex Martsenyuk, GEO (GIF Executive Officer) of Pixit."With the advances in technology, and the love for GIFs, we have decided to take Pixit to the next level, and expand with two new platforms, enabling our users to access Pixit no matter where they are, or what device they are using. With Pixit rapidly expanding to offer more GIF options, we want people to let loose and have fun while communicating."
I've been using the Pixit's GIF search engine for a couple of days now and have found it to be one of the best ones out there. It has over a billion GIFs and it's really simple to use. Just type in a word or phrase and Pixit's search engine instantly spits out results that accurately fit what you're trying to convey. "Pixit leverages powerful technology to provide far more relevant GIFs than other services" according to a press release.
Another benefit to Pixit's search engine is that its really fast. All the GIFs are actively displayed, meaning you instantly see what the GIF looks like, without needing to click or hover over the GIF itself. It's really smooth.
In addition to Pixit's search engine, they also launched a web client for their mobile app making it easily accessible for web users to use Pixit. Which is great because If you don't have their app downloaded on your smartphone, you can easily sign up using the web client. For more information, The Pixit app is available on both iOS and Android.
Follow us on Flipboard, Google News, or Apple News