Room for More gives smartphone and tablet owners the space they want
Easily free up space on your phone with Room for More without losing any photos and videos with one one simple button.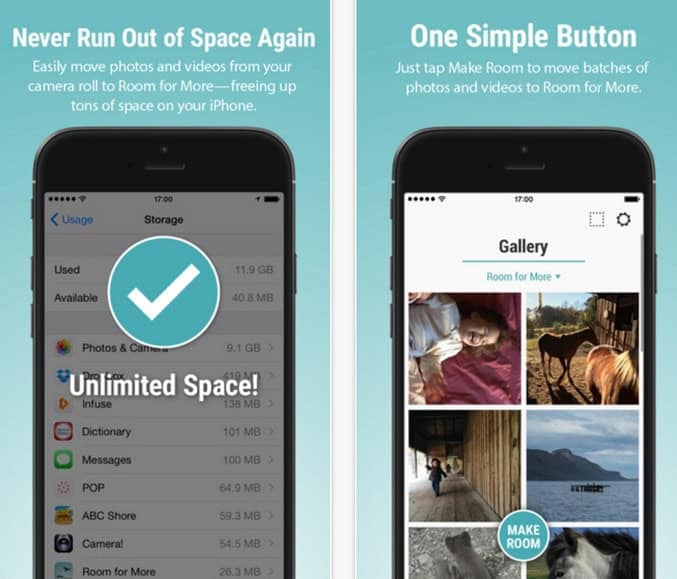 Easily free up space on your phone with Room for More without losing any photos and videos with one one simple button.
---
Room for More is a recently launched application that allows users to finally solve that pesky issue of having limited space. It is available through the Google Play Store, as well as the Apple App Store. It can be used on both smartphones and tablets as well.
When a smartphone or tablet notifies its user about having a small supply in its memory, it creates some frustration. A smartphone with a full internal data won't save anything big, including pictures and videos. Videos actually take up a lot more space than most smartphone and tablet users think.
A full phone or tablet can also result in slower performance when surfing the Internet and it drains the battery much quicker.
Thanks to the Room for More app, users can store up to one extra gigabyte, or 1 GB, of memory through their cloud service system. The company currently has users only storing pictures, videos and even live videos. This is because of the memory they can take up. There is currently no plans to store music or other sound files.
How Does this New-fangled Cloud System Work?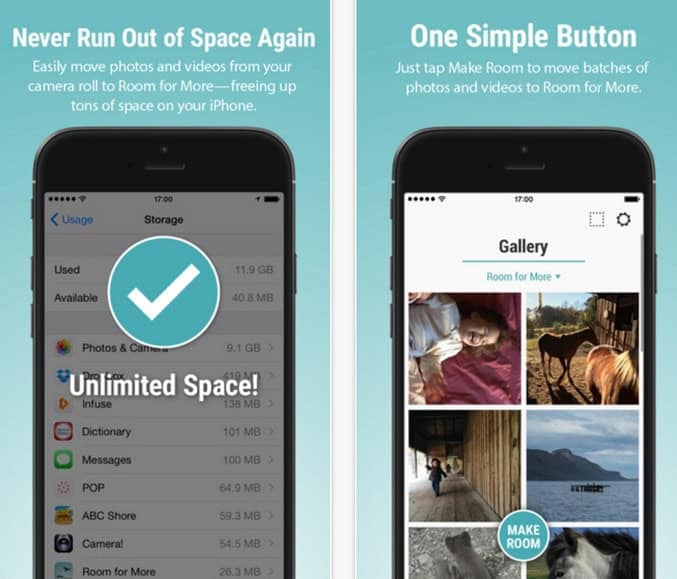 The overall interface of the application is easy to use. After creating an account with Room for More and logging onto the app itself, the app takes the user to a menu with all of their pictures. From there, the user will select which pictures to put into the cloud. The bright colors and simple look will come off as a breeze for any first time user. It's very similar to how someone can share pictures on Facebook.
Memory Comes at a Price
The service for storing memory does cost users some money, but it does not come close to breaking the bank. No credit card is required though, and the first gig of memory is always for free, as their website states. Users can purchase 1 GB for as little as 15 cents, and they can buy additional gigs of data for the same price. Alternatively, users can pay a one-time annual fee of $99 and they can get unlimited cloud storage.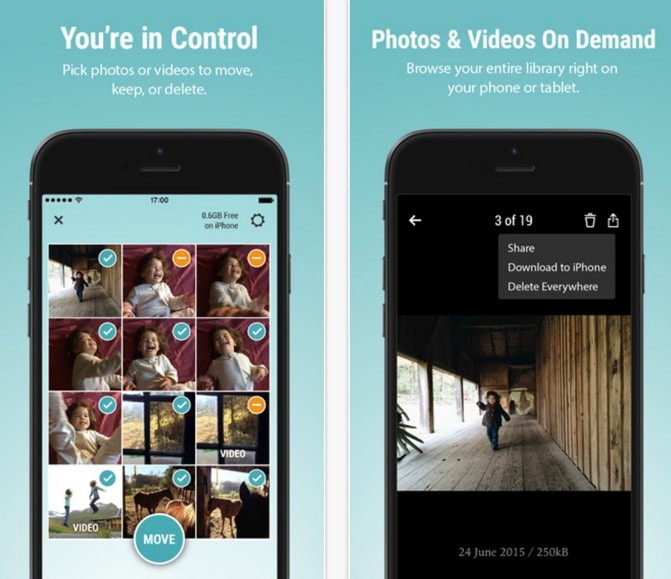 It is good to know that the company does offer options for those smartphone users who may not use their cameras often. For any professional photographer or videographer, purchasing the $99 dollar storage plan is almost a no-brainer. Also, if a user is not satisfied with the service, they can cancel at anytime.
When asked in an email how Room for More differers itself from some of the bigger names in this similar space, we were provided with this statement: 
"Our focus on helping you to free up space on your phone leads to a very streamlined user experience. Just one button to move a batch of photos or videos off your phone to your own secure cloud. We think we really are the easiest way to free up space on your phone.

Most of our competitors offer a tier-based pricing structure. We think these are generally disadvantageous to the user. You're either paying for storage that you don't use, or have to constantly worry about hitting your cap. With Room for More, you only pay for what you use. You pre-pay a small amount, and we charge your balance over time based on your exact consumption. No cap and no recurring subscription.

We have found that users want more control over their photos and videos. Most of our competitors send all photos and videos to the cloud, we let you pick and choose. Many competitors give you no control over when to reclaim your precious storage space, with Room for More the user decides. Many competitors have you jump through hoops to get your photos back, with Room for More you can request a zip file with all your photos and videos right from the app."
This Useful App Won't Take Up Useless Space
The application was released earlier this year and currently climbing the ladder in terms of downloads. The Boston-based startup is currently working on updates to work out the kinks and minor issues to give users the storage space that they need. To learn more, click here.
---
The Room for More team put together a coupon code for 5 additional GB of free storage (6 total) for KnowTechie readers, claim it here: getrfm.com/knowtechie 
Follow us on Flipboard, Google News, or Apple News