So this kid just built a 40 watt laser shotgun……for fun.
War is going to be eerily quiet in the future with this laser shotgun.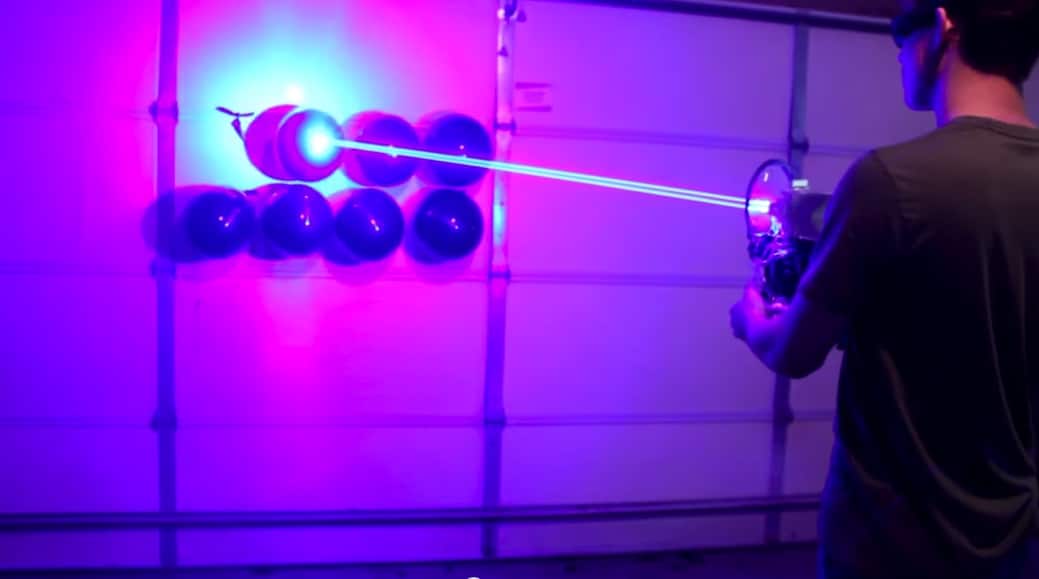 "Dangerous is an understatement for this thing. There's no good reason for anybody to own something this powerful, but because it wasn't illegal for me to build, I decided to build it anyway."
Meet Drake Anthony, he's the one who built this 40 watt laser shotgun. Also, he's 22 years old.
While most kids his age are out getting alcohol poisoning and their stomachs pumped, Drake Anthony sits in his garage tinkering away at his creations like Rick Moranis in "Honey, I blew up the kids."  His latest masterpiece, the shotgun of the future.
I could sit here and try to explain the intricacies of how this gun works, but instead, I'll leave it to its creator: "The output of this laser is complete insanity, and is made up of 8 parallel 5W laser beams totaling to 40W," Anthony notes in his YouTube description. "The parallel beams are manipulated with lenses, sort of like how a choke modifies the spread of a shotgun blast.
The massive diode array is powered by a huge lithium polymer battery pack (capable up dumping 250A) and the laser array is regulated by a whopping 24 LM317 drivers."
Check out the video above to see the gun in action as Anthony puts it through target practice. To learn more about Drake and his creations, check out his YouTube page here.
Follow us on Flipboard, Google News, or Apple News