The beginner's guide to DJ equipment
If you're hoping to convert a burgeoning hobby into a viable career with regard to DJing, it's important to know what you'll need to work on.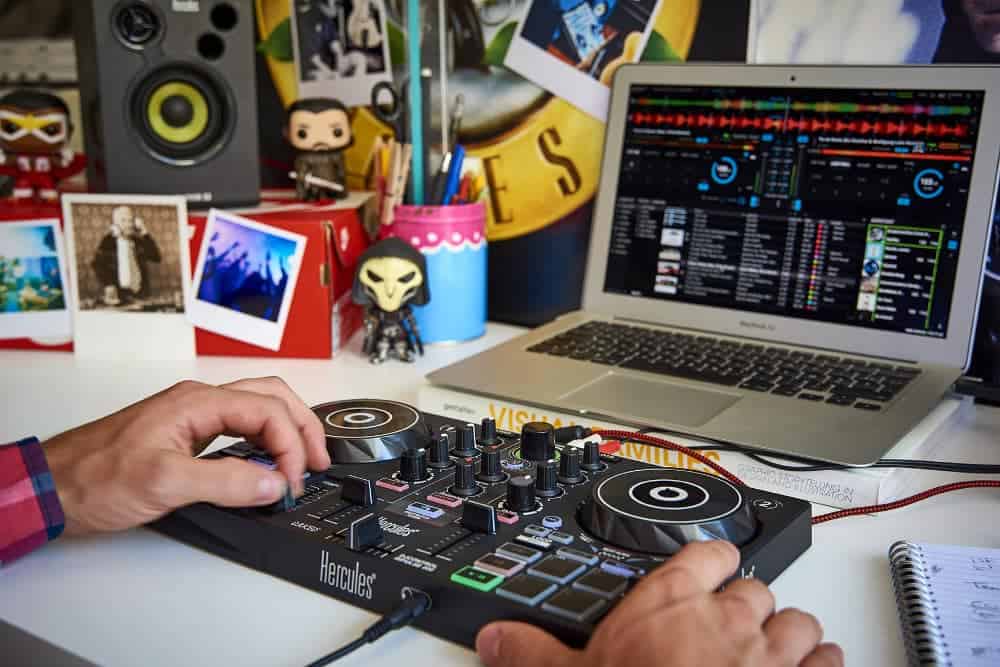 DJing is becoming an increasingly popular potential career, as the democratization of music knowledge and technology has led to generations of music fans being more clued-up than ever before.
But DJing is more than just having a good Spotify playlist. Here is the lowdown on DJ equipment, and what you'll need to excel in DJing as a beginner.
What Kind of Setups do DJs Use?
Although perhaps less common now than in the late 20th century, vinyl DJs are still very much a part of the furniture – and, to some extent, becoming even more popular as the vinyl revival generates new enthusiasts. A vinyl DJ tends to use two turntables, with a mixer placed between them. This basic setup has defined DJing since the 60s and all the way into contemporary DJing – it is a mold that advances in technology still resemble to this day.
The logical progression from turntables for the professional DJ, CDJs enabled you to cut, mix and scratch with CDs just as you could with vinyl. CDJs are still in use to this day, with a slight modification of purpose.
CDJs are now designed to be able to play and manipulate digital files, shrinking the DJ's music collection from several cases of vinyl to a single USB stick in the process. Despite this, the set-up for DJ gear is essentially the same: two CDJs providing music, and a central mixer to control the output of both.
DJ Gear You May Need – A Brief Guide
DJ Controller
DJ Controllers are an excellent piece of DJ gear, especially for beginners to the craft. They are an all-in-one DJing machine, allowing you to load up and control different tracks on the left and right side of the unit, and mix between and sum them just as with a professional, modular rig.
They are perfect for discovering skills and cutting before moving on to more involved bits of hardware. Note that they require software to run – but more on software later.
CDJs
As previously mentioned, CDJs are turntables designed to work for CDs, which have since evolved to cover the use and manipulation of digital files. CDJs broadly mimic the topology of a conventional vinyl turntable, with added functionality for cueing music in headphones, adding digital effects, and controlling the song's tempo – as well as a jog-wheel for selecting tracks with ease.
Mixer
Your mixer is the brains of your operation. The mixer has two key channels for you to work with, both of which typically hook up to your CDJs or turntable.
The mixer allows you to cue up songs one after the other, listening in headphones to line up the next track with the current track's tempo and progression while that song plays out unimpeded. Fading from one to the other after successfully beat-matching makes for a smooth DJing experience.
Software
DJ software has become a mainstay in many DJ rigs, from novices right up to professional set-ups. Traktor Pro is a particularly popular piece of DJing software, providing a virtual DJ interface which allows you to audition and cue songs from your laptop – with added tech to make DJing easier, including BPM analysis and time-stretching.
Traktor Pro can work in conjunction with external controllers, meaning you can use an all-in-one DJ controller to interface with the program and work in a more tactile manner.
A more advanced digital DJ software solution can be found in Serato, which enables you to work with digital files the same way as Traktor, but with the practical utility and feedback of a vinyl turntable. A special Serato vinyl disc sends a time-code to your computer via a single tone, which allows the software to map the song you've cued to that time-code, and be manipulated by the manipulation of the vinyl disc. 
Advancing a Career in DJing
If you're hoping to convert a burgeoning hobby into a viable career with regard to DJing, it's important to know what you'll need to work on. For starters, education is much less important when it comes to DJing; rather, what you'll need to demonstrate is a deep and versatile knowledge of music and music history, and an aptitude for stitching songs into a cohesive set.
These are skills you can hone with practice, at home, and by asking professional DJs for advice. You'll also need, at the very least, the equipment above. Not many venues offer their own DJ equipment, making it vital that you have the equipment to hand to take on any job.
Have any thoughts on this? Let us know down below in the comments or carry the discussion over to our Twitter or Facebook.
Editors' Recommendations: