Myria launches zero gas fee carbon-neutral L2 blockchain gaming ecosystem
Myria L2 allows you to create a wallet with one click, mint, trade, and transfer NFTs instantly with zero gas fees and is 100 percent carbon-neutral.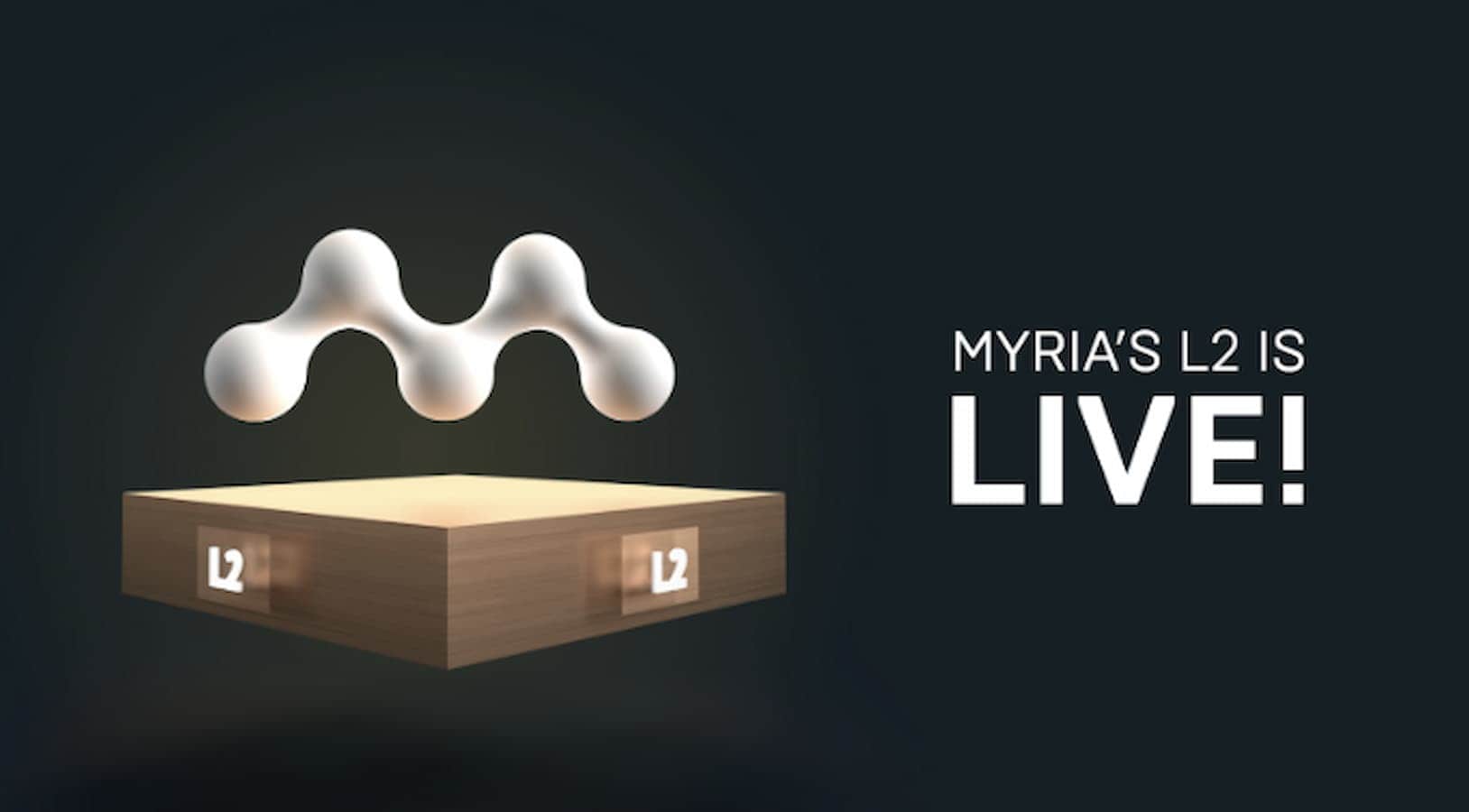 Myria, the renowned blockchain gaming ecosystem, has launched its long-awaited blockchain gaming-focused Ethereum layer-2 (L2) scaling solution known as Myria L2.
It comes packed with a full suite of developer and gamer-focused products, including Myria Developer SDK, Myria Wallet, and NFT marketplace.
Myria L2 also delivers instant and secure trades and zero gas fee transactions for NFTs and blockchain gaming.
All these allow both creators and users to maximize the protocol's scalability potential. The platform currently has more than 2 million registered and verified users.
Meet the Myria L2
Announcing the launch, Brendan Duhamel, co-founder of Myria said,
"We are incredibly fortunate to have such a strong community eager to join the Myria L2. With this launch, the team is very thrilled to see our vision finally come to life."
The new blockchain gaming ecosystem uses StarkWare's latest Zero-Knowledge Rollup (ZK-Rollup) technology to execute up to 9,000 transactions per section (TPS). By contrast, Ethereum only handles less than 50 TPS.
Myria L2 allows blockchain gaming and NFT enthusiasts to create a Myria wallet with one click, mint, trade, and transfer NFTs instantly with zero gas fees in a 100 percent carbon-neutral process.
The Myria Developer Solution uses an API-first approach to simplify complex blockchain interactions with Myria's REST APIs and SDKs.
This means you can launch an NFT project such as a blockchain game in a matter of hours without using blockchain coding languages like Solidity.
With zero code, Zero-Knowledge Rollup (ZK-Rollup) technology, zero gas fees, and zero carbon footprint, the Myria L2 is a no-brainer for creators and users alike.
So far, more than 100 projects have been powered by Myria's frictionless blockchain building ecosystem, and according to Brendan, "…we're just getting started!"
The team behind the Myria L2
Myria's stellar team of 150+ employees comprises gaming and blockchain industry veterans from Ubisoft, EA, Riot Games, Blizzard Activision, Tencent, Chainlink, and BitMex.
The company has recently partnered with Leapblock Studios to create Moonville Farms, a play-and-earn NFT game, which will launch on Myria's L2 scaling solution in the coming weeks.
Myria is also partnering with cricket legend AB de Villiers to create his debut play and earn mobile game, Mr 360 Cricket, which is expected to onboard billions of global cricket fans to blockchain gaming.
Game companies can get in touch here to build on Myria L2 or join/follow Myria's Discord and Twitter.
About Myria
Myria is an Ethereum-based layer 2 (L2) scaling solution built to empower digital assets, NFT, blockchain gaming, and more.
The company combines a gaming platform with applications, developer tools, and scaling infrastructure necessary to facilitate blockchain gaming.
Have any thoughts on this? Carry the discussion over to our Twitter or Facebook.
Editors' Recommendations:
Blockchain gaming: Why did Blizzard just rescind prize money?
Blockchain gaming company BitGuild adds three new titles to platform
3 ways blockchain transforms iGaming industry
RewardMob is the blockchain-based mobile eSports gaming platform you already knew existed
Follow us on Flipboard, Google News, or Apple News