Another laughable startup bites the dust
Washboard, a ridiculous service offering $10 in quarters for $15, calls it a wash.
Washboard has announced it's shutting down.
Last month, the startup launched a service to deliver $10 worth of quarters for $15, monthly. You could also step up to another plan: $26.99 for $20 worth of quarters.
This is not a joke: this is a real service started by two guys out of Palo Alto, CA. "It is a legit business," Cofounder Caleb Brown told ValleyWag. "We do have customers. A few. Very few. Less than 10."  The very elite few, who don't mind getting handing a company $15 and getting $10 back.
Ever hear of a bank?
Call me crazy, but I would just rather go into, you know, a bank. Or, I know this will sound controversial, but I could also stop in at a store and ask for change. I might even be at a convenience store purchasing something and I could kill two birds with one stone. On the flip side, if you travel a lot or spend long days at the office, I suppose this service could be useful. Of course, if you're that busy, wouldn't you rather pay someone to do your laundry?
Here's a shot of the washboard website: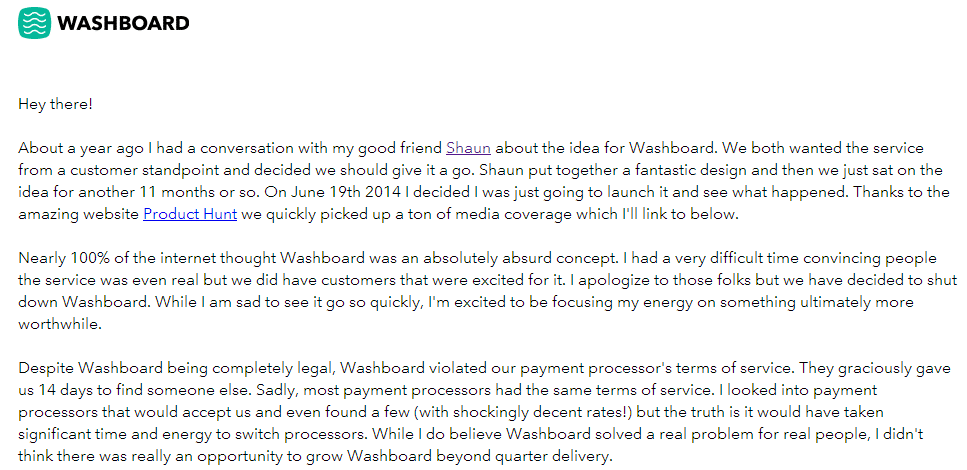 Legal issues aside, this was a laughable startup idea. The fact anyone thought it was workable shows just how far down the rabbit hole Silicon Valley has gone.
Do  you think this service was a good idea? Would you pay $15 for a $10 roll of quarters? Let me know what you're thinking in the comments! 
Follow us on Flipboard, Google News, or Apple News