Ad blockers are inevitable: How will marketers cope?
People hate ads. AdBlocker is the most popular add-on. Programs that block ads are getting stronger. In this ad hating climate, how will marketers cope?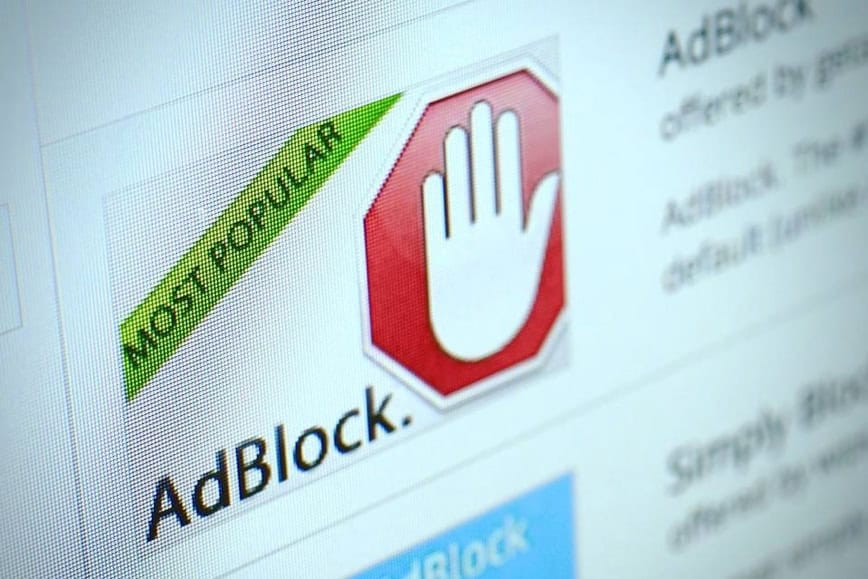 People hate ads. This is a pretty much universal truth. They're annoying, they're everywhere, they make pages load slower, and adware makes us vulnerable. There are many reasons that people hate advertising and people will go to great lengths to avoid it, downloading ad blockers, using TiVo, jailbreak their phones and other devices just so they can install an ad blocker.
AdBlocker Plus has over 50 million users on Chrome, and has been downloaded over 365 million times on Firefox. It's gotten so bad that the Interactive Advertising Bureau (IAB) the industry's largest trade association has finally admitted that their tactics were overly aggressive and terrible to people. "We messed up," wrote IAB Senior Vice President Scott Cunningham. "Looking back now, our scraping of dimes may have cost us dollars in consumer loyalty." It seems like they're getting desperate, and it might be too little too late. This is the clear sign of the death knell of the pop-up ad.
With people avoiding conventional advertising like the plague, there have emerged a few brighter alternatives. Businesses can still market their products and services to people, but they have to be smarter than just shoving banners that scream at them to "buy now" in their faces and playing commercials louder than the TV shows. Luckily, companies have come up with some creative ways of advertising to people in innovative ways. Here are some of them:
Promotional products
Everyone loves swag (which originally meant Stuff We All Get).  Promotional products are a mainstay of marketing, and though people seem to be gravitating away from this practice, free branded stuff is still a great way to get your name out there. Not only do products with your name on it make it everywhere, studies show that people feel better about a company that gives them free stuff, which is why giveaways are still so popular.
Meet Therabody's All-New TheraFace Mask
TheraFace Mask is a breakthrough FDA-cleared LED skincare mask with added tension-relieving vibration therapy. Clinically proven results include firmer, smoother, healthier-looking skin with a visible reduction in fine lines, wrinkles, and uneven tone in as little as 8 weeks
You may think that just giving out t-shirts or pencils emblazoned with your name and number are enough, but more thought and effort should be put into it than that for a company to stand out. There are a lot of things to consider when choosing a product to carry your brand. Functionality, sales objectives, the message you want to stick in their mind. A good example would be a bank giving out branded change purses.
Native Advertising
Native advertising is advertising that you may not notice as such until the message sinks in, and maybe not even then. It refers to content that is sponsored and looks like content produced by the staff of the site you're on. So It kind of sneaks by you, and unless you're particularly eagle-eyed you won't notice. The beautiful part of this is that the content is relevant to your interests (based on the site) and tailored to you. Kind of like what adware wishes it could be.
Take for example Foursquare's advertising platform. Foursquare is already an app/website for finding businesses in your area, so it's perfectly natural to be presented with a suggestion to go to restaurant X nearby when searching for places to eat in the app or on the site.
Another example is a beautifully crafted post on women in the correctional system that was posted leading up to the release of a new season of Orange Is The New Black. The article is full of facts about the lives and treatment of women in the correctional system, and stands alone as a source of information. Kimberly Lau, Digital VP of The Atlantic, recommends that the content be so useful and accurate that the reader doesn't care about it being a sponsored piece.
Social media campaigns
The power of social media is undeniable.  90% of internet users in the 18 – 29 age range have social media accounts. The success of social media campaigns like the Ice Bucket Challenge are well documented. People are connected like never before and word of mouth is far more powerful than it has ever been.
Social campaigns require quite a bit of planning and diligence. You can't just jump into social media and ask people to share your content, you have to make sure your campaign follows your organization's mission statement and reflects what you do. Photobook seller Artifact Uprising's #TellOn asks people to share their best vacation photos with them using the hashtag, the best of which they'll post on their site. This is a perfect example of a hashtag done right.
For best results, your site has to be optimized for social media and a plan must be in place to post often enough to maintain a following to ensure you have an audience. Social media optimization is recommended by experts as one of the essential things your site needs regardless of your marketing focus.
Alternate Reality (AR)
It may seem like something straight out of a sci-fi novel, but alternate reality has been insanely successful at promoting products over the years. Consisting of a game that's played out in the real world in fact claiming to be a part of the real world, the game requires people to pick up clues in a form of a kind of scavenger hunt.
To give you a better idea, there was a game called "I Love Bees" which saw a bee aficionado website taken over by an errant AI. Players were given 210 sets of paired numbers with no context whatsoever. They figured out they were map coordinates and times, and the coordinates corresponded with payphones and the time was the time they would receive a call. Not one phone call was missed. Not even the one in Florida that took place just minutes before a hurricane hit.
Winners of the game were invited to play an early release of Halo 2 in theaters, and the campaign was so successful, that sales of the game destroyed the previous game's sales making $125 million on the first day of its release. Done properly, AR could recruit thousands to your campaign, utilizing that word of mouth to its fullest potential.
These are the future in a world that's on permanent ad block. All are far more engaging than traditional "buy me" techniques that get the customers invested and engaged in the campaign. They attract people already interested and avoid the cold approach, leading to more sales. As marketers become smarter, we have to wonder, what will they come up with next?
Follow us on Flipboard, Google News, or Apple News