Dos and don't's of an IT video conference
If you're new to the video conferencing world, here's some of the things you should be doing and some you shouldn't.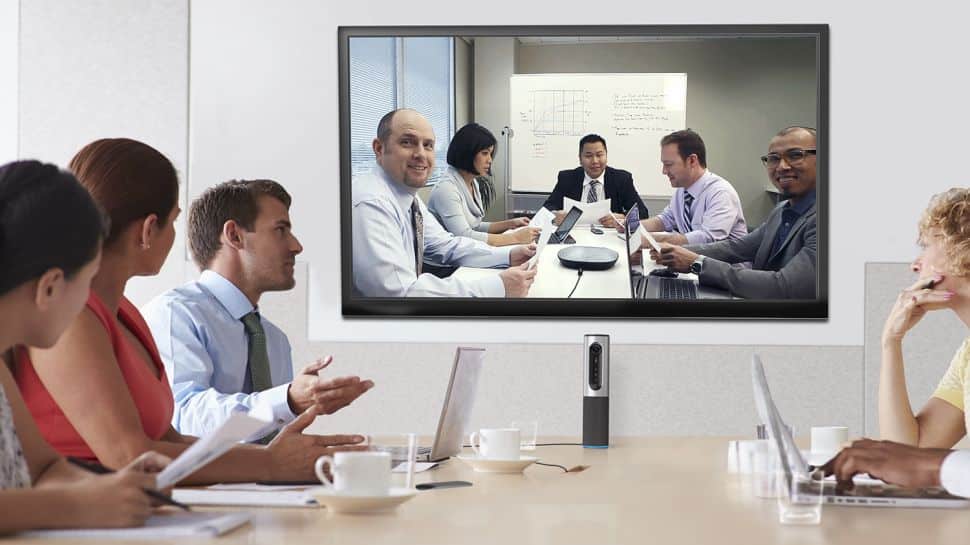 Imagine that you need to get in touch with your team and you're doing it via a video conference. Ever wonder why your team doesn't seem as engaged during the meetings? You could be doing something wrong.
Take a look at some of the do's and don'ts of doing a video conference for your IT team so that you can drive their engagement higher instead of lower:
Do
Plan in advance
Make sure you always prepare for the meeting. If you're doing a presentation, send materials to the rest of the team beforehand. That way, when it's time for the meeting, they know what it's about, says the Chron. That should improve the quality of their engagement.
Set an agenda
Make sure participants know what the meeting is all about. Given the corporate climate, a meeting with no agenda can set them to worry needlessly over what you will be talking about. Kill any of the niggles and worries before these affect the productivity of your team. Send an agenda.
Stick to the agenda
Meet Therabody's All-New TheraFace Mask
TheraFace Mask is a breakthrough FDA-cleared LED skincare mask with added tension-relieving vibration therapy. Clinically proven results include firmer, smoother, healthier-looking skin with a visible reduction in fine lines, wrinkles, and uneven tone in as little as 8 weeks
There's nothing worse than someone steering away from the agenda. A little bit of friendly chatter to put everyone at ease or break the ice is good, but don't spend half of your meeting on that or you'll end up wasting everybody else's time. Keep it lean throughout. The KISS principle works too—keep it short and simple.
Set the time right
They won't want to sit through a four-hour meeting when two hours would have done to cover everything essential in the meeting. Time it well, and use that time wisely.  
Hold it early in the day
Meetings between 10 a.m. and 2 p.m. seem to be the most productive. If your IT team's shift ends by 5 p.m., never set that meeting to 4 p.m., or else you run the risk of going beyond your time limit, which could force them to put in overtime. You want to make sure that they get to log off right on the dot, so keep that in mind when you schedule your video meetings.
Check the lighting
Make sure the lighting is good. Side lighting usually gives you the best coverage. Try that out to see if it works for you.
Know how to work the tech
You want to appear confident and relaxed while you do your presentation or facilitate that conference, so make sure you master the technology in advance. Know how that business video conferencing system for IT from the BlueJeans Network works. That way, you won't have to stress over how to use the camera or adjust your settings. If you have to do that in the middle of the call, that's going to hold back the meeting in a not-so-good way.
Don't
Let in background noise
Mute your microphone whenever you aren't using it. Otherwise, you're the letting background noise come through the mic, loud and clear.
Make distracting movements
Be aware of your body movements. Too much movement could be a distraction, so keep those to a minimum.
Eat while in a meeting
Eating, drinking, or talking to someone else while you're in an online meeting can distract everyone else. Even if they can't hear you, they can still see you.
Leave clutter everywhere
Keep the spot professional. If there are any personal knick-knacks in your background or foreground, that could set a wrong impression. If you want people to focus on what you're saying, not on what you have behind or beside you, move the clutter elsewhere.
Use the camera without testing it
Test out camera angles before that meeting. You want to make sure it's on eye level and not set too high or low. Weird camera angles can be distracting and affect the quality of people's attention during the meeting.
Check your mail
Don't do this while you're in a meeting, says the Entrepreneur. Any work you do beyond the call is going to limit your attention and engagement. People can tell, too. It's going to be easy enough to spot, especially on video. That's going to make you stand out in a less than stellar way. If you have any pressing work, make sure you attend to these before or after the meeting. That way, you could give the meeting the attention it deserves.
Be polite
If you're meeting with a team you haven't met before, be on your best behavior. Address everyone politely. Tone and word choice matter. If you want to create an atmosphere that's open and cordial to cooperation and collaboration in the future, get that first meeting off to an excellent start.
Conclusion
Video calls have made connecting to the rest of your IT staff that much easier, but take the extra time to learn the do's and don'ts of the technology. That will make your meetings go more smoothly and improve the quality of audience attention.
Follow us on Flipboard, Google News, or Apple News