Meerkat has a lot to learn from Hang w/, the godfather of the live-streaming app world
Meerkat has been blowing up recently, but Hang w/ has been quietly building a user base of 2 million strong with their live-streaming video app.
Before Meerkat, there's been one live-streaming video app that has been holding the block down for a few years now. While all the media attention is on Meerkat and the recent news of them raising $12 million from Greylock, and other investors, Hang w/ has built a die-hard user base of 2 million strong while ironing out all the kinks and pain points that Meerkat will soon discover in the next year or so.
So what exactly is Hang w/? If I were to put it simply, it is exactly what Meerkat is trying to achieve. In a nutshell, Hang w/ is an established live-streaming video app and social platform that allows you to broadcast live video on up to five different platforms, where as Meerkat broadcasts to Twitter and a web client, which in my opinion isn't the best experience because it singles out anyone who isn't on Twitter. Nonetheless, Hang w/ is a great alternative to Meerkat because it's more complex and comprehensive, offering some of the other tools that are necessary for live broadcasting.
Features For Days….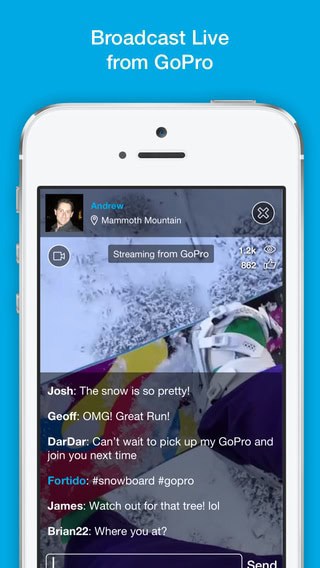 Let's take a look at some of the features Hang w/ has to offer:
Discovery platform
Stream directly onto 5 different platforms
Streams can be saved and archived on your smartphone
The ability to share streams privately/publicly
Upload stream to YouTube (coming soon)
Monetization options for users
Web widgets
Live-stream directly from your GoPro
When it comes to comparing Hang w/ features to Meerkat, it's not even on the same playing field. "We're a teenager at this stage, but we've been through some hard discovery positions" Andrew Maltin, Hang w/ CEO tells KnowTechie in a phone interview.
"They have a few of the features we've been offering for years. Obviously we've been in this in this live space for a few years now, and certainly understand it. Obviously this Meerkat coming to the forefront has been great for the live industry in general, because it kind of opened up peoples eyes. This is a possibility we've been spending quite a bit of time in marketing and educating people that live broadcasting is the future. So we're definitely excited to see what's happening in the industry, but what we offer is a much more complex and comprehensive offering."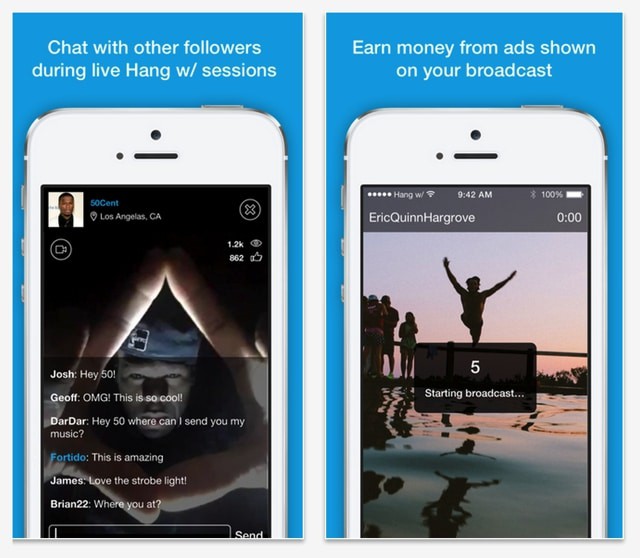 One of the best features Hang w/ has to offer is that all streams are saved. I can't begin to tell you how annoying it is to find someone posting a link to their Meerkat stream, only to find that the stream is over. It's like the feeling of being invited to a party, but not getting the last minute cancellation notice. There's nothing more embarrassing than showing up to a party that's not happening.
With Hang w/, all streams are saved. This way, if users want to share their live streams with people then great. If they don't, they can just hide and use it for later on their smartphone.
One of my other favorite features is their discovery platform. They curate some great content, so people have an experience even when no one is broadcasting. "That's always one of the challenges. If the person you like is not broadcasting live, you need the ability to go watch some content and do things. So we built all of those things, and I think you're going to see as companies like Meerkat and Periscope grow up, they're going to need these types of services to keep people happy and continuously coming back for unique content" Maltin adds.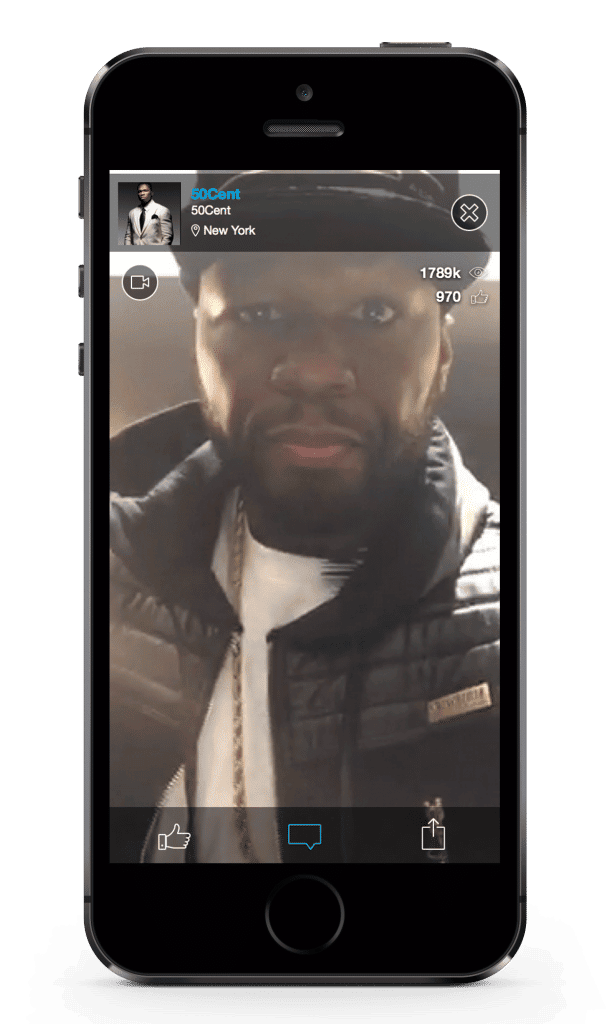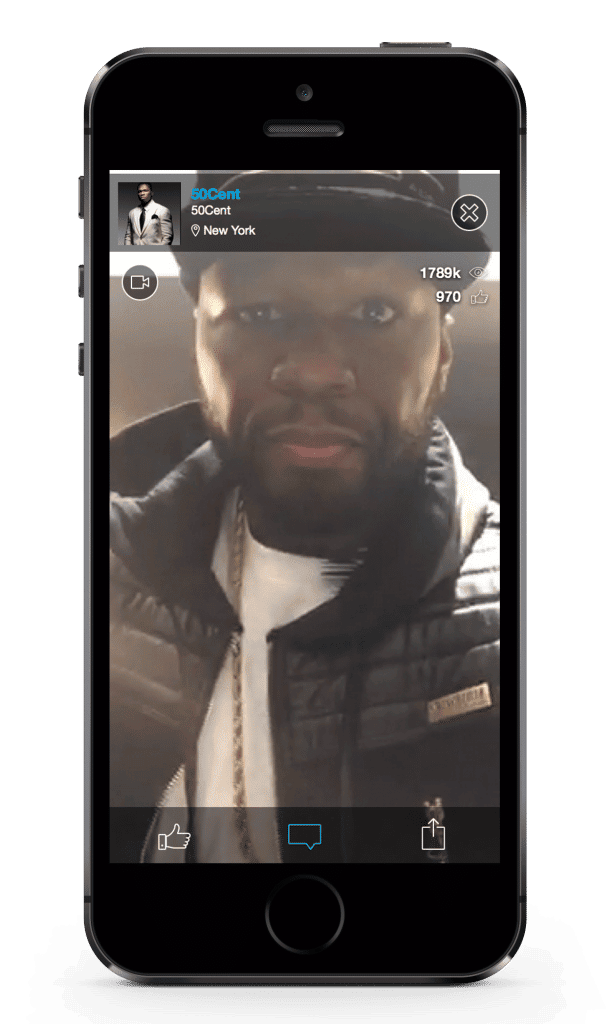 In Good Company
Hang w/ was launched three years ago and was originally built as a platform for celebrities who were looking for an interesting way to monetize their social presence, other than the many options already available. The only problem with traditional social media platforms was that celebrity presence could be faked. So Hang w/ wanted to create something that wasn't handled by a celebrities social media team. They wanted to go straight to the source. So what better way than by letting the actual celebrity create the content. "That's how it was built and its initial use case, and it kind of opened up to all content creators. Now we share revenue with content creators from the advertising revenue from their streams, and we keep on growing on top of that" Maltin adds. Hang w/ currently has 600 verified celebrities in its community.
Does Meerkat Pose a Threat to Hang w/?
Should Hang w/ be worried about Meerkat? Maltin isn't too concerned about it. Actually, he's quite grateful. "It's brought live streaming to the public side, and I think that was very important to happen. I certainly wish we were the ones bringing it to the public eye, but in this case, somebody is bringing it there and it's going to be very helpful for the industry in general. I think what's going to happen is, they're getting a lot of great press and a lot of great hype, but people are going to realize that the importance of some of the other tools that are necessary for live broadcasting."
While Meerkat continues to generate great hype and endless press, people are soon going to realize that their streaming service will need more, and "We'll have a leg up there," Maltin concludes.
Hang w/ currently has over 2 million users on the platform. The company has raised $3.5 million dollars in funding, largely from Alireza Holding Co and some A-list celebrities including 50 Cent, Timbaland, Soulja Boy, and Larry the Cable Guy. Hang w/ is available on iOS and Android.
Follow us on Flipboard, Google News, or Apple News