How much does a drone light show cost?
In this guide, we'll delve into all the essential details and costs associated with hosting a spectacular drone show at your next event.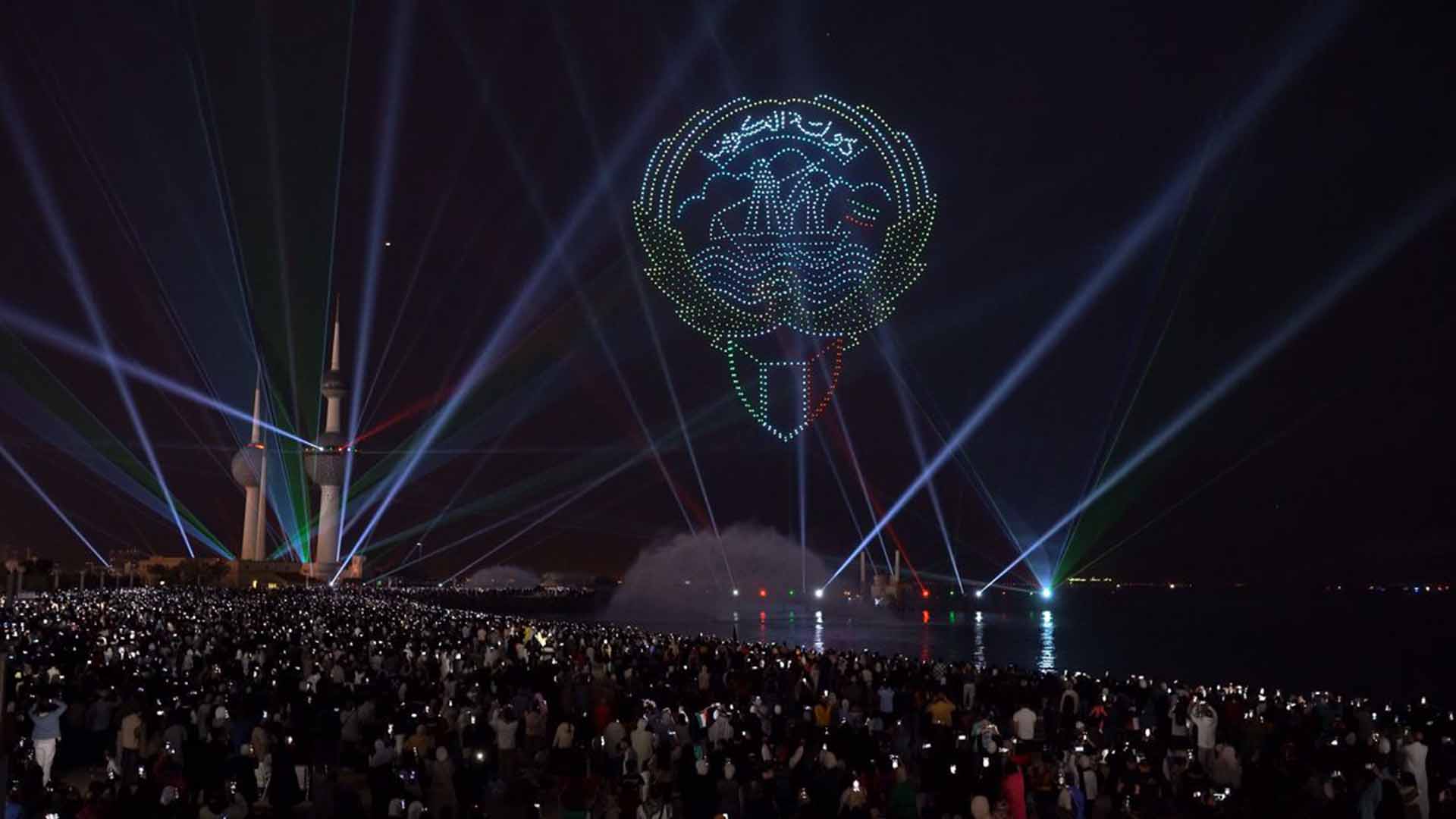 Suppose you're active on social media or follow TV trends. In that case, you've likely seen the rising popularity of many international and local drone shows at various events like horse races, festivals, concerts, and sports matches, no matter if it is April or December.
Have you ever pondered the expenses associated with orchestrating an impressive drone show similar to the ones garnering worldwide close attention?
Lumasky drone show company is here now to provide answers to your most frequently asked questions.
What is a drone light show?
Out there, many of us are so fascinated by the incredible technology behind drone light shows. How they fly around and perform mesmerizing choreographed movements is truly art in the sky.
However, leveraging state-of-the-art technologies such as LEDs equipped with precisely choreographed flight movements, and top-notch software, drone light shows offer a breathtaking experience that will elevate any occasion.
Drone light shows unparalleled offer flexibility, allowing for complete customization of their captivating displays to align with the theme or message of any event. These displays can be further enhanced with live music or other special effects.
Moreover, drone shows are adaptable to a wide range of projects, locations, and addresses, whether you're looking to dazzle guests at a gender reveal party or design a breathtaking spectacle at Central Park in New York City or at UK's Hyde Park.
Many indoor drone shows are becoming popular for a diverse range of projects, although outdoor displays are usually more commonly seen.
Furthermore, these cutting-edge displays utilize top-notch technologies like LEDs, intricately choreographed flight movements, and professional software resulting in a mind-blowing spectacle that awes any audience.
If you're looking to make your next event truly unforgettable and leave your guests in amazement, contemplate the option of engaging a skilled drone light show team.
With numerous options available, you can discover the ideal match for your distinct requirements and budget. That's why the cost of displays may vary significantly.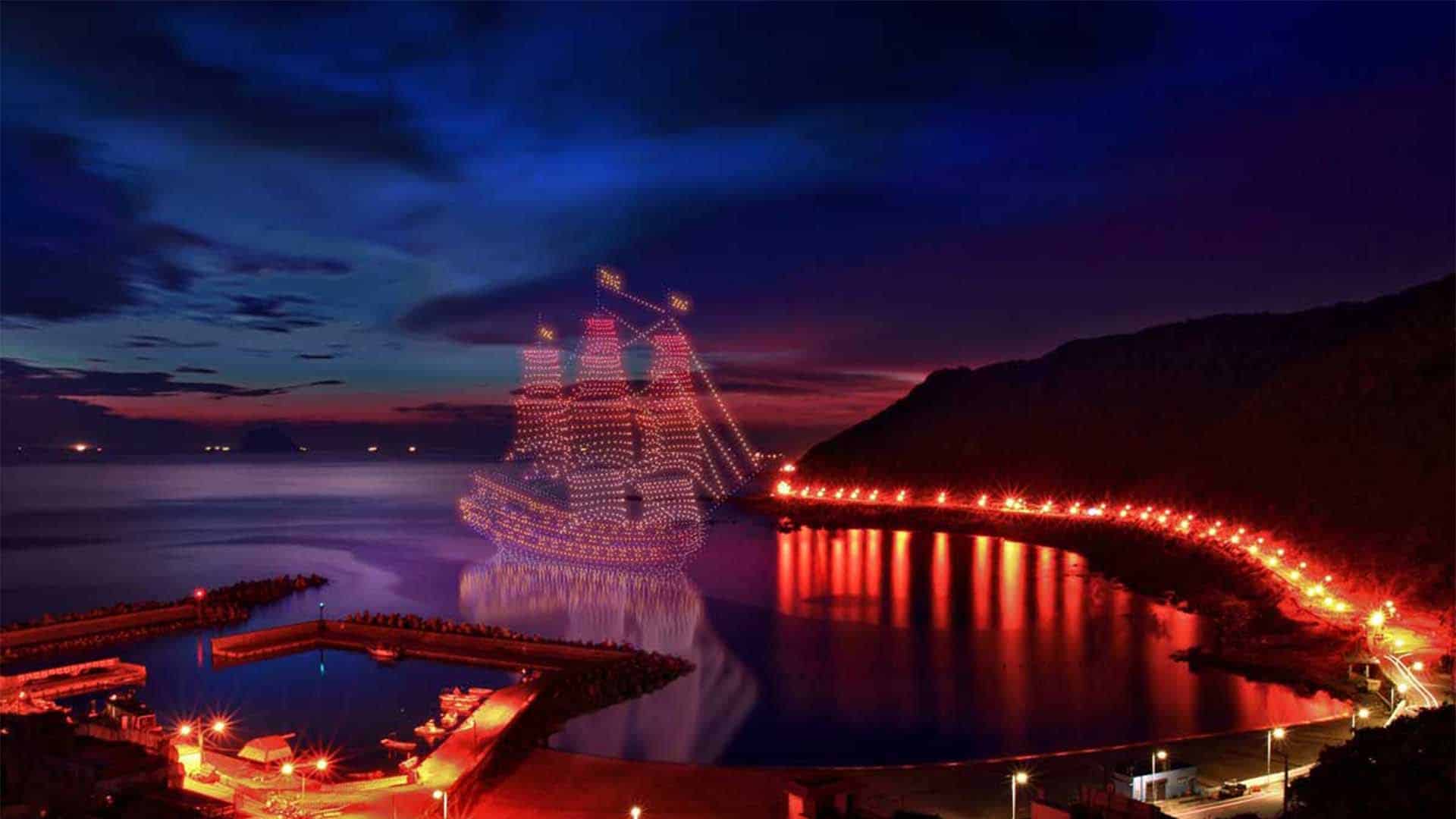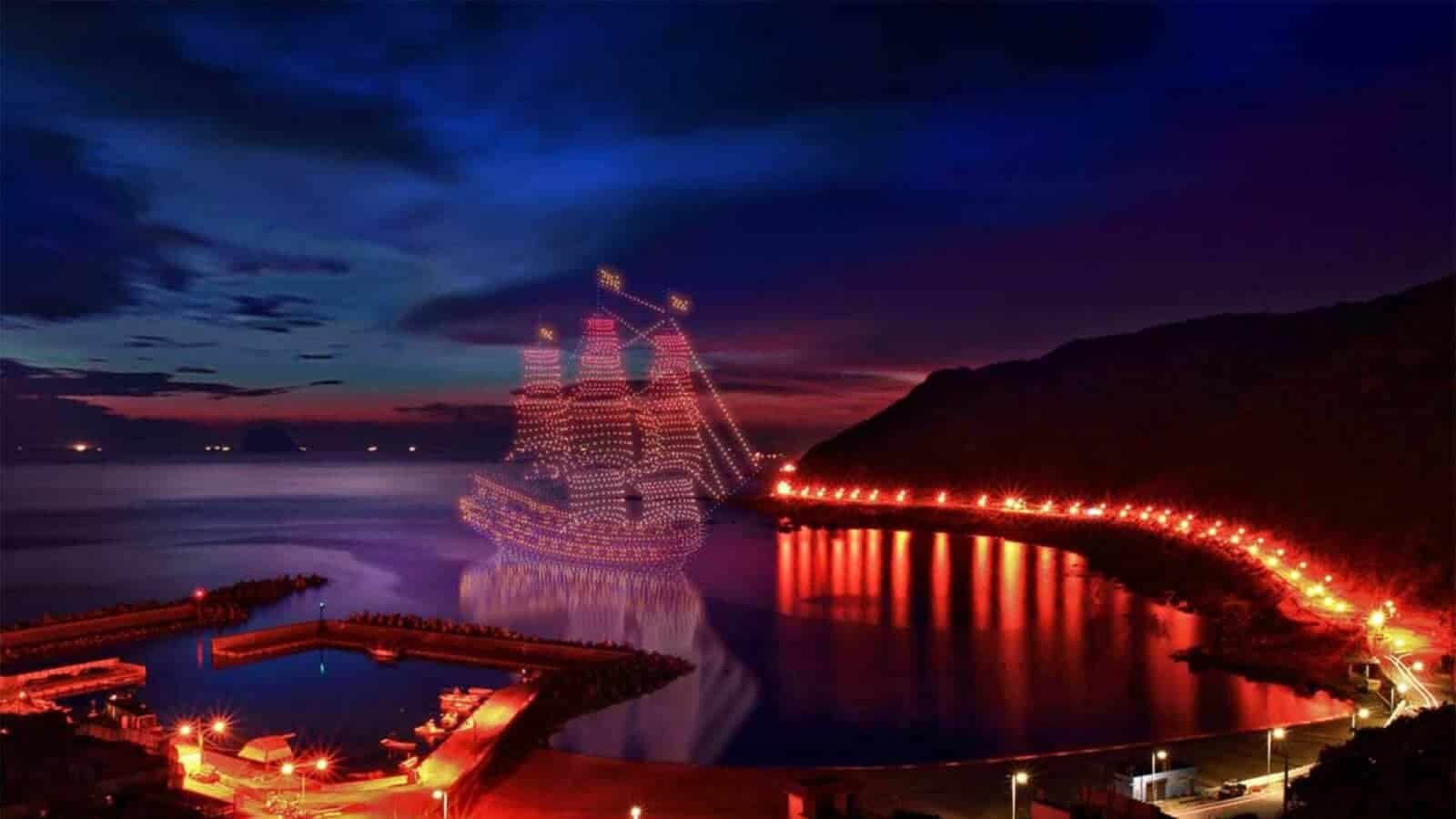 What is the cost of a drone light show?
The cost of an awe-inspiring drone light show performance can vary significantly, depending on a multitude of factors, which adds to its distinctiveness.
These factors may include the scope of the show, the duration of the performance, the size of the site, the complexity of choreographed movements, the type of drones used, and other customized elements, making each show truly one-of-a-kind.
Therefore, planning a drone show often depends on the technology, video, and sound you want to incorporate. It's important to remember the laws and aviation regulations, as well as privacy and copyright concerns. Yet drone displays are not as expensive as you could think.
For more intimate and private gatherings like weddings or proposals, opting for a drone show that features a smaller fleet of drones and a shorter performance duration can be just what you need. This scaled-down approach allows for a more personalized and tailored experience.
Moreover, it offers a unique and captivating entertainment option that fits well within a smaller budget, with costs ranging from $30,000 to $100,000, depending on the specific requirements and preferences of the event. This is kind of a basic show.
Larger drone light shows are always recommended for more prominent and great occasions, such as major music festivals, global summits and conferences, and prestigious awards ceremonies.
These spectacular performances typically feature a longer duration and a diverse fleet of drones, offering a show-stopping experience that will captivate any audience.
Presenting unparalleled drone choreography, mesmerizing 3D figures, stunning special effects, and an array of other additional enhancements, these shows offer an unrivaled visual spectacle that will transport audiences to a world of wonder and amazement.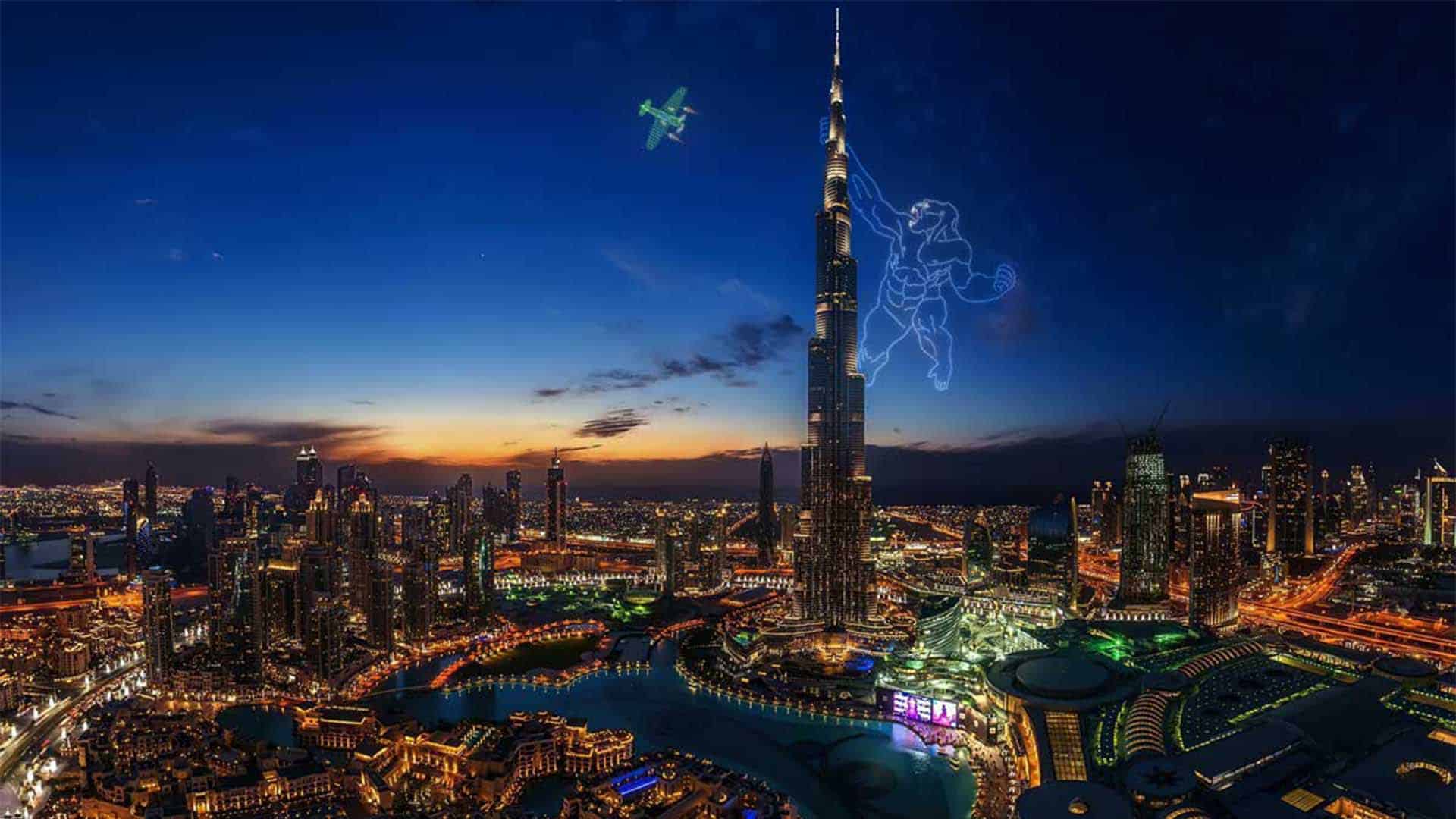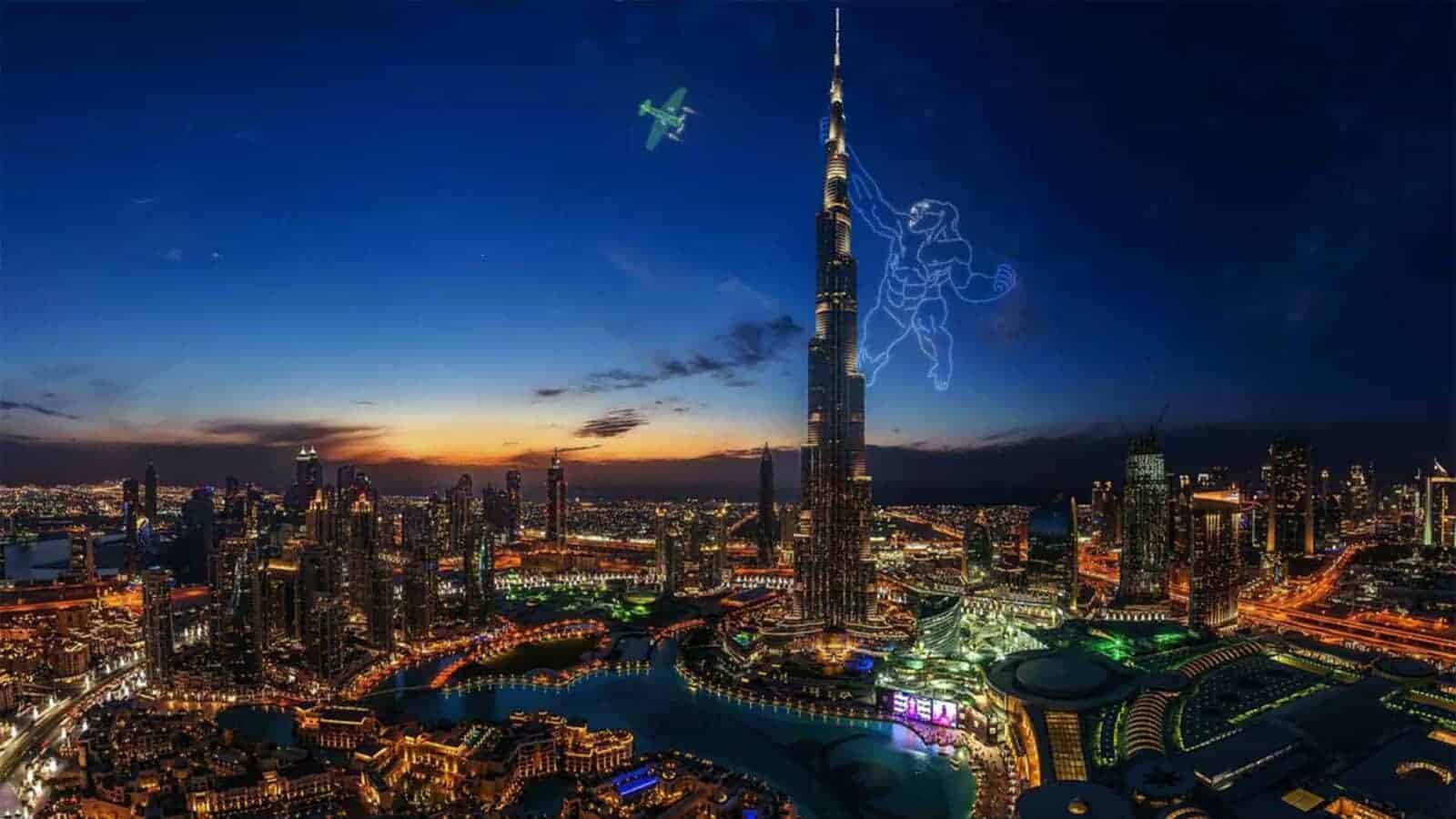 Selecting a pattern for your drone show can be as challenging as navigating through a billion-page menu on Amazon, as we would say because the possibilities are virtually endless! From intricate formations to awe-inspiring displays, creativity knows no bounds.
The cost for such awe-inspiring displays can fluctuate greatly, spanning from $100,000 to $500,000 or higher, contingent on the necessary effect you wish to achieve or the budget you have earmarked for a truly enchanting experience that will leave your audience spellbound.
The possibilities for a larger-scale drone light show performance are boundless, reaching new heights in terms of creativity and impact, literally and metaphorically. You know, even Pinterest-inspired ideas of a spectacle can be brought to life.
The sky serves as the canvas for an unparalleled display of technological marvels and artistic prowess, leaving audiences in awe of the limitless potential of these mesmerizing performances.
Therefore, if you're curious about the cost of hiring a drone light show for your event, Lumasky Drone Show provides a table below with rough estimates for the base prices of our drone light shows.
However, please remember that these are approximate costs, and a personalized quote will be provided after discussing your specific needs with our team of experts.
| | | |
| --- | --- | --- |
| Price | Number of Drones | Pattern |
| $99,000 | 200 classic drones | Simple recognizable logo and shape designs, best suited for small spaces. |
| $149,000 | 300 classic drones | Dynamic animations, moving shapes, figures, and text. |
| $199,000 | 300 premium drones | Creative or custom 3D animations. |
| $299,000 | 500 premium drones | Large detailed 3D animation. |
| Custom Pricing | More than 500 drones | Larger visuals and animations using thousands of drones. |
If you're interested in a drone light show, don't forget to subscribe to our newsletter for the latest updates and promotions.
Of course, you can also follow us on social media platforms like Facebook, Twitter, LinkedIn, and YouTube to see videos of our spectacular shows in action and more content, and also leave comments on our posts.
Home to a wide range of drones, our company offers customizable drone light shows for various events. With our own team, you can be assured of a unique and unforgettable drone light show experience that will create lasting memories for years.
Moreover, visit our website to learn more and shop for our services. Contact us today via email to request a quote, and let us help you bring your vision to life.
To get a better idea of what we are capable of, here are examples of the Lumasky team's widely acclaimed and popular drone shows:
Order in Chaos & Chaos in Order: a two thousand drone spectacle
"Order in Chaos & Chaos in Order": A Guinness World Record-breaking drone spectacle showcasing a breathtaking display of 2000 drones, intricately transforming one image into another seamlessly.
Moreover, the show captivated audiences for 20 consecutive days, drawing inspiration from the graceful movements of swarming fish, insects, and birds. The synchronized aerial displays were made possible by the latest intel on industry trends and technologies.
Qatar's newest cruise ship MSC Europa promotional drone show
To commemorate the launch of the new MSC cruise ship, a spectacular display was performed using 600 drones that lit up the night sky in an unprecedented show.
The Lumasky team achieved a record-breaking performance with the highest number of figures in the sky, showcasing over 12 captivating images at once that seamlessly transitioned from one to another, all within 5 minutes. The viewing experience was unique!
Each day, our team still pushes the boundaries of what is possible with drone light shows; we work to deliver awe-inspiring performances that leave audiences spellbound.
Therefore, we are widely known for our innovative approach to drone shows, setting a new level of excellence in the industry. Don't forget to learn more about the Lumasky drone light shows at the Lumasky show
But what is a general cost estimate for my drone show if I want something similar to the shows you've described?
If you're intrigued by drone shows that resemble the ones mentioned earlier, what might be the cost, estimating approximately? The cost can fluctuate significantly depending on multiple factors.
Usually, drone shows with a strictly limited number of drones tend to be shorter in duration.
As an illustration, for a comparatively small-scale display like the show promoting an MSC Europa cruise ship in Qatar, which employed 600 drones, the cost may reach approximately $120,000 to $180,000, encompassing practice sessions, air travel permits, and on-location operations.
For larger events, people usually think about a more elaborate drone light show that typically encompasses a longer performance time and a broader variety of drones.
The cost range for shows with unique technical requirements, like the Guinness record-breaking drone show "Order in Chaos & Chaos in Order," may commence at a rate of $1,000,000, positioning it as the most costly choice.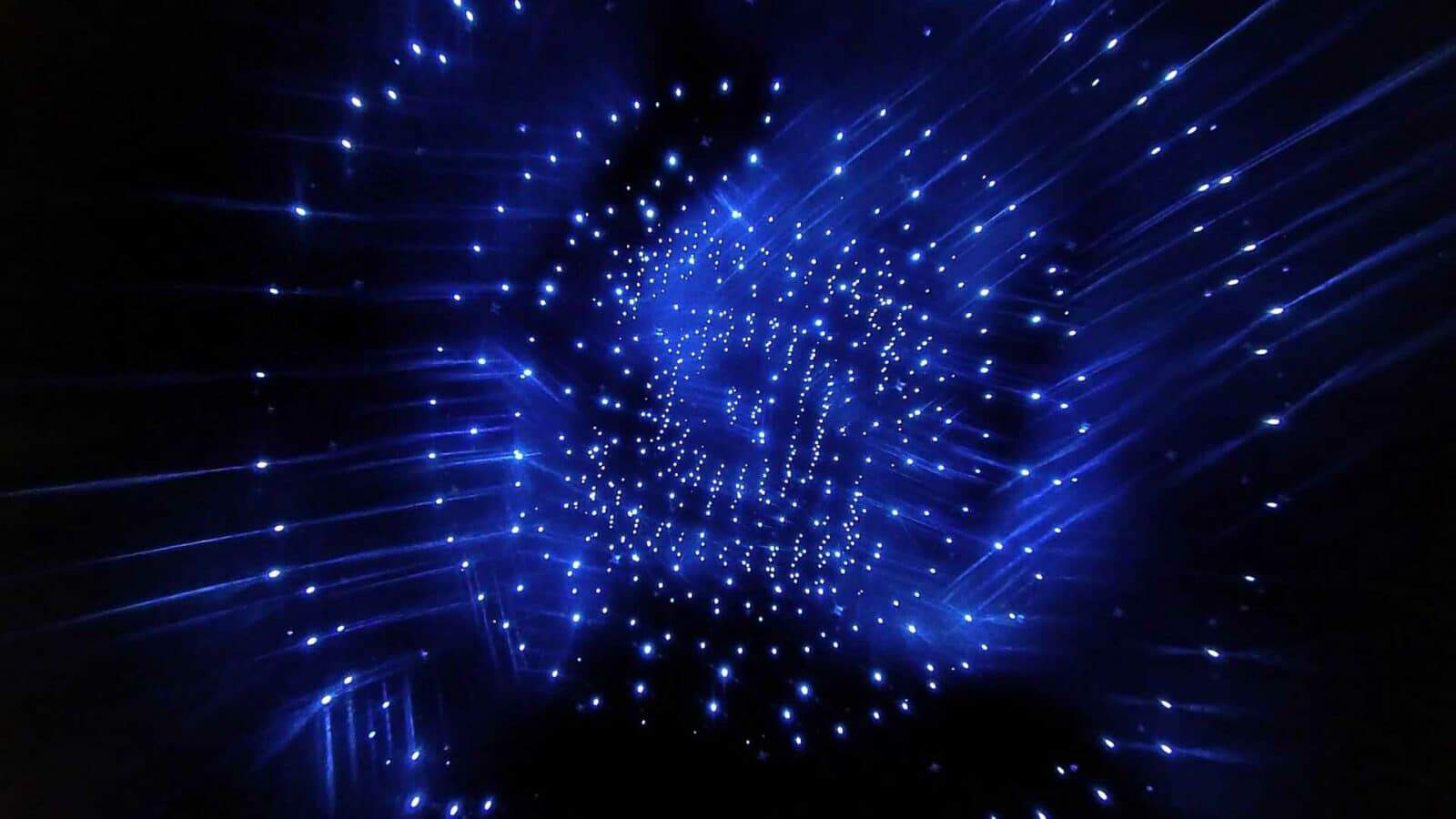 Advantages
Discover the unrivaled advantages of an innovative drone light show experience. One of the foremost benefits is the spellbinding visual aesthetic that these cutting-edge performances bring to life.
Guaranteed to mesmerize your audience, these shows create captivating patterns and designs using state-of-the-art LED lights, lasers, and other cutting-edge technologies.
Drones can even fly long distances! When artfully synchronized with carefully selected music or other special effects, the show can perfectly align with the unique message of your event, taking the overall impression to new realms of awe-inspiring spectacle.
In addition, even in moderately windy weather, drones are engineered to endure challenging conditions, enabling performances to proceed without hindrance.
However, safety always comes first, and the on-site pilot will make the final determination on whether the weather conditions are suitable for the performance at the place.
The programming software incorporates safety mechanisms to confine the drones only within a designated area, and provisions for emergency landings are in place if needed.
Offering a unique and unparalleled event experience for your guests, as we have already said, the drone show revolution ushers in a new era of audio storytelling.
However, unlike traditional loud explosions or noisy displays, a drone light show provides a more accessible and family-friendly alternative.
Ideal for families with kids, pet owners, or those who prefer to avoid loud places, these shows set a unique and immersive audio-visual spectacle that will create a lasting impression on all attendees.
Embrace the enchantment of a drone light show and embrace the future of event entertainment.
Ecological advantages
Renewable energy reliance: Drones can be powered by sustainable energy sources, such as solar or wind, reducing dependence on non-renewable energy sources and promoting environmentally friendly practices. This means that drone light shows can use clean and renewable power while reducing greenhouse gas emissions and minimizing the environmental impact of energy consumption. Additionally, using renewable energy sources promotes sustainability by conserving natural resources and reducing the carbon footprint, contributing to a greener and more sustainable approach to light shows.
Reusability: Drones can be reused multiple times for different light shows with just programming, reducing waste compared to single-use fireworks. Unlike traditional fireworks designed for one-time use and resulting in a significant amount of waste in the form of spent casings, debris, and litter, drones can be programmed and flown multiple times without generating pollution. This promotes waste reduction and doesn't affect the environment badly. Plus, there is no need to replace the batteries frequently.
Safety and cleanliness: Operators lead a fleet of flying drones, and they do not generate debris or litter, making them environmentally safe and reducing the risk of damage to ecosystems or wildlife habitats. Unlike fireworks that can scatter debris and litter over a wide area, drones do not generate any physical debris during their light shows. Additionally, using qualified operators ensures that drones are controlled safely and follow strict regulations, minimizing the risk of accidents, fires, or other environmental damage. This makes drone light shows a clean and safe option for entertainment, with minimal impact on the environment in the long run.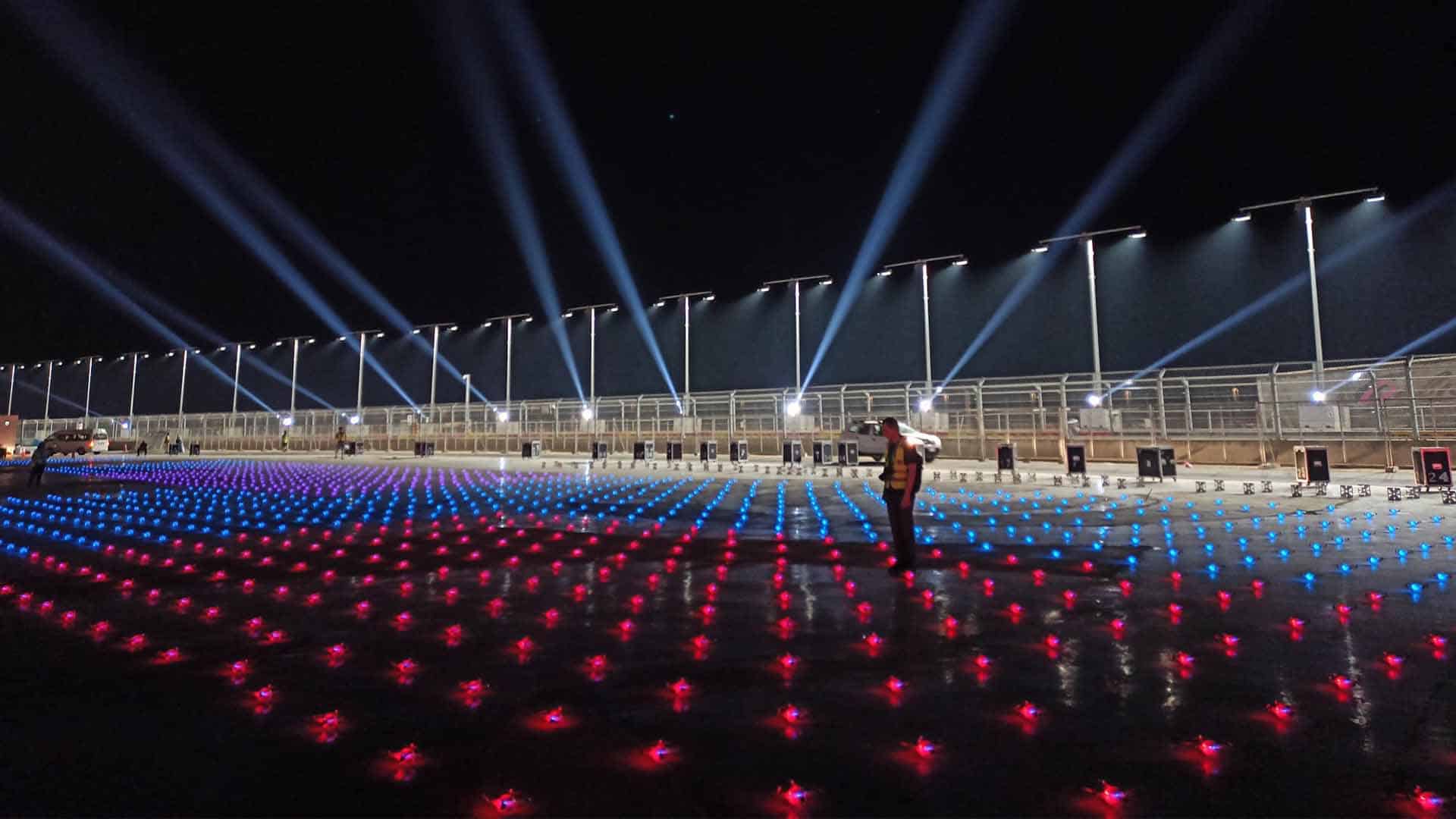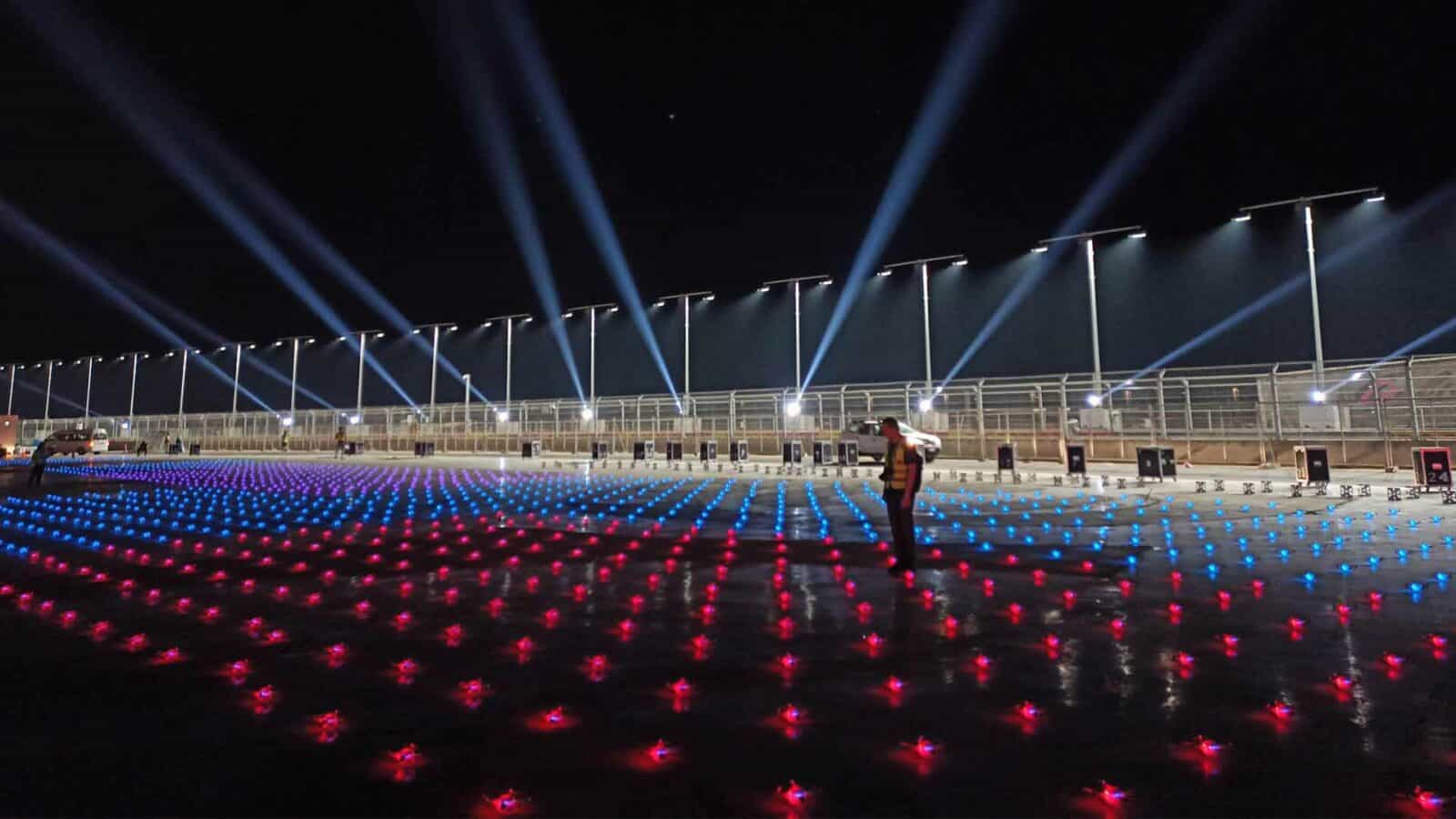 How to choose a drone light show company?
It's essential to select an approved and established drone light show company that has a verified track of accomplishments and shows held.
Choose a company that can show reviews or testimonials from delighted clients and presents a portfolio of accomplished drone light projects. You can even look through various robotics magazines.
Therefore, it's also wise to conduct online research to assess the company's reputation and client satisfaction, ensuring you can confidently share your creative concepts for the show.
Search for a company that can customize the show to align with your event specifications and offers a variety of choices and packages, guiding you through the whole process.
Also, consider a company that uses some supplementary features, including music or special effects, to amplify the impact of the show. There should be enough space for customization, and the company's team should be able to skip between different styles and themes.
Regarding expenses, it's important to evaluate pricing and options from various companies to gauge the pricing and available options. Additionally, don't overlook any extra charges related to travel, setup, teardown, permits, or insurance.
At last, carefully check the contract and terms and conditions offered by the company. Seek a company that is open and honest about their policies and charges and can provide straightforward details about their main services.
Ultimately, it can take even several months to find a good company, but it's worth it!
Have any thoughts on this? Drop us a line below in the comments, or carry the discussion over to our Twitter or Facebook.
Editors' Recommendations:
Disclosure: This is a sponsored post. However, our opinions, reviews, and other editorial content are not influenced by the sponsorship and remain objective.
Follow us on Flipboard, Google News, or Apple News