How to enable Android's new "Reader" mode in Chrome
Android has a neat little feature that allows you to strip a compatible page's format so you get to read all the meat. Here's how to turn that feature on.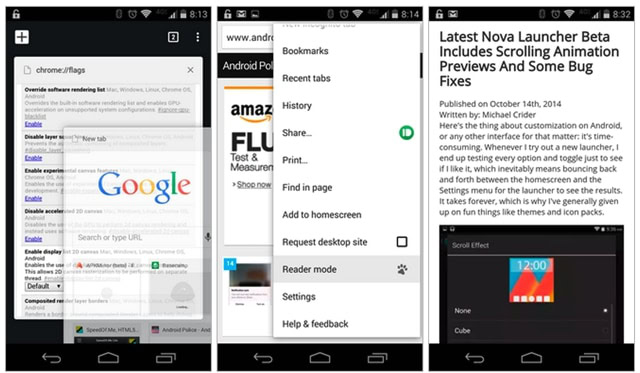 Ever been to a website that was really hard to read? There's either an intrusive ad, a really small font, or you're getting barraged with pop-ups. This is the mobile experience. However, we still push on and squint our eyes to the point where if someone was to look at you, they would seriously question if you played with a full deck.
The days of squinting are over my friends. If you're running on Android, Chrome now has a little hidden "reader" mode that eliminates all the silly formatting. This way, you read the meat and none of the side dishes.
Sure, there are apps already out there on the market like Pocket and Readability, but nonetheless, it's pretty sweet to have it built right into your browser.
This is how to enable Android's new "Reader" mode in Chrome:
You'll need to be running on the latest version of Chrome in order for this work. Open Chrome and type in chrome://flags.

Click on Chrome's menu >Find on Page and search for "Enabled Reader Mode Toolbar Icon". Enable this option by clicking the link under that setting.

Relaunch Chrome
Going forward, anytime you visit a page that is compatible with Chrome's "Reader" feature, you'll see an "A" icon appear in the address bar. If you tap on the "A" icon, you'll get the readable version of the page.

One thing to keep in mind is that this is only an experimental feature, so there are no promises. One thing I found during my testing was that some of the images didn't appear, which could make it or break it for most people.
Follow us on Flipboard, Google News, or Apple News