Too lazy to hit up the ATM? This app will deliver you cash
You'll never have to leave the house again with this new app that delivers cash to your front door!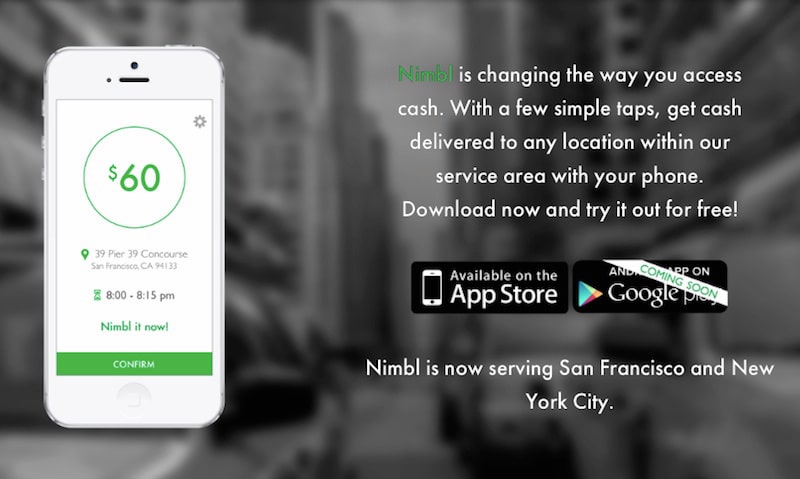 There seems to be an app for everything these days. Today's first world problem is presented to you by Nimbl. It's an app that you use to have cash delivered to you. It's essentially the Uber for cash.
This is a glorious day for pot-heads who never have to leave the house before having their drug dealer show up to the house.
Here's how it works:
Say you're at the office and everyone is "volunteering" to pitch in some cash for "Sally's" birthday card. You have no cash (nice excuse btw). All you have to do is load up Nimbl, tell it how much you want, enter in your address, and around 20-30 minutes later, cash is at your front door. It's that easy!
Anthony Ha of TechCrunch recently had a chance to try it out. Here's his experience:
How Much does it cost?
For a limited time, they're offering new users a limited promotion for free deliveries. Normally there's a $5 fee for any transaction up to $200, but considering some of the ATM fees out there, it's actually not a bad deal. I'd rather pay $5 to have someone bring me cash as opposed to leaving the house, finding an ATM that's not going to murder me in fees, and whatever adventure that comes along the way.
Before you rush to the app store to download this app, it may not be available in your area just yet. It's currently only available in the SF Bay Area and Manhattan. Boston, we're shit out of luck.
Nimble is currently available on iOS, but will be released very soon to Android, according to it's website.
Is this something you can see yourself using? Share it in comments!
Follow us on Flipboard, Google News, or Apple News