Drake vs. Lil' Wayne on Stage and in the App Store
Amy heads over to the Drake vs. Lil' Wayne concert and makes some observations when it comes to tech.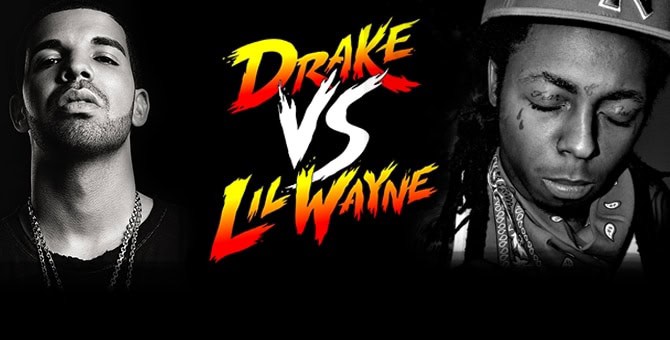 On Monday evening, I boarded a party bus and headed to the Xfinity Center in Mansfield, MA to catch the Drake vs. Lil' Wayne concert/battle/branded interactive showcase.
Having grown up in the New York Metro area I am no stranger to hip-hop and hip-hop battles. I remember how torn I was over everything going on between Biggie and Tupac. Even with an affinity to all things New York, I loved and still love to kick it to both  Tupac's "Hit 'Em Up," which so cleverly hooks "take money," and Junior Mafia's "Get Money."
A very different pretense for a rap battle took place on Monday night in Mansfield. For the younger and more unaware readers out there I want to point out that the "battle" between Drake and Lil' Wayne has absolutely nothing to do with the lyrical and lifestyle beef as we've seen in rap battles of yesteryear. No, no, the battle between Drake and Lil' Wayne is what hip-hop has unfortunately become: a very commercial game.
The battle between Drizzy and Weezy has everything to do with who is making the label more money. And due to all things turning digital, a lot, if not a majority of their stock is made through content, endorsements and participatory audience interactivity.
If you follow me on Instagram, you will notice that I have an ironic sense of humor. As of late, I have been expressing that type of humor by posting photos that I create through the Drake Shake app. It is weird. I know.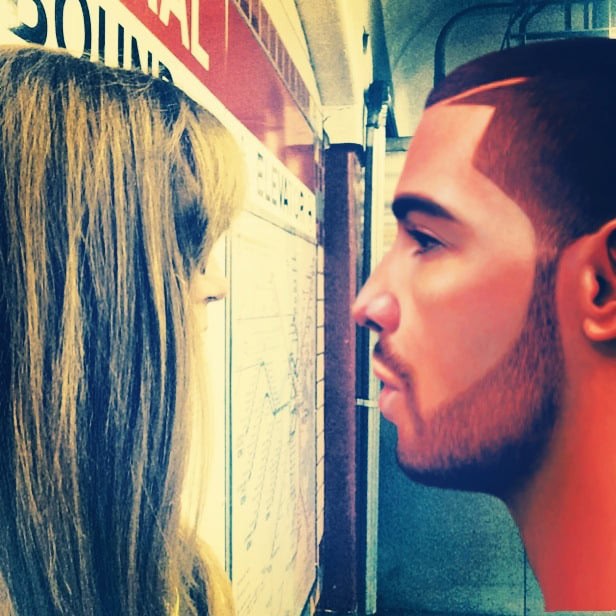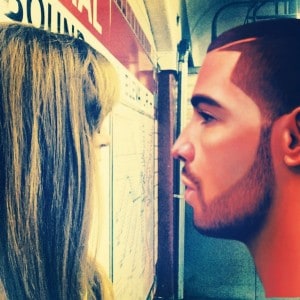 TheeAmyDee vs. Drake
Possible Drake Album cover made in Cape May, NJ on a bachelorette party weekend
More Drake games! How many Drakes can you spot in Chicago's Millennium Park Bean? (Extra points if you can spot me too).
Sure, this is silly but it has up'd not only a new bonding element for friends and I that stay in touch through social media but it has also up'd my love for Drake. Is my love for Drake fueled by my interaction with the Drake Shake App?
Hm…well, I was very much on 'team Drake' during Monday night's battle. Not that I didn't love Lil' Wayne's many throwbacks that took up most of his performance but each time Drake took the stage, I smiled to myself, had that much more fun and maybe once or twice it crossed my mind of 'what epic Drake inspired photos I could take.'
The Drake Shake app isn't just some fan having a good laugh, the Drake Shake app is a well thought out interactive marketing decision. I smile every time I think of Drake now and even though I love his music, my smile has nothing to do with that. This feeling that I have is something that interactive digital marketers strive for.
And so, taking Drake on the road had to be no different. Monday night's show, in addition to the rest of the Drake vs. Lil' Wayne tour featured the integration of the DvsLW app. The DvsLWapp which cleverly stands for "Drake vs. Lil' Wayne was created by iam8bit and produced by (you may be able to guess this one) Young Money Entertainment, the managing label behind both of the hip-hop artists' careers.
The DvsLW app rips off the concepts "street music" and "battle" and is mentioned to be designed with similar aesthetics as the classic video game, (NOTICE THE INTERACTIVITY!?), Street Fighter.
Within the app concert-goers are able to create their own photos, similar to that of the Drake Shake app, only this time given what side you are on, you are able to select from several different emoji icons to add to your photo at the concert of course. And in an effort to make sure that you the fan continues the battle after you leave the show, there is the ability to create photos off the app post concert as well.
There are more apps in the app store that are spin-offs from Drake's career and there are also apps that are spin-offs of Lil' Wayne's career. But if you are running out of gigabytes on your monthly plan this month, just as I am, then I can assure you that the Drake vs. Lil' Wayne concert is available somewhere on your SnapChat list.
Follow us on Flipboard, Google News, or Apple News