Review: 1MORE USA Triple-Driver Over-Ears
Over-ear headphones that went straight to our soul.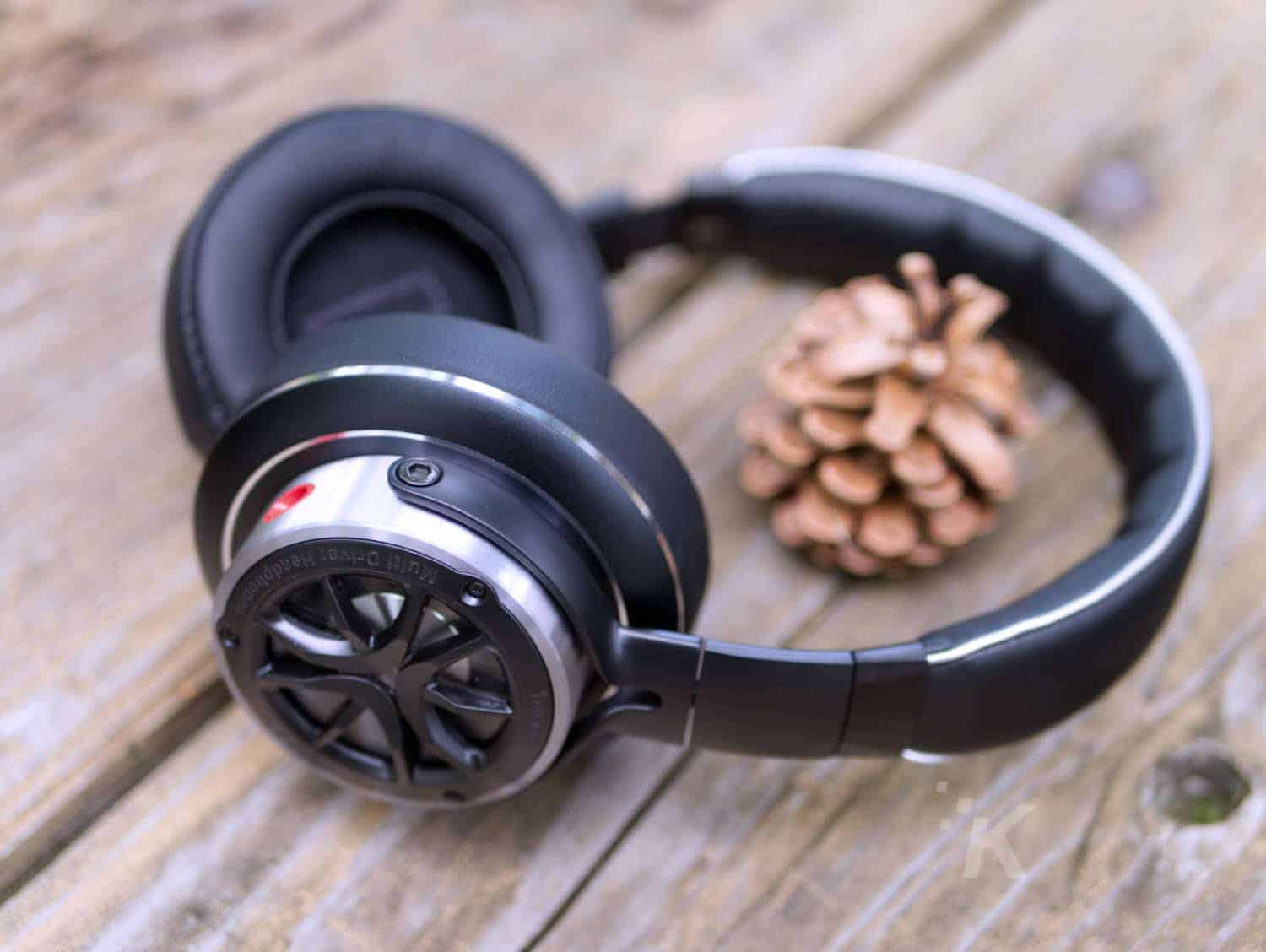 The Good
Truly innovative tech
Designed Fully In-house
Great value
Highly transparent sound
The Bad
Cables aren't user-replaceable
You might not have heard of 1MORE before, but don't let that dissuade you. They sold 20 million units in just three years in their native China, and are hoping to replicate that runaway success in the US market.
We recently looked at their Quad-Driver IEMs, and 1MORE USA also sent over their Triple-driver Over-ears for us to play with.
I spent hours photographing these, they catch the light so darn nicely with all the anodized aluminum and stainless steel. The detailing on the outside of the earcups reminds me of classic British car wheels, which always makes me think of luxury. The only thing missing perhaps is a gin and tonic with a slice.
Here, enclosed in the aluminum earcups, are three patented drivers – a 40 mm graphene dynamic driver, a ceramic tweeter and a bass reflector to add more oomph. These won't break the bank either, coming in at a cool $249. If you look at the competition, there is a lot of plastics at this price-point so the 1MORE set immediately stands out with the premium metals used.
They fit like a glove over my head, which is another bonus score for 1MORE. I have a large skull with large ears, so often over-ears are uncomfortable at best. They also have a removable cable, with a 2-plug design so one cable goes to each earcup.
I prefer one-side, but that can cause issues with the internal cabling so 1MORE using this configuration is a good one for consistent sound and longevity of the headset. The earcups can swivel 45' for storage, or even fully folded in and put in the included premium case.
The only, admittedly minor, things I could ask for on this set are choices in wire length (the 1.35m wire is perfect for portable media use but is a little short for desktop or Hi-Fi use), a cable with the great mic controls that are on the IEMs and changeable earcups. I've been told by 1MORE that they wanted to give a nod to audio purists with leaving the mic controls off, but don't discount the possibility of a mic-equipped cable in the future.
Interestingly, this is the only product they've designed without an integral mic. I also got some interesting tidbits about the choice for leather on the earcups – it seems that Luca tunes the entire shipping product, not just the internals so if the earcups were changed it would change the intended sound signature.
[envira-gallery id="62593"]
Preferred audio signature and inherent bias
I tend to prefer a flatter audio profile, with a small uplift on both sub-bass and mids. I do have a very eclectic taste in music, with everything from jazz to k-pop and between. The eclectic nature of my collection probably has the largest influence on my audio equipment choices. With me not knowing what I'll listen to at any one time I like equipment that is good across categories with perhaps only some EQ adjustments to get the most out of the tracks.
I grew up listening to Laurie Anderson, Leonard Cohen, Vivaldi and West-End musicals, so crisp vocals without muddiness is a must. That also colored my later tastes, with Drum N Bass, 4×4 Speed Garage, and Underground House/Techno also requiring both crisp vocal presentation and separation of instrumental tracks. I'm on the spectrum so comfort and an overall tonality that isn't fatiguing are also sought after.
Of course, auditory preferences are inherently biased, but I try to describe the soundstage for an eclectic mix to accurately convey the overall tonality of the equipment.
Listening notes
I used the same set of songs for listening to both this set, and the Quad-Driver IEMs that 1MORE also sent over. You can catch that review over here. The main difference between the two sets is that the Over-Ears can handle a lot more volume before they start to display any distortion.
Every nuance of Beth Gibbon's haunting voice comes across, even when the bass is threatening to overpower the lyrics. The detail these two sets put forth is stunning, every crackle of the record is present, every cymbal tap sounds like it's in the room with you. Sub-bass through to mids are warm and highs are detailed and crisp.
Late Morning – Breakbeat Era
I had the fortune to see this performed live in a small club where the walls reverb'ed back at you. The Triple-drivers won't give you the chest thump of a 30k system but it's the next best thing. The layers of detail here across the frequency range are astonishing from headphones.
Red Snapper – Like a Moving Truck
Just like the track title, the standup-bass hits you and won't let go with the freestyle from MC Det moving you along. Clarity across the 20-40,000hz range is a wonderful thing to hear.
Fake Plastic Trees – Radiohead
Thom Yorke's nasally crooning is both soft and hard at the same time, and often shows up badly tuned headsets. I'm glad to say there are no such issues here, with every part of his frequency range coming through clearly.
I Got 5 On It – Urban Takeover Vocal Mix
Luniz's unique voice comes across beautifully on the Mickey Finn/Aphrodite remix of this track, with the sub-bass bump that west-coast hip-hop is known for coming on strong. Both headsets handled this beautifully, with the only slight difference is in the bass, which wasn't as impressive in the Triple-drivers.
Conclusions on the 1MORE Over-Ears
These Triple-Driver Over-ears represent fantastic sound performance at a price that will be hard for anyone to match. Perhaps it's the fact that they have a Grammy-winning sound engineer on staff but it's clear that there's some audio magic at play here. Luca tunes for clarity and mass-appeal and this headset have it in spades.
So many times while doing listening tests I had tears of joy, it's not often you can listen to a track you've heard hundreds of times and hear things that you've overlooked before. Music is meant to move us, and 1MORE with their partnership with Luca Bignardi have created something incredibly moving with these headsets.
A good audio presentation is a very hard thing to describe properly, it's often easier to talk about when it's missing. I went back to using my Sennheise
r set after using the Triple-Driver Over-ears and they just sounded flat and uninspiring. The magic of the 1MORE USA sets might have ruined my ears for other headsets, but that's a sacrifice I can live with.
A sample unit was provided for the purpose of this review.
The Good
Highly transparent sound
Great value
Designed Fully In-house
Truly innovative tech
The Bad
Could do with different cable options
Follow us on Flipboard, Google News, or Apple News