Review: Arizer V-Tower Vaporizer
We got our hands on the Arizer V-Tower vaporizer. It's not the volcano, but it's surely the best in its price range.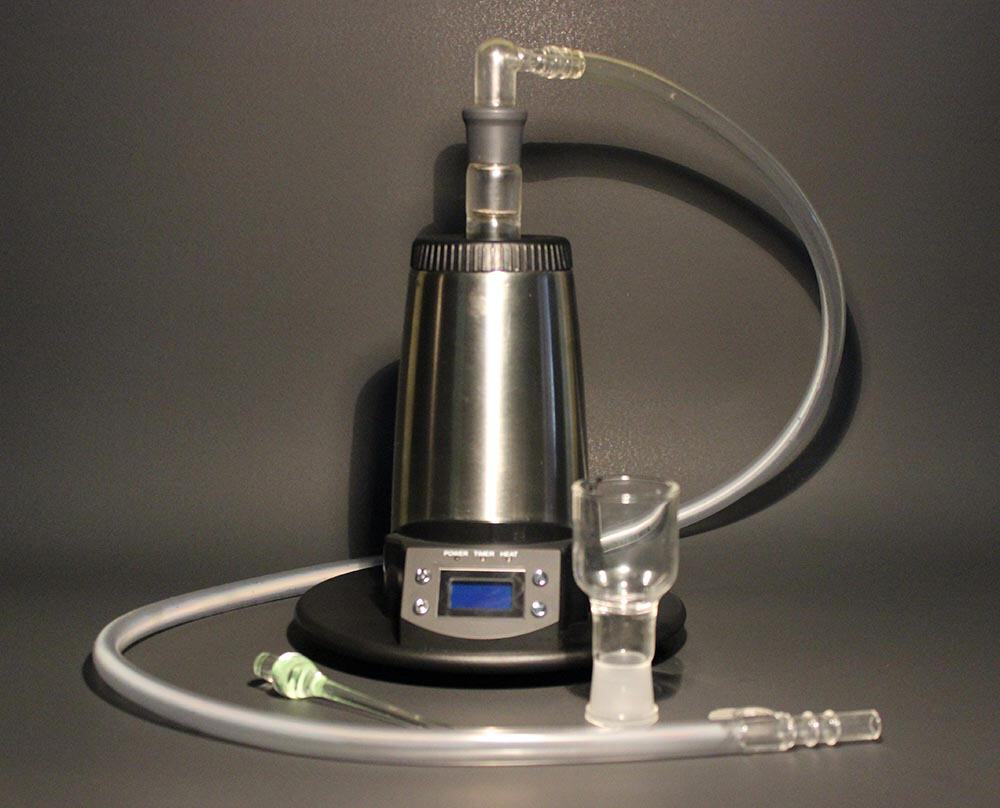 When we talk about vaporizers theses days, we mostly talk about portable vapes. And this is mostly due to the benefits that come with them, like obviously portability and discreteness. But what most portables lack is the ability to really enjoy it with a group of friends. This is mostly due to them running out of battery or having to repack them constantly due to their small heating chambers.
The alternative is a desktop vaporizer. This class of vapes have been around for a long time. Matter of fact, my first vaporizer was a desktop plug-in-box, which never seemed to work right. I've always wanted something more reliable, but unfortunately, they're not cheap. Well, those times have changed. Say hello to the Arizer V-Tower vaporizer.
First Impressions
The V-Tower is the latest desktop unit from Arizer, a Canadian company with great quality products such as their portable Solo vaporizer and the Extreme Q, which is their top of the line model.
The V-Tower is essentially an Extreme Q, just without all bells and whistles, and obviously, a lower price. At first glance, the V-Tower sports a shiny silver finish with a digital screen in the front, which makes it look very stylish. The V-Tower uses a whip styled convection driven heating element that sits hidden on the top of the device. Given the V- Tower price was so reduced, I really wasn't sure what to expect, but I was really blown away with the quality of vapor and the taste this little guy had to offer.
Here's what's in the box:
Arizer V-Tower
Power Adaptor
1 x Glass Aromatherapy Dish
1 x Aromatic Botanicals Sample
1 x Screen Pack (Contains 1 flat/1 Dome Screen)
1 x Glass Stirring Tool
1 x 3 foot Whip
1 x Owners Manual
Design
The Arizer V-Tower is very similar to its big brother, the Extreme Q. It comes with a remote controller and a few other features. The V-Tower comes in metallic finish with a digital screen and a few silver control buttons. When you turn on the V-Tower there's a pleasant illuminating blue glow, giving it a techie look.
You can control the temperature with the up and down button to get it the desired heat setting. It also has a timer, which works pretty well. The heating element is tucked away on the top of the tower. This type of design keeps the outside of the unit cool, which I found it to be a plus. It comes with a glass attachment used to put your flower in. The V-Tower uses a 3foot whip with a glass attachment at each end. The V-Tower also comes with another glass attachment that is used as a potpourri warmer. I found that without the whip on, you could literary keep it in your living room and it will fit right in. It's definitely not an eye sore.
Performance
The V-Tower is also very easy to use. All you have to do is set your desired heat temperature using the digital screen and pack the glass adaptor. Wait about 10 minutes and you are ready to vape. The V-Tower produces awesome tasting vapor. The bowl is quite large and will provide a large amount of vapor for each session. The wipe attaches to the top of V-Tower allowing it to spin around to please a group of friends without having to take it out as well. I found that the best heat setting to achieve top performance is at about 390F- 400F. Once you are done vaping you can attach the other glass adaptor, which will warm up your potpourri. This is a plus if you are trying to hide the smell of your flowers or just want your room to smell really fresh and clean!
This category is where the V-Tower really shines and out performances pretty much any other desktop vaporizer in its price range. Matter of fact, I would put it up there with even pricier products.
Final Verdict
If you are looking for a quality desktop vaporizer that won't break the bank, then look no further. The Arizer V-Tower is one of the best stand alone vaporizers in the market at only $149.99. It provides great tasting vapor and lots of it too. The only concern that I had was the glass attachment gets pretty hot so I caution to let it stand for a bit before removing to repack your bowl. Other then that which is normal with most vaporizers. With a lifetime warranty on the heating element and a 3 year warranty on the unit itself, It's a homerun. You can grab one at VaporizerVendor or any other authorized reseller. Don't forget to call a few friends over too! 
The Bad
Glass gets very hot
Follow us on Flipboard, Google News, or Apple News