Review: Atman Hachi portable vaporizer
In a nutshell, the Atman Hachi is an affordable and easy to use entry point into the world of portable vaporizers.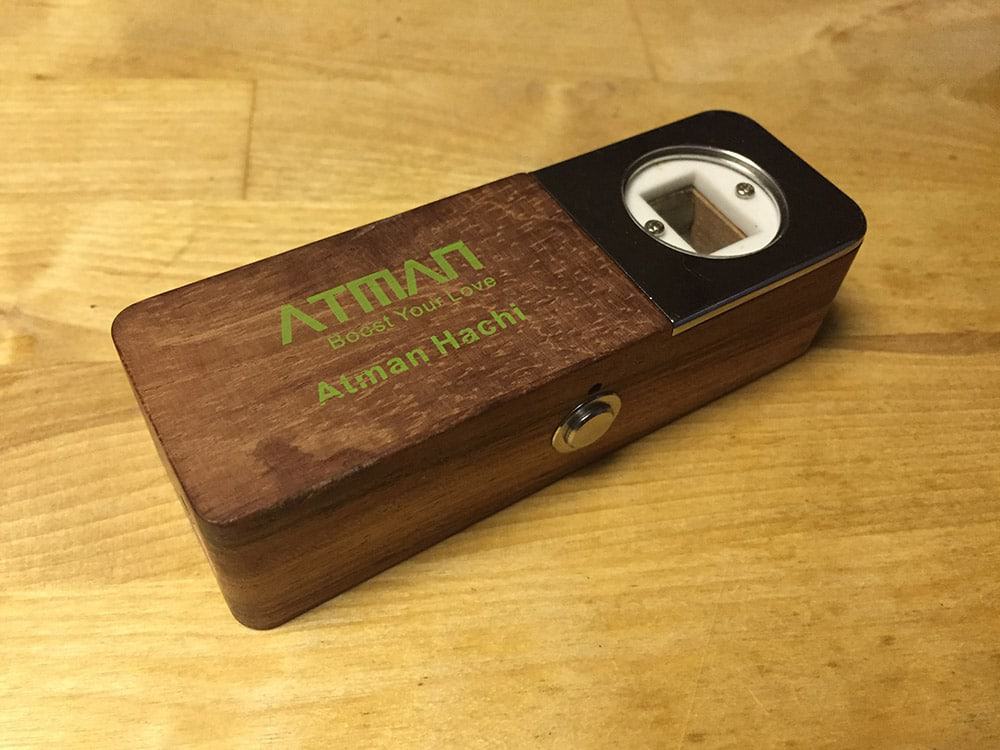 As far as portable vaporizers go, I can honestly say I don't get surprised too often anymore. Let's just say I've seen them all, and then some. Then came along the Atman Hachi portable vaporizer. If I didn't know better, I would have thought these were made by little elves at the North Pole, simply based on the quality of the wooden craftsmanship.
So how does the Hachi match up? Let's dive right in.
In the box:
Stainless Steel Drip Tip
Stainless Steel Spoon
Cleaning Brush Tool
USB Apple Charging cable
Extra Heating Element
Screw Driver
Atman Hachi Portable Vaporizer
First Impressions
Right away I was quite impressed with the nice tin box the device comes in. I also liked the fact that they have the instructions written right on the bottom of box, because if you're like me, you can end up losing them. Inside the box, you'll find the Hachi staring back at you like some kind tool that was stolen from a mystical forest with its precious wooden design.
Design
The Hachi vaporizer is made up mostly of beautiful Rosewood that gives it a very earthy and green feel to it. It also has a cool magnetic sight glass cover to easily pack your material. The ceramic screen chamber is a nice size and can fit a good amount of material. With its single button design, it seems that the engineers at Atman were focused on keeping it simple. On the bottom of the Hachi you'll find a lightning style charging port that will appeal to iPhone users.
Performance
The Hachi vaporizer is a convection style vaporizer that instantly heats up your material similar to the Firefly but at about half the price. It takes about 3 hours to fully charge its 1500mah rechargeable battery, which is engineered to be very efficient. The Hachi only uses dry material and when used properly can produce good amounts of vapor without losing quality. For best performance press the button for about 3 seconds and take a pull for another 2-3 seconds and release. What I noticed is that if you hold the button down for to long, you can end up burning your material. So it takes a bit of getting used to it.
Final Verdict
With its Rosewood design the Hachi is definitely a unique portable vaporizer and feels well built. At an affordable price tag of $119 the Hachi is a good starting point for someone who wants to start vaping without breaking the bank.
There are a few other vaporizers to consider at this price range but you won't find one that uses your iPhone charging cable and can instantly get you vaped. If you have a friend that likes high tech gadgets but also has a hippie side, than the Hachi may just be a great gift for them. 
The Good
Beautiful Rosewood finish
Instant vapor
Lightning charging port
Easy to use
The Bad
Can burn your material if you hold the button down to long
Follow us on Flipboard, Google News, or Apple News