Review: Fluance AB40 Soundbase
Mind blown.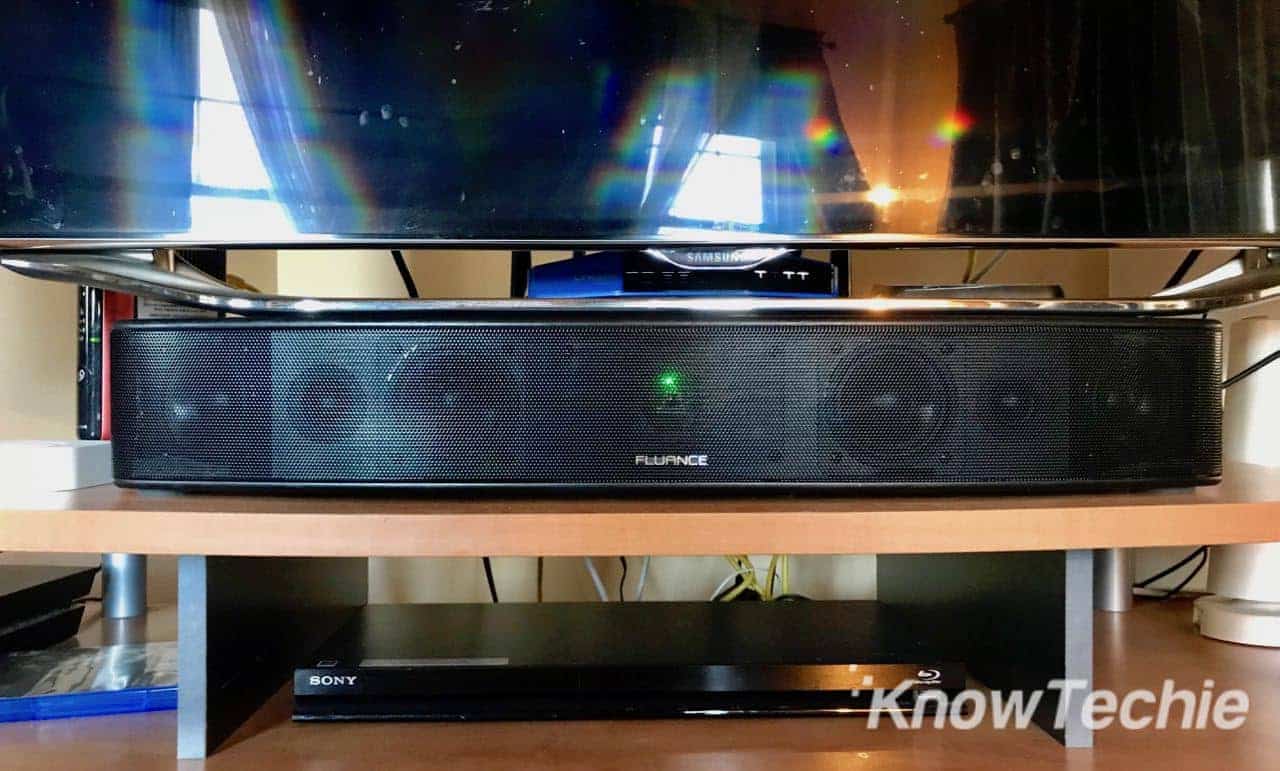 The Good
Incredible bass
Overall a great sound experience
3D Sound and & Bass Boost functions are a nice touch
The Bad
No HDMI input
You have to use a remote
which adds one more to the collection
Forget sound bars. Soundbases are all the rage now.
I can tell you this first hand because I've been testing this Fluance AB40 Soundbase for a few weeks now, and buddy, let me tell you, this thing is a machine and I can't see myself ever going back.
The AB40 Soundbase comes from Canadian-based audio company Fluance and the unit sells for $249, respectively. It basically eliminates the hassles of having a complex sound system installed in your home. Without using any fancy technical jargon, it brings an immersive cinema experience right to your home without spending an arm and a leg.
Alright, first the specs: 
Speaker Configuration:

2 Way 6 Driver TV Soundbase with Integrated Amplifier

Tweeter:

Dual 1 Inch Silk Soft Dome Ferro Fluid Cooled

Woofer:

Four 3 Inch Aluminum Cone with Butyl Rubber Surround

Frequency Response

: 30hz – 20khz

Amplifier Power:

Class D 90 Watts

Input:

Digital Toslink Optical / 3.5mm Stereo Aux
Setup is a breeze. One of the best things going for it is that you can place your TV right on top of it. And don't worry about your TV being too heavy. The base can withstand up to 150 pounds, and its cabinet is designed to allow airflow in and around the drivers so that the weight won't mess with the speakers sound. To connect the soundbase to your TV, the AB40 features both an optical digital audio input, and a standard 3.5mm stereo auxiliary input. Surprisingly, it doesn't have an HDMI input, but it has Bluetooth.
My initial reaction after setting it up and finally hearing it for the first time blew me away. The AB40 comes equipped with a 5.1 speaker system and features a Grammy Award-winning sound processing technology which the company promises an immersive listening experience. In my experience and to put it in simpler terms, this soundbase sounds absolutely amazing. It's like having an expensive surround sound setup without all the fuss. I'm talking about wires here.
Seriously, I don't think I've ever watched my TV with sound this good before. I remember showing it off to my wife and seeing her first reaction when I turned on the speakers "bass boost" feature. She immediately replied with "the downstairs neighbors are not going to be happy about this." The bass on this thing is unreal, like amazingly good. The AB40 makes it seem like you have a diesel subwoofer hidden away somewhere in your home. I still get yelled at if I turn on it on at late hours the night.
There's a lot to brag about here when it comes to the AB40's sound. It's apparently obvious Fluance wasn't messing around, and the proof is in the pudding. It features this really cool 3D mode too which basically does a bunch of extra things to widen the sound. You really hear its full potential when you're playing video games or watching a movie on Blue-Ray.
Using the AB40 requires a remote control. I know, add one more to the collection, but it's small enough and simple to use that it's not going to be an issue. You can even use it when you're utilizing the AB40's Bluetooth mode, giving you the ability to skip songs or go back without ever having to pull up your smartphone or any other interface you would be using. But then again, it is another remote which I'll eventually end up misplacing.
My experience with the Fluance AB40 was extremely excellent. I have no problem recommending this to anyone. It went way and beyond of what I expected this unit to achieve. In the past, I've always recommended soundbars for folks who were looking for a little something extra when it came to their TV set up, but man, I was extremely wrong. Soundbars are the way to go, and this Fluance unit is a good start.
It has everything anyone needs. Whether you're looking for something that offers fantastic sound, loads of bass, or just something to complement your TV setup, the Fluance AB40 is precisely what you're looking for. Heck, you can even use it as a Bluetooth speaker if you want – that's another value right there.
Overall, this thing is incredible and it's by far the best speaker I've ever reviewed. The only thing I would say to watch out for is before buying it, make sure your TV will be able to fit on top of this. Some reviews online state that if your TV has feet on each, then it won't fit on the speaker. You can find the Fluance Ab40 on the company's website or Amazon for $249. 99.
A sample unit was provided to KnowTechie for the purpose of this review. 
The Good
Incredible bass
Overall a great sound experience
3D Sound and & Bass Boost functions are a nice touch
The Bad
No HDMI input
You have to use a remote, which adds one more to the collection