Review: Guitar Hero Live – For those about to Rock Band, I'm sorry
After a pitiful experience with Rock Band 4, we got a chance to check out Guitar Hero Live. We absolutely love it.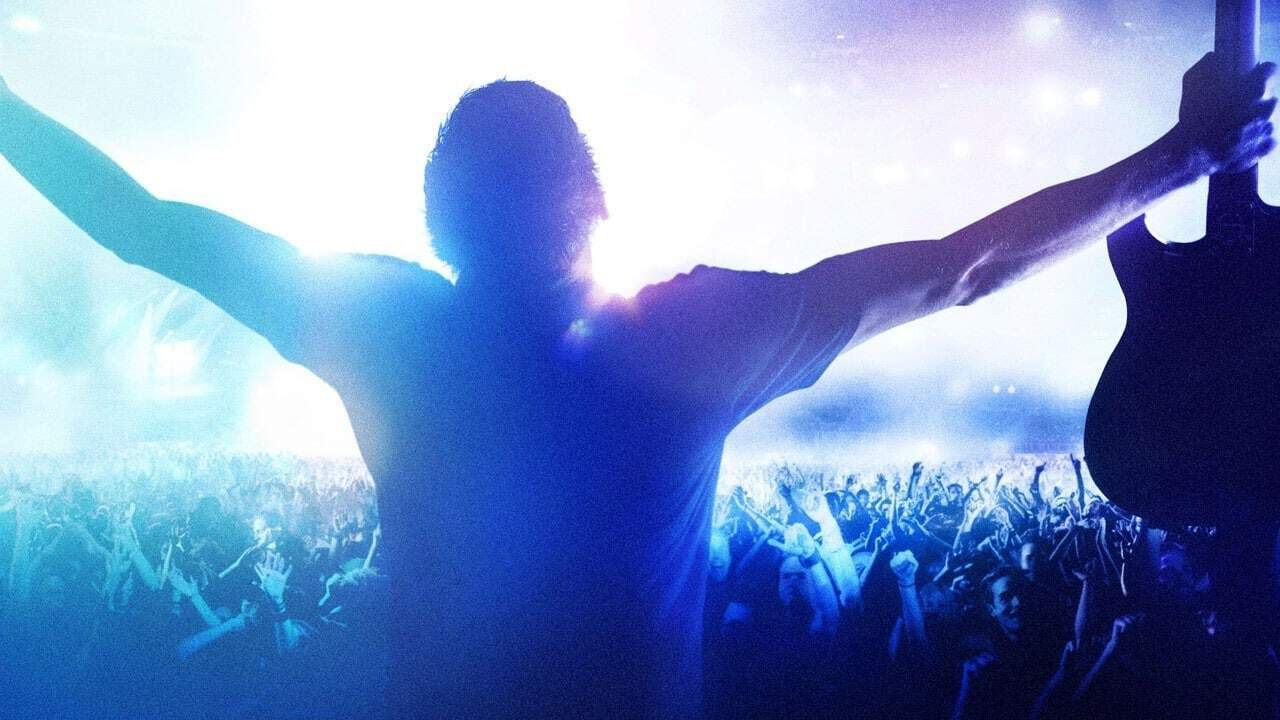 After the less than awesome experience I had with Rock Band 4, the last place you'd expect me to be is playing another music game. I was actually hesitant when Activision offered to send us the review copy, especially since the rotten taste of Rock Band 4 was still lingering. I figured the experience couldn't be much worse than the one I just had and jumped headlong into another music-game experience. Turns out, this one was considerably better.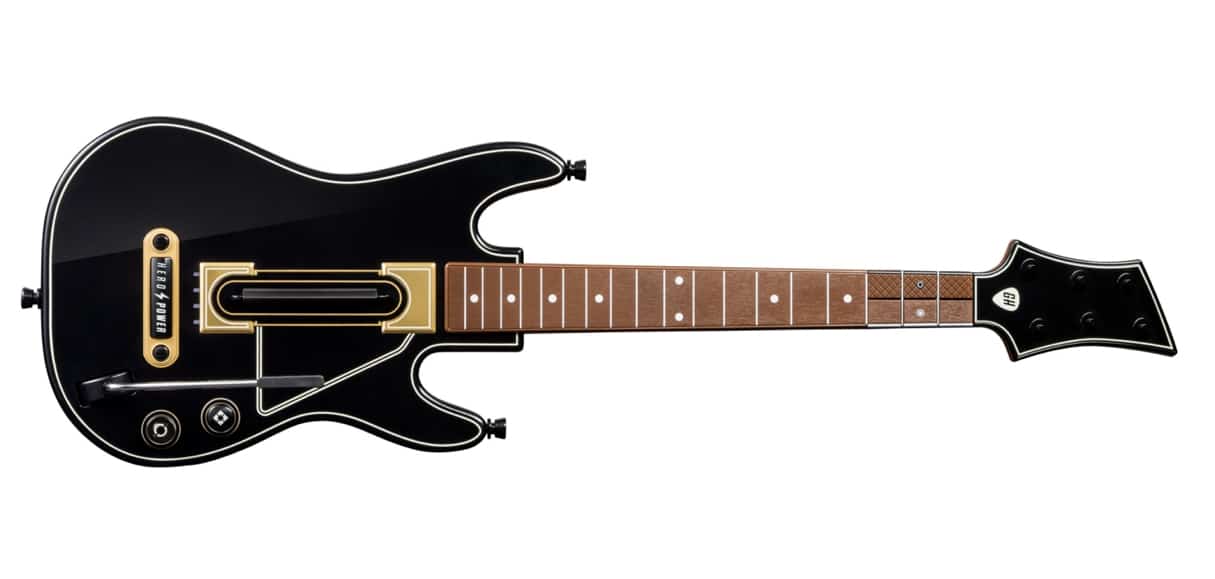 Let's start with the new Guitar Hero Live guitar. No longer are there simply a few color-coded buttons down the fret board of the guitar, instead, at the top there are 3 black and 3 white buttons. each represents the left, middle and right sides of the fret board on the screen. Outside of that, beside an updated design, the guitar features a new GHTV button, which I'll talk more about in a bit. There really isn't any other drastic change to the guitar that is really worth noting. The effort to evolve the experience with the new design actually works great.
Guitar Hero Live captures what it means to love music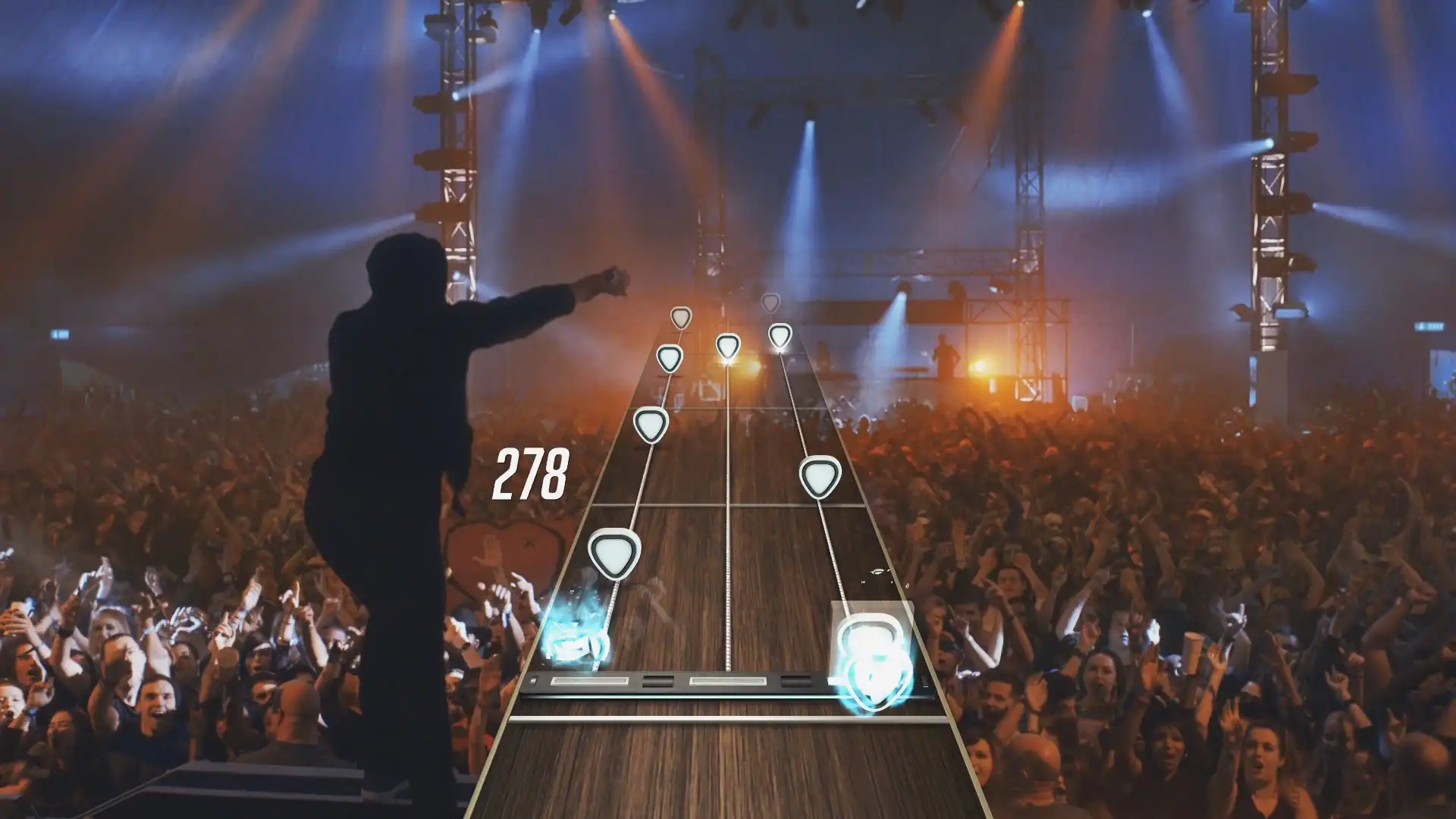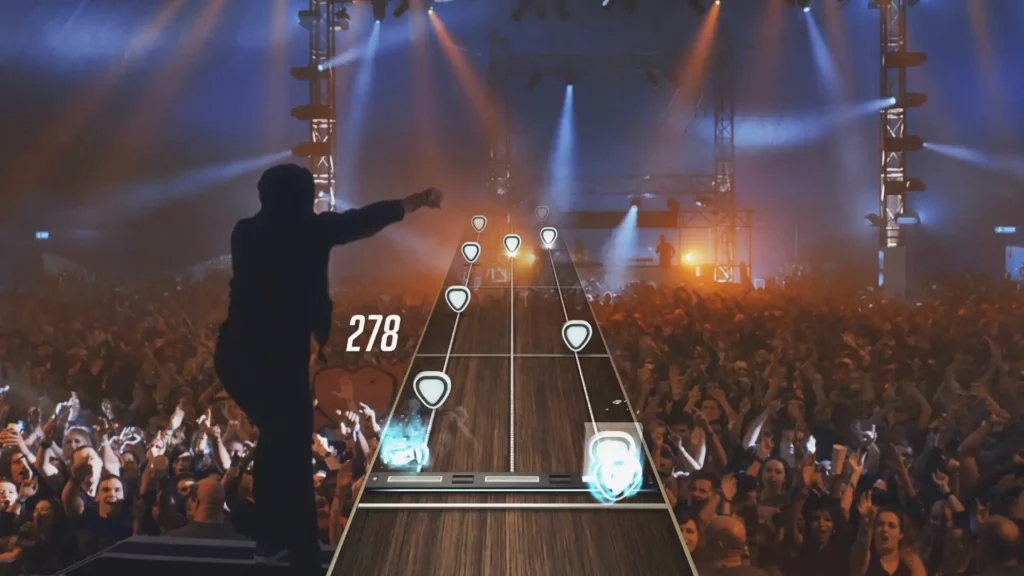 The game itself is broken into 2 distinct chunks of gameplay, with the Guitar Hero Live mode and the Guitar Hero TV mode. Guitar Hero Live is your traditional Guitar Hero experience, where you play sets and try to get the highest score possible. Interestingly enough here, there isn't a visible score while you play. That is because your performance affects the large recorded audience that has been recorded to simulate playing a live show. Not only does this look freaking awesome, but it really makes you feel bad when you mess up.
Guitar Hero Live mode also allows you to free play any of the songs that you unlock from the 9 set lists that you'll eventually play through. The tracks in this mode are mostly popular songs and range from old rock to that really weird hipster big band stuff that has recently gotten popular. With a really good set of songs, awesome atmosphere from the "live" crowd and cool cinematic effects, I really enjoyed this mode.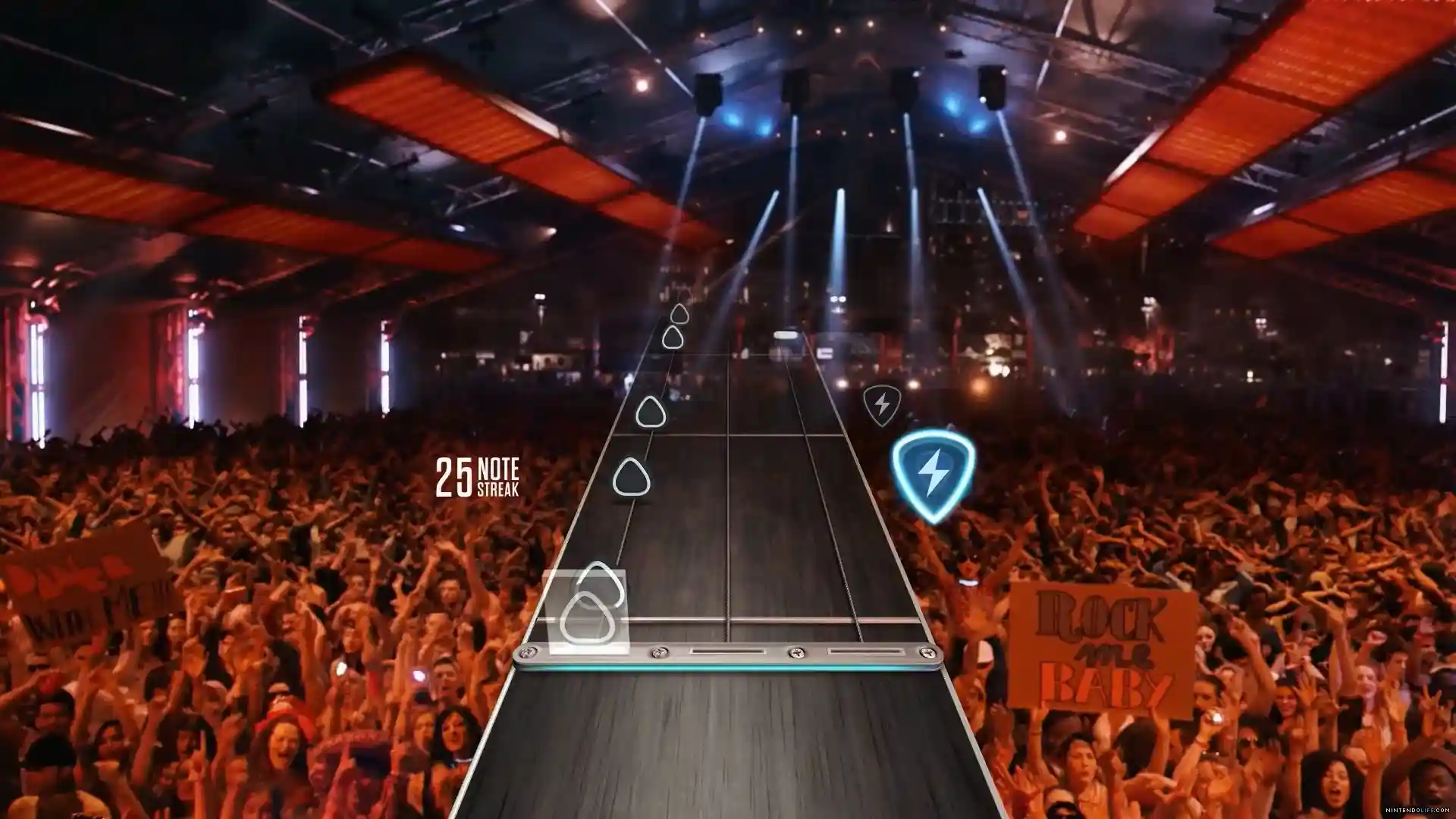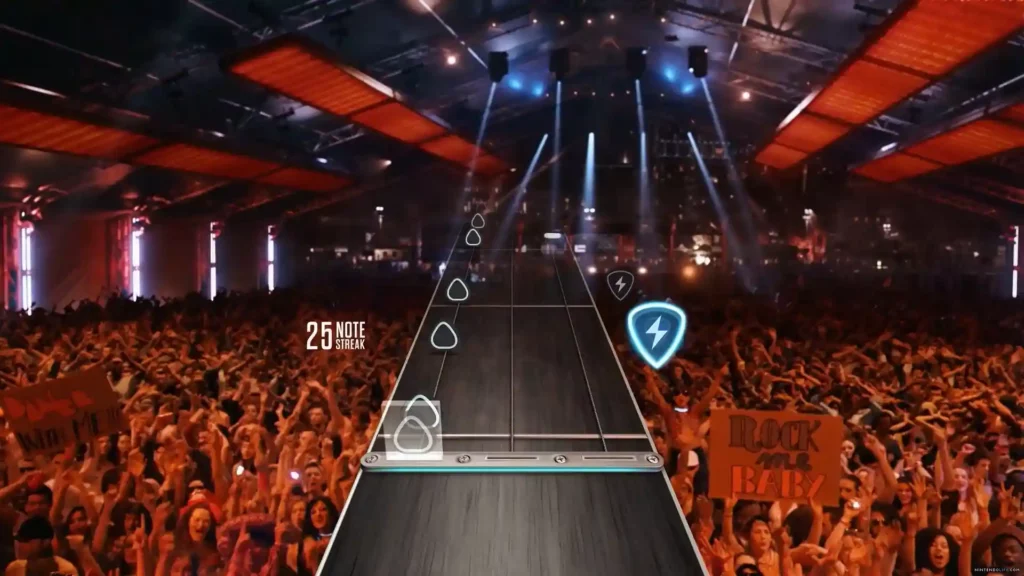 Become a Guitar God in this new mode
Guitar Hero TV is a totally different beast altogether. This mode is essentially a music video channel that allows you to play Guitar Hero Live along with it and totally encourages musical discovery. While the songs continue with or without your input, you can purchase plays for the songs you want to replay in the game's store. You purchase these plays with points you earn by playing through tracks as well, so you don't actually have to spend any additional money to enjoy a song you like. Plays are super easy to get as well, after a total of 13 hours of gameplay, I've amassed almost 100 plays. Even though I'm using them, that number is still climbing.
Guitar Hero TV offers 2 channels at any given time of the day, as well as a challenge channel that operates independently as well. Both channels will carry different themes throughout the day and you can jump in and out as you'd like. While the music in this mode isn't available without buying the plays of sitting on the channel you are interested in, they add enough new stuff at a constant basis that you won't get tired of the same 60+ songs. I like this because I'm not having to spend a ludicrous amount of money to play a single song that I'll mess with a handful of times.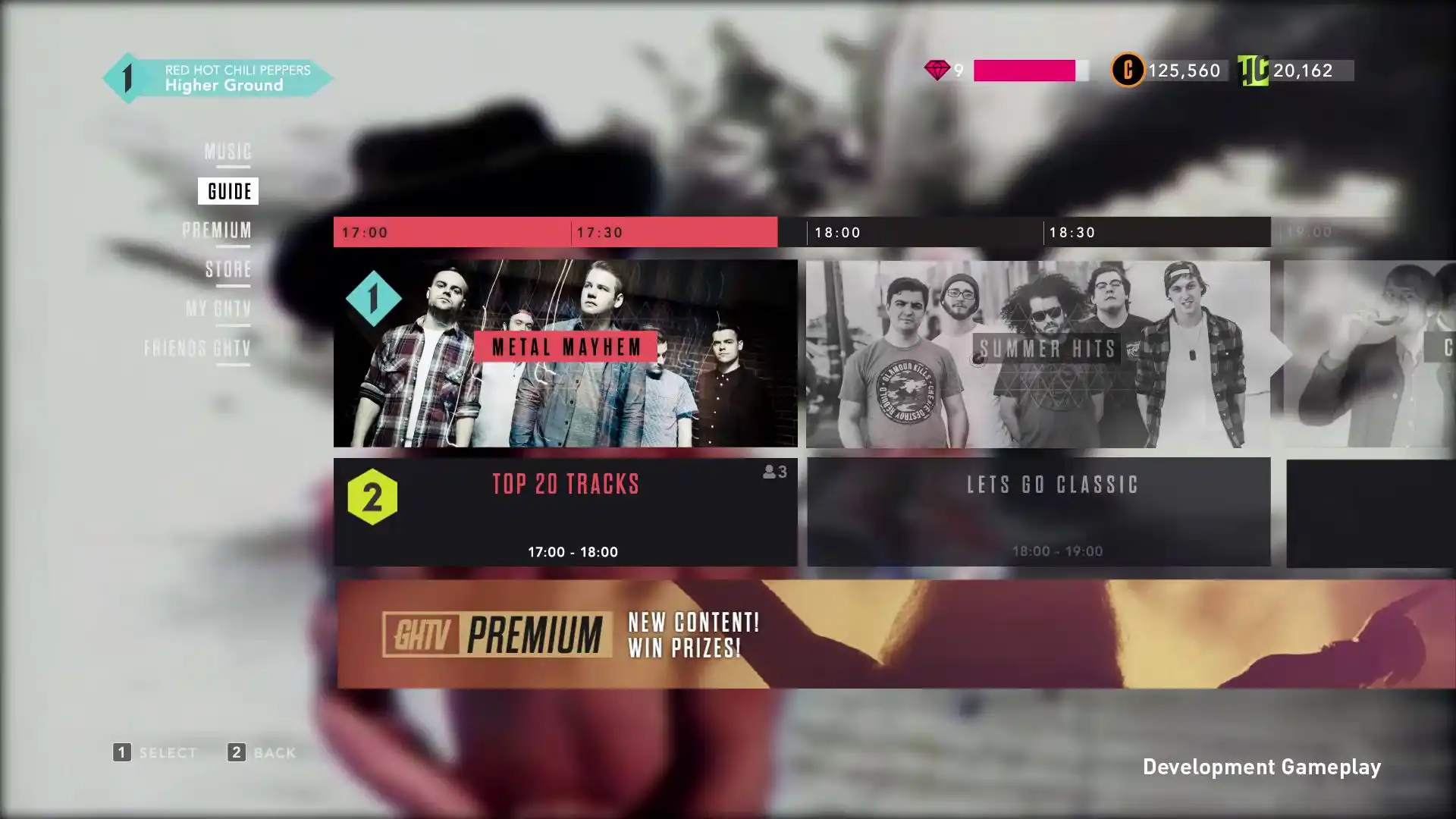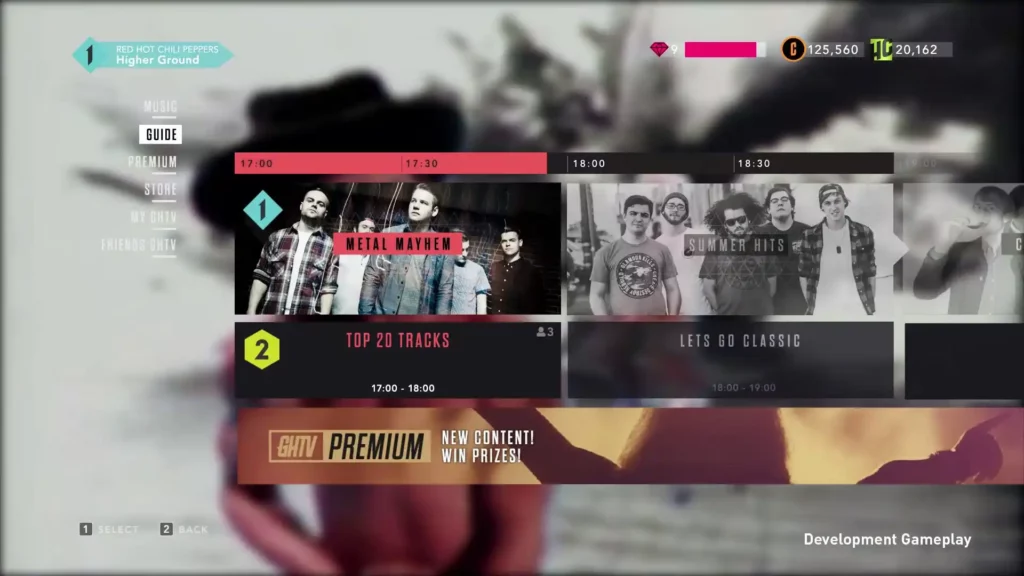 Multiplayer requires that you are either playing in free play or Guitar Hero TV modes, and requires that you have an extra guitar. There's also a companion app you can download and run that turns your phone into a microphone, it's kinda silly but it's also fun. This time around, it's pretty obvious that Guitar Hero Live was generally built around the solo experience.
While it's a great game, I encountered a weird issue with the Guitar Hero controller that would create issues with the syncing of the guitar and recognizing strums. After messing around with it and moving the sensor, it helped, but it seems to be more of a software bug than anything else. My experience with the mobile Bluetooth version though was surprisingly flawless, so if you want to play it on your Apple TV, you may have a generally better experience.
Final verdict
If you were looking for some sort of evolution to the music game genre, surprisingly Activision hit the nail square on the head. Not only is Guitar Hero Live a fun product to play, but it is also an enjoyable game to watch with its live performances and music videos. Rock Band 4 was hesitant to change, while I can't wait to see the future of Guitar Hero now!
(Note: As I encountered an issue with the controller, our Execution score was severely impacted.)
---
Disclaimer: this game was provided to KnowTechie by Activision for review purposes on Xbox One. The game is also available on PlayStation 3, PlayStation 4, Xbox 360, Wii U and IOS

The Good

The song selection out of the box is truly exceptional

The new guitar is really well made

While I loved the live presentation-style of the game, Guitar Hero TV is the coolest innovation I've seen in a bit

As someone who has been on a stage and performed in front of an audience, yeah they got it right

The Bad

Difficulty spikes are hilariously hard

The weird syncing issue I was having at times with the guitar

In order to go toe to toe with the high scorers on GHTV, you have to unlock certain things that take a while to grind out
Follow us on Flipboard, Google News, or Apple News