Review: Mesqool Dual Alarm Clock Radio – certainly a unique gadget
These days, alarm clocks are pretty boring. Thankfully, Mesqool is here to save the day with its alarm clock that displays the time via a laser.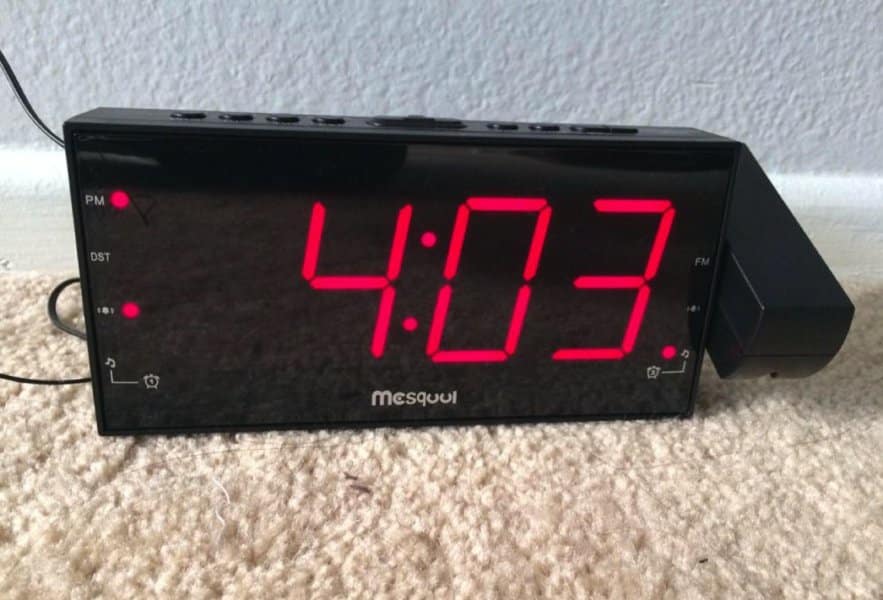 Mesqool is an electronics manufacturer no stranger to unique, but overall useful electronics. Their video cameras are reviewed quite highly on Amazon, for example. The company has now created a dual alarm clock with AM/FM radio. It may sound like just another "been there, done that" type of product. However, as they say in early-morning infomercials, "But wait, there's more!"
The alarm clock from Mesqool has two features not seen on any dollar store alarm clock. While the price may come off as a bit too high, the rest of the product has enough to make it worth the money.
Mesqool's alarm clock is perfect for weather scenarios

When a buyer opens the box, the alarm clock won't look too different from another one they have seen. It has a variety of buttons to toggle the radio and set the time. For alarm sounds, users can either have the grating "BEEP BEEP" or use the radio. It appears to be a generic alarm clock radio. Nothing terrible about it, though.
It is the alarm clock's ability to be a battery backup for other electronics, which sets it apart from the pack. Mesqool's alarm clock can be powered by two AAA batteries. It is a basic 5V 1A output, which is adequate for many small electronics. It may not be ideal for big-sized smartphones, such as the Samsung Galaxy Note series, though.
It's projection feature is the other big selling point. The projecting feature gives off a "Yankee Swap gift" vibe, which is in no way a bad thing. The clock has the ability to project the time onto a flat surface. It can be adjusted for size and clarity as well. It's actually neat to look at and works quite well.
These two aspects of the alarm clock make for a great device during a power outage.
Price is a bit steep
As of March 20th, the price for Mesqool's alarm is $30 and it's the sale price. A bit high for something that may come off as a bit gimmicky in certain customer's eyes.
For other customers, the price may not be terrible. Keep it as a great emergency device and something to show off once in a while. 
The Good
Fantastic for power outages/weather-related accidents
Projection feature is a lot cooler than it sounds
Overall gets the job done as an alarm clock
The Bad
Steep price
Generic looking
No option to use a phone's music settings.
Follow us on Flipboard, Google News, or Apple News