Review: Nest Cam – It's more than just a simple webcam
There's a lot of wireless security cameras available today, but I found the Nest Indoor camera to be simple and effective.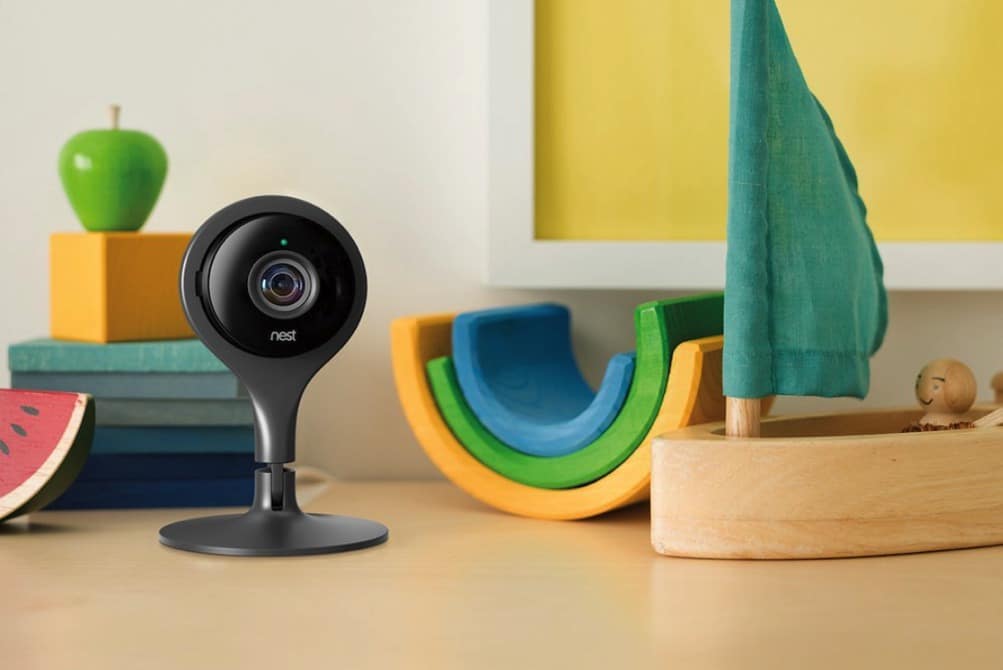 Getting a home security camera setup back in the day used to look like this:
A slew of hard-wired cameras
A DVR
Screwing a bunch of holes and snaking wires throughout the walls of your home
A monitor to watch all your cameras if you wanted to get fancy
A home security camera installation service to get everything up and running
Thanks to the internet, that's all changed. And the Nest Home Security cam is a perfect example of how switched the game up. In a nutshell, the Nest Cam security camera is a $200 internet-enabled security camera that allows you keep tabs of your home 24/7. It streams in 1080p HD quality and sends you a text or email notification anytime it catches someone or something in its field of sight.
I've had the device for 3 weeks now and I can honestly say this is one of the best and easiest security cams out there. Sure, I personally haven't tried them all, but at this point, it's pretty safe to say if I had to buy another one, the Nest Cam would be it.
The Good
Rotating magnetic mount and pivoting stand: I wanted to install the camera where it would be used the most, like somewhere it would matter if something valuable was taken. I slapped it somewhere in my office but didn't want to screw any holes into my walls so I opted to utilize the device's magnetic mount. I stuck it on my radiator and swiveled it around to find the perfect angle. You can pretty much squeeze it in anywhere.
Simple setup: Setup is pretty quick. The longest part I would say is registering and setting up your Nest account online. Connecting the camera to the app takes 5 minutes or less.
The Nest app is easy to navigate: After getting the camera connected to WiFi and my account all set up, I was able to see my stream via my smartphone in seconds. There are a couple of neat out-of-the-box settings you can adjust such as a home/away mode that essentially uses your phone location to determine if you're home or not. This way it can record while you're away and turn off when you are home.
Navigating around the app to see what your camera captured is fairly easy too. The Nest app displays all the events in a timeline-like stream. For example, the most recent stuff is at the top while all the previous events are at the bottom. Think of it like a Facebook Newsfeed. At first, it might be confusing since no previous events are captured, but once you get a couple of notifications, you'll see how it works itself out.
Amazing streaming quality: The Nest Cam streams in 1080p resolution (a 1920×1080, 2-megapixel resolution, to be exact). This means you see everything without having to sacrifice video quality. The quality of your stream comes in clutch when you're trying to pick up on a person's features or the details of a room.
Two-way talk: If you happen to catch an intruder or someone who just doesn't belong in the room your camera is setup in, you can actually hear in or talk to them via the built-in two-way talk feature. From the app, just hit the microphone button and scream away. When you watch the live stream from the Nest app, sound is automatically played.
It can see in the dark: Apparently, not all security cams offer this feature. Luckily, the Nest Cam does and it does a great job at it. You get the same 1080p streaming quality and the results are fantastic.
The Bad
Nest Aware: Unfortunately, to unlock Nest Cam's full potential of features, you'll have to cough up more money, on a monthly basis. A 30-day history costs $30 a month for the first camera or $300 for the year. Luckily, you can break it down to just 10 days for $10 per month. These days, server costs aren't cheap so it's totally understandable why Nest has to charge these fees. But then again, as a consumer, you expect that to be built into the price.
Final Verdict
If you're in the market for a home security camera setup and confused by all the many options available, I would definitely consider the Nest Cam. The setup is simple, the video resolution is crystal clear, and it's highly effective at catching whatever comes its way.
If you're looking to compare how the Nest Cam compares to some other players on the market, here's a really helpful chart courtesy of CNET:
| | ArcSoft Simplicam | Nest Cam | Dropcam Pro | Piper | Samsung SmartCam HD Pro |
| --- | --- | --- | --- | --- | --- |
| Price | $150 | $200 | $200 | $200 | $190 |
| Color | Black | Black | Black | White | White |
| Field of view (diagonal) | 107 degrees | 130 degrees | 130 degrees | 180 degrees | 128 degrees |
| Video quality | 1,280×720 | 1,920×1,080 | 1,280×720 | 1,920×1,080 | 1,920×1,080 |
| Cloud storage | Yes, starts at $5/month or $50/year for 1 day | Yes, starts at $10/month or $99/year for 10 days | Yes, starts at $10/month or $99/year for 7 days | Yes, saves up to 1,000 clips at no extra cost | No |
| Local storage | No | No | No | No | Yes, SD card |
| Glass lens | Yes | Yes | Yes | Yes | Yes |
| Night vision | Yes | Yes | Yes | No | Yes |
| Mobile app | Yes, Android and iOS | Yes, Android and iOS | Yes, Android and iOS | Yes, Android and iOS | Yes, Android and iOS |
| Web app | Yes | Yes | Yes | Yes | Yes |
| 2-way audio | Yes | Yes | Yes | Yes | Yes |
| Motion and sound alerts | Yes, and face recognition with cloud subscription | Yes | Yes | Yes | Yes |
| Protocol integration | No | No | No | Yes, Z-Wave | No |
The Good
Rotating magnetic mount and pivoting stand makes it a breeze to install
Simple setup
The Nest app is easy to navigate
Amazing streaming quality
Two-way talk
It can see in the dark
The Bad
Not a fan that you have to sign up to a monthly service to get more history
Follow us on Flipboard, Google News, or Apple News