Review: Rock Band 4 – and the crowd goes mild
Rock Band 4 is an experience that, well, isn't much to be excited about.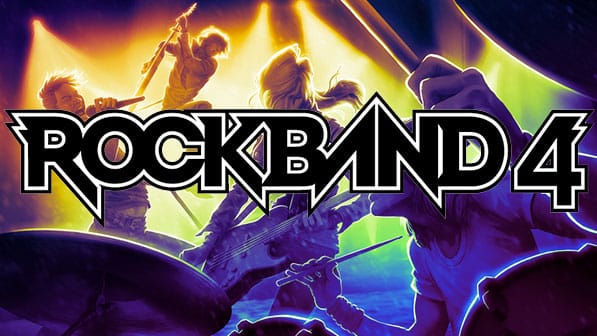 My wife and I spent many nights jamming out to an eclectic mix of songs during the rise of the first few Rock Bands. We had been pretty big into Dance Dance Revolution and Guitar Hero, so it was a natural progression. Harmonix sent me over the digital copy for Rock Band 4 for review and while I was initially excited to dust off my guitar and put the drums back together, I'd be lying if I said that I was reliving the glory days.
You see, we didn't buy a whole ton of Rock Band DLC. We had a few songs here or there, but actually shared accounts with someone who bought a lot themselves. Still, the enjoyment of the tracks on the disk were more than enough for us. When I turned on Rock Band 4, I went in slightly blind to the track list. Unfortunately there are maybe a handful of decent tracks on the disc. In fact, the second-rate collection of songs were so uninteresting that we actually only initially played for an hour before we decided to do something else.
Rock Band 4 boasts up the availability of songs, or at least claims it will be happening soon. If you had hope of getting your hands on the tracks from the first few games, well, you've unfortunately missed the boat on everything but Rock Band 3. Rock Band 3's ability to export to Rock Band 4 will be available until October 30th, so hopefully you already have the game. I didn't get Rock Band 3, so all the tracks I enjoyed through the first few games are lost to time itself. That is until Harmonix tries to sell them to me again in the future. Oh, those few songs that we did get that were DLC? They don't seem to be available either. Looks like I'm stuck jamming out to The Killers "Somebody Told Me" and Fall Out Boy's "Centuries" for longer than I'd like. I just wish I had "Shhh" back.
Visually, nothing has really changed that much in the presentation of the game. That is totally fine because that was something that I feel the Rock Band series has been exceptional at. I really did like that as you filled the special meter, the crowd really gets into the song. Singing along and cheering really enhances the experience. The first time I heard it happen, I was guilty of having a huge smile on my face.
Here's the truth about Rock Band 4: It's absolutely nothing but more of the same. There are a few tweaks and changes, most notably overdrive for the drums. I haven't and will not be saying much of the overall action of the game because I used my legacy PS3 equipment. Drums worked pretty good, and the mic had a few flubs, but the guitar didn't seem to register holding notes consistently or tilting for overdrive. I don't know if it is just because it is old, or if there's a bigger issue. However without any way to tell, I'm not going to go further into it, that's not fair at all. I'll probably try to get my hands on a newer guitar down the road, if I do, I'll update this accordingly.
Rock Band 4 was released after a 5 year hiatus, not to bring new users to the fold, but to capitalize on the existing market that is still running around doing their thing. I am a bit surprised because this does seem like a prime opportunity to create a new gaming generation of music game fans, but the game itself is the equivalent of going to a dive bar to see a tribute band of one of your favorite artists. It's nice to initially experience the familiarity, but the general experience seems to sour the longer you listen to them try to be something they're not.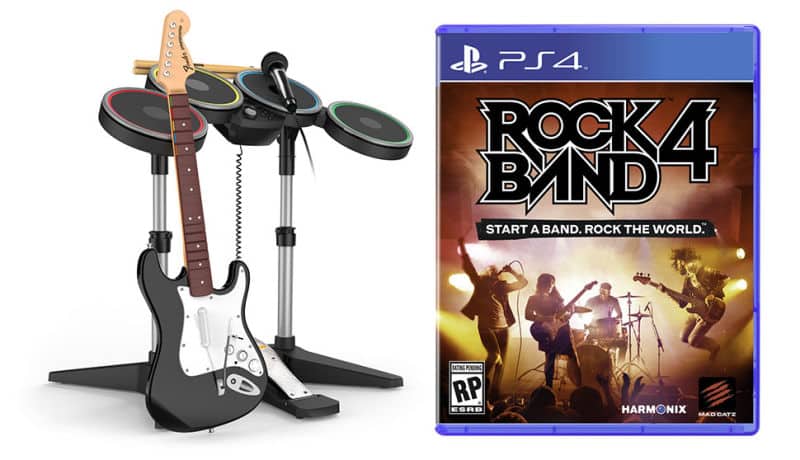 At this time, Rock Band 4 seems like it was rushed to get out to the public. They had an opportunity to make a triumphant return with awesome music but opted to have you turn around and purchase all the "great DLC" that they made available the day the game came out. Thanks, but no thanks, Harmonix. Hey things may improve as the game is supposed to evolve as time goes on, but I'd advise to wait it out to see where it goes and if better music becomes available for free or a cheaper on-disc solution.
Hopefully, Amplitude will be better. Now, I'm not so sure. 
The Good
The same Rock Band experience you remember
The changes to drum overdrive are way less spastic, really make you feel in the moment
If you had Rock Band Blitz, their music is available
The Bad
On disc track list is nothing short of disappointing
Most of the good songs are available to purchase separately, it's almost like they knew...
Not really a departure from the prior games, feels more like another notch on the belt and less like an evolution of the series
Follow us on Flipboard, Google News, or Apple News