Review: Rubi by KandyPens
There's a lot to like about the Rubi from KandyPens, but as regular Juul user, I found myself going back.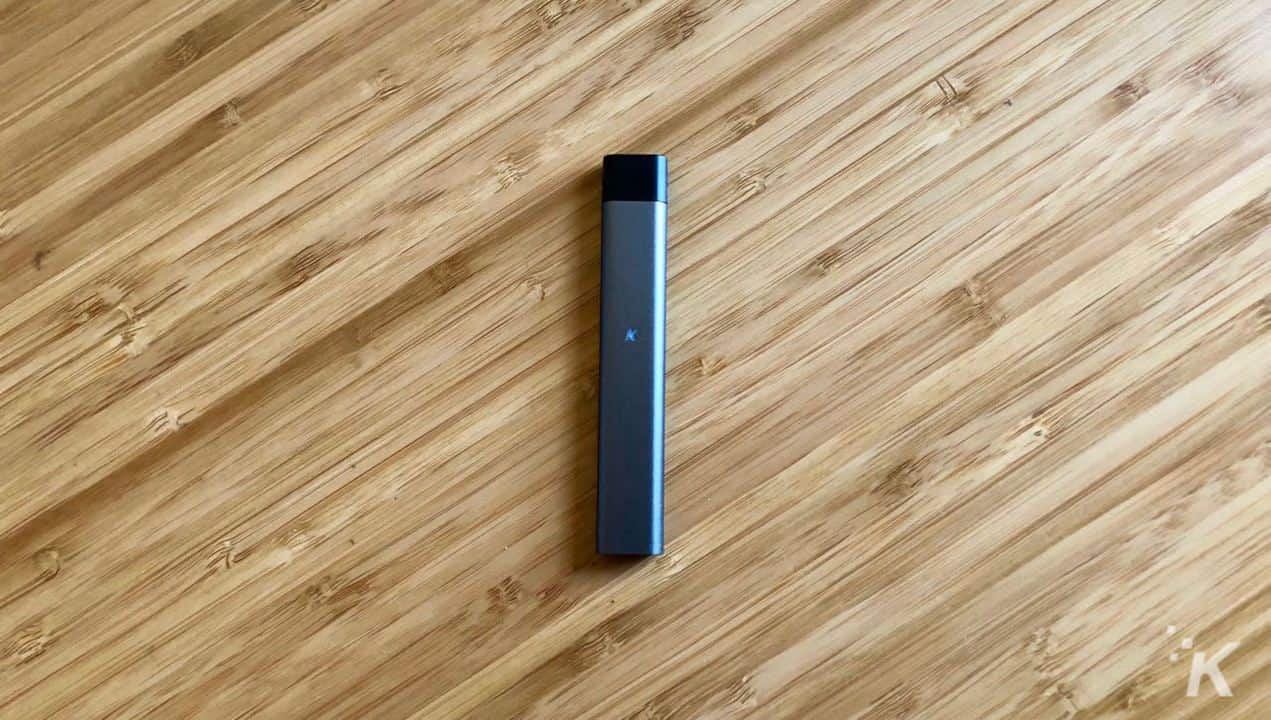 The Good
Slick elegant design
You can refill your own pods
No leaks or spit-back
Air activated
The Bad
Slightly stronger draw resistance
Micro USB cable to charge is kind of a hassle but it can come in extremely convenient
I've been a long time Juul user, and for the most part, I've been very happy with it. So happy that I keep throwing money away on their nicotine pods every week. Yup, it's a hassle and no doubt an expensive habit, but at the end of the day, it's a whole lot better and cheaper than smoking cigarettes.
Then, I was presented with this newly released option from KandyPens – the Rubi. Sure, it looks pretty much exactly like the Juul, but under the hood, it offers some unique features that you won't find on the Juul. For starters, you can refill your pods with whatever you like. This is a big deal and it was one of the biggest selling points for me. If I could find an e-liquid that was similar to Juul's flavor, I would drop it like a bad habit and make the switch to the Rubi.
Unfortunately, this wasn't the case, and I found myself going back to the Juul. Here's why.
While the Rubi is designed wonderfully, it looks like KandyPens designed their model after Juul's. They look almost identical. However, the Rubi is slightly longer and a couple of millimeters wider, but of course, this thing is insanely compact and portable so you won't have any issues with it taking up too much real estate in your pockets. My only gripe about its design is that there's no window near the mouthpiece that lets you know how much e-liquid you have left in your pod.
Filling your pods is insanely easy on the Rubi. Simply take out the mouthpiece from the device's body, remove the rubber mold, fill your e-liquid, and then place back the rubber mold back in its place. From here you'll need to prime the pod to ensure you don't get any dry hits. All in all, it's a relatively simple process. Just be sure to take your time or else you'll have a giant mess on your hands.
When it came to Rubi's performance, this is where it let me down. Compared to the Juul, the Rubi has a significantly noticeable draw resistance. Meaning, you'll get stronger hits on the Juul than you would with the Rubi. That was a huge deal breaker for me. With the Rubi, you get excellent vapor production, but I feel like it's holding back and you have to take extra long drags to get the effect you're looking. I don't get the same satisfaction I would get with the Juul when I hit the Rubi.
Another sticking point for me is how the Rubi charges. Anytime you need to charge the device, you'll need to plug it into a micro-USB connector, similar to how you would charge an Android smartphone. The Juul has this slick proprietary USB charger that you plug into any USB outlet, and then you magnetically place the Juul onto its charger. It's a whole lot easier than the Rubi. The only kicker is that if you lose it, you won't have any other way of charging it unless you have a spare handy. The plus side of having a micro-USB charger is that just about everyone has one, so if you're ever in a pinch, finding something to charge this with won't really be an issue.
There's a lot of benefits the Rubi has to offer, and if I wasn't a habitual Juul user, KandyPens offering sounds extremely enticing. I spend a lot of money on Juul pods every week and the idea of being able to buy whatever e-liquid is an extreme selling point. Imagine all the money I could save?
If this is your first foray into the world of e-cigs, The Rubi is probably the best route to take if you're not looking to make a huge investment in a bad habit. But if you're a regular Juul user who's tired of constantly spending money on pods, give it a shot, but in my experience, you'll probably end up going back to the Juul.
The Rubi costs $50, but of course, you'll have to buy your e-liquid. The good thing is you can use anything you want. Whether it's nicotine, CBD, or THC – that's the biggest advantage about the Rubi. The Juul Starter Pack costs the same, but it includes a sample pack of e-liquid flavors. This is where the Rubi shines because a typical Juul user will spend on average anywhere from $150-$250 a month, whereas a Rubi user will probably spend on average $65-85 per month. Do the math.
Either way the vape clears, it's all going to come down to personal preference, and since I've been rocking the Juul for a hot minute, it's going to be hard for me to make the switch. But, considering all the cost savings I would get with the Rubi, the option is extremely enticing.
A sample unit was provided to KnowTechie for the purpose of this review.
The Good
Slick elegant design
You can refill your own pods
No leaks or spit-back
Air activated
The Bad
Slightly stronger draw resistance
Micro usb cable to charge is kind of a hassle
Follow us on Flipboard, Google News, or Apple News