Review: The Bolt Pro 2 portable vaporizer by Dabado
If you are a novice or pro dabber and are in the market for a quality built electric portable rig that cuts no corners, than you really should consider the Bolt Pro 2 by Dabado.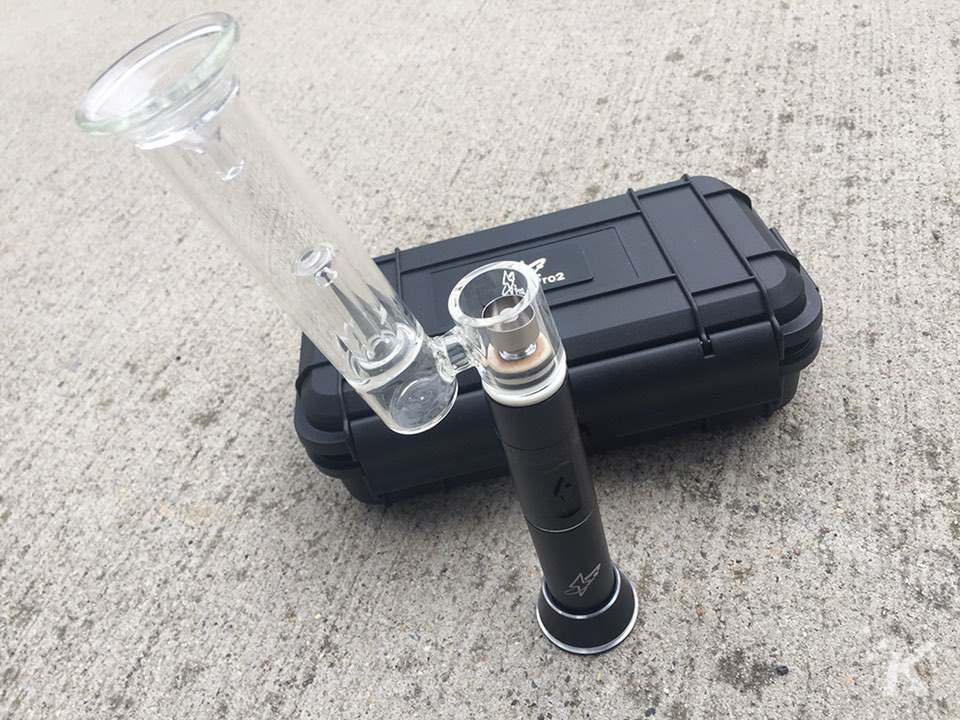 The Good
Really nice case
Great vapor quality and production
Solid design and build
Nice LCD with Precise Temperature Controls
The Bad
No bypass feature to vape while it is charging
Do you remember the first time you took a dab? Your friend pulled out a torch, and you were like, is this guy going to burn his house down or what? Well, with Dabado's new Bolt Pro 2 series, you can now finally ditch the torch. We got our hands on Dabado's new portable electric all in one kit, and quite frankly, it is very impressive, to say the least. Keep on reading if you're considering pulling the trigger on a new portable electric rig.
First Impressions
If first impressions are important to you then you will really like the look of the Bolt Pro 2. Starting with the new case that looks like something straight out of Call of Duty. It seems like Dabado has really pushed it to the limits with the Bolt Pro 2 kit, which you'll find snuggled inside with everything else you'll need to get your session started. Except for the concentrates or waxes of course, which is what the Bolt Pro 2 is designed for.
In the Box:
1 Bolt Pro 2
1 Bolt Pro 2 Case
1 Extra Heating Rod
1 Spill-Proof Glass Attachment
1 Quartz Nail
1 Titanium Nail
1 Ceramic Nail
Design
The Bolt Pro 2 is Dabado's top of the line portable electric rig to date. It comes in a sexy all-black matte metallic finish that looks high tech and feels very solid in your hand. On the outside, the Bolt Pro 2 has a digital display that allows the user to have complete control of the temperature they desire. You can go from 200°F to 900°F degrees with the touch of a button which activates the heating element, and in seconds it's ready to dab. Dabado provides three nails that can easily be swapped out to accommodate whatever consistency of materials you want to use.
Performance
So does the Bolt Pro 2 live up to the hype? Well, I've been testing it out for a few weeks now and can honestly say it's the real deal. It can pretty much handle any size dab you throw at it with it's XL nail and rod that's twice the size of the Bolt 2. It heats up very fast and produces huge tasty clouds of vapor every time.
The Bolt Pro 2 comes with a hand blown glass water diffuser to make each hit as smooth as possible. You can purchase additional glass pieces if you desire variety. With the 18650 mAh rechargeable battery included, you'll get about 25 sessions on a full charge, and the device can be charged using the micro-USB charger that's included. Unfortunately, it cannot be used while charging, so I would recommend purchasing a second battery as a backup.
Final Thoughts
As I've come across different vaporizers throughout my life, the Bolt Pro 2 is in a league of its own. From the XL nail to the LED display and the ability to control the heating temperature, it will be hard to find something this high tech at just $199. But if the price is too high for you, Dabado also has the Bolt 2 which is like the little brother at just $129.99, you won't get the XL nails, but you will get a digital display.
If you are a novice or pro dabber and are in the market for a quality built portable electric rig that cuts no corners, then you really should consider the Bolt Pro 2 by Dabado. Oh, and by the way, Dabado also offers some designer clothing apparel you can rock! Check them out and all their gadgets here.
The Good
Really nice case
Great vapor quality and production
Solid design and build
Nice LCD with  Precise Temperature Controls
Easy to use but make sure to read the instructions provided for optimum use
Comes with a hand blown glass water diffusers for smooth vapor
The Bad
No bypass feature to vape while it is charging
Follow us on Flipboard, Google News, or Apple News