Review: Firefly 2 portable vaporizer – It's pricey but worth every penny
When a company releases a new and improved version of their already successful vape, chances are it's good, and the Firefly 2 is a pure testament to that.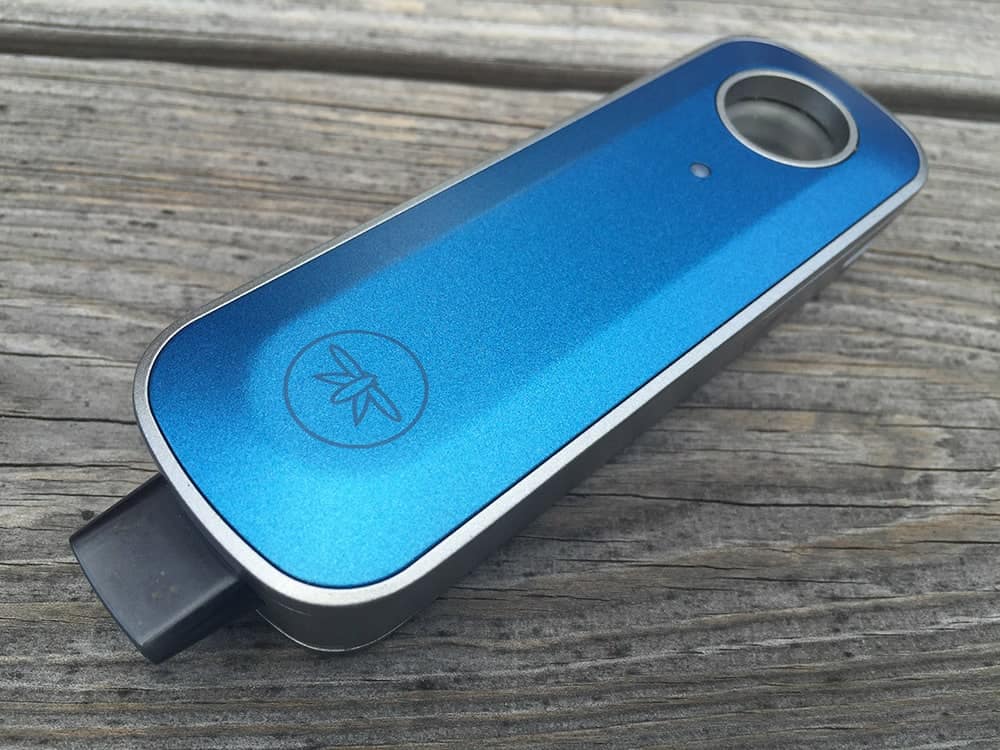 About a year ago, we got a chance to review the highly praised Firefly vaporizer. Fast forward a year later and the company released a new and improved version, the Firefly 2. I was very excited to get my hands on the most anticipated portable vaporizer of 2016, and when I got it, boy was I immediately impressed.
The Firefly 2 portable vaporizer is a huge improvement from its predecessor. It seems as though the guys at Firefly really listened to customer feedback with this second edition. If you want to find out why people are raving over it and some consider it the best portable of 2016, you just might want to continue reading below.
Here's what's in the box:
Firefly 2 Vaporizer
2 Rechargeable Batteries
Charging Dock
USB 3.0 Cable
Cleaning Kit
3x Concentrate Pads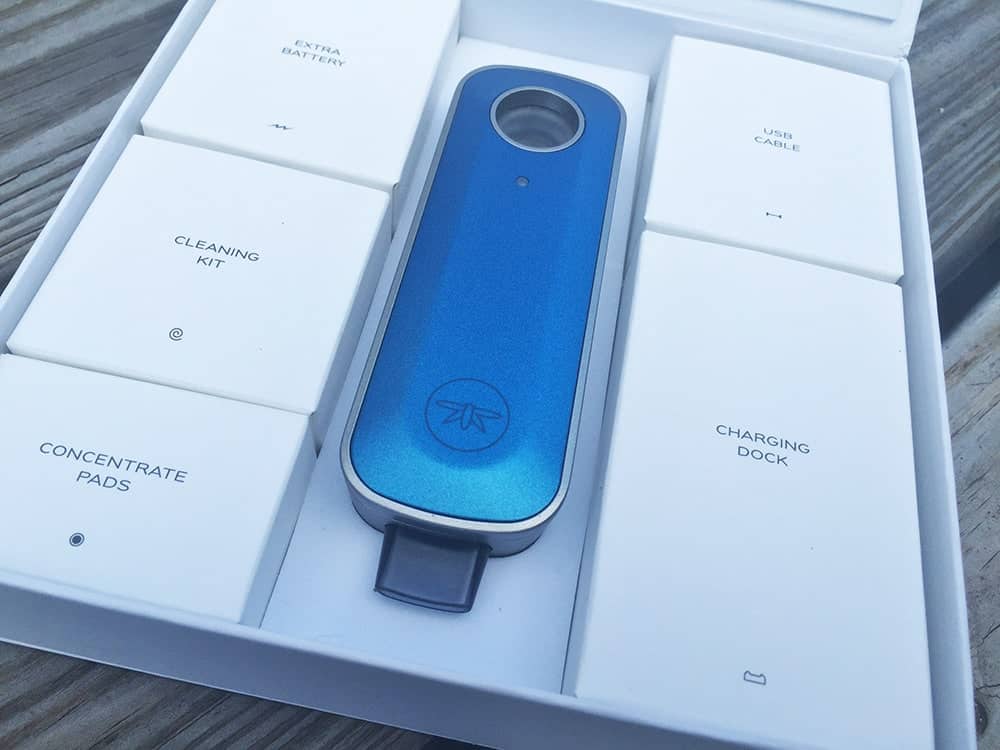 First Impressions
When the original Firefly was released a few years back it was praised for the quality of vaporizer it produced, and in many ways was ahead of its time – but it wasn't perfect. It was heavy and bulky, and the battery life wasn't all that great, making it more of a portable home vaporizer more than anything. It also wasn't easy to use for beginners.
Well, with the 2nd edition they addressed these issues and more! Did I mention that it also comes with an app?
Design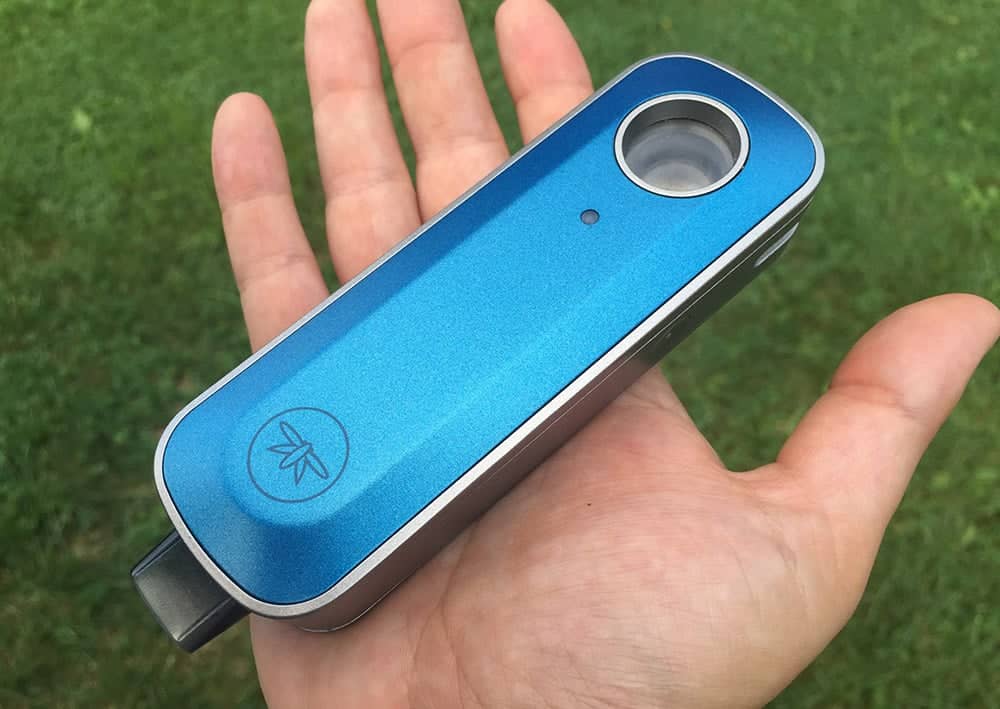 The redesign of the Fire Fly 2 is just stunning. It's a huge improvement over the original Firefly. To start, the Firefly 2 is about 55% lighter and 33% smaller than the original, making it one of the lightest and smallest convection vaporizers on the market.
If I didn't know better, I'd mistake it for a product that belongs in the Apple store.
On the outside the Firefly 2 looks amazingly sexy and very high tech. If I didn't know better, I'd mistake it for a product that belongs in the Apple store. The Firefly 2 comes with magnetic removal lid that covers the entire front end. On the top of the lid you'll find a small light indicator and a circular glass window to see your material heating up inside the ceramic heating element. Which is pretty cool if you ask me.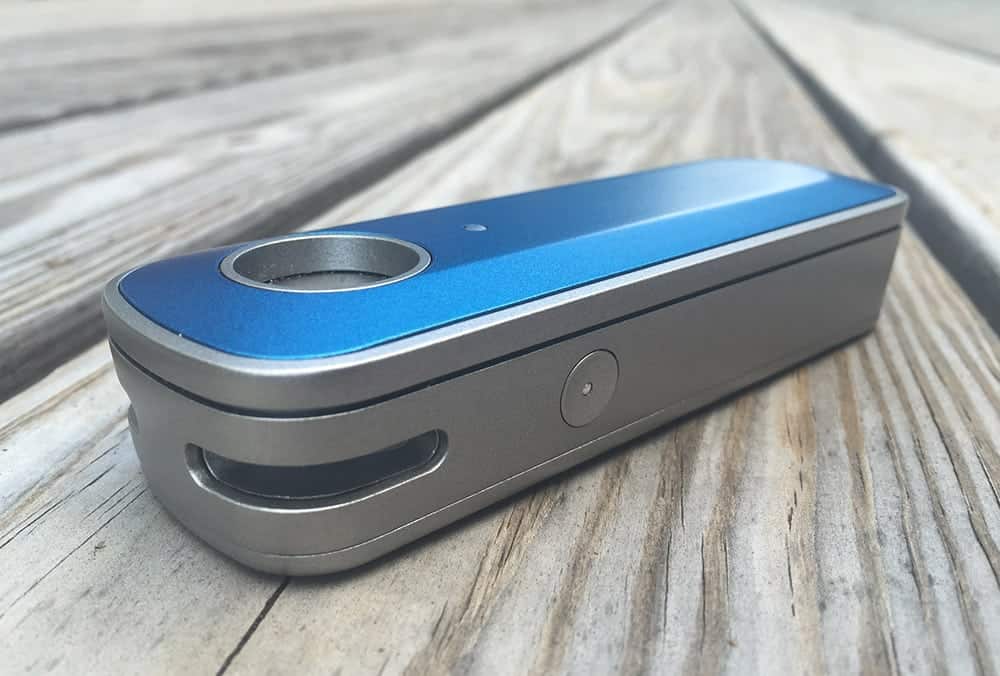 The Firefly 2 I tested came with a blue lid but you can choose from other colors such as black, gold, white, or, red. On the sides of the Firefly there's touch sensors that you simply place your finger on and it will activate the heating chamber in just about 3 seconds. The Firefly 2 feels like its made using quality materials and in a quality controlled production line. I didn't notice any imperfections. The company claims to have used aerospace materials on the Firefly 2 and it certainly shows.
Performance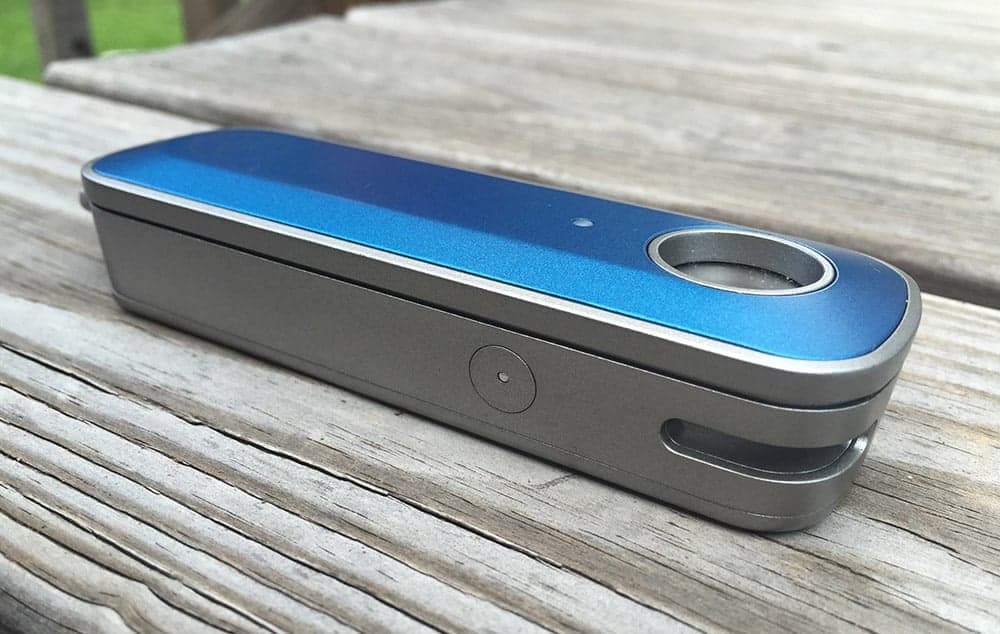 As far as performance goes, the Firefly 2 is one of the best out there. With a glass vapor path and a ceramic heating chamber, the Firefly 2 produces smooth tasty flavorful vapor every time. Since the Firefly uses instant heating, it's one of the most efficient vaporizers that I've tested.
It's one of the most efficient vaporizers that I've tested.
Another area they tackled is the battery life. The Firefly 2 has improved battery technology and right out of the box you get two 750 mah batteries. So now you can truly call it a portable vaporizer for even over night adventures. But if you find yourself out of juice, it only takes about 45 minutes to charge with the USB cradle.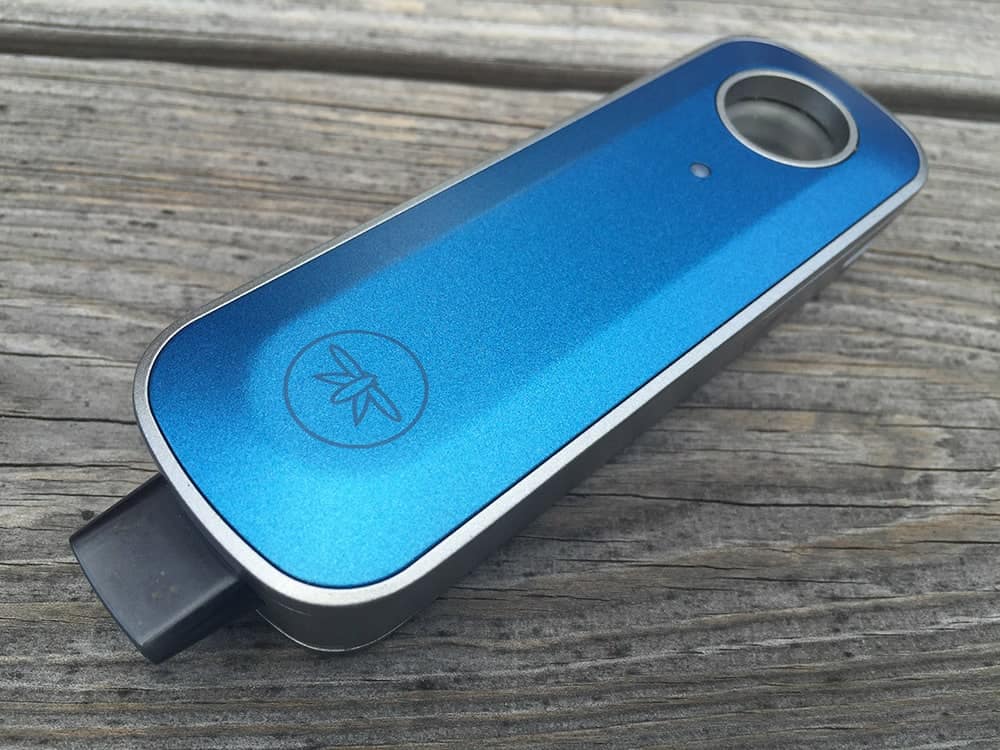 The Firefly 2 also comes with an app that connects via Bluetooth to your smartphone. With the app you can adjust the temperature by switching between the 6 different heat settings – from low, medium low, medium high, high, and concentrates.
The Firefly 2 is probably one of the best portable vaporizers in 2016.
You can also see how much battery life you have left and assign which touch sensor to activate it. I found that the Firefly 2 works best by starting in the medium setting and finishing with the medium high. There is also a concentrate setting that works great on waxes and oils using the provided pads.
Final Verdict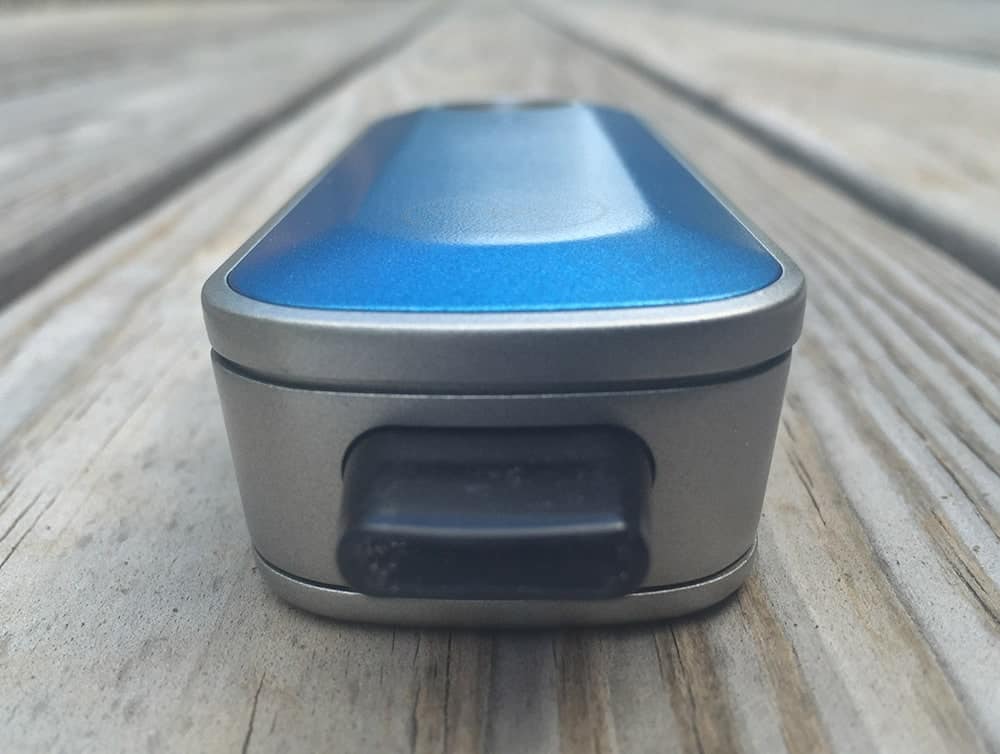 The Firefly 2 is probably one of the best portable vaporizers in 2016, in my opinion. It has all the bells and whistles you could expect from a vape and even an app. To boot, it produces one of the best tasting vapor quality in its class.
It is by far the fastest and most efficient. With its improved battery technology and its glass vapor path, it's awesome. Now, awesomeness doesn't come at a cheap price. The Firefly 2 is a little pricey coming in at $329. But like they say,  you get what you pay for.
That being said if you are looking for a quality vaporizer and you have the funds for it, you will definitely not be disappointed if you end up going with the Firefly 2. Oh, and let's not forget, it comes also comes with a 2-year warranty.
The Good
Superb Smooth tasting vapor throughout an entire bowl.
Super fast convection vapor in 3 seconds
Comes with a customizable app
One of the most efficient portable vaporizer.
Improved battery life and includes two batteries.
The Bad
A small amount of resistance.
Follow us on Flipboard, Google News, or Apple News