Review: The V2 Pro Series 7 Portable Vaporizer
We got our hands on the V2 Pro Series 7 3-in-1 portable vaporizer and found it to be quite resourceful.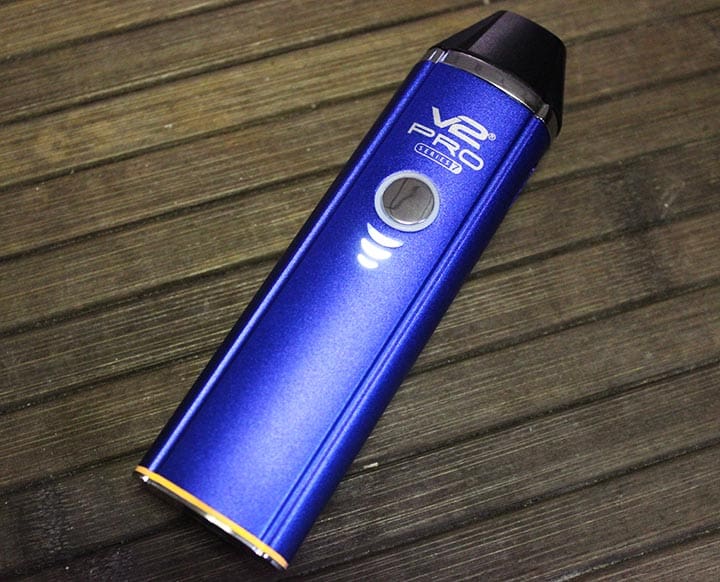 It's not everyday that we get the chance to review a product like the Pro Series 7 by V2. At first, I was a bit skeptical because most multi-use products never really get off the ground running. But, when it comes to an all-in-one vaporizer, the V2 Pro Series 7 breaks the mold. Not only does it work great, it does it in style. If you look up versatile in the dictionary you might just find a picture of the Pro Series 7 next to it.
First Impressions:
With its smooth interchangeable magnetic Smart cartridge system, the V2 Pro Series 7 is impressive and versatile. The Series 7 is quite an improvement from the Series 3 in almost every category. It has a larger battery and holds more material than the Series 3. It is small and feels like a well-built unit with a lasting appeal.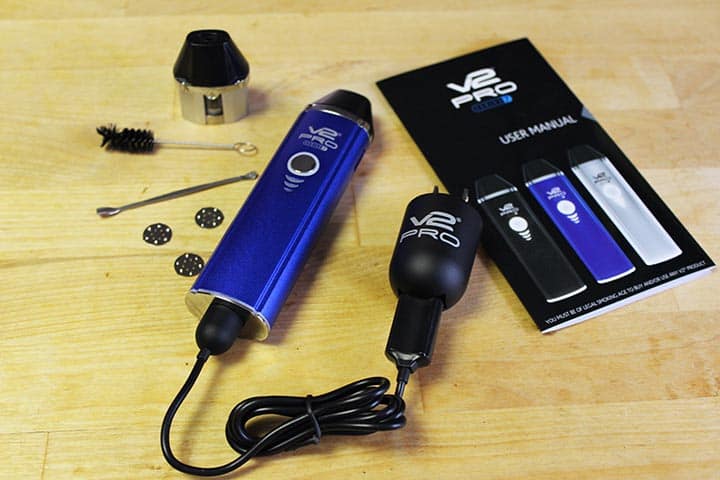 Here's what's in the box:
Series 7 Vaporizer
Series 7 E-Liquid Cartridge
Series 7 Dry Herb Cartridge
Series 7 Magnetic USB Charger & Wall Adapter
Cleaning Brush & Cleaning tool
Extra Screens (x2)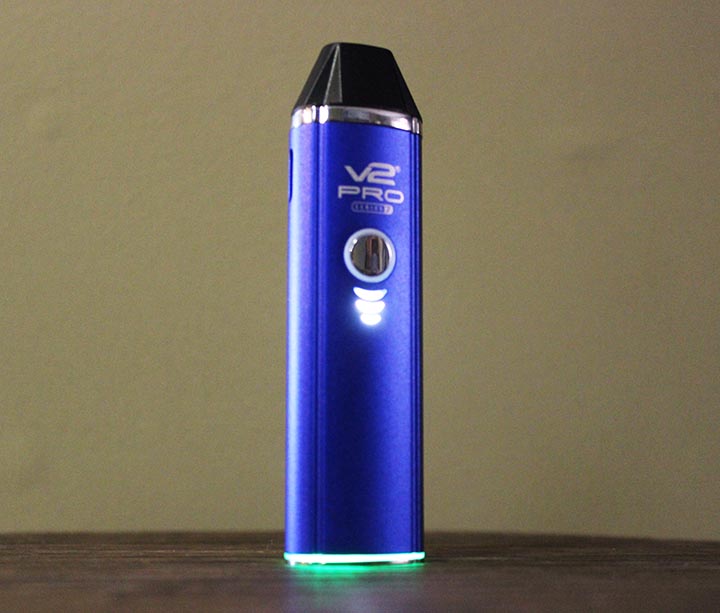 Design:
The V2 Pro Series 7 comes in a slick brushed aluminum finish that is available in 3 colors: blue, black, and steel. On the front of the unit you'll find a multi-functional led button that controls the power and the 3 available temperature settings. The Series 7 also has 3 small led lights that indicate which temperature setting is being used. On the bottom of the unit there's an led light indicator that glows from red to green when it is charging and heating. Honestly, it makes the device look more like a spaceship than a portable vaporizer.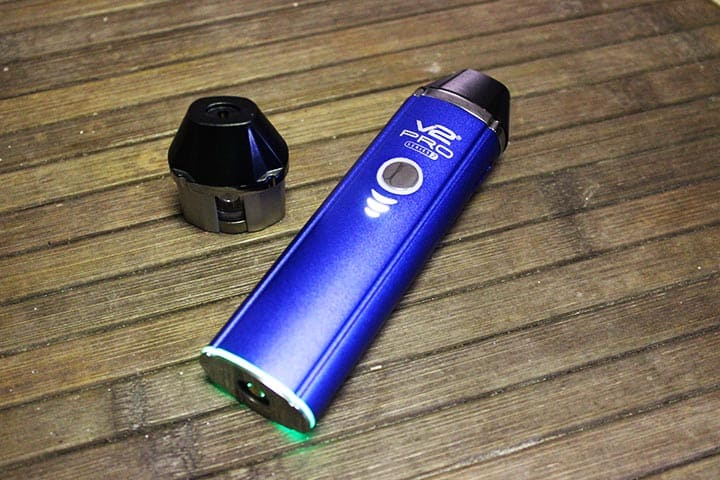 Performance:
The V2 Pro Series 7 has a Smart Cartridge technology that allows you to use e-liquids or loose leaf material by simply swapping out the cartridges. The company plans on releasing a wax cartridge in the near future that will make the V2 Pro Series 7 extremely resourceful. The Series 7 uses a ceramic heating element and is considered a convection vaporizer. It sports an 1800mah rechargeable battery that will give you about an hour and half of continuous use. The device fully charges in about 2 hours using a savvy magnetic charging cable with a USB wall adapter. You can also use the unit while it is charging which is definitely a plus if you every run out of juice. As for a maintenance goes, the V2 is very easy to clean with the cleaning brush provided.
Heat Temperature setting:
Low heat setting (392F)
Medium heat setting (419F)
High heat setting (437F)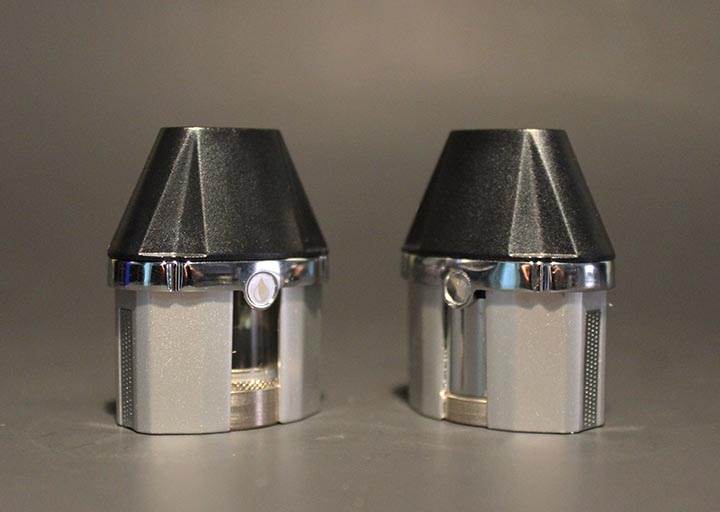 Vapor Quality with Loose Leaf Cartridge:
With the Series 7, you simply set your heat preference and in about 30 seconds you are ready to go. If your preference it great tasting vapor, the low heat setting is best. If you like larger amounts of vapor the medium heat setting works great. The Series 7 fits about a .04 of dry materials, giving it a larger than average size oven chamber for a portable vaporizer. With the Series 7, I found that it has a bit of resistance so I would recommend pulling a little harder than usual. But overall the V2 Pro Series 7 really provides a very pleasant vaping experience for loose-leaf materials.
Vapor Quality with e-liquid Cartridge:
Considering that I am not really into e-liquids I have to say it was a very pleasant experience. But for someone who likes e-liquids and loose leaf dry materials this is the way to go. I found that the vapor was quite tasty and it provided decent size vapor clouds using the e-liquids. We were provided with a flavor sampler pack and I was quite impressed with the different flavors.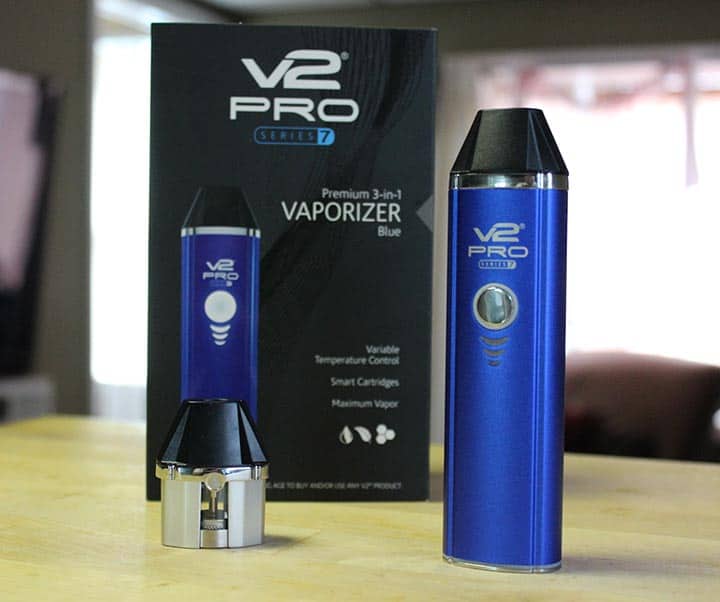 Final Verdict:
If you are looking for the best portable 3-in-1 vaporizer, look no further. When V2 designed the Series 7, they had performance and versatility in mind. The one of kind Smart Cartridge technology is a game changer and quite frankly what sets the V2 Pro Series 7 apart from the competition. Did I also mention that it comes with a 6-month warranty and priced at just under $170, it won't break the bank. You can also purchase the different e-liquids directly from V2 as well additional cartridges and other accessories. 
The Good
Affordable price
Well-built 3-1 design
The Bad
A little bit of resistance when you puff
Follow us on Flipboard, Google News, or Apple News