Review: Yoder YS640s pellet grill
There's nothing quite like smoked meats from a pellet grill.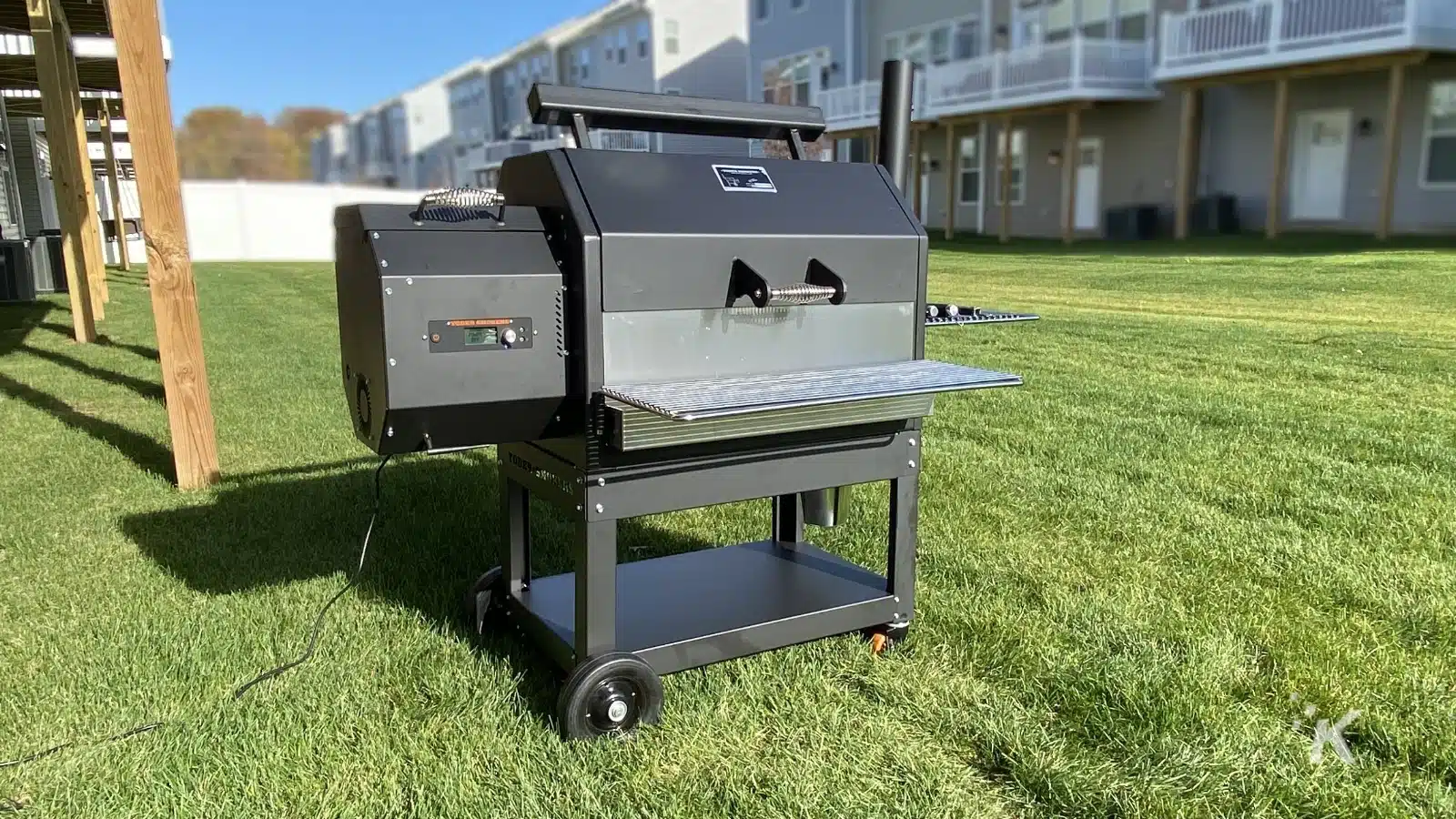 It's now summer, and barbeque season is in full swing. There's almost nothing better during the hot, sweltering months than saucing up meat and slapping it on hot steel.
The primal joy of burning wood in a pellet grill adds to the excitement and is the recipe for a perfect family gathering.
The thing is, many grills, smokers, or pits aren't built to last. For the most part, they're constructed from thin metals or worse. That's where Yoder Smokers' competition-grade pellet grills enter the picture.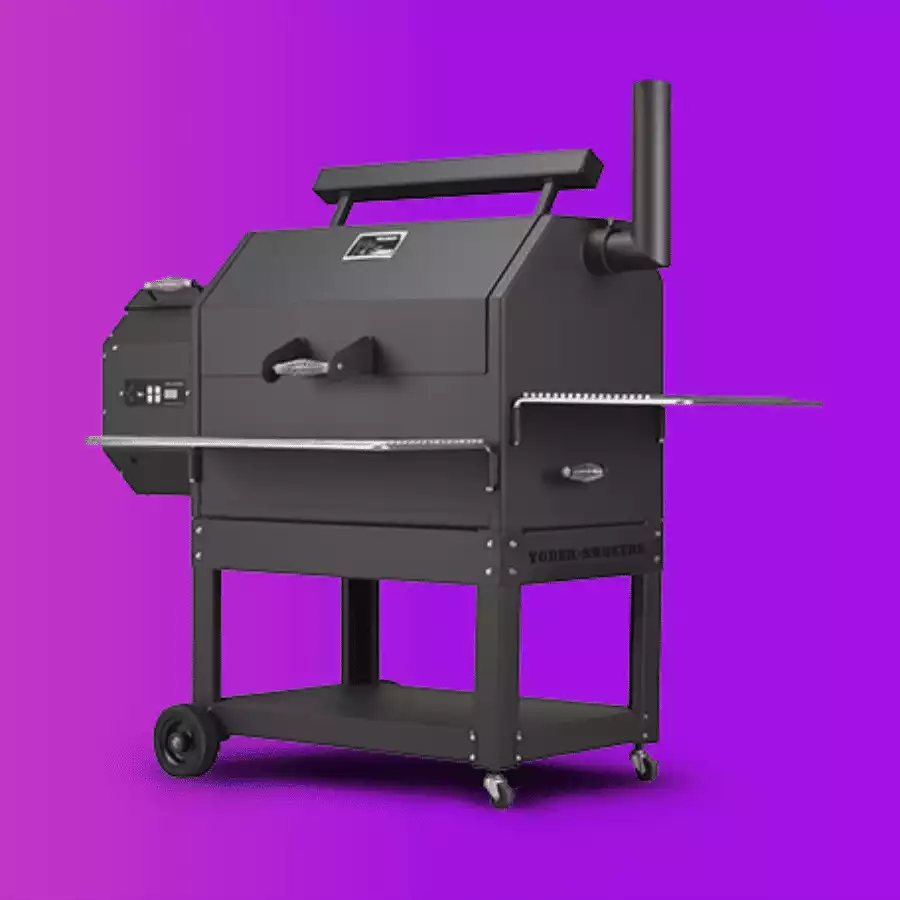 Yoder Smokers YS640s Pellet Grill
Quick Verdict: The Yoder YS640s pellet grill makes it simple for anyone to be a pitmaster. The thick steel construction and well-controlled firebox mean you can worry about the recipe instead of the grill, resulting in perfectly smoked or grilled food every time. At $2,399, it isn't cheap, but it will give you years of quality, repeatable cooking.
Pros:
American Made

1,070 square inches of cook space can fit tons of food

Versatile in its ability to smoke and direct-flame grill
Cons:
Expensive

Extremely heavy (comes on a pallet and needs multiple people to move)

The pellet hopper could be larger, and no sensor to say when empty
Check Availability
See at Yoder
KnowTechie is supported by its audience, so if you buy something through our links, we may get a small share of the sale.
These bad boys use so much steel that even the smallest weighs 255 pounds. That's a lot of quality to keep in heat and keep in the essential blue smoke for the perfect smoked meats.
We're reviewing the $2,399 Yoder YS640s today. It's a midrange pellet grill with automated temperature controls, keeping temps within 5-25 degrees of your setpoint.
Yes, that means your grill is controllable by Wi-Fi, and we'll show you why that's a good thing.
Who is the Yoder YS640s for?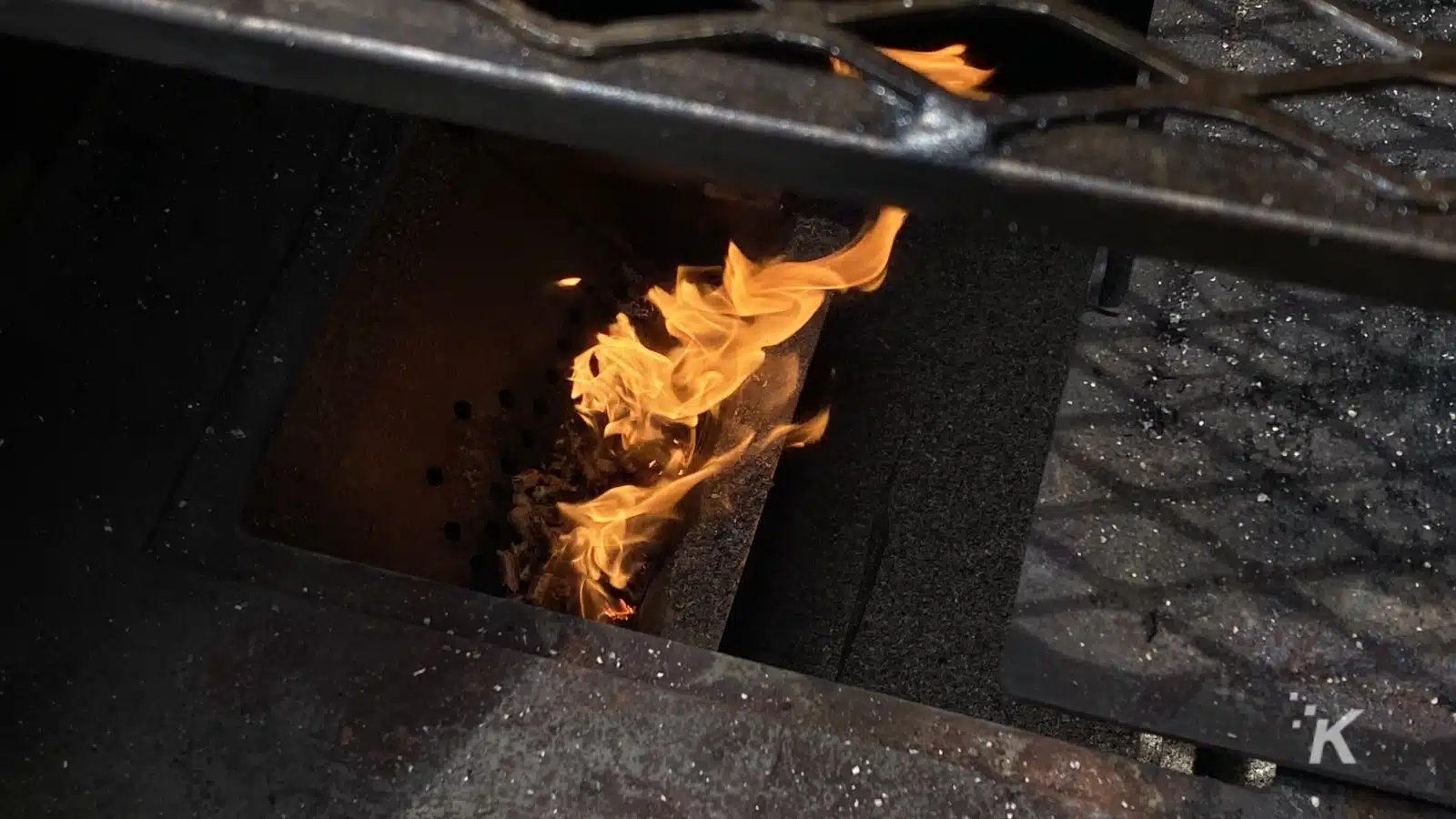 This is an overbuilt BBQ machine made for serious grill masters or anyone with dreams of becoming one; it's that easy to use. From low-and-slow smoking sessions to direct-fire grilling over 700f, this grill can do it all.
Meet Therabody's All-New TheraFace Mask
TheraFace Mask is a breakthrough FDA-cleared LED skincare mask with added tension-relieving vibration therapy. Clinically proven results include firmer, smoother, healthier-looking skin with a visible reduction in fine lines, wrinkles, and uneven tone in as little as 8 weeks
A key factor is the pellet fuel system. A small firebox ignited by a ceramic electronic starter provides all the heat.
The pellets themselves are made from compressed sawdust, repurposing what would otherwise be waste from sawmills. An auger feeds the tightly packed pellets into the firebox in a precise amount to finely control temperatures.
Price, design, and features of the Yoder YS640s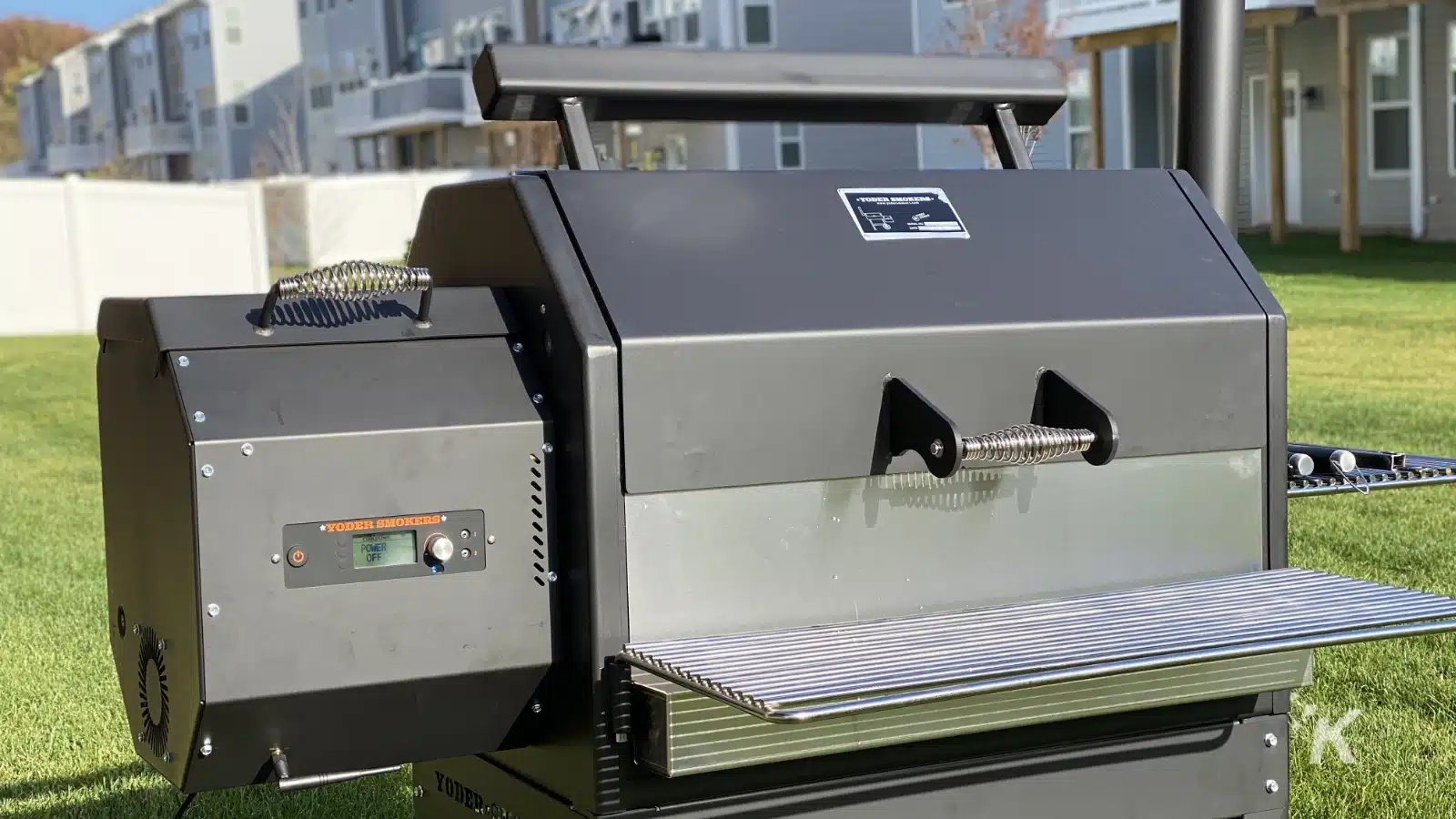 The Yoder YS640s is available for $2,399 (plus shipping) directly from Yoder or from a wide range of vendors specializing in barbeque equipment.
When shipped, it comes on a pallet, and the basic cart we are reviewing comes disassembled. You'll want several people to put it together as the thick steel cooking chamber is unwieldy to move around.
Yoder does make a smaller version of this grill, the YS480s. It's around 270 fewer square inches of cook surface, which could present issues depending on how many people you regularly cook for.
To my recollection, I've never heard someone say, "Dang, I wish I'd bought a smaller grill," but I've heard the opposite on numerous occasions. The YS640s is large enough for two packer-sized briskets or multiple racks of ribs (with any multi-rack accessory).
| | | |
| --- | --- | --- |
| Specification / Feature | | Comments / Notes |
| Cooking Space | 1,070 square inches | Four 8-inch by 19.75-inch cook grates, plus 2nd level 15.5-inch by 28-inch shelf |
| Dimensions | 61.3-inch W x 55-inch H x 36.1-inch D | The actual cook box is smaller, but this includes the shelves, which make it substantially wider and deeper if going on a deck with limited space. |
| Weight | 335 lbs | The solid construction is reflected in the overall weight. |
| Cooking Chamber Construction | 1/8″ Steel | Best in class. |
| Grill Grates | Round bar bottom grates, top shelf of expanded sheet. | Bottom grates are great for grilling. The top shelf is perfect for smoking. You can get multiple accessories to add more versatility |
| Temperature Range | 150F-600F | Wide range of temperatures for slow and low smoking or grilling. |
| Hopper Capacity | 20lbs | The hopper could be bigger. Pellet consumption ranges from 1 1/2lbs to 4lbs per hour, and this is a big grill. |
| WiFi Connectivity | Yes. Via Fireboard Controller and App | Very strong WiFi connectivity thanks to large antenna.. Fireboard Phone App gives a lot of control and monitoring. |
| Direct Flame Grilling | Yes | Yoder includes an access door in their heat diffuser which allows direct flames from the fire pot to the grill for a 700f max temperature. |
Yoder offers a wide selection of accessories for its grills, some of which are essential in our eyes.
For instance, the stainless steel grease catcher is a must-have, as fat runs off the hinged lid and otherwise makes a mess of the front panels.
So is the all-weather cover, which keeps moisture off your grill when you're not using it. Yoder sells an official tailored cover, but you can likely find comparable third-party options as well.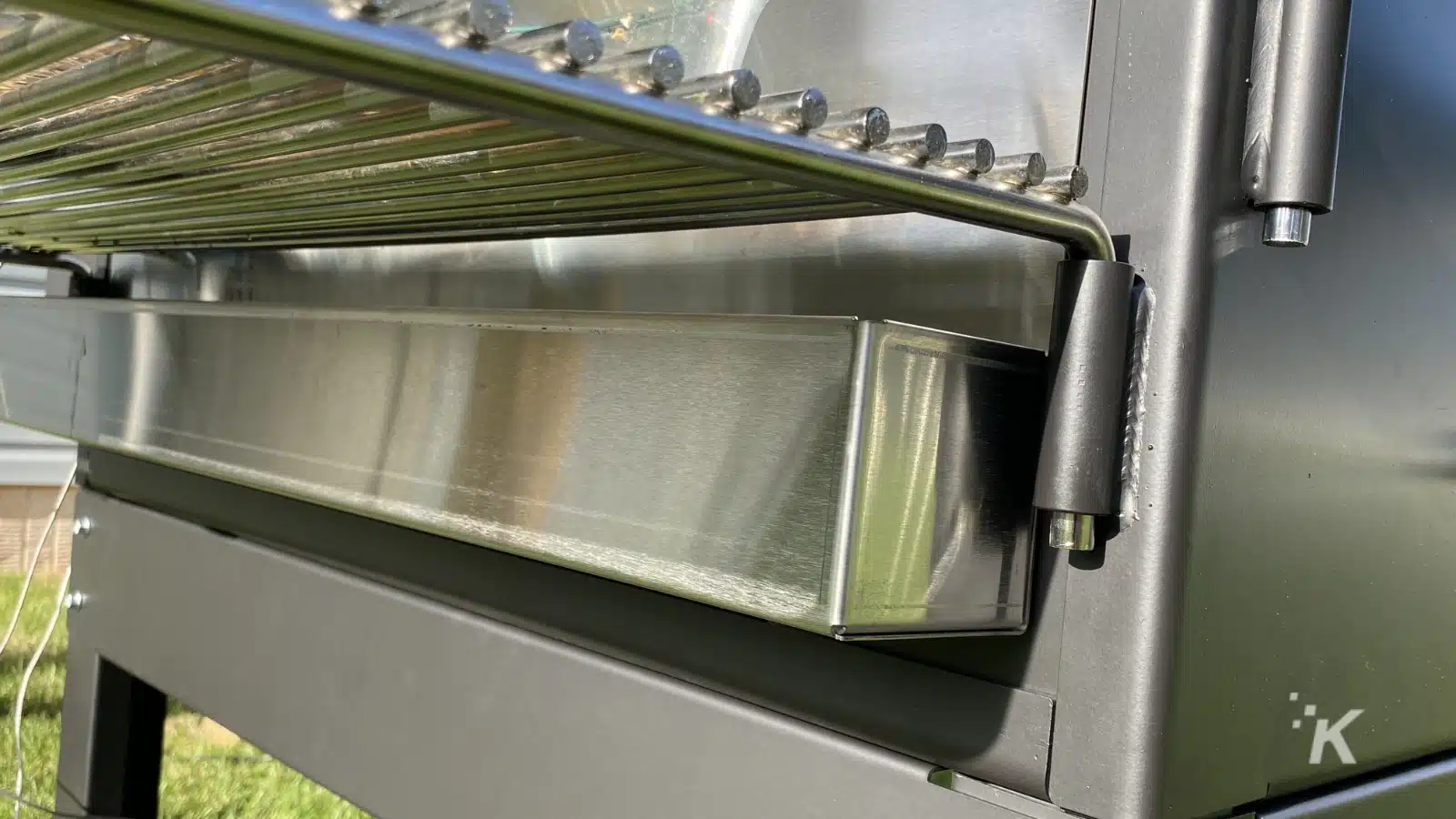 For direct grilling fans, the Grillgrate accessory is a must-buy. These aluminum inserts slot together to either create peaks for searing grill marks on steaks or a flat surface for cooking burgers when flipped over.
And what grill would be complete without a cast-iron griddle for cooking breakfasts, fajitas, or anything else that needs consistent heat?
Alternatively, griddles from other brands like Lodge can work as well, though they may shift around slightly on top of the grill grates.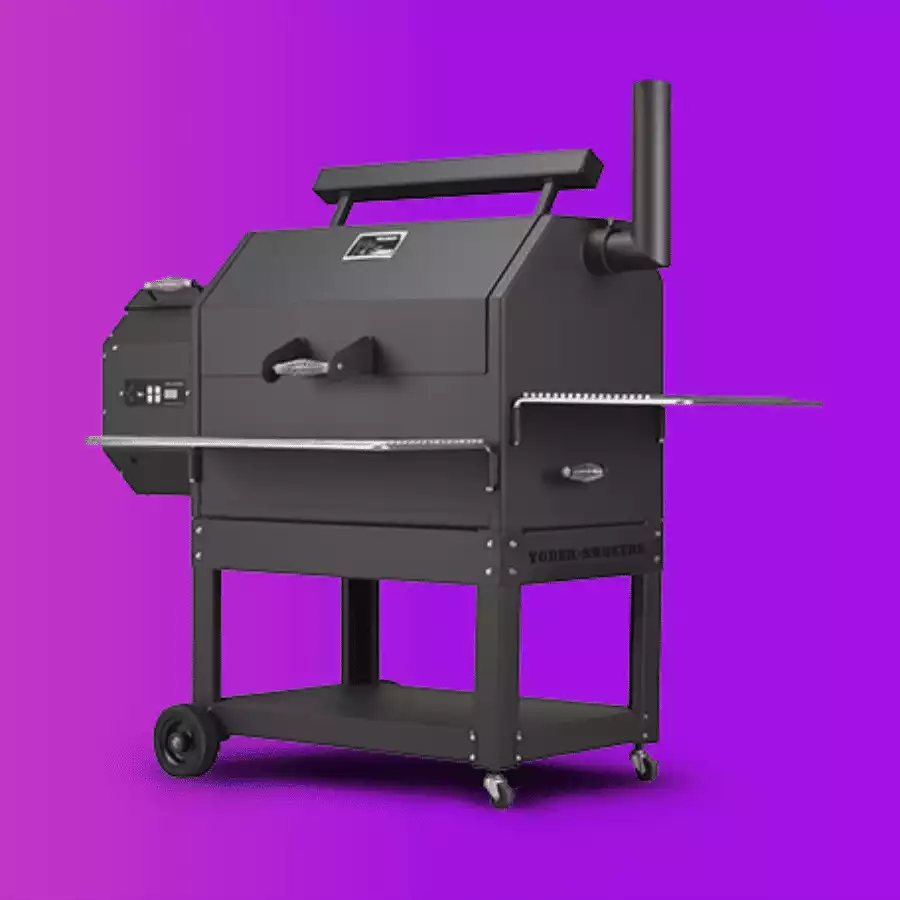 Yoder Smokers YS640s Pellet Grill
The Yoder YS640s pellet grill is a versatile, high-end cooking tool. Known for its solid build and large grilling space, it offers excellent smoke quality and easy cleaning. Its chrome-plated grates are durable and it outperforms many competitors, making it a worthy investment for serious grillers.
Check Availability
See at Yoder
KnowTechie is supported by its audience, so if you buy something through our links, we may get a small share of the sale.
Setting up the Yoder YS640s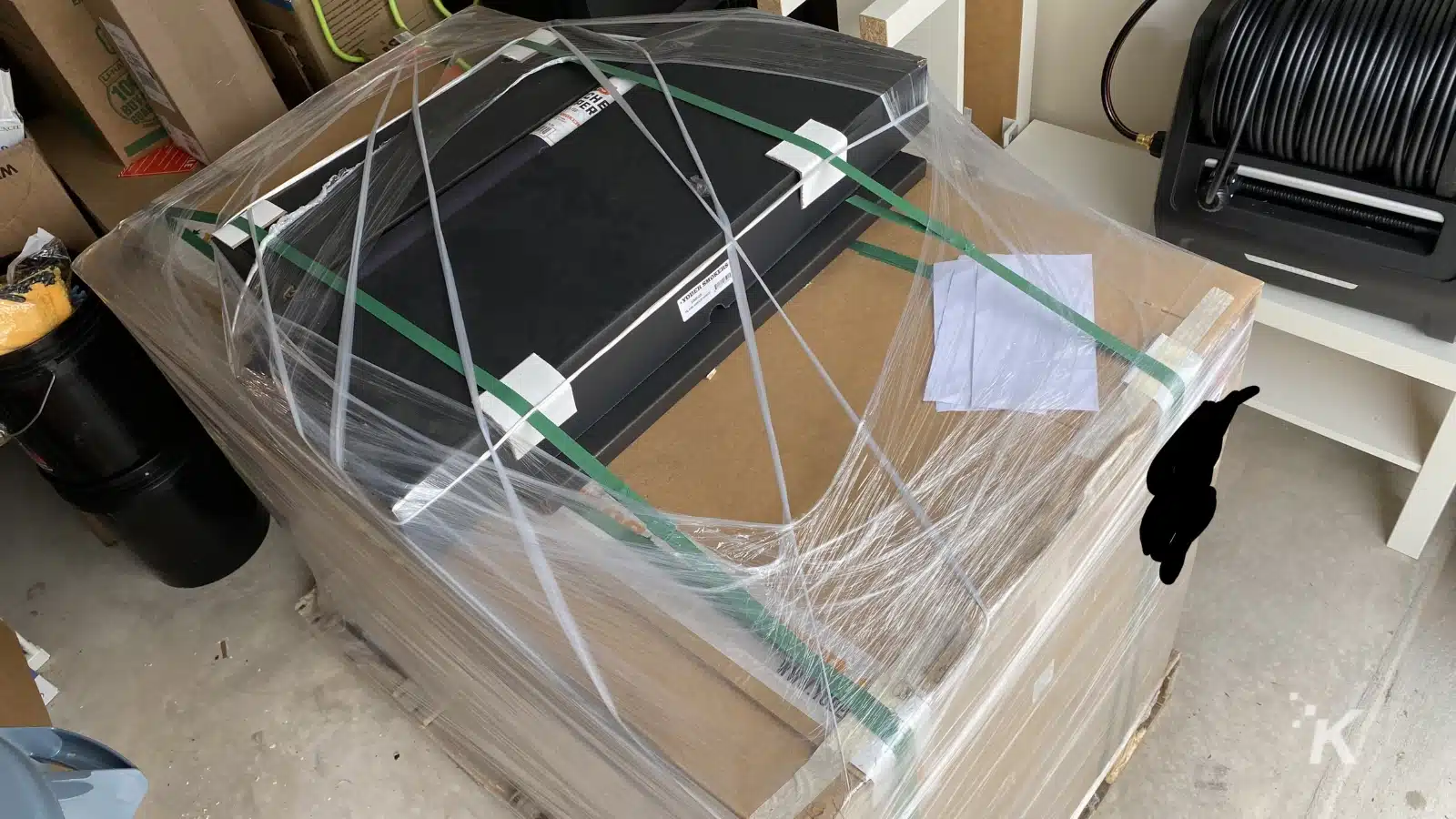 Delivery day was eventful, mainly because I was unsure how I would bring the 335-pound grill up to the deck. Eventually, four guys had to carry it up the stairs. Yes, it took four people.
You can possibly put the YS640s together on your own, but it's not recommended. You will want at least one other person to stabilize the cart while putting it together.
The pallet it arrived on weighed nearly 450 pounds- this is not a lightweight, stamped steel pellet grill. Putting it together took some time: first, pushing the carton upright, then bolting on the cart before setting it down.
Yoder uses 1/8th inch thick steel and welds it together for the cook box. The cooking area is set up like a traditional offset stick burner, with the firebox on the left and the chimney on the top right.
That gives it the ability to have dual zone cooking, with focused heat over the burning fuel or a more even temperature across the entire area.
The YS640s has a variable damper to control heat distribution. Pulling the damper out to about 9 inches provides a relatively even temperature across the entire cooking surface.
Pushing it fully in restricts airflow and quickly increases temperatures on the left side above 700°F, suitable for searing steaks or charring vegetables.
Cooking up a storm on the Yoder YS640s pellet grill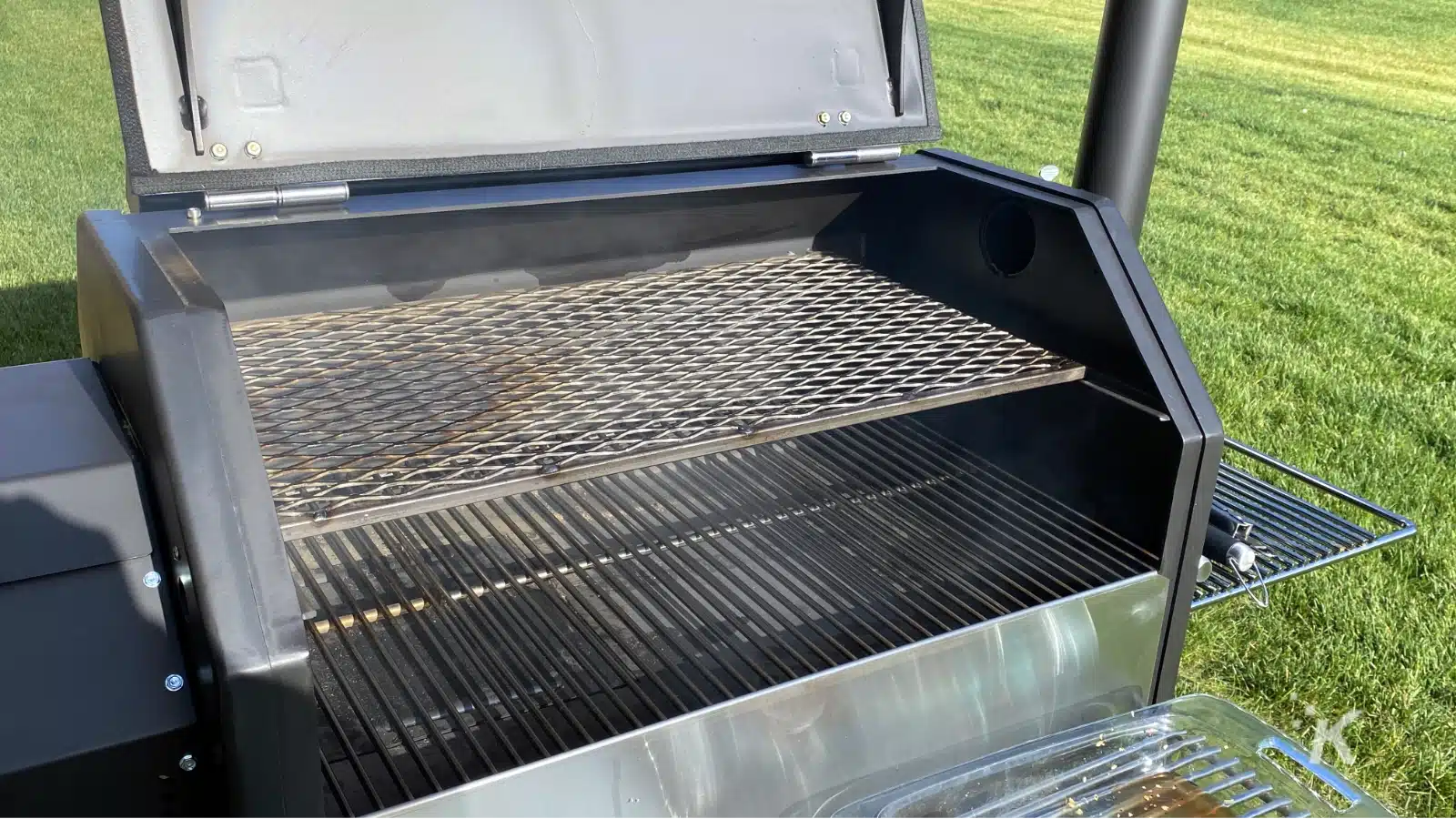 The YS640s that we received for this review has a cooking space of 1,040 square inches. It is equipped with four chromed stainless steel grates on the bottom level and an upper-level rack made from expanded sheet metal. That's a ton of space to heat up.
Because of this, the Yoder uses up slightly more pellets than most of the competition. Even with a well-managed firepot, it can consume anywhere between one and four pounds of pellets per hour.
We found that most of the cooking required using just over half a 20-pound bag for a slow ribs smoke. We used competition blends of multiple hardwoods, which might have been a mistake for consumption.
Yoder suggests selecting pellets that are predominantly oak or hardwood with a similar level of hardness. This will produce the best blue smoke while reducing consumption and the risk of flameouts caused by the fuel burning too quickly.
Smoking time on the pellet grill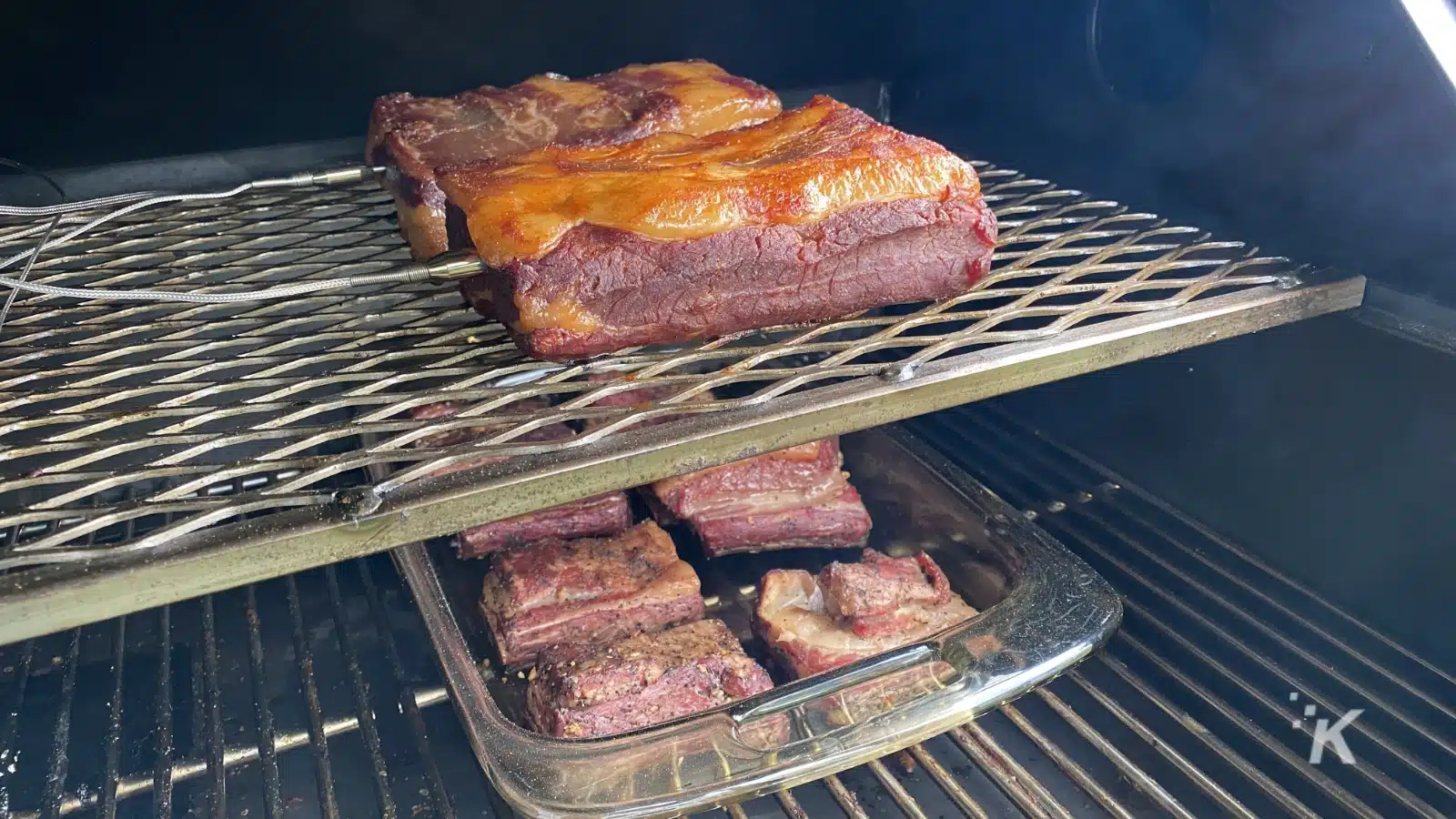 The YS640s' offset smoker design means it performs great when smoking foods. The cooking chamber is well insulated by thick steel, and because everything is welded, the only place smoke escapes is the chimney stack.
That gives any griller of any skill level the best chance of success.
We smoked St Louis-style ribs, beef ribs, belly pork, Lechon belly roll, and more on the YS640s, and everything came out perfectly. The meats had deep smoke rings with a bright red coloration and were full of flavor.
It won't quite achieve the same level of smoky flavor as offset stick burners, but it's not far off and requires much less effort.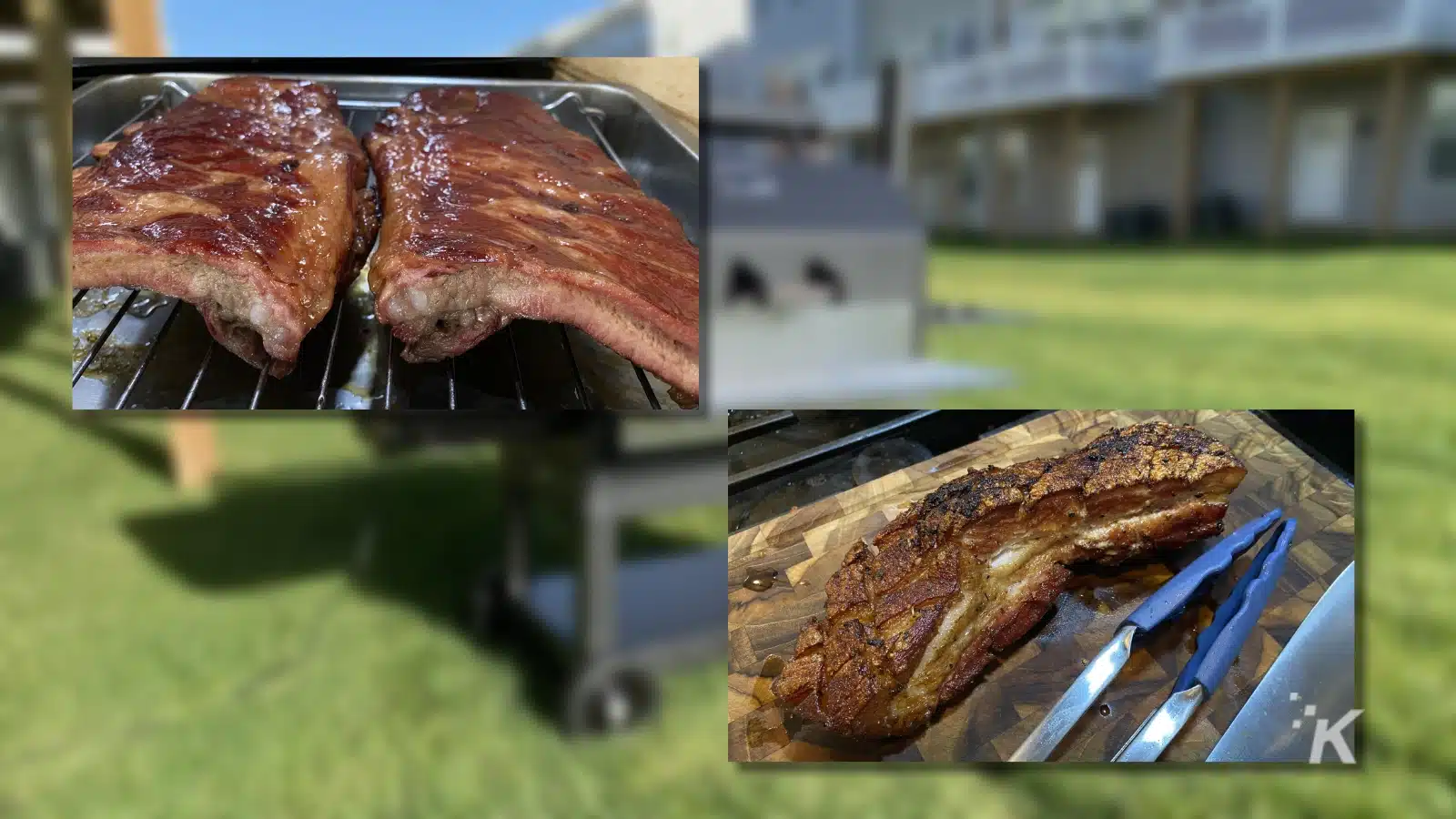 We smoked everything at either 225°F or 300°F, depending on the type of meat. One thing to keep in mind is that the area near the chimney on the right tends to be slightly hotter than the temperature probe on the left.
It's not a huge issue, but you'll want to be aware of any temperature changes for the best cooking conditions.
Grilling time on the Yoder YS640s pellet grill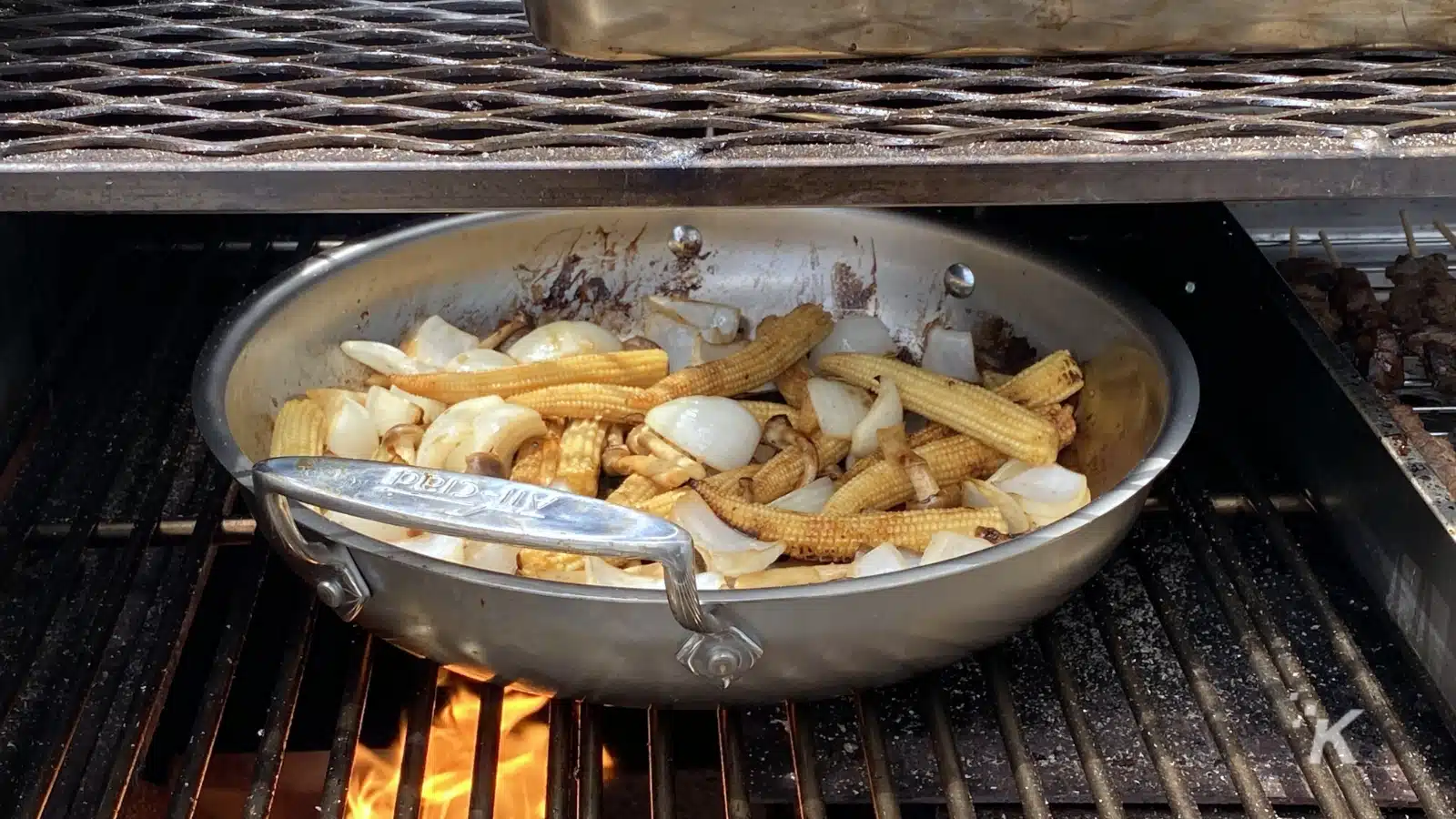 While using the full diffuser plate is perfect for low-temperature smoking or baking, it will not result in a good sear on steaks.
The older Yoder pellet grills used to have a one-piece diffuser, but the new ones now come with a two-part diffuser. This allows you to pull the cover over the firebox in order to get direct flame action.
When the damper is fully opened and the variable damper is pushed all the way to the left, I achieved temperatures in excess of the 600°F. I reached temperatures in the mid-700s when flame-kissing some vegetables, which is more than enough to achieve the perfect sear on meats.
This allows the Yoder YS640s to be more than just one grill type, increasing the situations it can be used and making that price tag seem smaller when you consider how many devices it can replace.
How is the app and on-grill controller?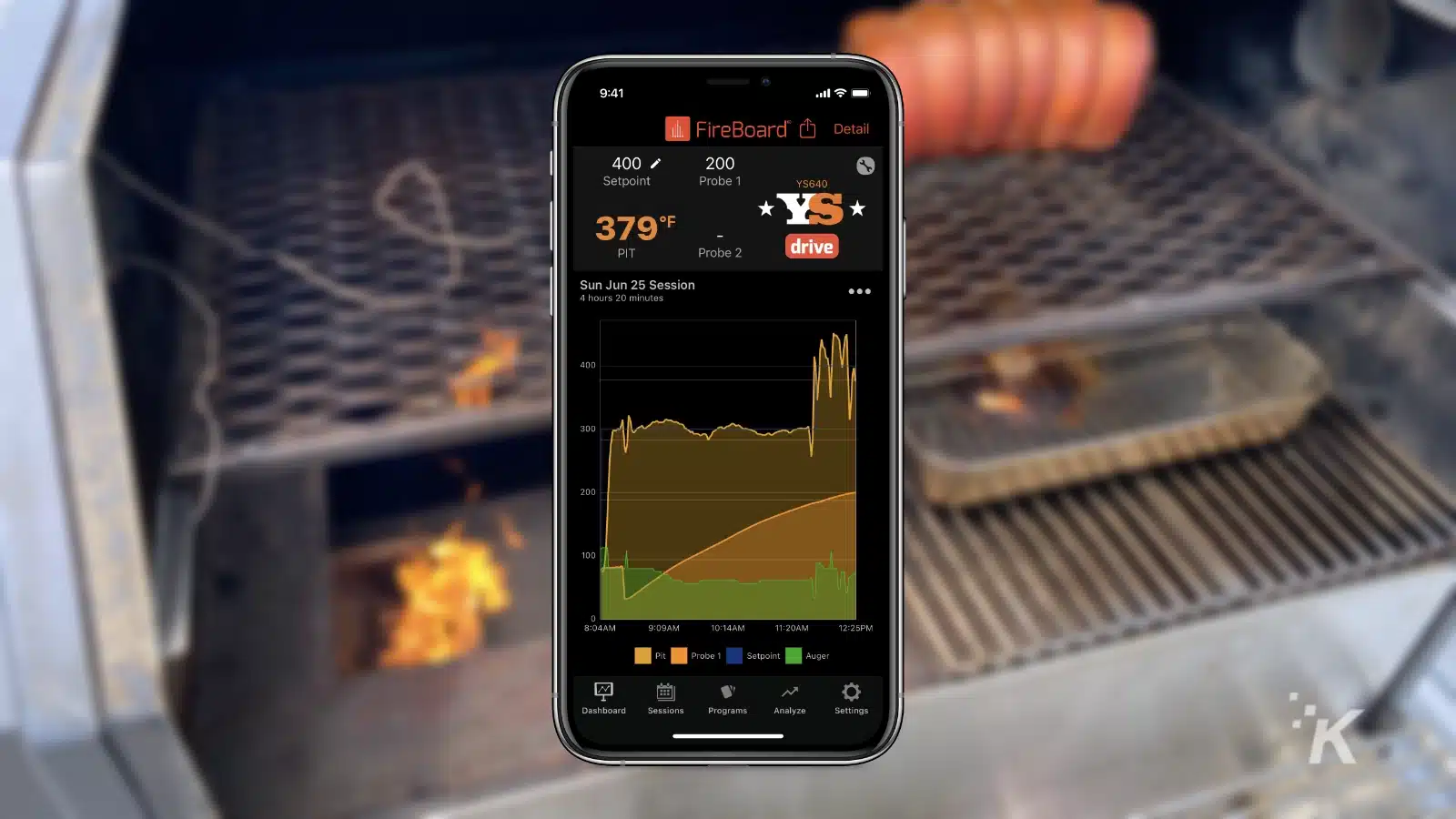 Yoder partnered with FireBoard, a popular temperature probe manufacturer for the YS640s' temperature controls. Along with the main pit temperature probe, there are two probes that can be inserted into whatever you are cooking.
These three probes can be used as controls for cooking programs, allowing for a completely hands-off cooking process.
That's important for the first few hours of any smoke before you get to the stall portion, where you're not really adding any more smoke ring.
This also means you can cook at one temperature until you reach a desired internal temperature, and then lower the heat to keep the food warm while you wait for guests. Marvelous.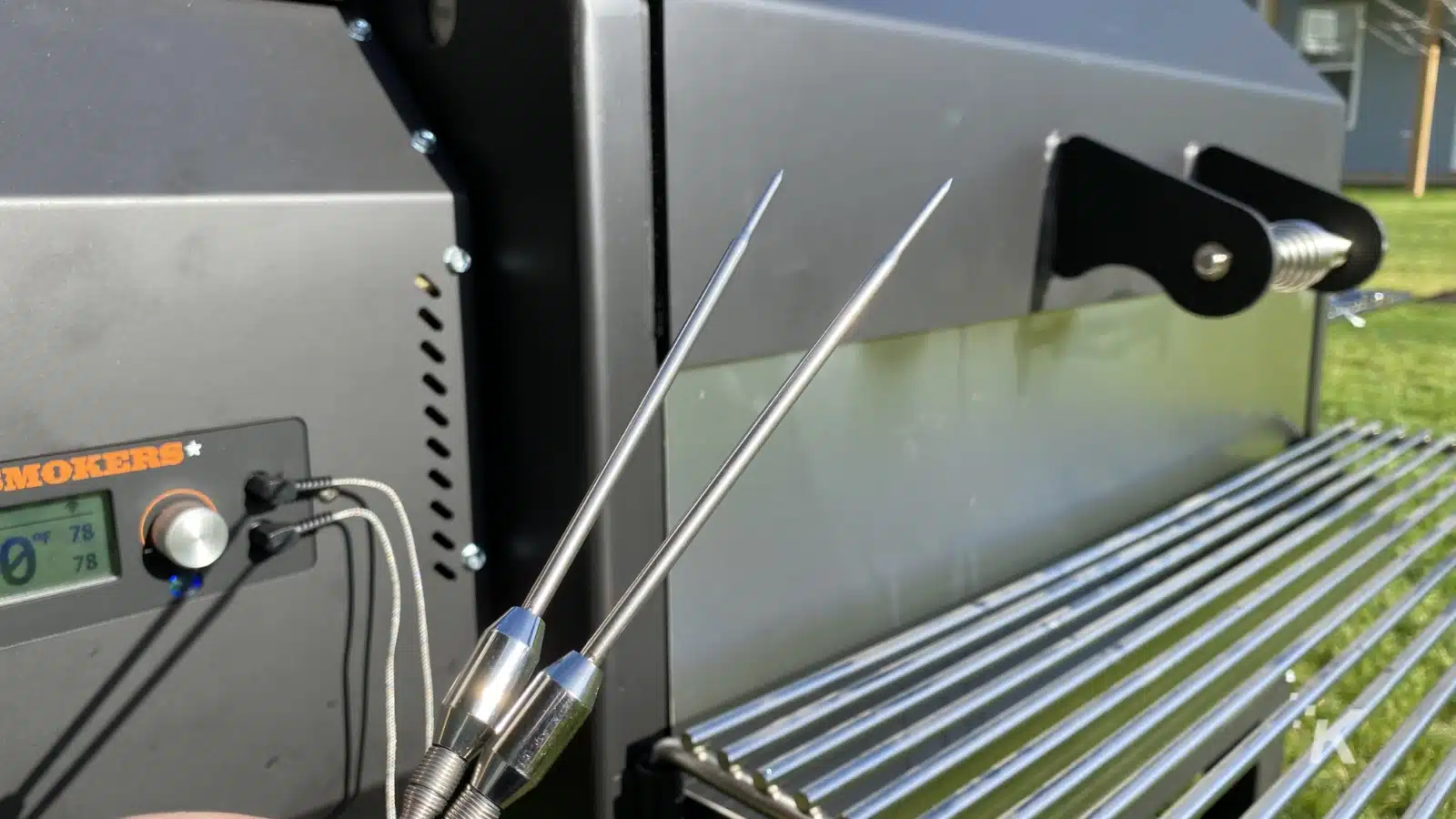 The on-grill controller has one feature that I use almost every cook. That's a prime button that continuously feeds pellets into the firebox when held. This helps correct for temperature loss when the lid is open for a long duration, and I love it.
Depending on your desired level of accuracy, the controller can also be set to +/- 5°F or 25°F.
You can't start the grill from the app, which is a good safety feature. You can turn it off by starting the burnout program to stop the fire. You can also save any cooking programs for future use and see graphs of previous cooks.
What it doesn't have are in-app preprogrammed recipe options. Sure, that can be programmed in, but having some already-installed options would be nice.
The app (or the grill, for that matter) also lacks a low pellet warning. We would appreciate it if Yoder were to include a low pellet alert in a future model or offer it as an update for existing units.
Trust me, nothing is worse than waking up to a ruined smoke just because you misjudged the fuel needed.
Alternative options to consider
When it comes to finding alternatives to the Yoder YS640s, only one pellet grill on the market today comes close to matching the premium build quality of this unit.
That's the Maverick 1250 wood pellet grill from Pitts & Spitts. This has a similar amount of grilling area, sturdy carbon steel, and good temperature regulation. It's slightly more expensive, but not by much.
Z Grills offers high-quality pellet grills that are more affordable, but they are made of stamped steel, which means they may not last as long before requiring replacement.
And Kamado Joe has a wide range of grills that don't require tech to operate if you prefer to cook without WiFi connections.
Is the Yoder YS640s pellet grill right for you?
The Yoder YS640s is an astonishingly good grill. Having only used charcoal, wood, or gas grills before, I didn't know what to expect. Most of those require some level of luck to get a passable result, but not the Yoder.
It took everything I threw at it and kept on ticking over, from long, slow, and low rib cooks to fast and hot sizzling over an open fire.
Yes, at $2,399, it is an expensive investment. The price tag instantly puts it out of consideration for many people, which is a shame because it has tons going for it.
The full temperature control system driven by the main temperature probe and the two movable ones makes any type of grilling or smoking nearly effortless.
That level of confidence in your grill means less watching over it during the cook and more time to enjoy family, friends and perfect your recipes. And that's what grilling season is all about.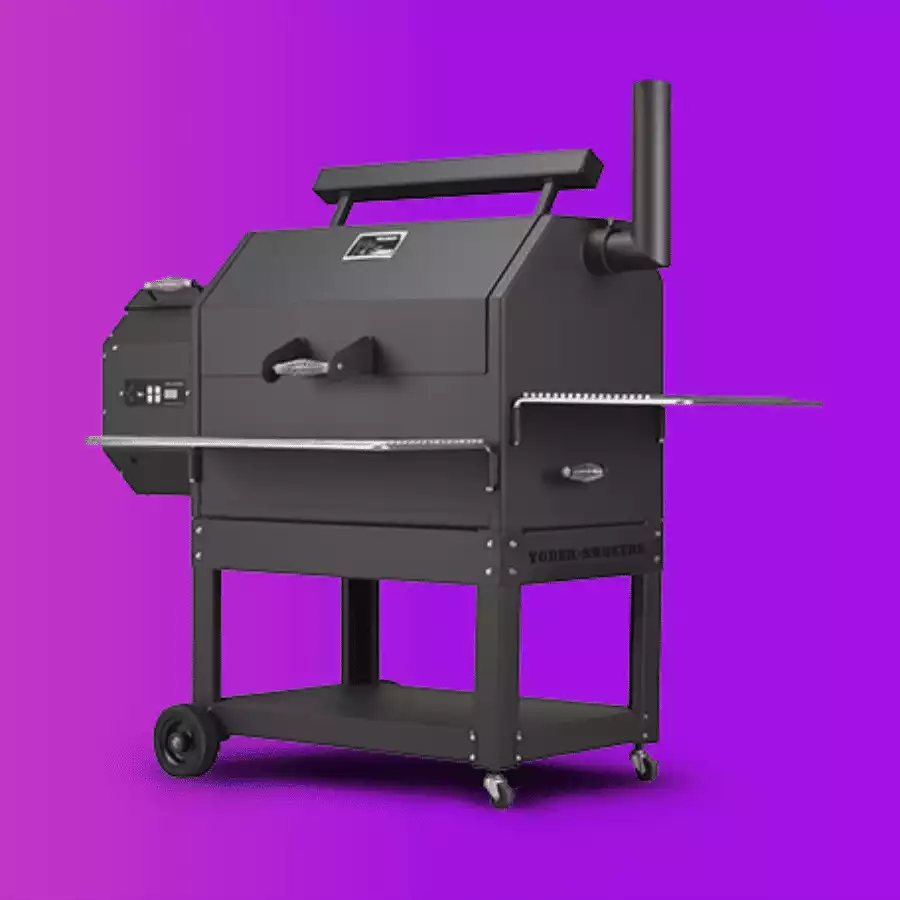 Yoder Smokers YS640s Pellet Grill
The Yoder YS640s pellet grill is a versatile, high-end cooking tool. Known for its solid build and large grilling space, it offers excellent smoke quality and easy cleaning. Its chrome-plated grates are durable and it outperforms many competitors, making it a worthy investment for serious grillers.
Check Availability
See at Yoder
KnowTechie is supported by its audience, so if you buy something through our links, we may get a small share of the sale.
Have any thoughts on this? Drop us a line below in the comments, or carry the discussion to our Twitter or Facebook.
Editors' Recommendations:
Just a heads up, if you buy something through our links, we may get a small share of the sale. It's one of the ways we keep the lights on here. A review was provided for this review. Click here for more.
Follow us on Flipboard, Google News, or Apple News