Review: PowerAdd Soundfly Bluetooth portable speaker
Injects bass right into your soul.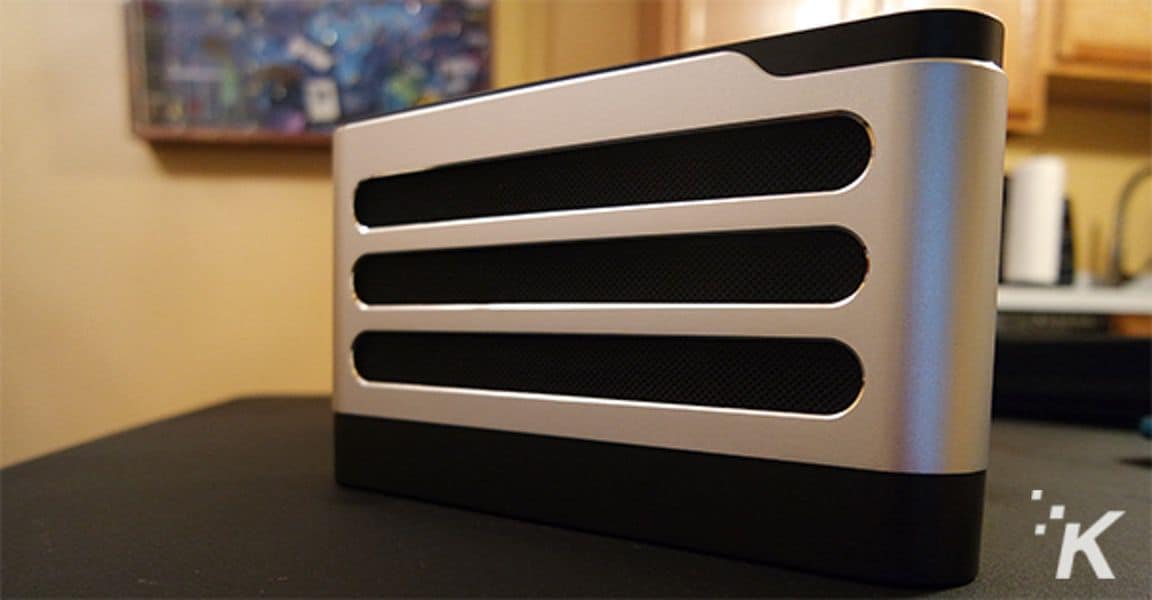 The Good
Beautiful sound
Deep
clear bass
Long lasting rechargeable battery
Decent Bluetooth range of 30+ feet
The Bad
Short aux cable
Bass can drown out other sound at times
Touch controls can be buggy; have to flip switch to reset
Portable speakers are my life. I am constantly moving around my house when I am not working, so headphones aren't always an option. Doing dishes with headphones isn't always the smartest option. Don't let me tell you about the time my earbud popped out and fell into a dirty pot of old-greasy water.
The only thing I had to compare the Soundfly to was my Harman Kardon Onyx Studio Wireless Bluetooth Speaker, and that thing is a beast on its own. I really didn't expect the Soundfly was going to rival it, but damn, it did. This little Amazon speaker really does what it says it does.
Setting up the PowerAdd Soundfly is easy, just plug it in and you're good to go. In the box, there is a DC power cord, 3.5mm aux cord, a couple of manuals, and the speaker. It does have a 4000mAh battery, which should last around 3-5 hours.
On the front is a touchscreen with a blue backlight. You can control pause, play, skip, volume up, and volume down all by using the front panel. This speaker also works as a microphone so you can answer calls with it. Just hold the play button, and you can answer or hang up the call if you are not near your phone for some reason.
Getting rid of all the specifications and different functionalities out of the way, let's talk about how this thing sounds. The first thing I played was "Death of a Bachelor" by Panic! At The Disco, for a couple of reasons. One being this song is amazing and tells a great story, two being Brandon Urie has a beautiful voice that projects well with speakers and headphones, and three being the song has different instrumental parts to test the speaker. There is a set with just horns. There is a set of consistent heart-pounding bass and a set of ridiculous high notes.
The first thing I noticed was the bass. Damn, it hit. I am a drummer who takes enjoyment in a good beat, and the Soundfly sent it running through my soul. Have you ever been to a concert and can literally feel the bass beating against your skin? This was it. Snare hits were noticeable, but not as sharp as I like.
The Soundfly has a 3D feature that will push sound out from both sides, making it the perfect party speaker. I set it down in the middle of my kitchen and did some chores around the house. I could still clearly hear the music as well as the deep, smooth bass. It's all about that bass, baby. At least for the Soundfly, anyway.
I can't recommend the Soundfly over the Onyx Studio line. Onyx Studio has a deeper bass, cleaner sound, and crisper hits. The music carries further and doesn't sound muffled. However, the Onyx Studio can get up to the $200 price range.
The few issues I have with this speaker are par for the course. I didn't need a microphone in my speaker, as they often pick each other up. I was on the phone with my sister to test it out, and she head herself more than she could hear me. It's a neat feature, but if you are going to implement it, then make sure it works. The included aux cord is made of really excellent quality, but it is short. At just about a foot long, I have dropped this speaker a few times because I yanked the cord picking up my phone to change a song. I can say the Soundfly is durable, but not by my intended testing.
If you are looking to pick up a portable speaker for the holiday season, this should easily be on your list. For the price point that it is, and the sound that it delivers, there is no question.
The PowerAdd Soundfly currently retails at $99, but PowerAdd is extending KnowTechie readers a special offer that knocks down the price to just $59.99 with code DX5Y8AVL at checkout. Deal expires November 30.
A sample unit was provided to KnowTechie for the purpose of this review.
The Good
Beautiful sound
Deep, clear bass
Long lasting rechargeable battery
Decent Bluetooth range of 30+ feet
The Bad
Short aux cable
Bass can drown out other sound at times
Touch controls can be buggy; have to flip switch to reset