Spotify is diving headfirst into streaming video and podcasts
Spotify is getting into the streaming video and podcasts business. The news was made earlier today, find out more here.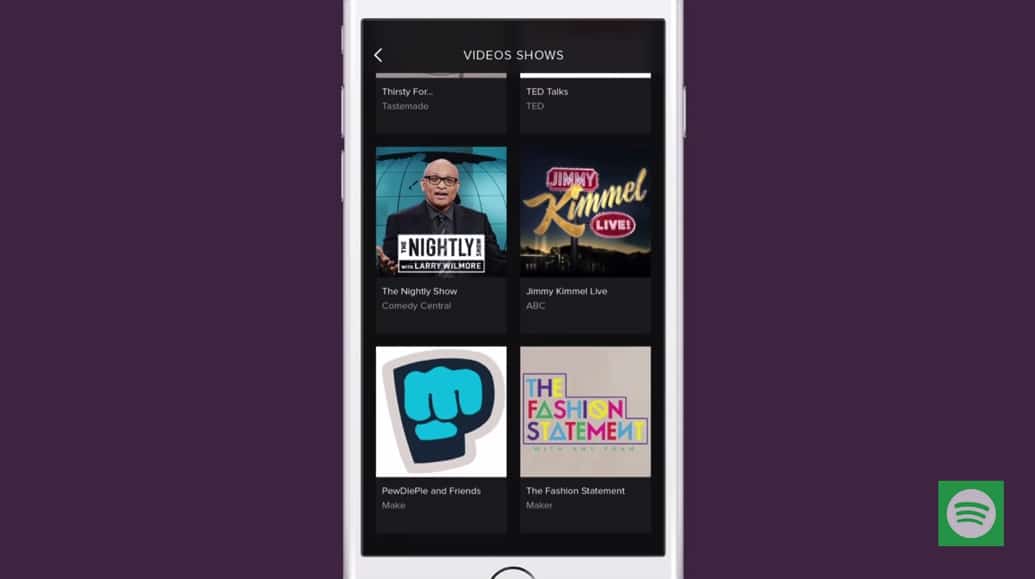 Streaming services are fighting for pole position constantly, but Spotify continues to outpace all competitors. In an effort to extend their virtual "lead," Spotify has announced today that they will begin working with partners to offer customers streaming video and podcasts. It's something all of us have wanted, even subconsciously, and now it is officially coming to the streaming service.
As Spotify continues to become more about themes with their curated playlists and whatnot, these video capsules fit right into place. They have partnered with some pretty impressive clientele already. Popular podcasts like The Nerdist and Vice News are included, as well as stations like Comedy Central. Check out the full list below. There is some good stuff included.
Partners (so far):
ABC
Adult Swim
BBC
Comedy Central
E!
ESPN
Fusion
Maker Studios
MTV
NBC
RadioLab
Slate
TED
TWiT
Vice News
WNYC
While Spotify is currently dominating the scene, they realize that they cannot afford to rest on their laurels, and continue to bring worthwhile updates to their service. Jay Z's Tidal and Apple's (currently under renovation) streaming service have a lot of work to do. This update will begin rolling out today throughout the US, UK, Sweden, and Germany. It looks to be a soft roll out, however, meaning it will take approximately 2 weeks for everyone to get it. Keep checking those updates!
God, I wish they would have had this while I was still at my desk job.
Follow us on Flipboard, Google News, or Apple News